10 Easy Healthy Snack Ideas for Homeschooling On-The-Go
On days when you'll be away from home, what can you pack for your kids that will be enjoyable to eat and healthy at the same time? Here's a list of 10 snacks for in the car that are sure to be a big hit for your kids, and certainly even you!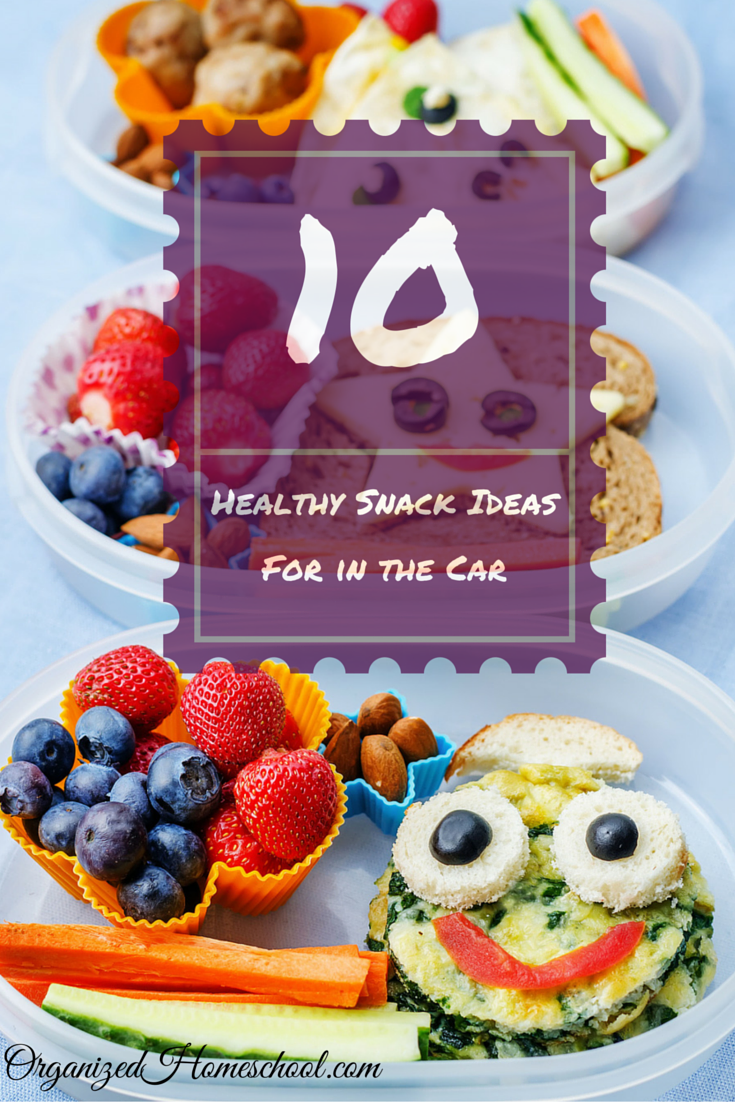 ---
1. Craft Box Finger Foods
Vanessa at See Vanessa Craft has a very cute idea for craft box finger foods. You choose your favorites: fresh fruit, dried fruit, cereals, crackers, nuts, seeds, unsweetened coconut flakes, granola bars, pretzels, and even a mini treat such as chocolate chips. There's even a printable that you can get at her website to glue onto the lid.
You'll need a container that is 10 x 7 inches.
The craft store sells them in the jewelry isle for storing beads or you can order each family member one on Amazon.
---
2. Healthy Frozen Squeezable Yogurt
Make your own healthy frozen squeezable yogurt.
Items needed:
tub of plain yogurt,
frozen or fresh fruit in flavors desired (Blueberry, strawberry, banana, mango, etc.),
coconut sugar or honey to sweeten if desired,
Popsicle molds
Simply use your blender to blend fruit, yogurt, and a little sweetener. Use a funnel to pour into Popsicle molds. Freeze for outings away from home and enjoy!
You will also need a drink blender to make these frozen yogurt treats. The Ninja Master Prep blender is a cost effective alternative to the more expensive models we usually see in the stores.
---
3. Nutritious Homemade Zucchini Mini Muffins
Nutritious Homemade Zucchini Mini Muffins (Freezes great – make ahead!)
Seriously a delicious way to sneak in some healthy greens. Finely grate your zucchini (wash & no need to peel) and you'll never know it's in there. The zucchini makes the bread very moist and delicious. You can omit the allspice. Freeze in gallon zip-lock baggies until needed for an easy on the go snack.
Mini Zucchini Muffins Recipe
Author: Six Sisters Stuff
---
4. Fun Dipping Veggies
Veggies are so fun to dip!? Use baby carrots or carrot slices, grape/cherry tomatoes, sliced cucumbers, celery sticks, snow peas, and/or bell peppers (red, orange, or yellow) w/ mini ranch cups.
Washed and Sliced vegetables can be placed in individual zip-lock sandwich baggies, one for each kind of vegetable per person. Ranch for a dipping sauce can be placed in mini plastic condiment cups and brought along.
For even greater simplicity, place a variety of vegetables mixed in one quart-size zip-lock baggie per person, and place the sealed ranch cup inside the quart bag.
Always have a ready supply of cups for sauces or even mini Jello cups.
---
5. Refreshing Fruit Infused Water Take-Along Drinks
Fruit slices of your choice (strawberry, orange, lemon, lime, pineapple, kiwi, and raspberries? even cucumber!) are delicious infused in water.
Simply choose which flavors you'd like to have in your water, slice fruit (no need to peel), place in a large juice pitcher (glass is best) in the fridge overnight or for at least a few hours to infuse the water with the flavors.
Simply pour into portable drink containers and take with you!
---
6. Granola Trail Mix
For a nut-free version of granola trail mix, substitute pumpkin or sunflower seeds and wide flake unsweetened coconut instead of the peanuts/cashews.? Other options for dried fruit besides raisins include dates, cranberries, or dried cherries.
Make sure your chocolate chips are healthier by purchasing a quality dark chocolate chip.
Choose a healthy granola by reading the labels to look for healthy additions with good nutritional value, and watching out for excess sugars and calories.
QUICK & EASY GRANOLA TRAIL MIX
The best snack for any time of the day!
Author:?Jen Nikolaus
---
7. Mini Wrap Sandwiches
The key to making these mini wrap sandwiches healthy is to buy the best tortillas (no hydrogenated oils, etc.) and top it with savory healthy toppings. Slice to the desired size & place in small zip-lock baggies.
Keep everyone's snacks cool and fresh using reusable ice packs.
---
8. Nut free Ants on a Log Celery & Cream Cheese
Celery with Cream Cheese & diced black olives = Nut free Ants on a Log.
Kids will love to help you assemble these! They love to spread the cream cheese into the washed/dried celery with a small cheese knife (or a butter knife) and carefully place the sliced olive ?ants? on the logs. It's so much more fun to eat something you helped make!
Don't forget the wipes to clean up hands and faces afterwards!
---
9. Dried Fruit & String Cheese
Dried fruits are almost as delicious as candy, yet so much healthier!
Fruits to choose from: Dried apricots, banana chips, raisins, dried mangos, dried apples, dried cherries, etc.
Dried fruit can easily be carried in a small baggie or lunch container. Using a quart-size zip-lock baggie allows you to add a wrapped low-fat string cheese into the baggie for a well-rounded snack.
Choose a baggie with a slide lock as this is much easier for little hands to close properly.
---
10. Popcorn Balls
Your kids will love these Popcorn balls that are a lighter and healthier option. Store in quart size zip-lock baggies.
Click Here to view the recipe.
---
Now you're all set for a car ride or even a long journey. The kids will be happy and healthy as they munch on their nutritious snacks!
They may even become your family's favorites.