Sometimes making ends meet isn?t easy, but learning to save every day is.
Read these tips on how to save money on food, cleaning products, utilities, entertainment, and more.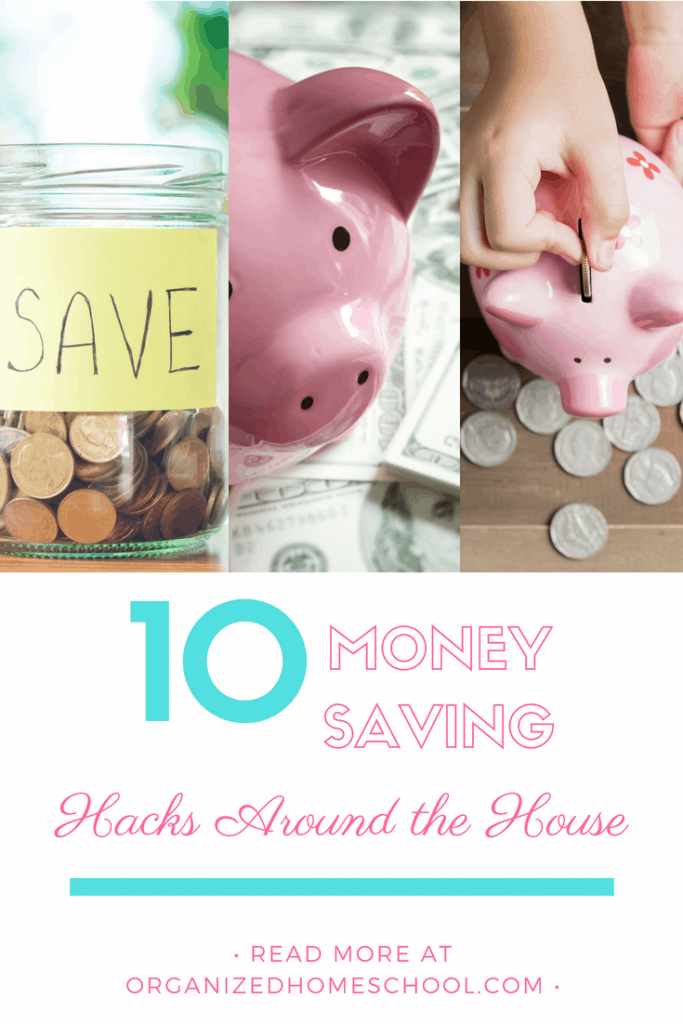 This post may contain affiliate links to products I recommend. This means I make a small commission off your purchase, but this does not affect your price.
Buy in Bulk
You don?t have to get everything supersized, only the things you know you?re going to need. Toilet paper, toothbrushes, laundry detergent, milk, whatever it is your family uses the most. Big bulk stores like Costco and Sam?s Club offer great deals. Their food selection is impressive and of good quality. So you?re getting high-quality goods for less. Plus, they have free lunch?oops, I mean food samples, on the weekend.
Keep the Freezer Full
The space inside your freezer needs to stay at a particular, very frigid degree to keep everything frozen. The refrigerator uses less energy and runs better when it doesn?t have to work to fill empty space, reducing your energy bill. Good thing you?re buying in bulk now!
Something Pretty
If you splurge on flowers, you want to keep them around to enjoy for a long time, right? It?s not like you get them every week. When you bring them home, cut the bottoms at an angle with sharp scissors and put them in water with two tablespoons of coffee. It keeps the flowers perky, and the blooms last longer.
Vinegar
Vinegar can save you a bundle on cleaning supplies. It can replace your glass cleaner, prevent scum build-up in the shower, and remove wine stains. Seriously, there?s a ton of things it can do. I?m going to buy some right now. Check out ways to use vinegar at the USA Today website.
Save Water
You?ve got laundry spinning, the dishwasher humming, and nobody has even gotten in the shower, yet. If your water bill is getting out of control, consider making a few changes.
Install a water saving showerhead. It regulates how much water flows out of your pipes.

Wash the pots and pans by hand instead of putting them in the dishwasher to save cycles.

Combine your whites and colors in cold water to cut back on how many loads of laundry you do.



Get Organized
Let?s take the kitchen, for example. How many times have you been grocery shopping and take an item off the shelf only to discover you already have 5 of them at home? You couldn?t see what you have because the kitchen is not organized. Keeping it un-cluttered can save you money at the store by not buying duplicates.
Apply this to the medicine cabinet, too, so you don?t have too much of one medication and not enough of the other. Make sure you throw out those vitamins you?ve had since 2013. We don?t want anyone poisoned.
Pack Lunches
Eating out is convenient, but expensive. Even though you?re tired, can find only one shoe, and are in the middle of an argument about why the sock is NOT on the wrong foot, you have to pack those lunches. Nutritionally, it?s a better option for both children and adults because you have more control over what goes into it.
Rent Instead of Own
It?s not real estate advice?I?m talking about those things you?re only going to use once or seldom. If you?re steam cleaning your carpets, then rent a machine instead of buying one. In general, ask yourself if you?re going to use the item enough to get value out of it. If the answer is a big, fat negative; rent or borrow it instead.
Cut the Cord
Let?s take a look at your cable bill. How many of those channels does your family actually watch? Now there are services you can use to pick and choose your entertainment package. I?m a cord cutter, and I don?t miss it. I subscribe to Netflix and Hulu and get free digital local channels. It?s pretty cool because if I miss something on TV, I can always catch up the next day on Hulu.
Can I Get a Holler For the Dollar Store?
So many ways to save money here. First, in case you didn?t know, everything is one dollar. The kids broke your glassware or you ran out of batteries? Go to the Dollar Store. Not only do they sell really useful, functional products, but if you?re looking for new d?cor, you can use some of what they sell to create your own.
About Joanne Aubuchon
Joanne is a resident writer for SERVIZ, an on-demand home services company offering everything from Plumbing repairs to Carpet Cleaning across the US. Joanne is a writer by day and reader by night. Joanne loves writing about saving money, raising kids and improving the quality of our lives. When she is not writing, you can find her trying out new salad recipes, playing ball with her kids, or cheering in the stands at her son's soccer games.
---
RELATED POSTS YOU MIGHT LIKE:
---

---