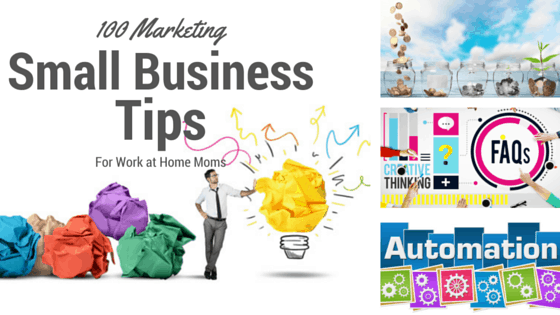 This post may contain affiliate links to products I recommend. This means I make a small commission off your purchase, but this does not affect your price.
Working at home and homeschooling is never easy, and there are never enough hours in the day to get everything done that you need to. I have compiled this comprehensive list of marketing small business tips that you can constantly refer back to.
Your business is a work in progress; there are always ways to improve the way you do things. Pick a tip, implement it and see how it helps. Once you've mastered it, move onto the next one.
Do not try to tackle all of these at once! I don't want to add to your stress! Pick your favorite and implement what you can.
I've tried to provide a link for more information with each tip so you can get practical ways to put these into action today.
---
---
Email marketing is one of the best ways to stay in contact with your customers and potential customers. You can share your expertise and new products at the push of a button with all of your customers and friends and deliver your information directly into their inbox.
---
Building a successful business, whether online or offline, is all about building relationships with others. Building relationships with your customers means that they will keep coming back to buy more from you.
---
You spend so much time sitting at your desk every week, but have you ever put much thought into how your desk layout makes you feel? Believe it or not your desk space can actually help or hinder your productivity.
---
So your first step in creating a challenge is think of some goals for your business and write them down. Next, choose one goal to focus on and set an amount of time to work on it. Look at how you can break the goal down into specific daily actions. Then get to work! Finally, at the end of the set time, evaluate your results.
---
You should consider buying a standing desk. That way, even though you need to be at your desk for large periods of time, you can help combat the effects of sitting down all day.
---
You should set both short-term and long-term goals, and make sure that every goal you choose is "SMART". That means it's specific, it's measurable, it's actually attainable, realistic and it has a time limit.
---
There are a number of ways to network more in your business.
Tip: Take just 10 minutes a day to connect with people and network. You'll be glad you did!
---
If you regularly find you're not enjoying your business tasks, it could be a sign you need to outsource more or move in a new direction.
---
One HUGE way to increase your online income is to start releasing your own products. It also boosts credibility and builds your brand.
---
10) Prioritize Your Marketing Strategies
Tip: You'll never be able to try every marketing strategy there is. Instead, prioritize by asking yourself what'll bring in the most money?
---
11) Know Your USP
Tip: Take some time to brainstorm your USP. What makes you different from the competition?
---
12) Start Outsourcing
You CANNOT do everything in your business. There comes a point where it won't grow until you start to outsource.
---
Remember: even online business owners deserve days off!
---
14) Interview Other People In Your Field
Tip: start interviewing other people in your niche for fresh content that your subscribers will love (- it's great for networking, too!)
---
Tip: Make sure you take a regular look at your finances. It helps you save for taxes and understand what's working in your biz.
---
16) Raise Your Prices
Did you know that sometimes raising your prices can lead to *more* sales? It's important to test all price points.
---
17) Collect Your Buyers' Emails
If you're not creating a buyers email list you're leaving money on the table! Start today.
The good news is that most online shopping cart systems have functions that allow you to collect email addresses automatically. These work with the most popular email marketing services like Aweber
---
18) Create Consistent Social Media Profiles
Tip: Make sure your social media handles and avatars are consistent across all networks. It makes you more recognizable!
---
Don't try to market to everybody – you won't be able to understand your market well enough to serve them best.
---
20) Highlight Benefits, Not Features
Copywriting tip: Don't list the features of your product, tell people how they can benefit from it instead.
---
---
21) Add Visuals to Your Content
Did you know? Instagram gets 1 billion likes per day! THIS is why visuals are so important online.
---
22) Don't Overspend
Don't overspend on training products, thinking that this next thing will be what changes your business. It's only a distraction!
Many newbies make the mistake of spending a lot of money on marketing training, always thinking that the next thing they buy will be the one that takes their business to the next level. This kind of thinking will only hold you back.
---
23) Take Advantage of Cross-Selling
If you're not cross selling your different products then you are leaving money on the table!
---
Tip: Join a mastermind group for new ideas, critiques, accountability and friendship.
---
25) Sell More to Existing Clients
Tip: Offer your existing customers special discounts or bonuses to encourage repeat purchases.
---
26) Create More Than You Consume
Ask yourself this question: are you creating more than you consume online?
---
27) Track Your Time
Tip: If you regularly procrastinate, start tracking your time with RescueTime to identify your big weaknesses.
---
28) See Competitors Differently
Start seeing your competitors as friends and you might just find they can help you grow your business!
---
The way you start your day can often have a big impact on how the rest of the day goes. Start working on perfecting your daily routine.
For example, if you know you can't resist checking your emails and social media in the mornings, set a timer for 15 minutes to ensure you don't get carried away on a conversation.
If you have a problem know what to start with each day, then start taking 5 minutes at the end of the day to plan the next one.
It'll take some time to make these routines a habit, but they can all add up to make you a lot more productive throughout the day.
---
Remember: Running your own business is all about freedom. Is it worth working such long hours that you don't have enough time for family?
---
31) Set a "Most Important Task" Each Day
Productivity is a tricky thing to master, especially when you work for yourself. If you constantly find that you end the day with items still on your to-do list, then it's time to prioritize those tasks.
One tip is to choose a "most important task" for every day. You can have other items on your to-do list, but you can only get to those once your most important task is completed. This ensures you're doing something worthwhile every single day.
---
32) Tie Your Content and Promos Into Holidays
Different holidays can be a great opportunity to run special promotions and sales in your business.
---
33) Share Stories In Your Content
Tip: Practice telling more stories in your content and you'll build trust and deeper relationships as a result.
---
34) Use a Calendar
Tip: Start using a calendar to plan your business. It'll ensure you never go too long without doing something to grow your business.
---
35) Respond to Emails Quickly
Tip: If an email doesn't require further thought or research, respond to it right away!
---
36) Give Things Away for Free
Don't be afraid that giving away free information devalues your product. It actually constantly builds your brand and your following.
---
37) Recycle Your Content
Tip: Instead of constantly struggling to create new content, recycle your existing content into brand new formats and compilations.
---
38) Take Advantage of Automated Systems (Where Appropriate)
Take advantage of smart automation – like scheduling social media or email messages – to save time in your business.
Here are some examples:
Scheduling posts in advance on social media using tools like Buffer (but also logging in to interact in real time).
Having a bank of canned answers in your support desk, but personalizing them for every customer that contacts you.
Scheduling autoresponder emails to end out at set intervals after someone signs up for your mailing list.


---
39) Don't Always Go for Short Term Profits
Instead of thinking about making short-term profits in your business, consider how you can build long-term relationships instead.
---
Tip for all marketers: use the free Evernote app to synchronize your ideas and content across all devices. It's super useful!
---
41) Take Time to Read
Every marketer should set aside time each day – even if it's just 30 minutes – to read "real" books. There's always more to learn!
---
42) Track Your Marketing Efforts
Tip: Always track every single new marketing tactic you use. That way, you'll know how best to spend your time and money.
---
43) Experiment With Different Types of Content
Always experiment with new content types. Think checklists, worksheets, tutorials, videos, infographics etc.
---
44) Finish Your Projects
Remember this: a project is never going to make you money unless you see it through to the end.
---
45) Spend 5 Minutes Planning at the End of Each Day
Here's one really simple way to improve your productivity: take 5 minutes at the end of each day to plan for the next day.
---
46) Always Include a Call to Action
Want to make your content work harder for you? Make sure you include a call to action in everything you write!
---
 47) Only Recommend Products You've Used
Affiliates – only promote products you have experience with. It builds more trust and helps you better explain the benefits.
---
48) Focus on Inbound Marketing
Instead of spending money on direct marketing efforts, try giving value away for free and letting your customers spread the word for you.
---
49) Don't Be Afraid to Ask
Tip: Don't be afraid to ask people for favors online (like product reviews, critiques etc.) You'll be surprised at how people like to help!
---
50) Create an FAQ Page
Timesaving biz tip: Create an FAQ page and add to it every time you get new customer support questions.
---
51) Don't Waste Time on Social Media
Tip: Don't let social media suck all your time. Schedule in a fixed period to be social each day e.g. 15 minutes.
---
52) Get Transcripts of All Audio & Video
Every time you create a video or audio recording, there's an easy way to get more out of this content. Simply hire a transcriptionist to turn the audio into words.  Or better yet, download the Rev app on your iphone which records your audio and transcribes it for a small fee within 24 hours. This is the app I use and absolutely love it!
There are a number of benefits to using transcription in your online business:
You can send it as a bonus to people who opt in to your email list.
You can use it to create a blog post from the content.
Use it to release short free reports.
Publish the transcripts alongside the other media to get greater SEO benefits.
Increase engagement from people who prefer not to have to sit through video/ audio and like to read instead.
You get more content from less work!
---
53) Write Product Reviews
Want to increase your affiliate commissions? Start writing honest product reviews. People love hearing about your personal experiences.
---
54) Start Using Video
Video can help your readers connect to you on a far deeper level than text. Try to incorporate it into your content marketing strategy!
---
55) Collect Testimonials
Testimonials can make a big difference to your business. Keep a file of positive things people say about you in emails, blog posts etc.
---
56) Put That New Idea to One Side
Tip: Write your new ideas down for later reflection, but don't jeopardize your other projects by acting on every single idea you have.
---
57) Don't Be Afraid To Show Your Personality
Tip: Don't be afraid to show some personality in your business. You are unique and that sets you apart from the competition!
---
58) Take Advantage of Strategic Sales
Tip: Sales are a great way to increase your income, but don't run them so often that you devalue your products.
---
59) Stop Thinking You Need to Blog Every Day
Don't think you need to blog every day. Find a schedule that works for you, but try to stay consistent in that schedule.
---
You MUST have a mobile ready website – 50% of mobile web users use it as their primary or ONLY way to get online!
---
61) Use Sticky Internal Links
Keep users on your website for longer by using internal links in each of your blog posts.
---
Want to make more affiliate sales? Then put together a unique bonus that complements the original product perfectly.
---
63) Host A Pitch Free Webinar
Tip: Try hosting a pitch-free webinar to boost email subscribers and build trust.
---
64) Spend More Time on Your Headlines
Tip: You should spend just as much time writing your headlines as you do writing the rest of the copy.
---
65) Take Breaks Throughout the Day
Tip: Regular work breaks will actually make you more productive! Try to schedule one in every hour.
---
66) Set up a Project Management System
Tip: Start getting your projects and your subcontractors organized with an online project management system.
---
67) Use More Images on Social Media
Images are set to rule social media in 2014. Post more photos, quote images and funny memes to have more chance of being shared.
---
68) Hire a Coach
There are times when it's worth it to pay to move your business forward. If you're doing OK, and you've got some cash to spare, but you're just not quite sure what to do to get to that next level, it could be time to hire a coach. 
---
Aim to simplify everything you do as much as possible – work smarter, not harder, to increase your profits!
---
70) Learn How to Fire Clients
Sometimes it's OK to fire a client if they're causing you more stress than the money's worth.
---
71) Start Using Ethical OTOs
If you sell digital products online, start adding one time offers to the checkout process. It can massively increase your earnings!
---
72) Create an Operations Manual
Start creating an operations manual for everything you do in your business. It'll make it easy to outsource those tasks to an assistant!
---
73) Use Content Creation Shortcuts
If you want to get more done with less time and less money then start using smart content creation shortcuts in your business.
Here are a few ideas:
Purchase topic ideas for your niche to save brainstorming time.
Purchase article outlines in your niche to save time but still create unique content.
Use PLR (private label rights) content for your websites, emails and products. Just edit it a little so that it's unique to you.
Start curating content on your blog (sharing quick snippets and pointing your readers to external sites).
---
74) Don't Try to Be Anyone Else
Don't try to be anyone else online. YOU are what makes your business unique!
---
75) Carry an Idea Notebook
Always carry an ideas notebook around. That way, you can write down every new idea and then forget about it until you have free time.
---
76) Share Your Content in As Many Places As Possible
Try to publish your content in as many different places as possible to increase the number of people who might find it!
---
77) Create A Loyalty Program
Think about creating a customer loyalty program to make it easier to sell to your current customers.
---
78) Improve Your Website Load Time
You might not realize it, but your website load time can make a big difference to your bottom line. People are more and more likely to abandon your site altogether the longer it takes to load.
Step 1: Use a free online tool like GTMetrix to see how fast (or slow) your website is.
Step 2: Improve the load time of your website by keeping the number of plugins down to a minimum, optimizing image files, using caching plugins and more.
---
79) Focus On Your Readers, Not Google
If there's one thing we've learned about SEO in recent years is that gaming the system doesn't work. People have had massive success from black hat SEO techniques, only to have it all come crumbling down again in the latest search engine update.
Instead of thinking about Google, think about your readers. Aim to provide the best reader experience possible, full of high quality content, and not only will you keep Google happy, but your readers will subscribe to your mailing list, follow you on social media and give you a following outside of Google.
---
80) Hire A Virtual Assistant
Hiring a virtual assistant could be the best way to take your business to the next level. Think about it: is your time best spent managing day-to-day admin tasks and customer emails? Or would you increase your profits by coming up with new ideas and implementing marketing strategies?
There's no point doing all the everyday tasks yourself when you can hire someone else to do it for as little as $15 an hour. You can find even cheaper help if you look for virtual assistants from abroad.
Worried that you won't have enough tasks to send to your assistant? Don't be – see this list of 101 things you can outsource.
---
81) Start an Affiliate Program
If you have a product to sell (and you should) then you'll shift a lot more copies if you enlist the help of others. And an affiliate program is the best way to do this.
It's not hard to put together an affiliate program. There are many affordable programs out there, including E-junkie, JVZoo, WP-Affiliate Platform and more.
Once you have your program set up, be sure to let your customers know that they can promote your product to others. And start networking with other marketers in your niche who might also be willing to promote you.
---
82) Give Affiliates Special Incentives
It's not always easy to get affiliates to promote you, which is why it pays to give them extra incentives from time to time.
Here are a few ideas:
Make sure to offer a generous standard commission e.g. 50% for digital products.
Offer 100% commission on certain items for a fixed period of time.
Run affiliate contests from time to time where you give away prizes like Amazon vouchers or iPads to affiliates who refer $X amount in sales.
Put together special coupons just for individual affiliates to share with their subscribers.
---
83) Be An Authority In Your Niche
If you really want to improve your online following then you've got to become an authority in your niche. Even if you don't feel like you are, if you have followers then you have people who rely on you for their information!
This means sharing useful content with your readers through social media, keeping up to date with the latest trends and letting your subscribers know about them, and educating them as much as possible.
Other ways to help boost your new "authority" status include releasing a Kindle book, guest blogging on other people's blogs, and being interviewed by others (and you can interview them, too!)
---
84) Get Outside of Your Comfort Zone
There's a secret to growing as a person and in business: you need to learn to step outside of your comfort zone.
Certain online marketing tasks can really take you out of your comfort zone to begin with. Things like launching your first product, sending your first promo to your list, recording your first video, and doing your first interview.
The good news is that the more you do, the bigger your comfort zone grows! When you do that task for a second or third time, you won't feel nearly as nervous.
Stay inside that comfort zone and you won't be doing your business any favors.
---
85) Collaborate
Collaborating with other marketers can be an excellent way to improve your business.
Say, for example, that you're great at writing but you don't have a big audience. You could write an eBook and release it with another marketer who does have an audience to market to.
Or you could simply pool your skills and resources to create one mega product that benefits from having both your names on it.
Collaboration is far easier in the online world, so take advantage of that! Use it to get your products in front of a larger audience than you would have been able to otherwise.
---
86) Be Patient
Many people get into online marketing thanks to the promises of so-called "gurus". Although it's tempting to believe them when they say you can "make $1037.34 in just 4 minutes", this really is too good to be true.
Building a legitimate online business takes time. Unfortunately, most people give up just before they would have seen some real success.
So if it's been a few months and things haven't taken off quite like you'd hoped, try to be patient. It's hard, but remember that even most "overnight success" are anything but!
---
87) Don't Worry About Unsubscribes
If someone unsubscribes from your mailing list, don't take it personally! In fact, unsubscribes can be a GOOD thing – it just means you'll have a list full of people who actually want to hear with you. You're narrowing it down to your ideal customer base!
---
88) Test, Test, Test
Did you know that even the subtlest change to your sales copy can make a big difference to sales?
If you didn't know, it's because you're not testing enough! Start using A/B tests to see which elements impact your conversion rates. This could mean something as simple as changing the color of your buy button and seeing which converts best.
There are a number of tools to help you with your A/B tests:
---
89) Use Criticism to Your Advantage
It can be difficult to take criticism as an online business owner. Because we're usually working on our own, it's hard not to take things personally.
There are two types of criticism: the first comes from people who are never going to be happy with what we do, and the second comes from people who genuinely want to give us feedback.
Although you'll never please the haters, take the second type of criticism and use it to improve your products and systems. People will appreciate the fact that you're listening to what they have to say!
---
90) Don't Focus All Your Efforts on Sites You Don't Own
If there's one thing that's certain in internet marketing it's that everything can change! Unfortunately, so many marketers have built up fortunes on third-party services just to see it all come crashing down when those services become the victim of the latest Google update.
If you rely on third-party sites – like Squidoo, your Facebook page etc. – for most of your income, then have a long, hard think about what you'd do if you lost your account on those sites. If you wouldn't be able to make ends meet, it's time to make some changes.
Instead of relying on third-party sites, try to spread things around a bit. For example, have your own blog, but also collect email addresses in case your blog disappears from the search engines.
---
91) Collect Mailing List Subscribers from Social Media
Social media shouldn't be seen as an end in itself. What good is it to have a million fans on Facebook if it doesn't help your business in some way?
This is why you should always try to collect email addresses from your social media profiles. This is especially important on Facebook, where it's easy to add a subscription page to your tabs using software like Leadpages.
Here are some tips from Amy Porterfield and Social Media Examiner:
Promoting free webinars on your Facebook page (where people have to opt in to register),
Using Facebook ads to get your links seen by more people,
Use the Facebook offers feature,
Let people retweet links back to your freebie opt in page.
---
92) See Link Building As Relationship Building
Here's an eye opening thought that could change your business: start seeing link building as relationship building instead.
This might not make sense at first, but think of it this way: the more you build deep relationships online, the more people will spread the word for you. People will share your content on social media, they will tell people about it on forums, they will link to it from your blog.
This is all part of the new wave of inbound marketing. See how it affects your business!
---
93) Keep an Eye on Your Competitors
Keeping an eye on what your competitors are doing can help you improve your own business. It can apply to all areas of business: customer service, product creation, blogging, social media and so on.
Every time you see your competitor do something you like, note it down in a file. Every time you see some sales copy you love, keep it filed away for future reference.
Take a look at the kind of people your competitors are talking to, and the kind of products they are releasing. Although your own market is different, it might just give you some new ideas.
What you don't want to do, though, is try to copy someone else. Remember, you are unique and that is your selling point!
---
94) Help Others
Stop seeing your business as a way to make money from others and start seeing it as a way to help other people.
When you go out of your way to help other people who are desperate for solutions, they won't forget it. They will spread the word and grow your following for you!
"If you are serious about starting a lasting business, stop focusing on your own goals and instead focus your attention on serving others, discovering their needs and how to help them." – Neal Cabage (Inc.)
---
95) Keep Up With Trends
Keeping on top of top trends in your niche is a great way to make sure you're always putting out information and products that people are really interested in.
For example, if you know that Facebook has just changed its page algorithm, you can put out an informative blog post helping people get their fan pages seen.
Here are some ways to keep on top of the latest trends:
Subscribe to the top blogs in your niche.
Keep an eye on Google Trends.
See what people are talking about on social media.
Take note of the questions people are asking in forums.
---
Many online "gurus" talk about earning a completely passive income from your business. Unfortunately, however, this is not really possible. Some people even call it "the biggest lie on the internet".
Why? Because although it's true that marketers can and do make money while they sleep, they still have to work before that money comes in, and they still need to do the work after it comes in to keep things going.
Your aim should be to maximize the returns from every bit of work you do, but not to quit working forever. Understanding this might just set you free from the "guru trap"!
---
Want a simple way to improve your business? Start getting input from others. Although you probably have loads of great ideas about your business, sometimes other people just bring up a totally new perspective.
Here are a few ways to get those ideas:
Ask your customers to reply to your email asking their biggest question,
Create a survey and send it to your customers,
Ask trusted colleagues what they think about your new project,
Join a forum and brainstorm with members,
Ask people outside of your business,
Hire a mentor.
---
98) Write A Kindle Book
If you want a simple way to improve your brand and your passive income, releasing a Kindle book is a really good idea.
You might think you don't have time to write and release a book, but don't forget you can recycle content you've already written in the past! Even if your Kindle book is simply a compilation of several blog posts on a similar subject, buyers will still appreciate the fact that they can find them all in one easy-to-digest format.
Once you have books published in your name, it helps you get seen as more of an expert. This, in turn, can build trust in potential buyers and help you land future work!
---
99) Create a Recommended Resources Page
Here's a quick way to increase the income potential of your website: create a recommended resources page.
This page is where you list all of the tools and programs you've found useful in your business. For example, if you run a healthy eating blog, you could list links to your favorite cooking products, cookbooks and so on.
This page comes with two main benefits:
It'll save on customer support time. If you often get questions about certain recommendations, you can point people to this new page instead of taking time to answer each and every question.
Make sure you sign up as an affiliate of the products you recommend and you'll also earn money when someone buys on your recommendation!
---
100) Commit to Excellence
Committing yourself to excellence in business means that you'll always do the best job you can. This doesn't necessarily mean you'll be the richest business owner, but it does mean that you'll take satisfaction in performing each task at a very high level.
There are so many opportunities to apply this idea to your business:
Do your very best every time you answer a customer email,
Make sure your products go above and beyond what people expect,
Give away your best information for free,
Take pride in knowing that you truly care about your customers.
As you can see, committing yourself to excellence can really benefit your customers. In turn, you'll reap the rewards of an extremely loyal following who will spread the word to others!
---
If you have made it this far down the list, I know your business will be a success! Check out all the great information I linked to within this LONG blog post. It will definitely help you grow your business this year!
Share this post with your friends so they can be successful too!
---