Do you want to stop worrying about what is for dinner? You can plan freezer meals for a month in less than 15 minutes with the Build a Menu plan I use.
I can show you simple, make ahead freezer meals WITH a shopping list to take to the grocery store. I was so excited to log in to the website to plan my meals and find a new freezer meal section. I was ecstatic once I realized there was one for the Trim Healthy Mama eating plan also! Double win!!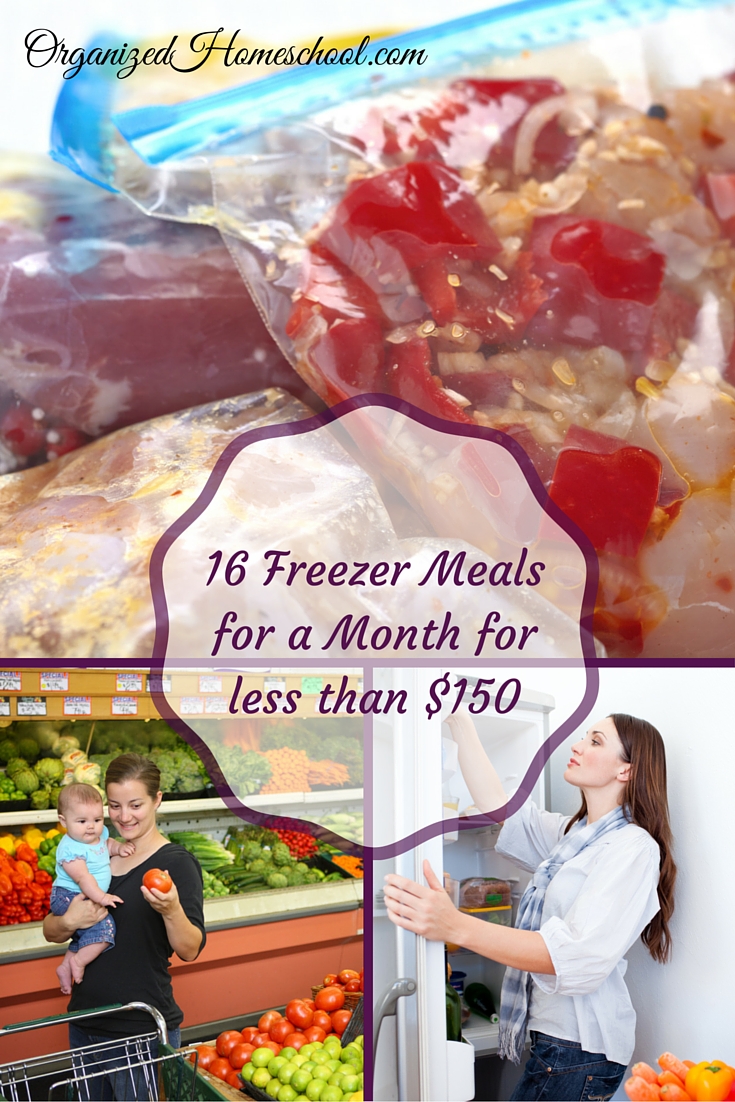 This post may contain affiliate links to products I recommend. This means I make a small commission off your purchase, but this does not affect your price.
I planned out 16 freezer meals for a month in less than 15 minutes and only spent $147.58!
These were meals that feed my family of 6. Most of them can be cooked in the crockpot also! That made this homeschooling mama super happy!
Want to know how I did it?
Here are some simple steps to knock out a successful freezer cooking session:
Step1: Log in to Build A Menu and Choose Your Store
There are several stores to choose from. You can read my review here to see which stores the menus are created from. The menus are based on ingredients that are in season or on sale for that week.
Step 2: Choose Your Meals
Choose the "Dinner" menu icon. Now choose the freezer meal cooking selection to see a list of make ahead healthy freezer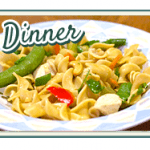 meals. You will want to scroll down to the bottom of the recipe list first and print the "prep guide". This will give you all of the information you need to know about what items need to be prepped before you start preparing your freezer meals for a month. You might have to brown hamburger meat or chop onions and peppers to prepare them for the freezer. The key is that you are dirtying up your dishes only once instead of every day. Love it!
Next, you will want to select the freezer meals for a month recipes that you want to eat. If you are wanting to freeze 16 meals, then select 8 of the recipes and change the quantity to 2. We are making double batches so that the ingredients are simpler and faster to prepare and freeze. If you aren't sure what is required to prepare the freezer meal, then click on the "show recipe" link and it will describe in detail what the procedure for freezing and cooking the meal will be. As you choose meals, the sidebar on the right keeps a running total of the estimated grocery bill you will incur. How great is that?
Now this only covers dinner meals. You will want to go back up the page and choose the "Breakfast" and "Lunch" menus if you need to buy items for those meals. I typically do not freeze items for those, but do add them to my menu so I have an idea what we will be eating for the next week.
I try to do freezer cooking twice a month so that I have a large variety to pick from in our freezer. I love not having to worry about what is for dinner each night. My daughters love to go and "shop" the freezer and pick what is for dinner each morning. They take turns doing so.
Step 3: Print Your Lists
Now you want to go to Step 3 on the Build a Menu website and print your list of meals. This report lists all of the meals you selected. I transfer this list to a white dry erase board I have on my freezer and I erase the meal from the board as I cook them. This way I know what my freezer meal inventory is at all times.

You will want to print the prep list if you haven't already. I usually spend the day I go to the grocery store on prepping everything first. The next day I take the items and put them in the freezer bags or pans. Dividing the task into 2 days is what works for me since I have so many children and other responsibilities to tend to.
The website also lets you drag and drop your recipes into a calendar if you want to plan ahead which days you want to cook each recipe. I don't use this feature myself. I tried it once, but didn't like being tied down to eating a certain thing each day.
I know this sounds like a lot of steps, but I literally had this freezer meals for a month planning done in 15 minutes with my list ready for the grocery store.
Tips for a Smooth Freezer Cooking Day
Take out your Prep List and start prepping all items that need something done to them. For example, any meat that needs to be cooked ahead of time or vegetables chopped.
Enlist all family members that are old enough to help. Assign tasks for each one and divide and conquer!
Gather all of your supplies:
Large Ziplock Freezer Bags
Black Sharpie
Large Bowl
Small sandwich bags
Freezer Foil Pans
Recipes
Choose the first recipe that you are going to prepare. Remember you are doubling it, so grab all of the ingredients you need for that recipe x 2.
Next, take your sharpie and Label the bag with the recipe name and the date. If you are a Trim Healthy Mama, I put a big "S", "E", or "FP" on the bag too so I know what meal type it is.
You can choose whether to put the ingredients in a tin foil pan or in freezer bags. I put most of mine in freezer bags unless the recipe needs to be layered like a pizza or lasagna. In that instance, I will use the pans. If you are using freezer bags, fold the mouth of two large freezer bags down an inch or so and place both bags in the bowl. This will make cleanup a lot easier!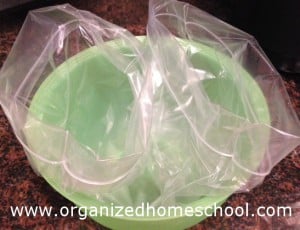 Now you just dump all of the ingredients in the bags. Seal the bag up and make sure to get all of the air out while laying it as flat as possible. This will help when stacking your meals in the freezer.
It's a lot of hard work for one day, but look at that full freezer full of meals! Preparing freezer meals for a month is well worth it. Now you can sit back and relax and know what is for dinner every night!
Click here to learn more about the Build a Menu meal planning system to make ahead healthy freezer meals.