Hey, have you ever heard of Busy Bags for Toddlers and Preschoolers?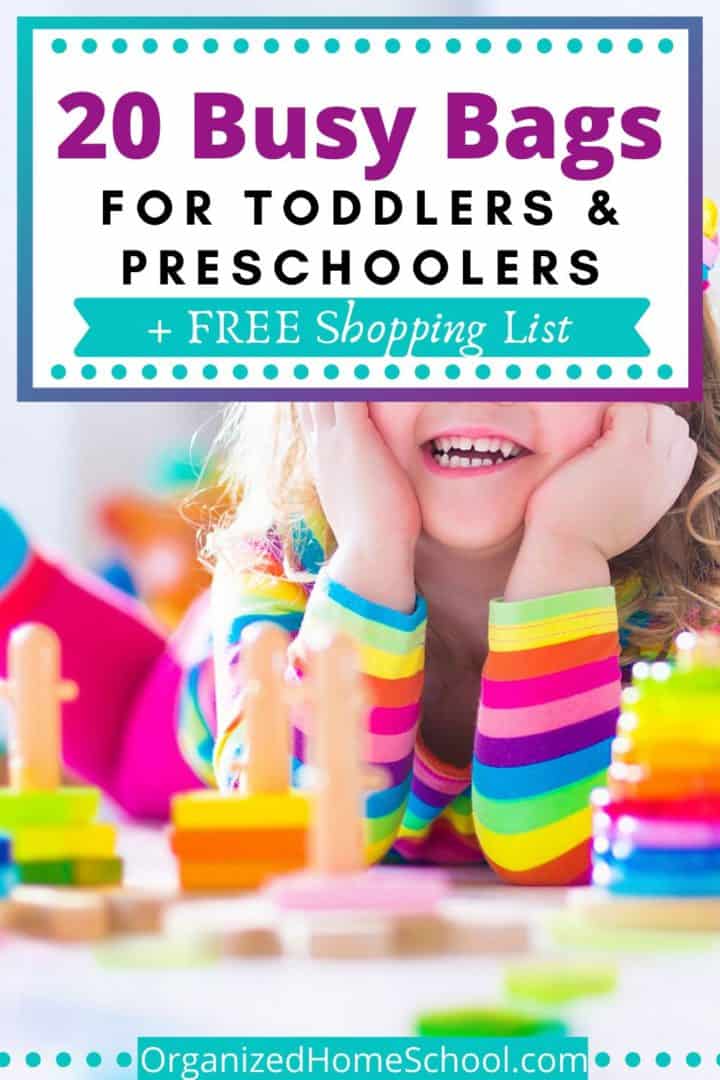 This post may contain affiliate links to products I recommend. This means I make a small commission off your purchase, but this does not affect your price.
Busy Bags Are Great for Quiet Time Activities
The first time I heard about Busy Bags I was at a meeting with our brand new home school co-op, and I was the lucky one they put in charge for heading up the pre-school program, which were the 3 and 4 year olds.
At that time here in south Texas we were experiencing a ton of rain. You know how 3 and 4 year olds are, if they are cooped up in a classroom for 3 1/2 hours they are going to go crazy. We needed something for them to do if they could not go outside because of the weather.
What we did as a group, we had about 10 moms, and we each chose a Busy Bag project. A Busy Bag project is something that you can put in zip lock bag. It's already a pre-made cut-out craft of some kind, that doesn't require glue or anything, but it's a learning skill, something that you use to teach colors, or counting, or puzzles maybe. Something put in a bag that you can grab at a moment's notice, and hand to a child anywhere from the age of 2 up to even 5 or 6, that they can keep themselves busy. You only get these bags out on special occasions, when you need your child, or a preschooler to stay busy for a little while, while you are trying to achieve other tasks.
So we decided to each pick one busy bag to make. There were 10 of us working on them, so each of us made 20 busy bags each (only one kind). That gave us 10 different busy bags for all the classes to use on rainy days.
The children absolutely loved them and we only got them out to play when it rained, so they thought that was really "special".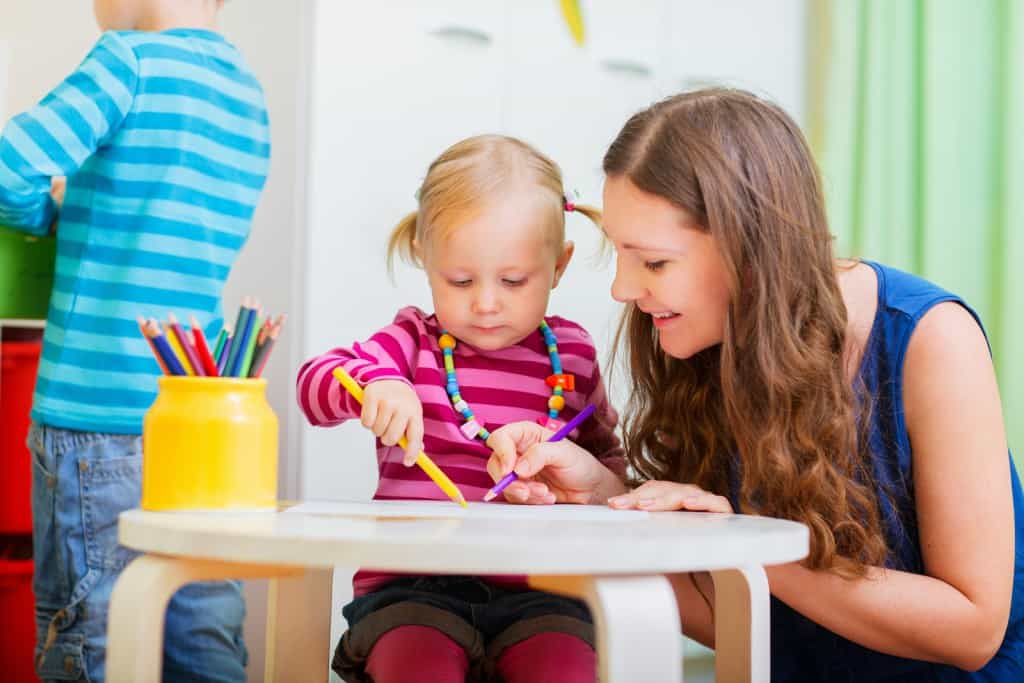 Busy Bags Are Awesome for Work at Home Moms
If you need to write a blog post, or if you need to wash the dishes or do the laundry, you can pull out a busy bag.
Give it to your child, and have them stay busy for 10 to 15 minutes with this special project. This will give mom time to get a few tasks completed with some uninterrupted time.
What we've done is we've compiled 20 different Busy Bag ideas from around the web to help you create some of these Busy Bags. Could you imagine having 20 different activities that you can pull out at moment's notice when you know you've got to get a task done really quick, that you don't need your toddler or preschooler under your feet?
Busy Bag Shopping Lists Created Just For You
We've got these Busy Bag ideas that we would like to share with you. What we've done is we've created a shopping list for you. If you want to go to the store, or go to Amazon.com, and purchase the supplies for all of these 20 Busy Bags, we have a nice little neat PDF file here, that you can download and print. You will have your shopping list ready to go.
Get Your 20 Busy Bags Shopping List
If you don't want to go spend the money to create 20 different Busy Bags for your kids and you want to pick and choose which ones you like, the shopping list covers that too.
Hopefully, this will give you some free time, and give you some time to get some things done, while keeping your little ones busy and happy.
At the same time they're going to be learning, so all you have to do is show them once what to do with each activity, and then they should be able in the future to do it on their own.
Remember, only get these out on special occasions when you need something to keep them busy. These items, or these bags, should be used for those times that you need to get some work done. It will also help them feel like it's something special, not something that's always available any time of day, because it loses it's newness and importance that way.
We hope you enjoy.
Check Out These 20 Busy Bag Ideas for Toddlers, Preschoolers, and Kindergarteners

Easter and Spring Themed Busy Bags (Makes 5 Busy Bags)
Supplies Needed:
***pink, yellow, purple, blue, orange, green (egg colors) 12 Plastic Eggs
6 sheets felt (1 each egg color)
2 sheets white felt
Hot glue gun & glue
1 easter shape on cardstock for directions card
12″ piece of thin ribbon
Hole Punch
Scissors
Gallon zip-lock baggie
Matching Eggs & Mini Eggs by Curious Minds
12 plastic eggs
24 mini eggs to fit in and match plastic eggs or pom-poms
Gallon zip-lock baggie
4 cardstock
2 light blue paper
1 light yellow paper
2 (white paper) printed baskets pages
large manila envelope
Glue Stick
Markers
Scissors
12 plastic eggs
1 cardstock
crayons – for each color of egg
Gallon zip-lock baggie
scissors
26 plastic eggs
2  18-ct. egg cartons (if desired to store eggs and sort by alphabet letter)
Permanent Marker
Gallon Zip lock baggie

Supplies Needed:
Child-size scissors (use safety scissors if needed)
Black Marker
5 different colored paper – cut into many strips about 2″ wide
Ruler
2 white paper
Glue stick
Large manila envelope

Race Cars with Car Track Busy Bag Idea(3 Styles)
2 Rubber Black Door Mats
White paint or white paint marker
Plastic storage box (or tool box) if desired to store in
Several pieces black felt or heavy-duty black fabric material(as much felt or fabric as you'd like road pieces)
white paint or white paint marker (or finger-nail polish)
Gallon Zip-lock baggie
3 scrapbook paper with background style desired
3 cardstock
Stickers (transportation themed) to decorate road maps
3 Black Paper
Silver marker or crayon
Very mini cars (set of)
3 sheets lamination (or clear contact paper)
scissors
Glue Stick


---
Magnetic Dress Up Doll Using Your Child's Photo by Get Creative Juice
Supplies Needed:
Scissors
Printable Magnetic Sheets (ink-jet or laser based on what you have)
Small tin box (pencil case size)
Krylon Matte Protective Finish Spray (NON-water based sealer)
---
Get Your 20 Busy Bags Shopping List
---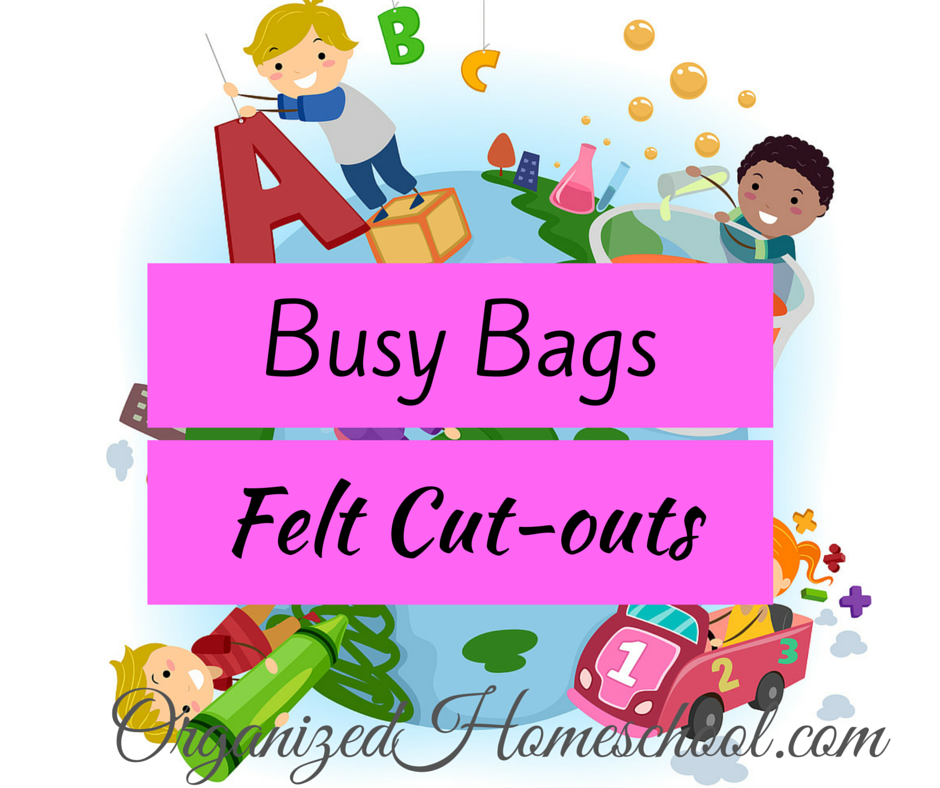 Felt Cutouts with Homemade Felt Board by Linkouture
Supplies Needed:
Black, Dark Blue, Light Blue, Dark Brown, Medium Brown,Light Tan, Orange, Red, Yellow, Pink, Purple, Green, Grey(felt colors for cutout shapes)
Clipboard
Lg. Binder Clip
White felt
One sheet of felt for each shapes color
Scissors
Gallon Zip-lock baggie
Supplies Needed:
1 sheet Light Brown felt
2 sheets Dark Pink felt
2 sheets White felt
2 sheets Dark Chocolate Brown felt
4 cardstock
4 Lamination sheets or contact paper
Scissors
Pencil or pen
Brown Marker (permanent works best)
---
Supplies Needed:
26 Regular size Wooden Clothespins
Alphabet banner from dollar store (approx 24″ long)
Wooden stick long enough to hold the banner and wider than height of banner
Hot Glue Gun & glue
Permanent Marker
Quart-size zip-lock baggie
lg. binder clip (if desired – optional)


---
Dice Pattern Number Learning Activity Puzzle by Curious Minds
Supplies Needed:
Set of 10 dice (preferrably all the same color)
2 cardstock
Black Marker
Scissors
Gallon Zip-lock baggie
---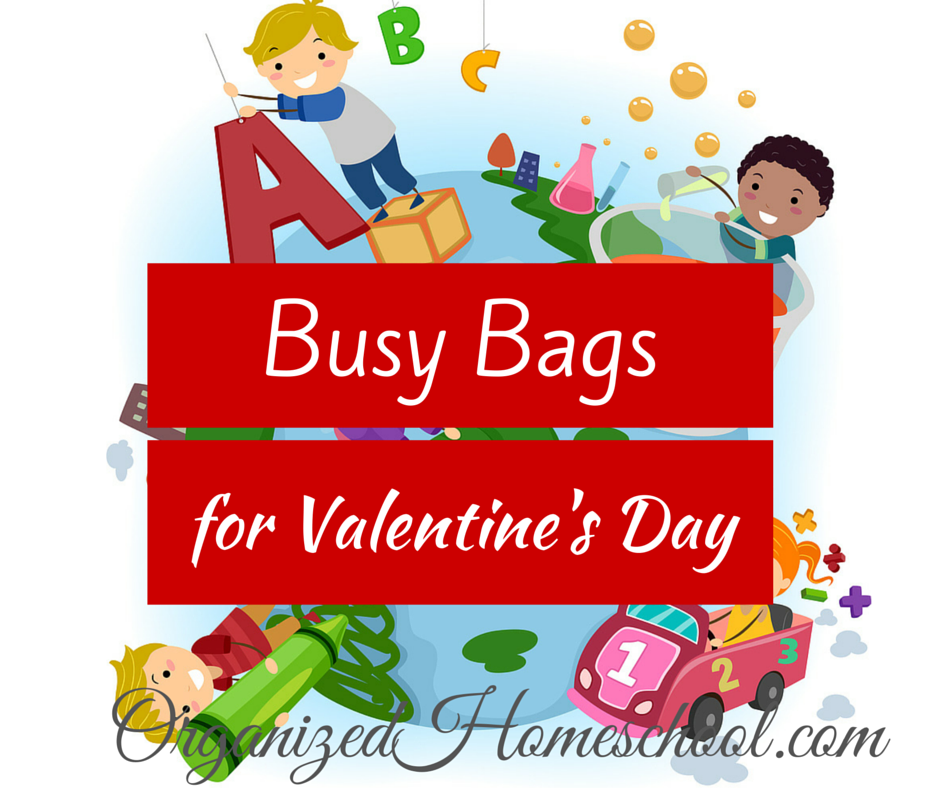 Valentine's Day (2 Busy Bags)
Supplies Needed:
Scissors
3 white paper
3 cardstock (cardstock to print pages onto)
12-page Photo Album (from the dollar store)
Several boxes of Valentine's candies- heart shaped (extra so child can taste some!)
Supplies Needed:
Heart-shaped tin (or quart-size baggie with heart drawn with Red Permanent Marker)
Heart cookie cutter set (or sheet paper to make own heart templates)
1″ wide ribbon,  24″ long
1 heart shaped button, wider than the width of the ribbon
1 heart shaped button, with widest part about the same width of the ribbon or less
Pencil
Scissors
Needle & thread

Supplies Needed:
Rainbow colored popsicle sticks (from the dollar store)
3 or more cardstock
Scissors
Gallon Zip-lock baggie
Black pen (if making up patterns on additional cardstock)
Supplies Needed:
10   4×6 photos printed (your choice of pictures or from internet)
Big craft (wide) Popsicle sticks (approx. 100)
Mod Podge
2 Gallon Zip-lock baggies
Ruler
Pencil
Scissors
10 Zip-lock quart-size baggies
Supplies Needed:
Mod podge
Big craft (wide) Popsicle sticks (approx. 60)
6  white paper to print pictures onto
X Acto Knife
Permanent Marker
Tape



Lowercase Letter Formation Baked Cotton Swabs by Sugar Aunts
Supplies Needed:
Cotton Swabs
Food Coloring
Flour
Water
Baking Sheet
Aluminum Foil
Quart-size zip-lock baggie

Supplies Needed:
Various felt – 6 different colors – same size sq. each
Scissors or die cutting machine
small objects to match 6 different felt colors
10+ per color (small objects could be pom poms, small trinkets, buttons, tiny toys, etc.)
Gallon Zip-lock baggie
Supplies Needed:
Large buttons, at least 3 each of 4 different colors (red, blue, green, yellow)
4 sheets of felt, one for each matching color (1 red, 1 blue, 1 green, 1 yellow)
Hot glue gun and glue (or sewing needle & thread)
Quart-size Zip-lock baggie
Scissors
Supplies Needed:
red, orange, yellow, green, blue, purple(get varied shades for each color category)
Paint Chip samples of varying shades (3 or MORE shades of each color)
Magnets (roll or sheet) with adhesive side – (optional)
Cookie sheet (or magnetic surface) – (optional)
Gallon zip-lock baggie
Scissors
Laminator sheets (or contact paper)
1 white paper
Ruler
Markers



Quiet Sponge Building Blocks by Inner Child Fun
Supplies Needed:
LOTS of Ordinary dry household sponges – Multi-colored -no scrubber attached
Kitchen scissors – large and really sharp
2 gallon zip-lock baggies

Supplies Needed:
1 old cereal box
Scissors
Single Hole Punch
Colorful Ribbon – at least 36″ (cut to correct length AFTER assembling into "shoe"
Paint and/or permanent markers (if desired)
Tape that will adhere to ribbon ends
Supplies Needed:
1 Cardstock
Markers
Hole Punch
Shoe Lace
Colored & white paper for decorating shoe style (colors of your choice)
Glitter glue, Stickers, Crayons (if desired to decorate shoe)
Glue
Scissors

Crayon Roll & Activity Coloring Sheets by The Pleated Poppy
For those of you mommies who can sew, this is a really cute project.
Supplies Needed:
2 pieces fabric 5″ x 16 1/2″ (1 is for the inside, the other is the outside)
1 piece coordinating fabric 6″ x 16 1/2″ (for the pocket)
1 piece flannel 5″ x 16 1/2″ (lining = any color will do)
1 coordinating hair elastic
1 button
Needle & Thread
1 box 16 crayons
disappearing ink fabric marker
White paper
To go with your crayon roll, print several coloring activity sheets and some learning activity pages.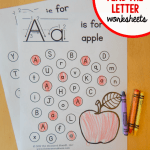 Free Find the Letter Alphabet Worksheets HERE.
Get the upper and lowercase letter find pack HERE.
Get just the uppercase letters  HERE.
Get just the lowercase letters HERE.
---

Supplies Needed:
Multiple sets of foam or plastic letters (enough to spell each word) – 2 to 4 sets
4 Black heavy paper (or glue stick, 4 black paper AND 4 cardstock)
White crayon or paint marker
5 Lamination sheets
Gallon zip-lock baggie
Scissors

Supplies Needed:
Plastic Sink Mat with lots of squares cut out all over mat (dollar store)
Variety of At least 13 (or many more!) ribbons longer than the sink mat
Tape that will adhere to ribbon ends
Gallon zip-lock baggie
Lg. Binder clip
---
Get Your 20 Busy Bags Shopping List
---
Have you used Busy Bags in your homeschool? Let us know which ones in the comments below!
---
Here are more homeschool related posts to help you:

---