I am so proud of myself for sticking with the Make Over Your Mornings course.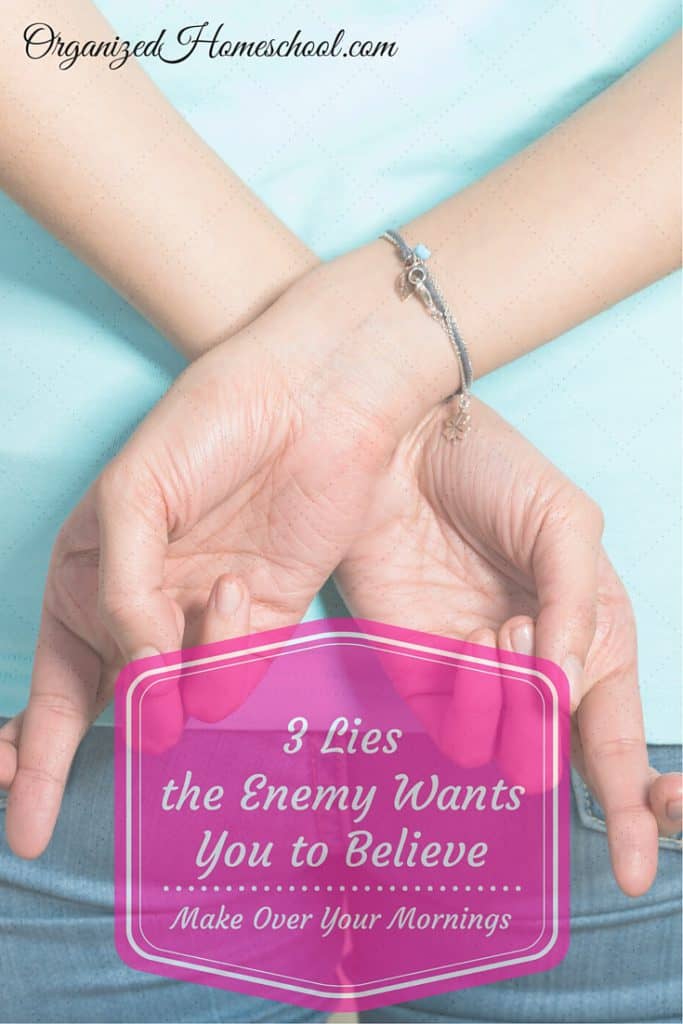 This post may contain affiliate links to products I recommend. This means I make a small commission off your purchase, but this does not affect your price.
I am learning so much. I wanted to share with you some things that Crystal teaches in Days 9 through 11 in her course. They are simple truths that we all have heard before but the way she explains them and how she shares her personal testimony really shines new light on some of the insecurities and struggles that we as mothers deal with.
I believe the enemy tries to steal our joy at every turn and we have to be vigilant to guard our hearts and minds against his tricks. The following 3 areas are common lies that we believe a lot of times that simply are not true when you look at the big picture.
I believe it was Joyce Meyer who said in her book The Battlefield of the Mind that it is simply our "Stinkin' Thinkin'" that causes us so much heartache.
Chaos Reigns When You Have Kids
The first lie that our culture and the enemy tries to get us to believe is that when we have young children in our home then we can expect chaos to reign.
That is simply not true!
Consistency is the key. I know on this blog I preach about routines and schedules but it is for a good reason. When my routines get out of whack, chaos does reign. When my routine is running as planned, then we have smooth and easy days. They are not perfect, but they are more predictable and much more gratifying.
In Day 9 of the Make Over Your Mornings course, Crystal gives some great tips and printables to help create your Ideal Morning Routine. Mine will look different than yours and I love how she explains that it all depends on what season of life we are in. Also, you can expect your morning routine to change from year to year due to your children grow older and your responsibilities change.
My morning routine looks very different now that I am working full time while homeschooling. That is just fine! We have to learn to adapt and go with the flow if we want to raise our children in a loving environment.
You Are a Failure
Crystal was really transparent on Day 10 of the course. I really applaud her humble and sincere heart in sharing her struggles. She shares the most destructive lie she ever told herself in this video.
What is amazing is that as she explained what that lie is, I realized that I struggle with this issue myself and I am sure most of you do too.
As moms, we can be really hard on ourselves. I know that I am my worst enemy. I expect perfection from myself but not others. I really hold myself to an unrealistic high standard that is doomed from the start. Why do we do that to ourselves?
God plainly tells us we are "wonderfully and fearfully made". We are equipped to handle all that he gives us to do. Why do we struggle so much with feeling that we are not enough?
Crystal goes on to point us in the right direction on how to heal and overcome this destructive lie that we tell ourselves so often and gives us some resources to start the process of changing these crippling thoughts.
There Is No Time For Exercise
Really?
I don't have 15 minutes I can find to take care of my body and mind? I guess not if you look at how much exercise I have been getting. (Hardly any!)
We all know part of practicing self-care is exercising and taking care of us so that we can be healthy for our children. We all know it, but it is so hard to DO IT!
You set a New Year?s resolution to exercise every day, right? How long did it last?
If you are anything like me, it lasted all of 2 days!
Here are some tips I found to maybe get us off the couch or out of the office chair:
Set your mind to the idea of moving more. Remind your body to get more movement every day by standing more or taking the stairs more often. Other ways to get more movement in are to do stretches in your chair, squat to pick something up from the floor or park farther away from the door.
Commit to regular activity by setting a specific time each day. Schedule it in your appointment calendar and treat it like a commitment. Set a time to take a leisurely walk if exercise is new to you. Or set a time to take a fitness class, swim a few laps or join in a dance class.
Move more. Find ways to move more in your regular daily activity.
Find your favorite exercise. You?ll be more likely to stick to it if you enjoy it. To find one you?ll enjoy, think about what you played as a kid. Did you enjoy team sports? You might be more of a group or class person, so try a spin class or sign up for an adult sports league. Did you enjoy playing alone? Try running, tennis or a marathon. Rent an exercise video to experiment with different types of exercise.
Vary your routine and activities if you get bored easily. Try cardio three days a week and strength training twice a week and yoga twice a week. Try working out in the morning part of the time and in the evening part of the time.
Exercise at the right time of day for you. The best time to exercise is whatever works for your schedule. Mornings might be ideal if you can wake up early. Pop in a video while the kids eat?lunch or after work if that works best for you.
Incorporating exercise into your daily lifestyle can be as simple as waking up thirty minutes earlier for a quick walk or doing stretches at your desk. No matter what type of exercise you do, look for simple ways to add more movement to your day.
Crystal also shares 6 more ideas that are very practical to implement as well as printable worksheets to help track your movement so you can celebrate your achievements.
I think I will dust off my Leslie Sansone DVDs and schedule 15 minutes this week to fit in some exercise. ?What about you?
---
---
---