Hey, just so you know ... This post includes affiliate links. That means if you use them to make a purchase, I may earn a commission. You can read my full affiliate disclosure HERE
If you browse homeschooling blogs long enough, you will see many varied homeschool schedule ideas floating around.
Do you know why?
Because every family's homeschool schedule is unique to their family dynamics. And that is they beauty of homeschooling!
But there are a few things that you will find in every successful homeschool schedule. That's what I want to highlight in today's post.
In order to have a successful homeschool educational system for your children, you need to design a well-planned out routine and schedule.
If you fail to do this, you and your children are likely to end up only being confused about what to do, when to do it, and how to do it, but also frustrated by the workload.
A homeschool schedule does not need to be complex, it just needs to be consistent.
If you are looking for some ideas, let me share five of my own homeschool schedule ideas I have learned over the years.
5 Homeschool Schedule Ideas to Implement Today
1. Homeschool Is a Constant
You need to develop a culture that entrenches school into the minds of your children as a must.
Your kids should not even need to ask if there will be school on any day, the same way they don't need to ask if there is a need to eat, if they should brush their teeth or whether they need to sleep in the night.
As Margaret Thatcher says, "Plan your day and every day, then work your plan."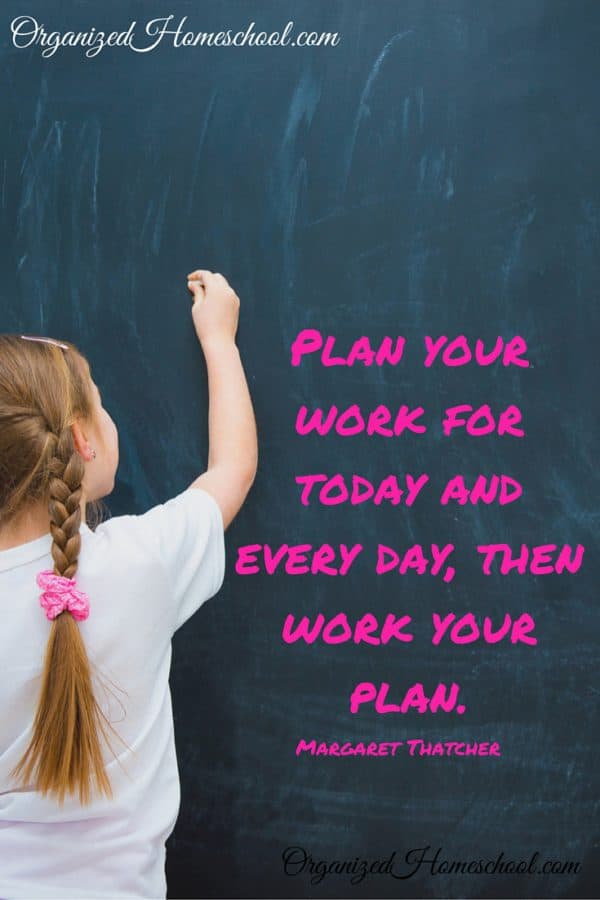 School is a constant part of life. It is not what comes with feelings or wishes.
2. You Can Do School When You Want
You can make school as flexible as it is convenient for you. This is one of the major benefits of homeschooling – you get to set the schedule and pace of schoolwork to meet the needs of your unique family.
If you cannot start in the morning, no problem, you can arrange your schedule and that of your children for the afternoon.
A nursing mother for example may need to sleep in the morning and be more focused in the afternoon.
This is one of the perks of wonderful homeschool schedule ideas if followed consciously.
3. Keep Your Everyday Subject Routine Simple
It is important that you keep your everyday subjects simple.
You do not have to do every subject every day, every week or even every month. You might choose to have science weekly or history daily depending on what you see as best based on your family's needs.
Our current homeschool schedule for my 7th and 9th grader includes focusing on only ONE SUBJECT PER MONTH. They immerse themselves in that one subject and their grades have dramatically improved. My daughters have absolutely loved this simple routine.
4. Be Careful Not To Compensate Quick Work With More Hard Work
If you want one of the best ways to discourage efficiency, try this.
It can be demoralizing for a child to see that when he works quickly, he is given more work to do, rather than a bonus time to have some fun which the child desires.
Next time, the child may deliberately slow down to avoid more work.
To avoid this my children are given their scheduled work for the day and when it is completed correctly they are done with their work for the day. They can then enjoy a job well done and move onto much anticipated free time.
5. When There Is a Real Need To Take Days Off, Do So!
Just as you get to choose the time of day that works best for your family, you also get to choose your work week and holidays for your school! You are not a slave to your own schedule.
Know that you are in charge.
If there is a real reason to take one or more days off school, you can do it without losing sleep over it. That's another one of the advantages of homeschooling. You get to choose your own off days. Birthdays are always a holiday in my home.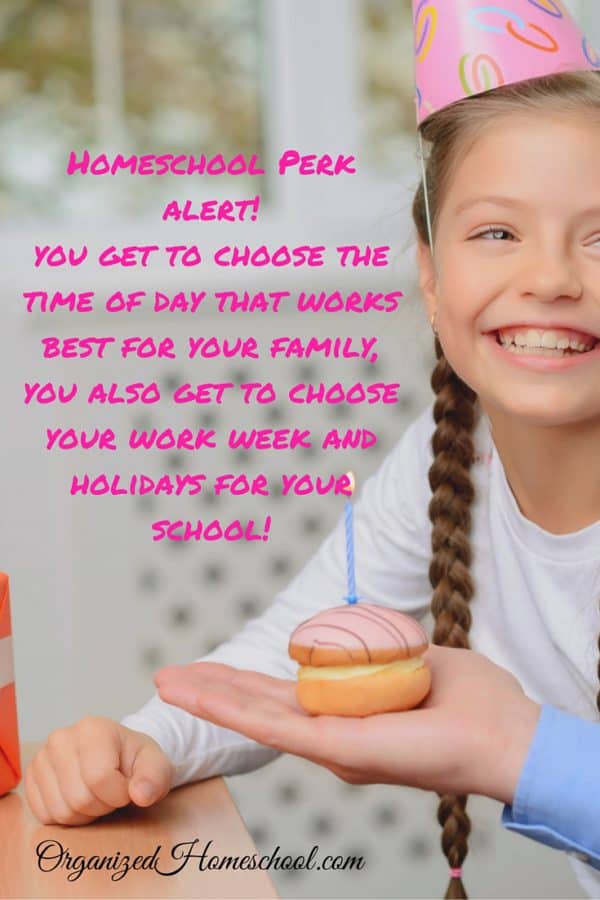 We seldom take federally declared holidays such as Veterans Day off. We just incorporate leaning about that holiday into our schedule in some fashion.
Also, we may not fully utilize the given two weeks in Christmas so as to save some time. A week saved can go a long way.
Nothing should be burdensome, if properly scheduled.
I hope these homeschool schedule ideas provided you with effective, yet flexible homeschooling experiences based on your individual family's needs.
---
RELATED POSTS: