It's quite surprising how many people make home organization a difficult process. When in fact, you can make it a really simple, no-brainer system to begin with.
But whatever home decluttering techniques you apply, there's no right or wrong method for organizing your home.
So no pressure!
As long as it complements and supports your lifestyle preferences, do any method that makes the most sense for your household.
However, if you're a bit overwhelmed and don't know where to start, here are my six incredibly easy, no-nonsense hacks to make organizing and cleaning your beloved home much much more effortless!
6 Amazing Home Organization Hacks Every Homemaker Should Know
This post may contain affiliate links to products I recommend. This means I make a small commission off your purchase, but this does not affect your price.
Set Goals Regularly
In my case, I make a to-do list every single day. This step helps you organize your thoughts.
It allows you to think about, "What do I want to organize", or What do I want to declutter today?"
Be as resourceful as you can in listing down your daily goals. You may either have a book planner or a simple paper To-Do printable where you can jot down your tasks for the day.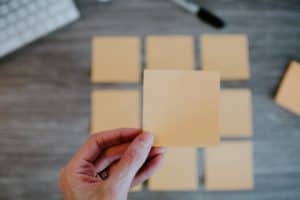 There are also pre-made checklists that you can simply check off as you go through each goal or task. Whether you use Post-it notes that you can stick on your fridge door or inside your planner, make sure that you know what goals you want to accomplish for the day.
Resist the Temptation to Have a "Storage Supplies Shopping Spree"
You may come up with a million excuses to justify buying a cute pink organization drawer.
But the hard truth is you really don't.
So try to adopt the rule: clean up first and shop last.
Many of us tend to think that organizing your home is tantamount to buying bins, boxes, and many other home organization supplies that you believe will get rid of your clutter instantly.
Sadly, it's going to be the opposite.
You'd most likely end up adding more clutter into your house. What you need instead is a list of all the stuff that you don't use or need anymore in your kitchen, garage or basement, bathroom, closet and other storage areas. You can use one of these decluttering templates to help you sort through and list down all your unwanted stuff.
Always Keep a Donation Box
Have a cardboard box or a big paper bag where you can add unused or old items often. So that whenever you find something in your closet or kitchen cupboard that you really don't need, you can put it in your "for charity" bin.
You can also do a weekly inventory of your unused home items and then make a checklist of what to donate or throw out from the pile.
For some reason, clutter is a constant thing in our home life, and if you don't start acting on it now, the next thing you know is that it's already creeping up on you.
Adopt the Minimalist Rule: One in, One out
This hack is a super powerful tool to use when it comes to organizing, decluttering, and preventing the accumulation of unnecessary stuff in your house.
Basically, this rule means that for every item you get, you need to get out one thing similar.
For instance, clothes. One shopping day, you find a really pretty dress. And you feel like buying it on the spot.
But then you realize that you need to part with a similar item that's in your closet now.
This technique forces you to pause and evaluate things before spending money on them.
This saves not just your hard-earned cash but also keeps you from regretting buying something you don't really like more than what you already have in your wardrobe.
To kick things off, set your own personal house rules for decluttering. Start a "family 30-day decluttering challenge" if you will! Here's where you can start.
Have a Morning and Evening Routine
Following a certain schedule or routine in the morning and evening would be another powerful tool that homemakers like us can implement for a more organized home life.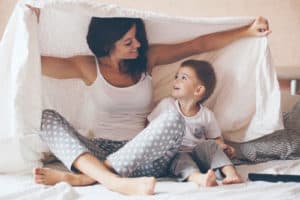 If you've never done this before, try it as soon as you can! Sit down for a few minutes this weekend and think about what your day usually looks like, and what tasks you normally do. You can use morning routine templates to make this step faster. Evening routine templates are also available here.
Tidy Up Before Going to Bed
Don't wait till tomorrow to wash your dishes, arrange your makeup in the bathroom, or fold your throw blankets. Wouldn't it be great to wake up every single morning to a fresh and clean space? It helps you to get motivated and ready to face your new day.
As you can see, the above home organization tips are really straightforward and basic. Whether you're a housewife or a busy career lady living alone, freeing yourself from all the mess and clutter doesn't have to be complicated.
Keep it real and simple. By just following these tips I'm sure you'll always live a tidy and happy life!
---
RELATED ORGANIZING POSTS YOU MIGHT LIKE:
---
Download a Copy of My Weekly Schedule Template for Free
---