We all know the importance of creating goals, so Mom it?s time to start actually creating some.
If you?re new to goal setting, it can be difficult knowing what type of goals you should set for yourself.
You can set goals for all areas of your life and you should!
So, to give you a little inspiration, here you?ll discover 6 types of goals you need in life.
PIN FOR LATER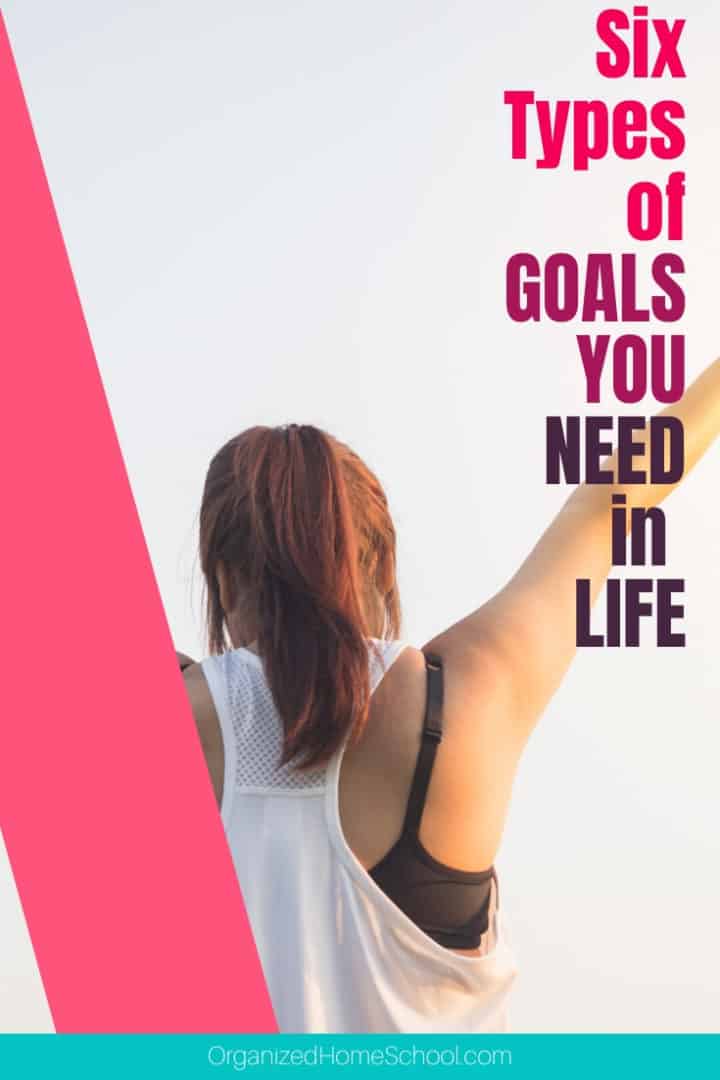 This post may contain affiliate links to products I recommend. This means I make a small commission off your purchase, but this does not affect your price.
Goals You Need In Life
1. Business or Study Goals
We spend most of our lives working, so it makes sense to ensure you?re doing something you actually enjoy.
Setting business and study goals is crucial to success.
Think of the top business people in the world ? Richard Branson, Elon Musk, Jeff Bezos; all of them set goals they work to achieve.
When thinking about your business goals, consider the type of career you want to have.
If you?re still at school or college, setting goals can also help you to focus more on your studies and help you to achieve better grades.
So, if you don?t have them already, you?ll want to start listing your business or study goals now, so you can work towards success.
2. Health Goals
If you want to live a long and happy life, you?re going to want to focus on making sure you?re as healthy as possible.
It?s easy to neglect our health when we aren?t working towards specific goals.
Your health goals could include anything from cutting down on alcohol, to getting fitter and boosting your immune system.
Any steps you can take to boost your health is going to help you achieve a better quality of life.
3. Relationship Goals
Relationships of all kinds require work to keep them strong and healthy.
Whether you?re looking to improve your relationship with your spouse, a friend or with family members, setting goals can really help.
It could be setting a goal to reconnect with your partner via more regular date nights.
Or maybe you could make more effort to meet up with friends for coffee?
Think about the ways your relationships could be made stronger.
4. Financial Goals
Let?s face it, focusing on finances isn?t exactly fun!
However, if you don?t get on top of your financial situation, it can have a significantly negative impact on your well-being.
Financial goals can include anything from getting out of debt, to saving more money or gaining a higher income.
5. Personal Development Goals
By working on personal development, it really helps you to become a much better, happier person.
By improving yourself, it?s going to help you to become much more successful, as well as mentally healthier.
The great thing about personal development is that it never really ends.
There are always ways you can improve yourself and develop healthier habits.
Whether you need to increase your willpower, improve your self esteem and confidence, or improve your communication skills ? setting personal development goals can help.
6. Spiritual Goals
If religion is important to you, you?ll want to make sure some of your goal setting is focused on more spiritual goals.
The whole purpose of these goals is to help you to connect with your real self and ensure you are following your life?s purpose.
Spiritual goals can help you to feel closer to God, as well as help you to connect with your inner self.
The above are the top 6 types of goals everyone should focus on.
So, when you?re thinking of setting goals to achieve this year, you?ll want to make sure you focus on the areas above.
Remember, no matter which type of goal you?re looking to achieve, it?s important to make them small and achievable.
---
What goals are you currently working on right now? Let me know in the comments below…
---