It?s always fun during Christmas.
Nothing beats seeing all the pretty lights, being surrounded by decorations that only come out of the attic once a year, smelling all the special limited edition scented candles, and watching classic Christmas movies while sipping on hot cocoa.
After all, it is the most wonderful time of the year, isn?t it?
While putting up those Christmas decorations and being able to appreciate them for a while is quite enjoyable, the season does eventually come to an end.
And when the season ends, so do the decorations.
Taking down all the lights, garland, ornaments, and other seasonal decor can be quite a daunting task. In fact, you might even be guilty of having left them up for a bit too long into the New Year, just to avoid it.
I know for a fact I have!
But what would make it easier?
What would make taking down all of your Christmas decorations just as fun and doable as putting them up?
I have thought of a few simple solutions that will make packing away and storing your favorite Christmas decor a ton easier.
So, without further ado, here are my Best Christmas Decoration Storage Solutions!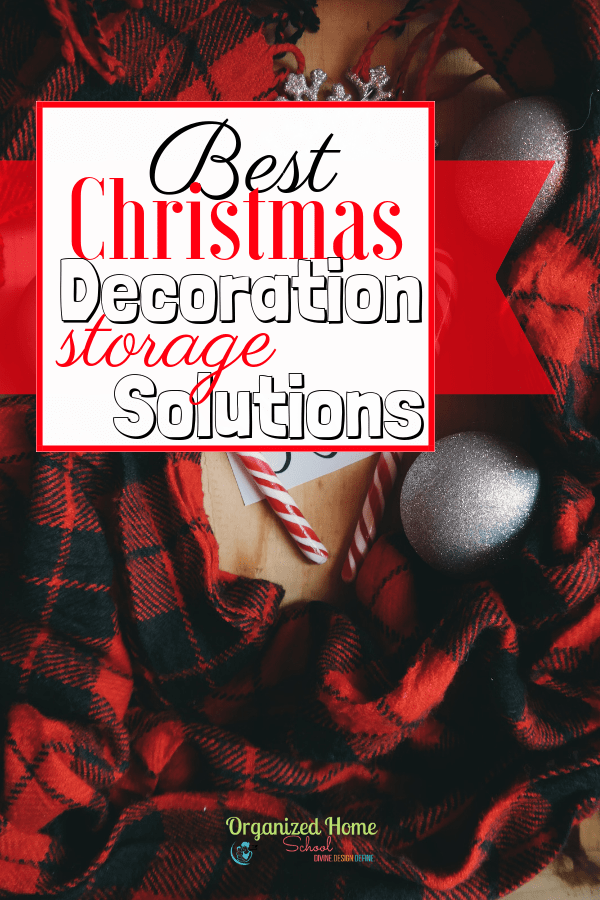 This post may contain affiliate links to products I recommend. This means I make a small commission off your purchase, but this does not affect your price.
Buyer?s Guide: 3 Things to Know Before Making a Purchase
Before we get straight into the list, I want to introduce you to these three essential things that you must know before buying any kind of Christmas decoration storage supplies.
While it might seem simple enough to just go through a list of solutions and pick out which one seems the most useful, you could end up with something that brings you more chaos than organization.
Even though there is no such thing as the perfect product, there is such a thing as the right one for you. And in order to find that right one, then it is very important that it meets these three criteria as well as your own personal requirements.
So, here are the top 3 things you must know before making the big decision on which to finally purchase.
1. One Size Doesn?t Fit All.
The first thing that you need to know and be aware of is that one size definitely doesn?t fit all.
By this I mean that it is extremely important that before you order (or even look for) a Christmas decoration storage container, box, or anything of the sort, that you know which size and which kind you need.
Not knowing which size and type is right for you is one of the biggest mistakes that online shoppers make.
Besides, the last thing you want is to invest your money in something that you think will work perfectly for you and then it only causes more problems because you can?t even use it.
However, while it is one of the biggest mistakes made when shopping online, it is definitely avoidable.
You can do this by making sure that you know roughly which measurements you need, what kind of storage solution will work, and how many things it needs to be able to store inside.
2. Pay Attention to Quantities.
Many types of Christmas decoration storage items (and plenty of other organization products for that matter) come in several quantities, sets, and packs.
So when you think you?re looking at an image of one or a few containers, it could actually be a package of 12 that you?re buying.
Don?t worry though! The title and product description will tell you how many you are receiving.
Nonetheless, it is important to know how many come in a pack for two reasons.
First of all, you don?t want to make the mistake of thinking that you are buying a certain amount and then being disappointed when you receive a different amount in the mail. Plus, some sellers offer the same products in different quantities.
Second of all, ordering Christmas decoration storage items in packs of several can be extremely helpful for your organizing and storing. Besides, the more you have, the more you can organize and store away.
3. Know What You?re Putting Inside Before You Buy.
I feel like this is a step that so often gets overlooked by buyers of pretty much any kind of storage supplies.
So many people think that by simply having more items that they can put things in will solve all of their messy problems, but that isn?t necessarily true.
Before you make a decision on which product to buy, ask yourself what specific decoration you are going to be storing inside of it, how many storage containers you already have, and then figure out which one and how many you need.
For example, if you need something to store all of your Christmas tree lights in, then you probably need a medium size storage box, and likely only one of them.
Again, by completing this step before making your purchase, you are lowering the risk of buying something that doesn?t actually work for you and then not being able to use it.
No time to read the rest? Here are my recommendations…
Best Christmas Decoration Storage Solutions
Now that you know the three most important things when it comes to choosing and buying the best Christmas decoration storage items, we can continue to the list!
What makes these items the best Christmas decoration storage solutions, though?
It?s simple…these are my personal, hand selected favorite products that I find will make the absolute best Christmas decoration storage solutions and will bring you the most organization.
Plus, they?ve worked for other people as well, as you can see from their impressive customer reviews.
One more thing to note before getting into the list is that these products aren?t ordered in any specific way. For instance, they aren?t listed in order from the best to the worst, the cheapest to the most expensive, or anything like that.
They each have their own fair share of pros and cons, and there is no ordering to the way that they appear on the list.
So, are you ready to find the best Christmas decoration storage solution for you?
If so, then I?m ready to help you with the best ones I?ve found!
Christmas Ornaments Storage Containers
If you?re looking for storage containers that will hold all of your Christmas tree ornaments, breakable or not, then these are the products for you.
These storage containers are great because you can put all of your ornaments inside of them without having to worry about anything breaking. Plus, they can be stored pretty easily in any kind of closet, attic, or garage.
What makes these ornament storage containers specifically stand out from all the rest is that they have dividers which allow you to store each ornament individually, meaning none will clash into each other and shatter.
So if you want something protective to put your most fragile ornaments in, then look no further than these.
1. Classic Accessories Seasons Christmas Tree Ornament Organizer & Storage Bag
This tightly packed and super protective Christmas tree ornament organizer is one that you can use for all of your ornaments and one that will last you a lifetime.
Holding up to 60 individual ornaments, the Classic Accessories Seasons Christmas Tree Ornament Organizer is a two in one: not only do you get the perfect organizer for your ornaments, but it?s also a storage bag that holds them in place and for easy put away.
The storage bag is very impressive with advanced features such as 3 corrugated trays that easily stack on top of each other, each being able to hold up to 20 ornaments. Plus, each section is removable and the modular tray sections can be taken out and adjusted in order to fit many ornament sizes.
You can easily and safely store away all of your favorite Christmas ornaments with the container?s two top carrying handles.
Finally, the bottom consists of a sturdy base made of protective padding and material that serves as a cushion, reinforcing and securing your most fragile ornaments.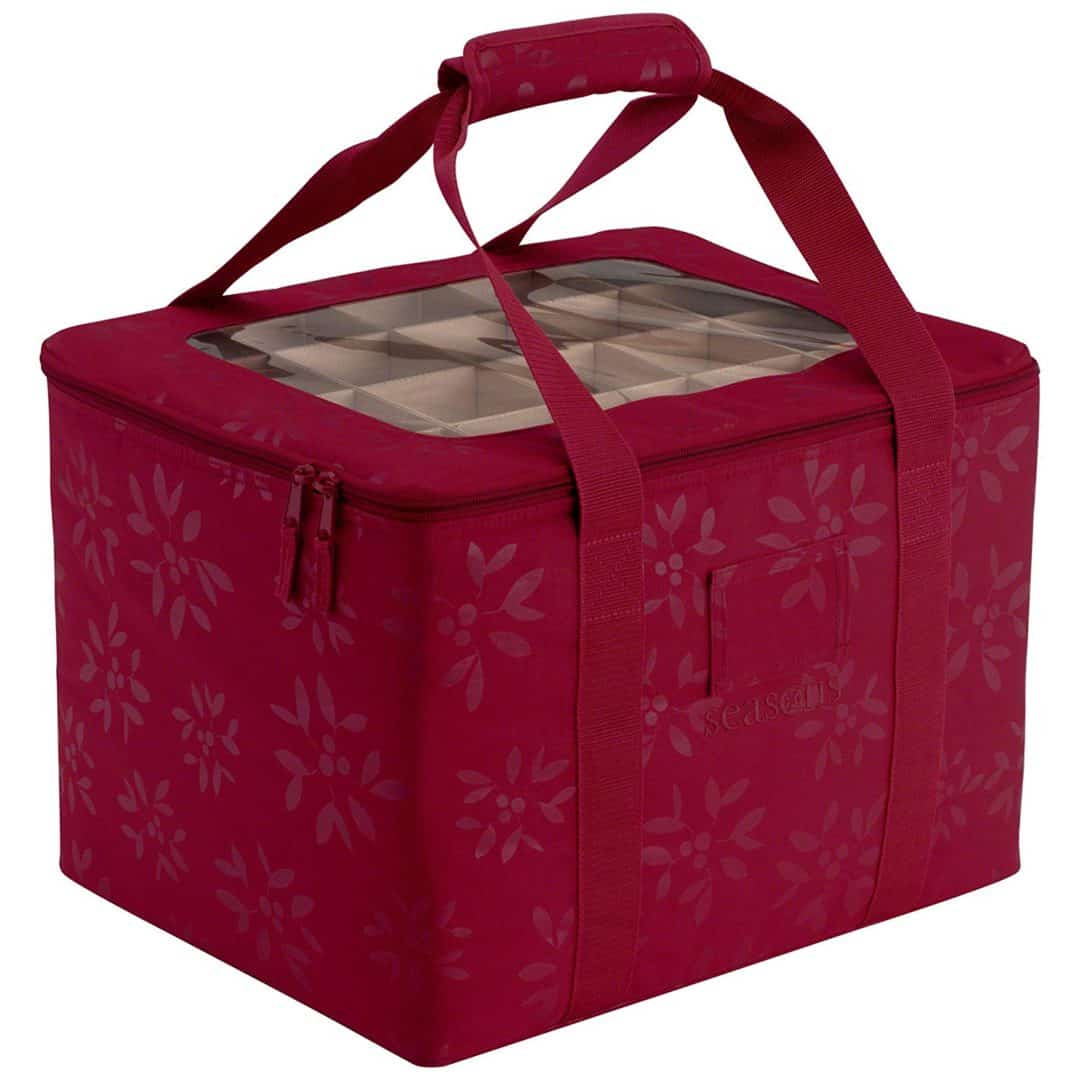 I?m definitely not the only one saying good things about this one. Check out this 4.5 star Christmas ornament storage container on Amazon here.
?
2. Covermates Holiday Adjustable Ornament Storage Box
If you have a lot of Christmas tree ornaments (and I?m talking like over 50 different ornaments!), then this is the best Christmas decoration storage solution for you.
The Holiday Adjustable Ornaments Storage Box by Covermates can hold anywhere from 54 to 96 ornaments, and does so with EVA foam dividers, 3 padded trays, and transport handles that make it convenient to move and store away.
The 3 padded trays are acid free, meaning that you don?t have to worry about your ornaments being tarnished. Instead, you can safely pack them up in this storage box and they?ll come back out next year looking the same they did the year before.
And if you do a lot of traveling during Christmas, or you simply have other storage containers that you don?t want to mix this one up with, then you?ll love the ID label that comes with this storage box.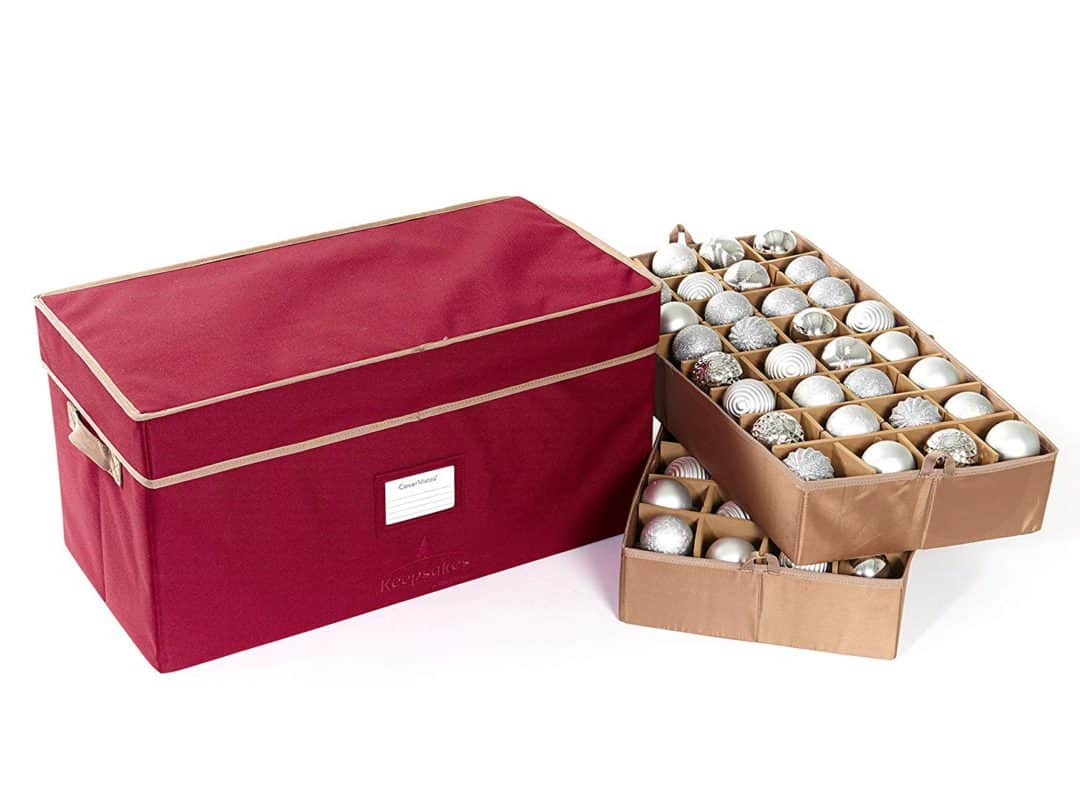 See this impressive and convenient Christmas ornament organizer here…
?
3. Premium Christmas Ornament Storage Box with Lid
The Premium Christmas Ornament Storage Box can hold up to 64 Christmas ornaments in 3 inch compartments, and has convenient dimensions of 12? x 12? x 12? that makes it extremely easy to store.
Your ornaments will be guaranteed safe thanks to the cardboard dividers, allowing each ornament into its own tiny compartment, away from the dangers of being scratched or shattered by other ornaments.
The material of the box makes it extremely durable, being made of 600D oxford fabric and cardboard that is pretty heavy-duty, making it an investment that will serve you well for many holiday seasons.
Plus, it comes with a detachable lid that makes it easy to add ornaments inside and take ornaments out.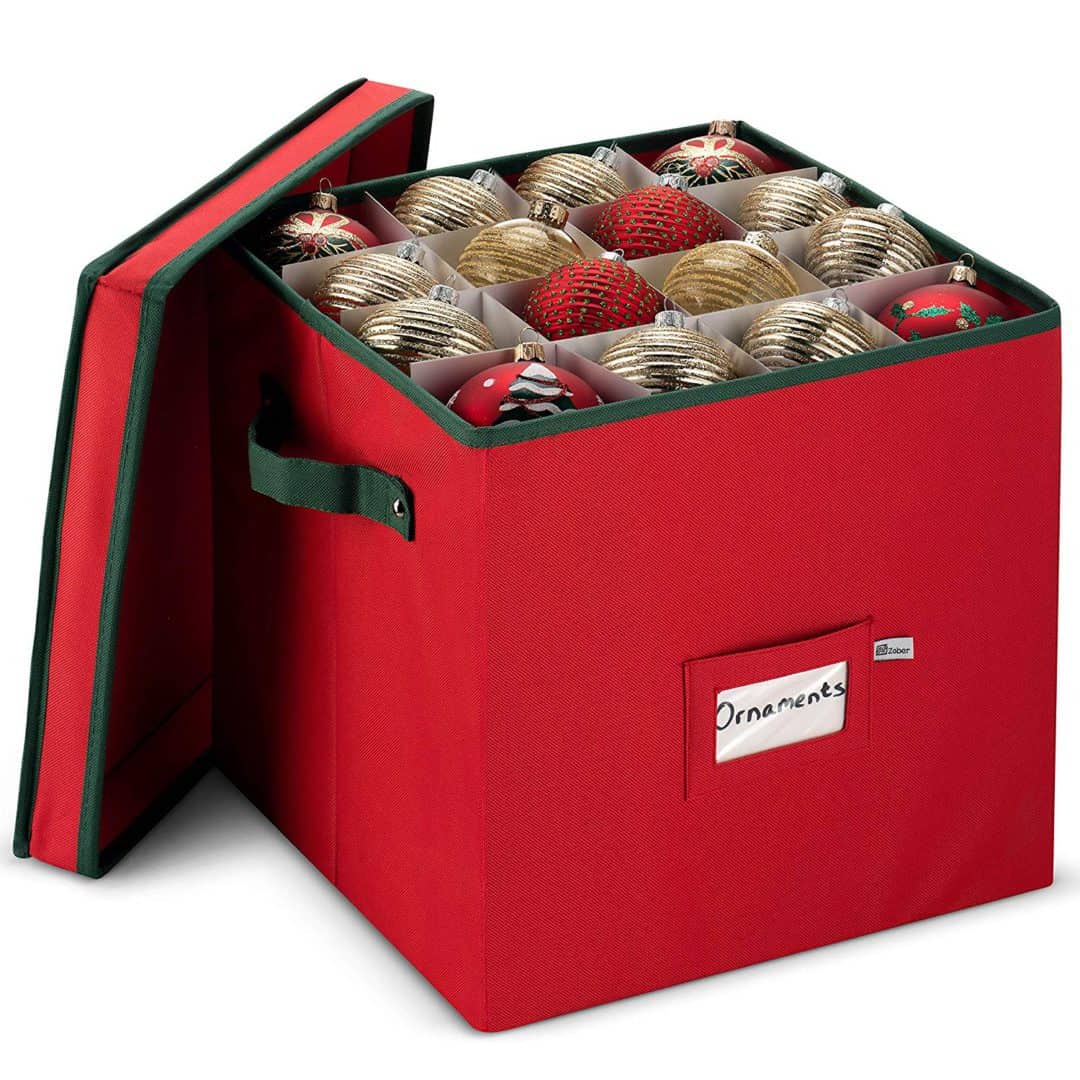 Read more about this Christmas Ornament Storage Container here…
Christmas Wrap Storage Containers
We all know that part of Christmas time is gift giving, which can only mean one thing…lots and lots of wrapping paper, am I right?
Each year more wrapping paper goes out and more wrapping paper comes in. Not to mention all the bags, ribbon, labels, bows, and scissors as well.
Needless to say, having some kind of Christmas wrap storage solution would come in handy during this busy holiday season.
Plus, all of these hand selected Christmas wrap storage containers will fit perfectly wherever you put them, as well as hold all of your gift wrapping needs and supplies.
I personally love having a wrap container because they come with so many sections, making it super easy to organize your gift wrapping materials according to type, use, and whatever you want.
1. Primode Wrapping Paper Storage Bag with Pockets
If you?re looking for a storage bag that will do it all — hold all of your supplies, store all of your wrapping paper, and keep all of your gift decorating accessories in one place and organized — then the Primode Wrapping Paper Storage Bag is the one for you.
It comes with a main storage compartment that is big enough to store all of your favorite wrapping paper rolls, and multiple clear pockets that you can use to store things such as bows, ribbons, tape, scissors, tissue paper, and more.
Plus, it is made in the shape of a long case that has two handles attached, making it easy for you to store anywhere you want while being easy to transport, and the flat design makes it convenient and space-saving.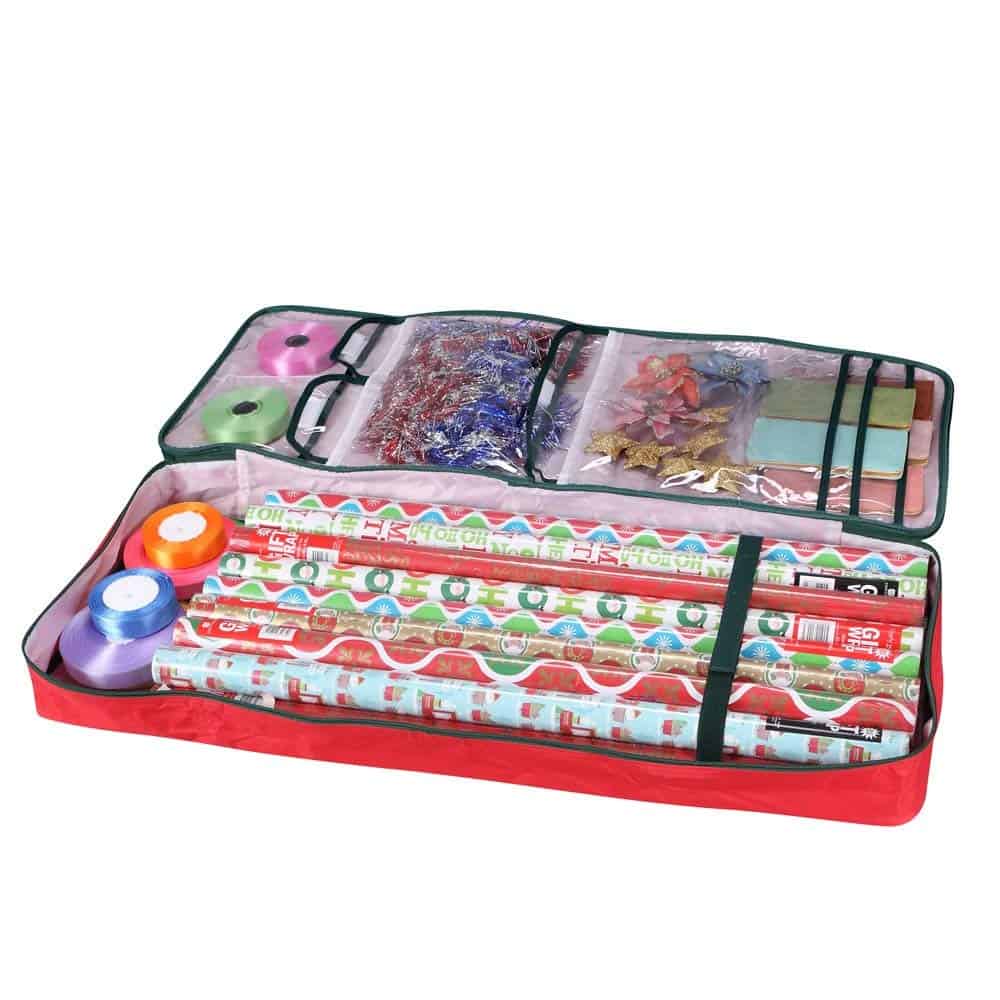 Get your wrapping paper stored and organized in no time with this storage bag…
2. Elf Stor 1037 Premium Gift Wrap Storage Bag
This truly is the premium gift wrap storage bag, including so many pockets and sections that you won?t need any other again.
The Elf Store 1037 Premium Gift Wrap Storage Bag includes impressive interior dimensions that make it easy for you to store any kind of wrapping paper — yes, even the 40-inch double roll wrapping papers.
Not only is this the perfect storage bag for Christmas wrapping paper, but it also works excellent year round. It comes with 3 mesh pockets that holds gift bags for all kinds of events and occasions.
Plus, there are two removable bins that allow you to store all of your gift wrapping accessories such as bows, ribbons, tissue paper, tape, and more.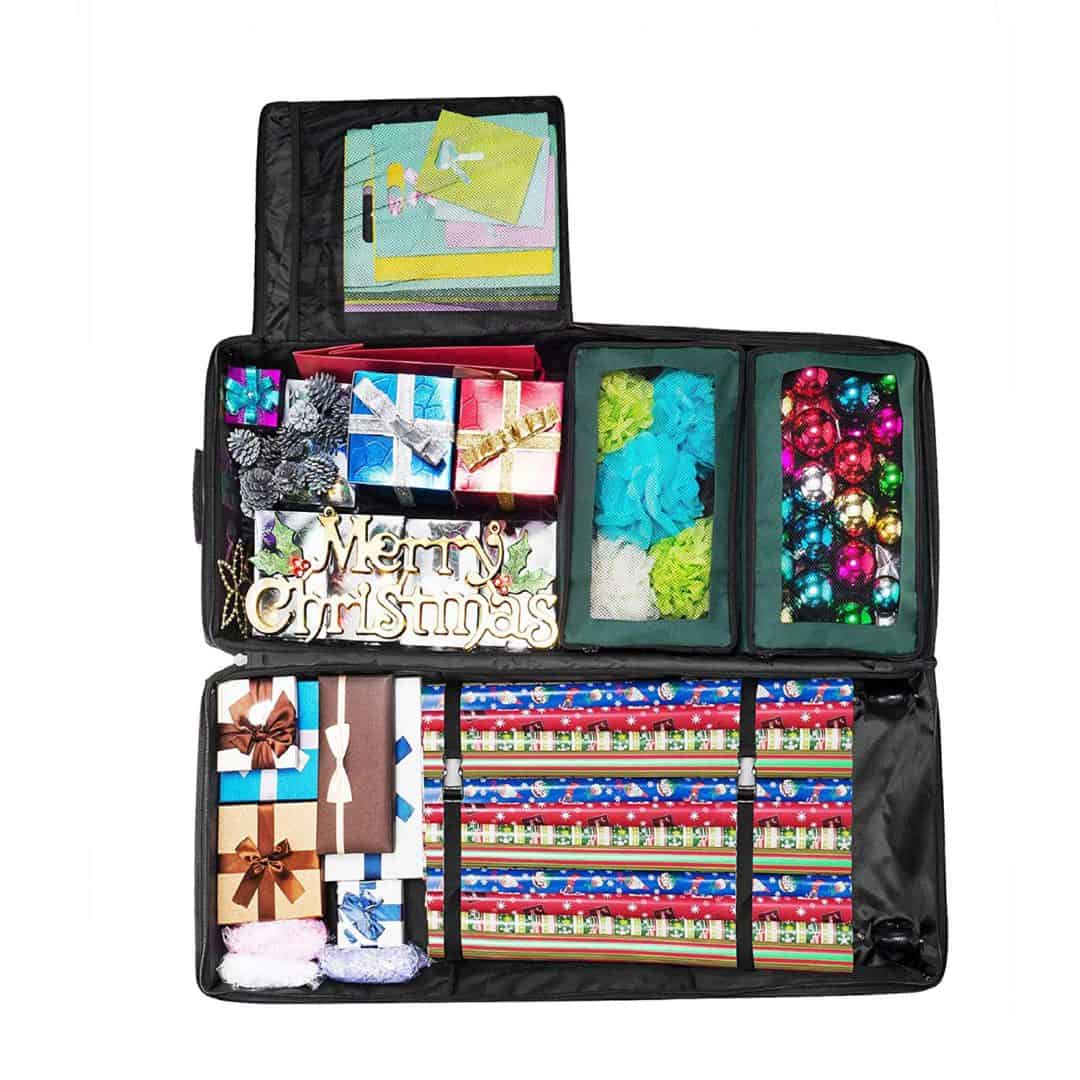 Check out this multi functional and extremely creative gift wrap storage bag for yourself right here …
3. Primode Hanging Gift Wrap Storage Bag with Detachable Accessory Tote
Another made by Primode, this awesome gift wrap storage bag is made specifically to be able to hang anywhere you want it to and serves as a two in one: a wrapping paper roll organizer and an accessory storage tote.
The hangable storage bag is able to hold up to 12 rolls of wrapping paper, each 46? long, and is narrow and skinny enough to be stored anywhere you put it with ease, while not taking up much space.
You can store all of your other gift wrapping essentials in the detachable tote, such as ribbons, bows, tape, tissue paper, and other things. Plus, it comes in a small size that makes it easy for you to store anywhere and without taking up too much space.
To make things even better, the wrapping paper storage case has clear windows that allow you to clearly see what?s on the inside without having to unzip the case and take out all of your organized wrapping paper rolls. This saves you time and a huge mess!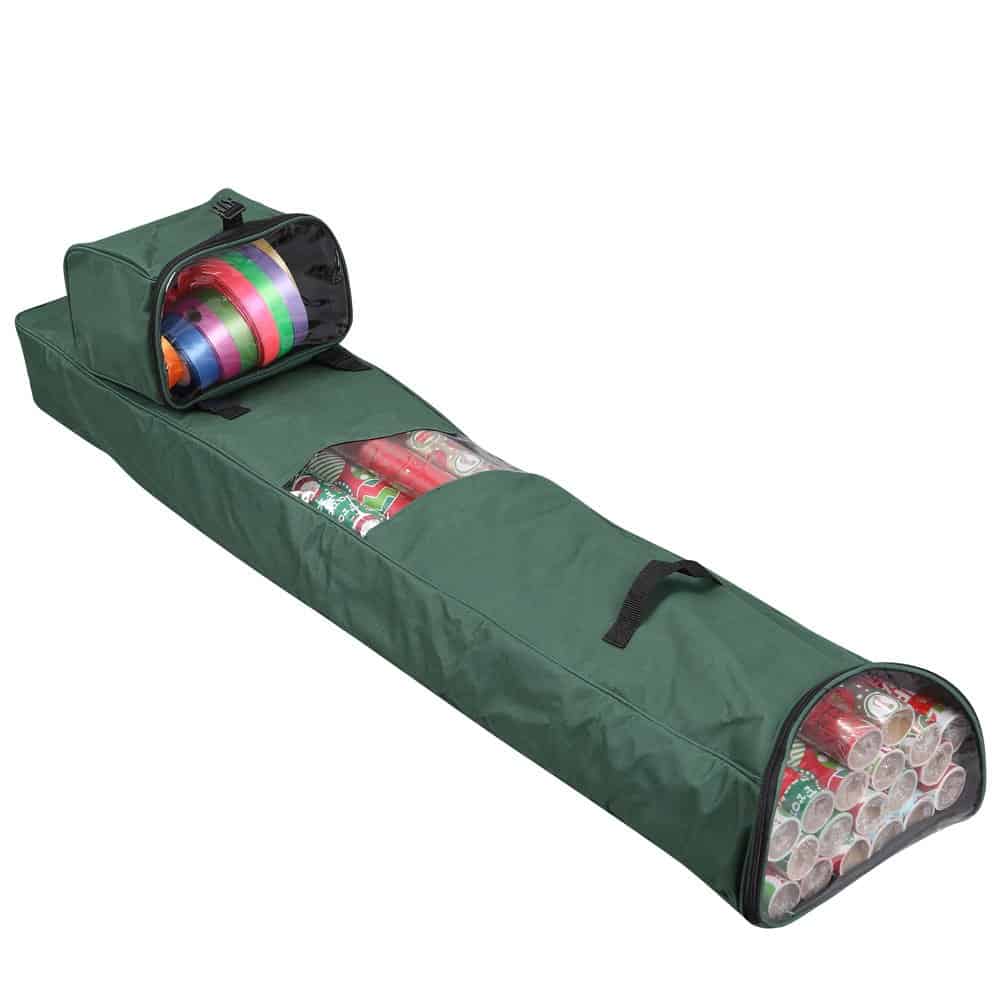 You?ll also be extremely impressed by the 5 star rating this gift wrap storage bag has received from over 160 customers on Amazon. To check it out just click here …
Christmas Decoration Storage Tips
Before you put away all of your Christmas decorations in your new organizers and cases, here are a few tips for the most efficient and effective organization.
No matter what kind of container or storage supplies you are using, you can apply these tips to each one for the best organized result possible.
1. Wrap Breakable Items in Newspaper or Bubble Wrap.
My family uses old newspaper shreds or bubble wrap every year to protect all of our most fragile decorations and ornaments.
No matter what material you?re using, make sure that the decoration is wrapped in several layers and that you are confident in its protection.
Not only does this protect it from being broken when the container is set down, but it also protects it from being scratched and damaged by the other items in the container.
2. Move Things Around Until They Fit.
Just because something doesn?t fit the first time you place it in the container doesn?t mean that it won?t fit at all.
Instead, work to move the other items around and rearrange them until the last item can fit inside. This will save you so much storage space in other boxes and containers as well as ensure that everything else in the container is packed in tightly.
The key to safe and efficient decoration organizing is not giving up until you?ve found the right arrangement.
3. Label Boxes and Containers When You Finish Them.
One of the most helpful things you can do during Christmas organization is labeling the boxes and containers before they go back into storage.
Not only will it help you know what things are stored inside before opening it up and making a mess to find out, it will also help you determine what you actually need to get out next year.
Let?s face it…sometimes we keep things that we don?t always use, and Christmas decorations are definitely some of them. Each year we get a few more, meaning that we have less room for old ones.
So, next year, be prepared and organized by labeling your containers so that you won?t have to waste your time getting things out that you won?t even use.
Here are my recommendations again in case you need them…
---