I LOVE BOOKS!  I ADORE BOOKS!  I have 3 bookshelves and a full closet stacked with books.  I have homeschooling books, fictional books, homeschool curriculum, devotionals, bibles, self-help books, and non-fiction books.
We moved into a new home almost two months ago, and I got so tired of seeing the boxes lying around the house.  So I decided to unpack all of the book boxes at once and just shove the books in no certain order into the existing shelves.  I'm glad the boxes are gone, but finding the one book I am looking for may take me an hour!  Here is one closet I have books in: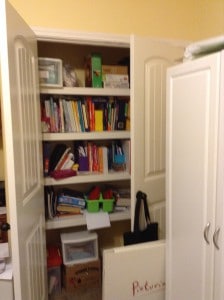 I plan on organizing the books soon.  I definitely would like all the homeschool books and curriculum together.  Maybe biographies and non-fiction together.  Another bookshelf might be for fiction books and a shelf for just resources such as dictionaries and encyclopedias.
It drives me crazy not having my books organized and easy to locate.


How do you organize your books at home?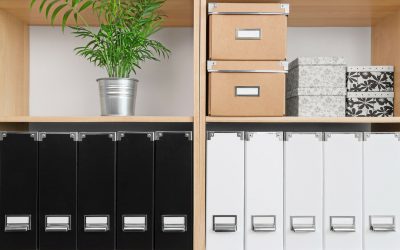 One of the disadvantages of homeschooling is the mounds of paper we accumulate.  We just wrapped up our homeschooling year last week and are ready for summer.....almost! Let me re-phrase that....the kids are ready for summer and no school work. I am drowning in all...