The kitchen is easily one of the most messiest places in the house, am I right?
Whether it be because there?s constant clutter on your counters because things seem to not have a proper place to be stored, you might have a bit too much stuff, or you simply lack a good organization system that works for you, it is much harder for the kitchen to stay clean than it is to clean it up.
The solution people typically think of when faced with this challenge is to get organized by placing and sorting things into different drawers, cabinets, or other storage spots.
However, the trick isn?t getting organized…it?s keeping it that way.
Plus, if your kitchen is anything like mine, you probably don?t have much more free and empty cabinet and drawer space, available for whatever clutter that was left on your counters.
In this case, that solution just doesn?t work.
But do you know what will?
Clear glass jars make the perfect storage containers for kitchens (and really any room, for that matter!). This is because they allow you to store practically anything inside of them while blending in perfectly with the rest of your kitchen.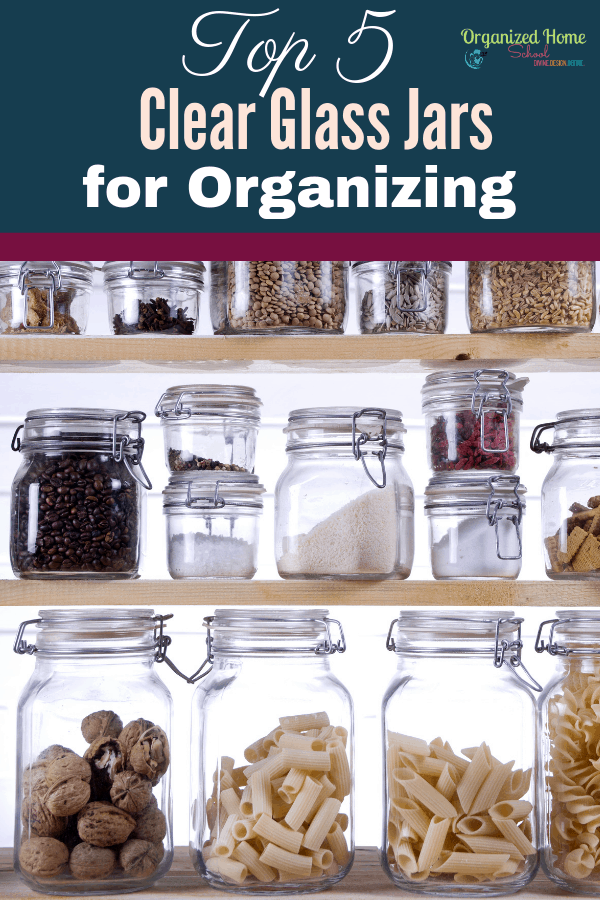 This post may contain affiliate links to products I recommend. This means I make a small commission off your purchase, but this does not affect your price.
Plus, clear glass jars are super convenient.
Because they are clear, you can easily see exactly what is inside of them, which means you don?t have to dig through any messy drawers or stand on your tiptoes to reach all of your kitchen cabinets.
But choosing the perfect clear glass jars for your kitchen can be a bit tricky as well.
So that?s exactly why I have compiled a list of my 5 favorite, hand selected clear glass jars that I am positive will serve you and your family well!
Buyer?s Guide: 3 Things to Look for Before Making a Purchase
Choosing which clear glass jars are perfect for your kitchen can be quite a daunting task if you let it be.
After all, there are probably thousands of them out there! How can you be certain that the ones you have found are the best fit for you and your kitchen?
While there is no such thing as a perfect product, there is definitely such thing as the right one for you. To find the right one, it is important that it meets your personal requirements as well as these 3 essential features that I strongly believe every clear glass jar set should have to make it the very best.
So, before making the important decision to buy one, here are 3 tips that will help you greatly when deciding on which one to spend your money on.
1. Know what size you actually need.
Possibly the most important thing you should remember and consider when shopping for clear glass jars, is that one size does not always fit all.
If you have an idea of what kind of items you will be storing inside of them, then make sure that you know what size jar you need in order to get it to fit inside.
This is an extremely important step, because the last thing you want is to spend your valuable money on something that, when it finally comes in, you can?t use because it turns out that it?s the wrong size.
It?s simply not worth your money and time waiting on it to arrive just to be disappointed when the product finally delivers. It?s something that happens with online shopping all the time, but definitely something that you can avoid.
2. Pay attention to quantities and sets.
There are so many clear glass jars that are being sold online as sets instead of individually, so if you are looking to buy only one glass jar, then make sure that you are specific about it.
While you can definitely purchase multiple clear glass jars individually, it is usually much more convenient and even cheaper to buy them in a bundle or set.
In this list, you will find a variety of bundles of clear glass jars each available in different quantities.
So, whether you need 2 clear glass jars or 12, there will most likely be a set or pack of them out there.
The reason that you need to pay such close attention to this, though, is that you definitely don?t want to order too many jars and not have a place to put them (or enough things to store in them), or to order not enough and still have clutter lying around your kitchen.
3. Determine what, where, and why first.
The third and final tip is to answer these three questions before purchasing your clear glass jars: what, where, and why.
What are you going to store inside of them?
By answering this question, you will essentially find out what size they will need to be and how many you will need to order. It?s also a great way to be prepared for the day they arrive, so you can get straight into organizing instead of getting stuck with jars you have no clue what to do with yet.
Where are you going to put them?
Again, this question will help you figure out which size the clear glass jars need to be as well as being prepared for arrival day. If you plan on putting them inside of a cabinet, then you need jars that are the right size to fit while still holding what you need them to hold.
Why do you need them?
Perhaps this question should be answered first, because it helps you determine what you are going to put in the jars.
Top 5 Clear Glass Jars for Kitchens
Now that you know what to look for in finding the perfect clear glass jars, it is time to introduce you to the ones I am confident will meet your criteria.
But first…what makes me so confident in these five specific clear glass jars, and what makes them different from the rest?
I have personally chosen these five clear glass jars because they have proven themselves to be some of the most convenient, high quality, and useful out there. Not only because of what they promise to do, but also because of what other people are saying about them.
Also, before we get straight into the list?
It is important to note that there is no specific ordering of these five products. They are not ordered from best to worst, worst to best, or according to any other system. The list is pretty random, and each product has its fair share of pros and cons.
So, are you ready to finally get that kitchen organized?
Here are the Top 5 Clear Glass Jars that I guarantee will do just the trick!
No Time to Read? Here they are real quick…
1. 9 Ounce Hexagon Clear Glass Jars with Gold Metal Lids (12 Pack)
What better deal can you find than a pack of 12 beautiful clear glass jars as a set?
These clear glass jars aren?t your typical boring and plain looking mason jars. Instead, they are styled and toned with a nice hexagon shape and finished off with a shiny gold metal lid, making it perfect for display in your kitchen.
With these jars, you won?t have to hide them in your cabinets or pantry or make sure that your guests don?t see, because their majestic look will suit your kitchen no matter what?s inside or where they?re stored.
Perfect for storing things such as spices, teas, liquids and solids alike, the dimensions of these glasses are 3.75? in length and 3? by 2.75? sides.
Tea bags, sugar bags, bulk spices, and measuring tools are some ideas of what they can be used for.
Plus, these clear glass jars are environmental friendly and ecologically safe. They are made lead-free, and have food grade glass and the metal lids are BPA free.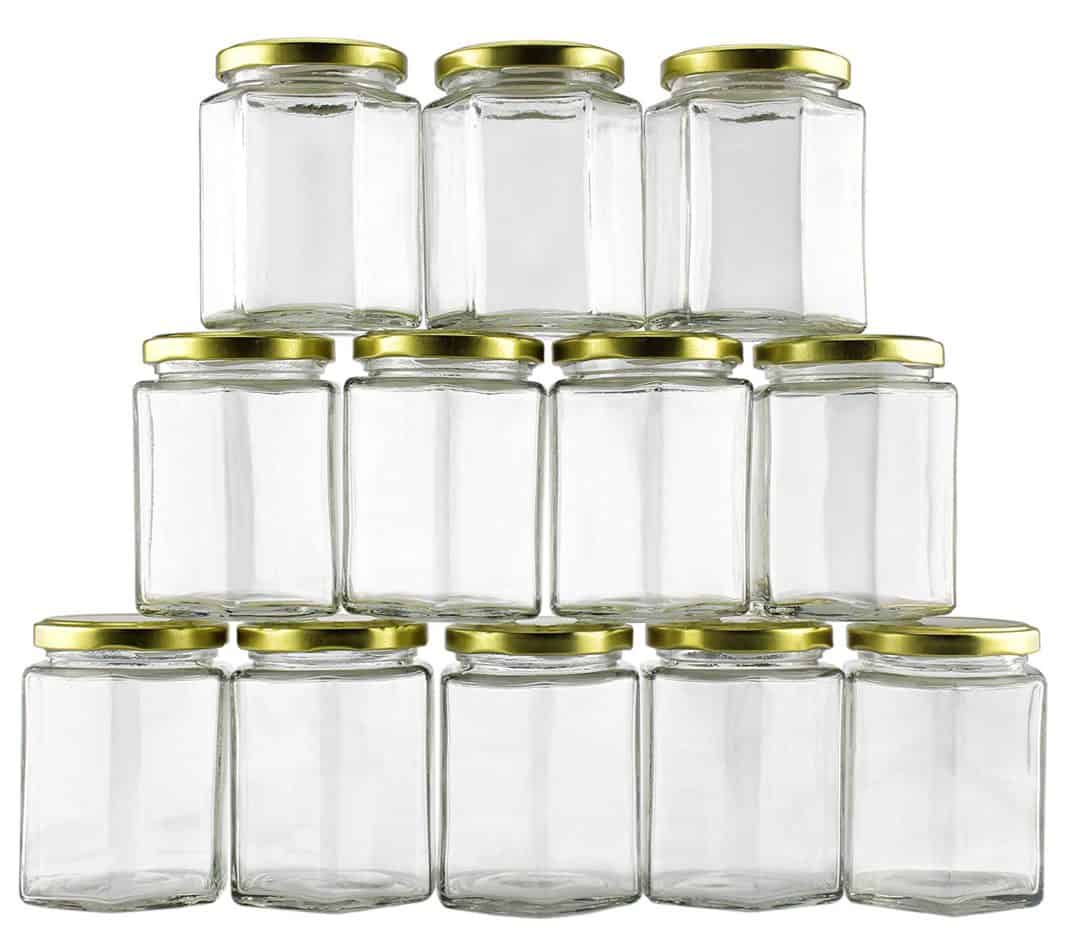 If that?s not enough to convince you, I highly encourage you to check them out for yourself! Just click here…
2. 8 Ounce Premium Borosilicate Clear Glass Jars (4 Pack)

Extremely convenient, high quality and durable, pleasing to look at, and environmental friendly, the 8 Ounce Premium Borosilicate Clear Glass Jars made it onto the list for many reasons.
These 8 ounce jars come in a set of 4, making them easy to store in cabinets, pantries, counters, and practically anywhere else.
Similar to the 9 Ounce Hexagon Clear Glass Jars, the Premium Borosilicate jars are extremely ecologically and environmentally safe. The lids are made of bamboo, and have a silicone suction liner. This liner makes sure that moisture and air stay out of the jar through providing it with an airtight seal, which protects whatever you have stored inside.
The jars themselves are made of borosilicate glass, which makes them extremely strong and durable while also ensuring that they are resistant to chemicals and lots of heat.
Because of this, you can store nearly anything inside of them. Whether hot or cold, the jars can withstand practically anything that you put in them. This is because they are thermal shock resistant, meaning that you can switch them from containing hot things to cold things without having to worry about it cracking.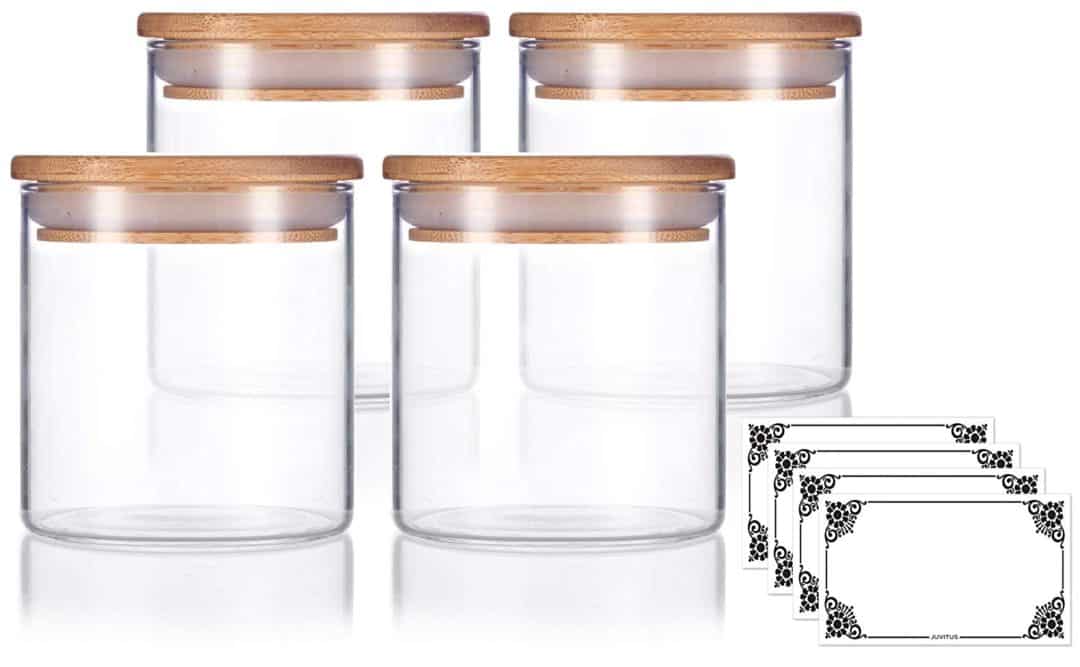 3. 31 Ounce Libbey 70997 Clear Storage Jars (12 Pack)
Need something a bit taller to help you declutter your kitchen? Then the Libbey 70997 Clear Storage Jars could very well be the best option for you.
These clear storage jars are a bit taller than the others on the list, being 7? tall in length and 4? in diameter. These dimensions make the jars perfect for storing things such as candles, potpourri, and filling with things such as cookies or candy.
The simple design and structure of the jars make them easy to store and blend in practically anywhere in your kitchen, whether it be in the pantry or on the counter tops.
Plus, with a great quantity of 12 jars, you can easily declutter your kitchen with great organization and at a fast pace! Simply dedicate different jars to different items and place them wherever needed.
Not only are they easy to store, they are also easy to wash, as they are dishwasher safe.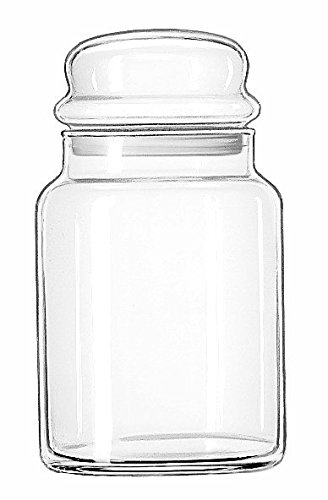 4. Anchor Hocking 1 Gallon Heritage Hill Clear Glass Jars (2 Pack)
If you are in need of some stylish clear glass jars that are big enough to store nearly anything, then the Anchor Hocking Heritage Hill Clear Glass Jar is the one for you.
With 1 gallon worth of space, you can store anything from objects to sugar to snacks and anything in between. Plus, their beautiful design allows you to place them anywhere you like while still looking clean and organized.
The anchor glass provides the jars with thick side walls. This is a great feature because it gives the jars extreme durability and stability, so you can be sure that they will last you for a good while.
Not only does the anchor glass provide strength and stability, but it is also one of the healthiest material jars can be made of. With these jars, you don?t have to worry about them discoloring, retaining smells, or leaching chemicals into the things you store inside.
Finally, these clear glass jars and their lids are easily washable, as they are both dishwasher safe.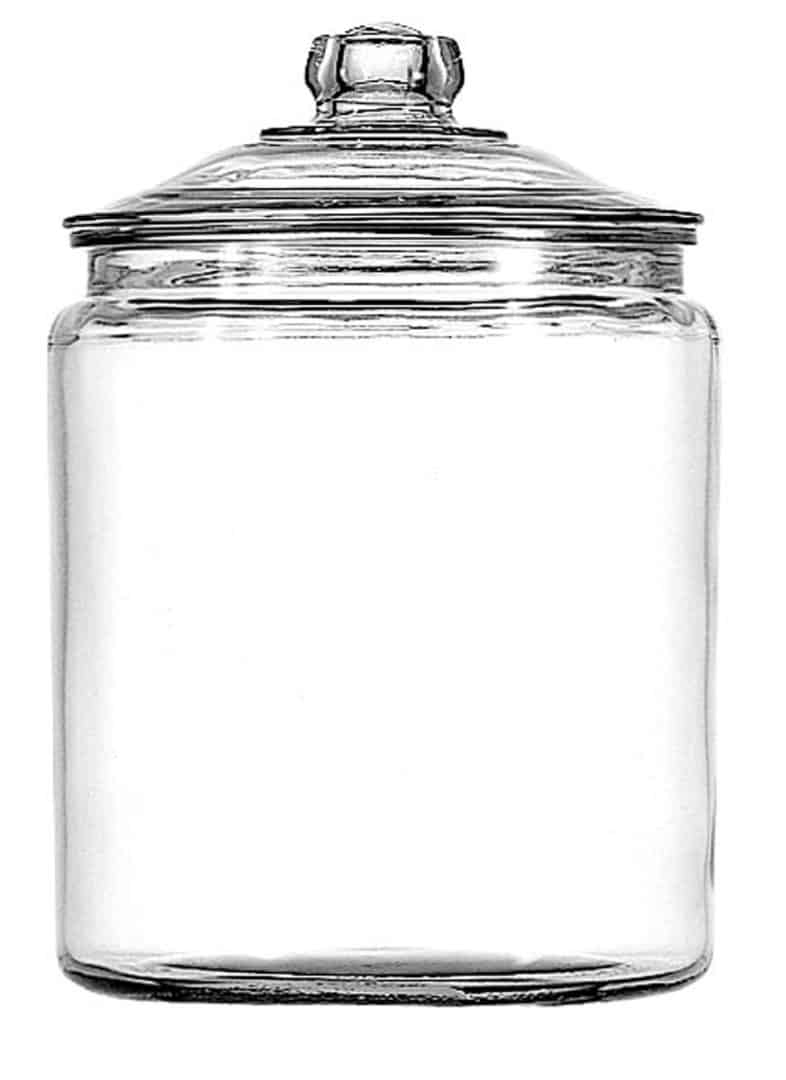 I?m not the only one who thinks so highly of these clear glass jars either! Check out their 4.5 star rating on Amazon to see so for yourself!
5. Kitchentoolz 1 Gallon Wide Mouth Clear Glass Jar (4 Pack)
This pack of four 1 gallon clear glass jars by Kitchentoolz are some of the most useful out there.
Not only are these clear glass jars great for storage, but you can also easily use them for many other things. These include kombucha brewing, sun tea, canning and pickling.
Plus, if you prefer to store your cereal, legumes, and pasta in clear glass jars instead of boxes or plastic containers, then these will suit you and your kitchen perfectly.
The lids are made of plastic, which means that you won?t have to worry about them corroding like metal lids sometimes do. Plus, they are made BPA free and easy to twist on and off.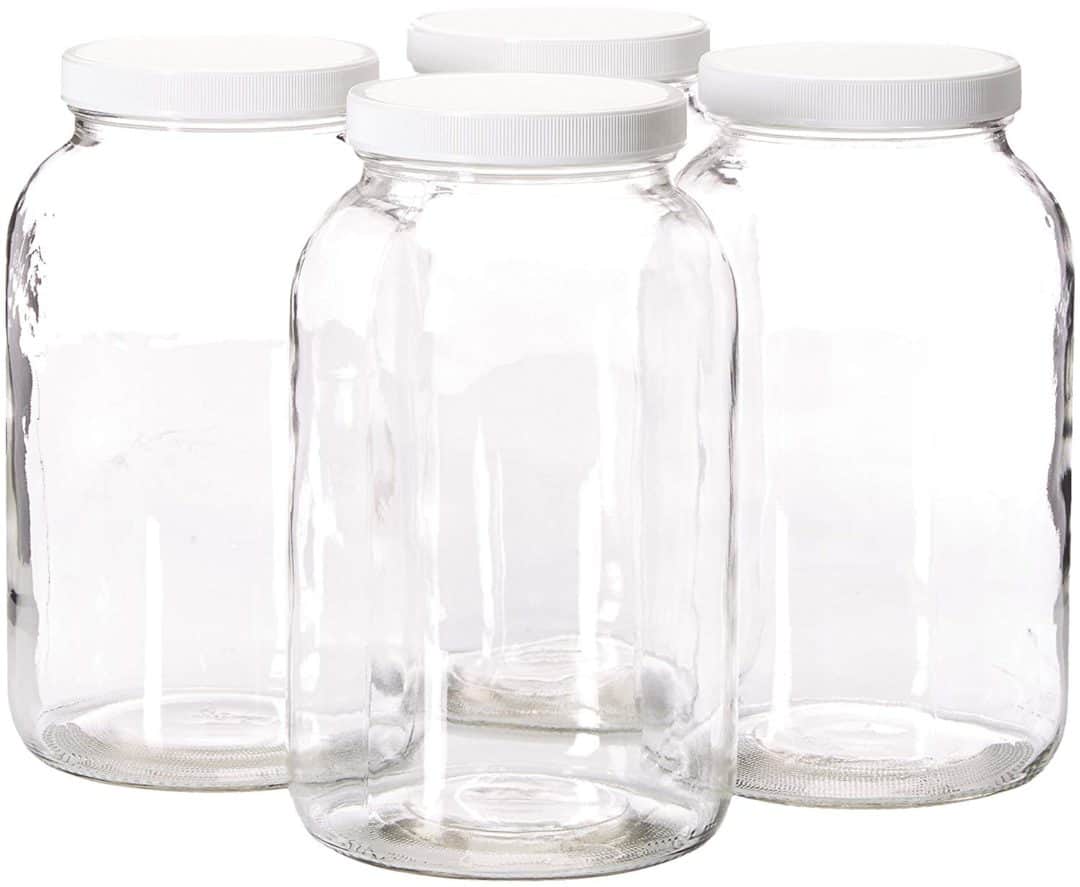 If you?re not impressed by that, then you?ll definitely be impressed by their 5 star rating on Amazon! Just click here…
Here they are again for you!
Do you use clear glass jars for organizing your kitchen?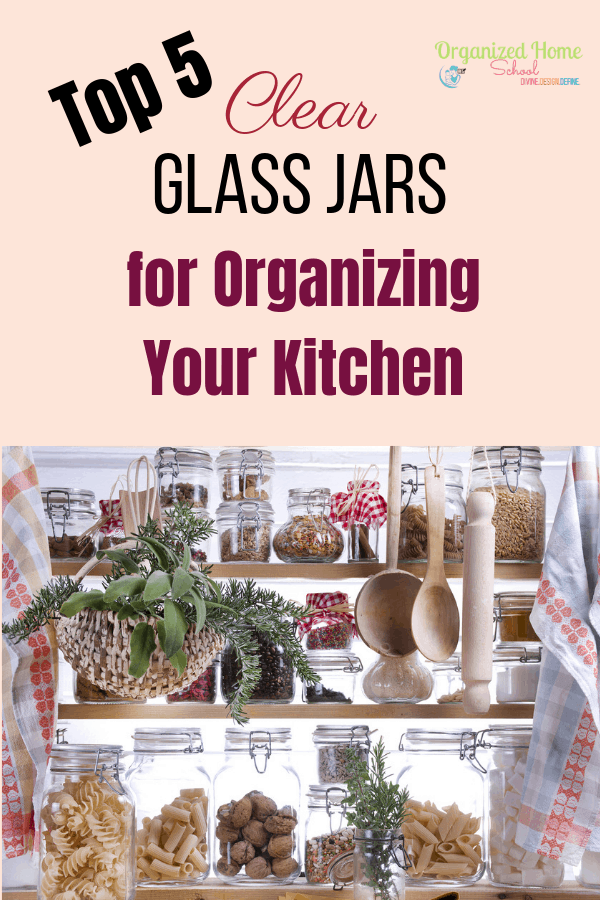 ---