Do you have an area of your home that seems to attract clutter? I've been working on taming the clutter monster in my own home. So, whether it is your school room or your whole house?these tips from guest poster Jeriann Watkins about decluttering her craft room?can be put into practice in your space.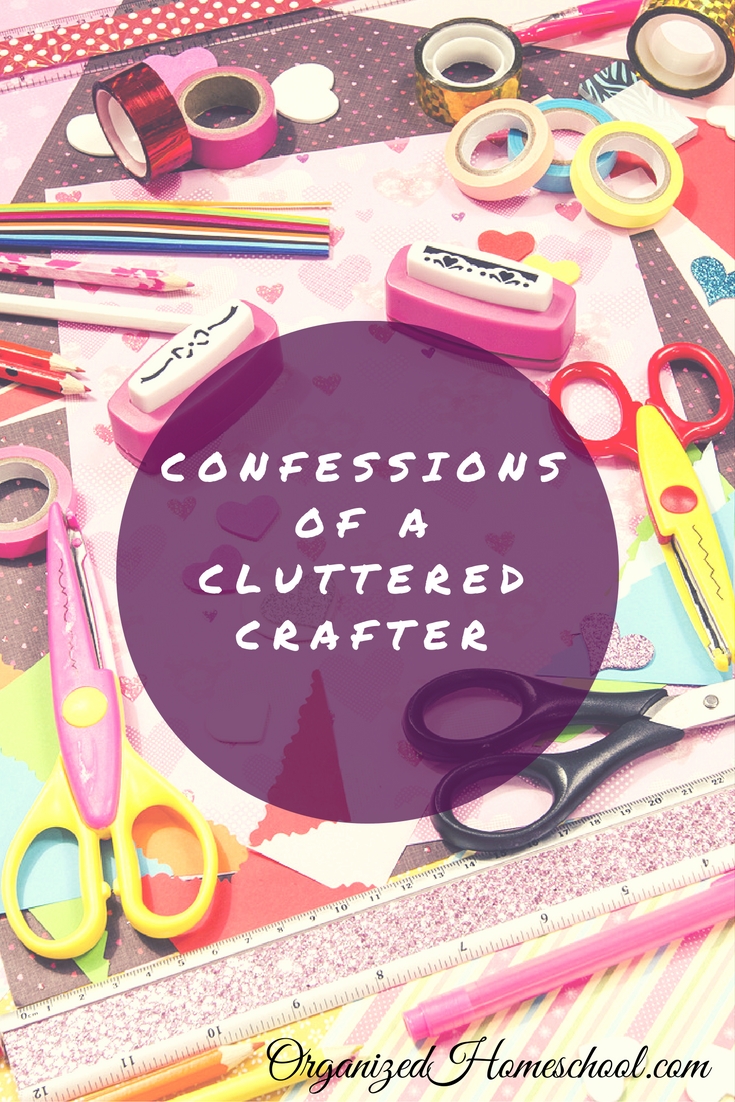 This post may contain affiliate links to products I recommend. This means I make a small commission off your purchase, but this does not affect your price.

Since I was a kid, I have leaned toward creative activities. I always colored my pictures in rainbow. Time with my Grammy was spent braiding octopus legs out of yarn and making simple beaded jewelry. As I grew, I planned more complicated projects, requiring more supplies.
Like many crafters, I like to keep a steady stock of supplies on hand, so that when I finally complete my planned projects, I have what I need. When I was moving every semester in college, this meant I had one large bin dedicated to craft items. Now that I have a real house, this has evolved into a room.
About two years ago, I challenged myself. I either needed to start using my craft supplies or I needed to stop collecting them. So I started creating things more regularly. My favorite project is turning old wine and liquor bottles into lamps. I also love making magnets and Christmas ornaments out of scrabble tiles. So I started making gifts for friends and family instead of buying premade items. Then I decided to try my hand at a holiday bazaar booth. Now I have a weekly booth at my local farmer?s market.
Since I?m now making and selling items regularly, my craft room has become quite the mess. I?m constantly adding thrift store finds for future projects, and for a while, every time I went looking for something, I ended up destroying any semblance of organization that I had accomplished. Luckily, with the help of Pinterest, I?ve found some tricks to create an organized craft space where I have room to create.
Knowing an Item?s Actual Usability
It?s easy to fall into the trap of keeping items for their potential, especially with craft items. ?But one day I?ll need this!? I?ve started only allowing myself to buy craft items if I have a specific application in mind. When it comes to sorting through my existing supplies, I have a couple of rules: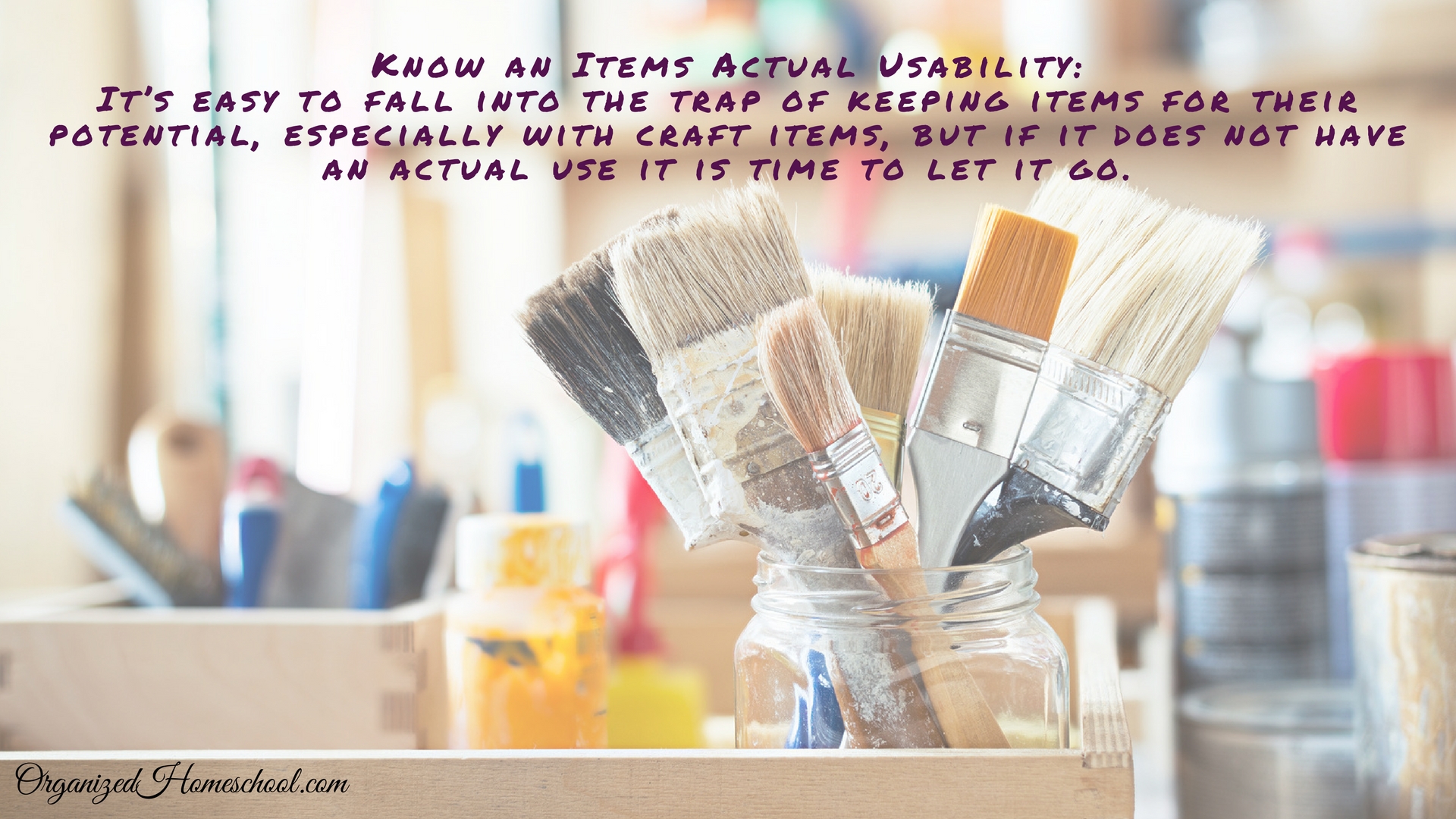 If an item is partially broken, it?s time to toss it (unless it can be used in it?s broken state AND I have a specific plan for that use)
If I?ve had an item for over a year and I have no plan for it, it?s time to make a plan or toss it.
If I had a plan for an item but that project obviously isn?t going to happen, the item needs to go bye-bye.
I make lists of projects I want to do and what supplies they use, and then try to complete them in a certain period of time. Usually this coincides with birthdays and holidays, since most of my planned projects are gifts for specific people.
Bottle Storage
I make lamps out of wine, liquor and soda bottles. Since my town doesn?t have glass recycling, this is a great way to prevent waste. Of course, between the bottles I generate and bottles I am given, I have a large collection of bottles compared to the number of lamps I?ve made. I don?t like to toss them unnecessarily, since I want to keep my design options open for future projects. For a while, I kept the bottles on a built-in bench in my craft room. Luckily, my fianc? found an awesome wine rack where I can keep my standard-size wine bottles. I?ve also found these cute acrylic wine racks that can stack on top of each other, and easily be placed either on the floor or a hard surface like my bench. In the case of my craft room where all the floor space against the wall has been taken by shelves, lockers, and other storage units, this ability to build up is really handy.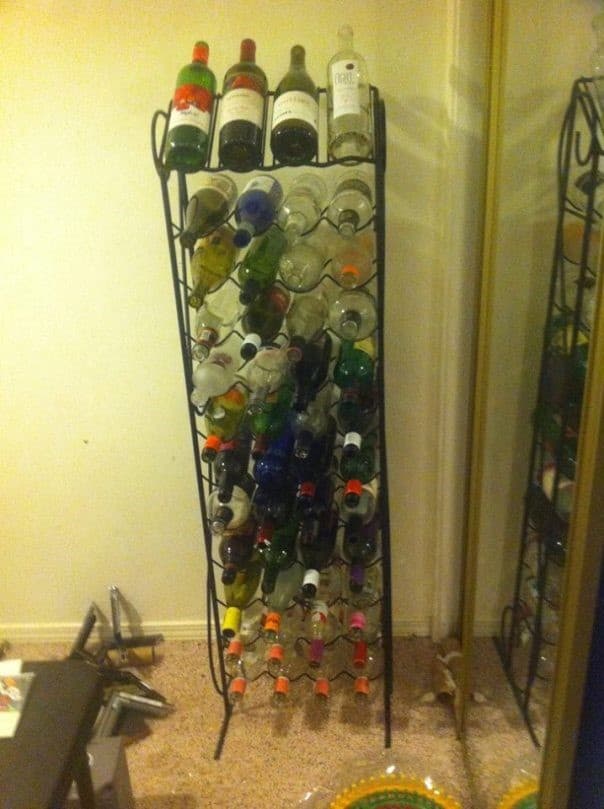 Back to School
Standard shelves are super useful, but when storing things like fabric, it?s nice to have drawers and doors to keep things contained. I also have some items like Goo-gone that no matter what I do, the bottle seems to leak. I?ve found that metal lockers work really well for keeping fabrics contained and storing those leaky cleaning supplies or cans of paint that you don?t want accidentally spilling or spraying all over your carpet. I found some great lockers on sale online, and I?ve seen them at my local thrift stores too, making them an affordable purchase. I also love that metal lockers are magnetic, since I make scrabble tile magnets. This allows me to keep my products and supplies both on the interior and exterior of the lockers, maximizing space.
These are just a couple of ways that I keep my craft supplies organized.
---
Do you have any craft-room organization tips? Share in the comments!
---
Jeriann Watkins is a crafter and writer who fluctuates between organization and chaos. You can see her writing and craft adventures at dairyairhead.com, and check out her bottle lamp creations on Facebook