Decluttering Methods – Which One is Right for You?
Are you sick and tired of your home being a T-Total Mess?
If you're feeling boxed in by the amount of clutter in your home, like me, you've likely come to the realization that it's time to make a change.
You've probably thought about what life could be like if you reclaimed your space, making it clean and organized.
Decluttering means less stuff to organize but often parting with our stuff is harder than most of us think. And choosing how and what to get rid of can be an overwhelming task.
Fortunately, there are tons of creative decluttering methods to make the process easier. Top professional organizers have developed systems for breaking the process down and making it seem more bearable.
Keep reading to learn the decluttering methods of minimalist masters.

KonMari Method
Let's start with one you've probably heard of due to its sweeping popularity (No pun intended). Author of The Life-Changing Magic of Tidying Up, Marie Kondo is considered by many to be a decluttering guru. With over four million books sold, it's definitely worth considering her ?magic.?
Kondo's method involves focusing on what to keep, rather than what to toss.
The core principles involve categorizing your items, and then taking time to sort through each category with the mindful intention of keeping only the ones that bring you joy.
If you're a collector of glassware, place all of your pieces on the table or counter. Pick up and inspect each, carefully determining which ones you love for their unique characteristics or sentimentality. Then box up the rest to donate or sell.
Since we already learned about finding our organizational "sweet spot", her ideas tie in well with that concept. You want to keep only what brings you joy.
When an item brings you joy it often is not burdensome to properly take care of it.
Of course sometimes I think if I follow this method, the only thing I would keep is my kids, oh and the hubby too!
But in reality when dealing with a family you must consider their joy as well.
So when choosing this decluttering method, or any decluttering method, make sure you involve your family too. You would hate bringing discord to your home over that teddy bear your teenager no longer plays with but still adores!
365 Less Things
Colleen Madsen of, 365 Less Things, has a brilliant approach to paring down possessions. She decided at the beginning of 2010 to make minimalism her resolution by giving away or selling one item each day for the entire year.
Madsen documents both the physical results of the project and the psychological aspects on her blog.
I absolutely love this idea! Often when I start decluttering, I kind of go on a rampage because I'm feeling overwhelmed by stuff and I want to get rid of half of everything I own. Then I set about taming closets or toys to find we really wear those clothes and play with those toys.
This decluttering method makes the process more about small daily choices, rather than a huge, overwhelming overhaul. I can start by choosing that item of clothing that no longer fits or hasn't been worn in a decade rather than trying to get down to having only 5 outfits.
Choosing one item a day to part with should be manageable, even for us moms who are trying to juggle our homes, homeschool, and home businesses!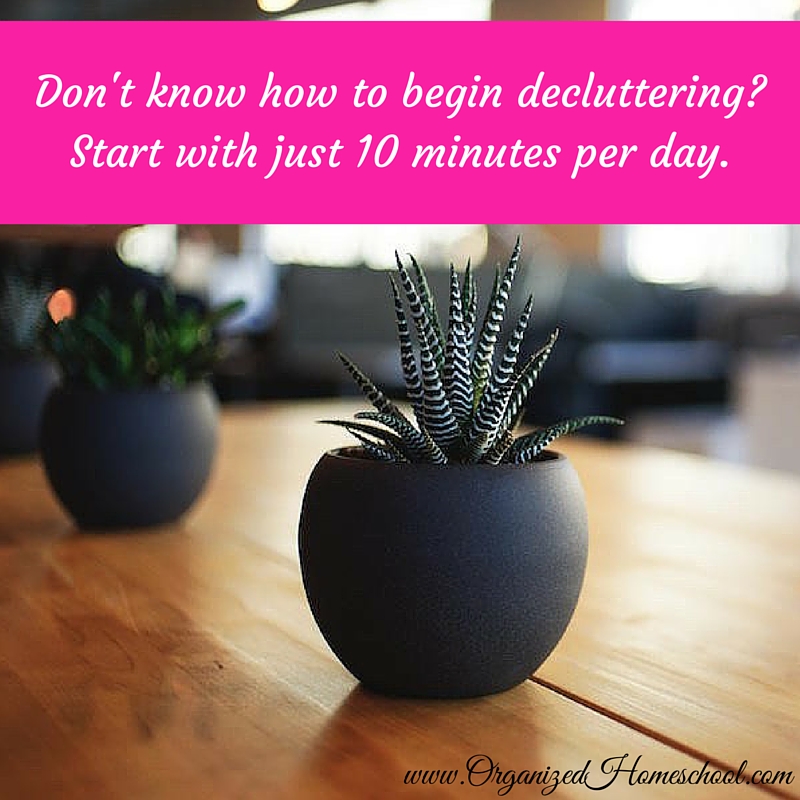 Minimalist Game
If you want to take the daily giveaway approach a step further, consider playing the Minimalist Game. The brainchild of Joshua Fields Millburn and Ryan Nicodemus of the popular blog, The Minimalists, this method requires you to on the first day of the month and choose to get rid of the number of items that corresponds with each date.
Giving away one thing on the first day is easy, but can you come up with 31 to part with at month's end?
Those who stick with it will have a home with 496 pieces of less clutter. Making it a challenging competition with friends or family ups the stakes.
We all know turning something into a game makes even the most dreaded task, a little more fun!
Again this decluttering method helps break down the process into daily, manageable pieces.
This might require a little more thought so start with your smaller projects and move to your bigger projects like kid rooms at the end of the month!
If your kids are older you could actually try to involve them in the game. Try to think of some prize that will help them and you part with the stuff that is cluttering your house.
The real prize is being left with a clean, decluttered home – but a little ice cream always helps sweeten the deal!
Other Decluttering Methods
These are just three creative decluttering methods to help you begin the process.
Other popular strategies include Oprah's Closet Hanger Experiment, 5-Minute Decluttering Tips from Zen Habits, Project 333 or the Packing Party.
The methods that require a daily component resonate the most with me. While I love a finished project, I simply don't have the time each day to tackle a huge decluttering project.
I am challenging myself to reign in the clutter in my home this month.
RELATED POSTS: