One of the disadvantages of homeschooling is the mounds of paper we accumulate.

This post may contain affiliate links to products I recommend. This means I make a small commission off your purchase, but this does not affect your price.
We just wrapped up our homeschooling year last week and are ready for summer…..almost!
Let me re-phrase that….the kids are ready for summer and no school work. I am drowning in all the completed lessons (paper clutter) and used books that were finished this year.
I also have another confession to make….I haven't finished grading some of the last tests my daughters completed.
My main concern right now is this table.
This is where the girls unloaded all of the homeschool papers from their co-op classes along with the books. We have professional photographers coming tomorrow morning to take pictures of our home that we are getting ready to sell!
Something has to be done about this TODAY!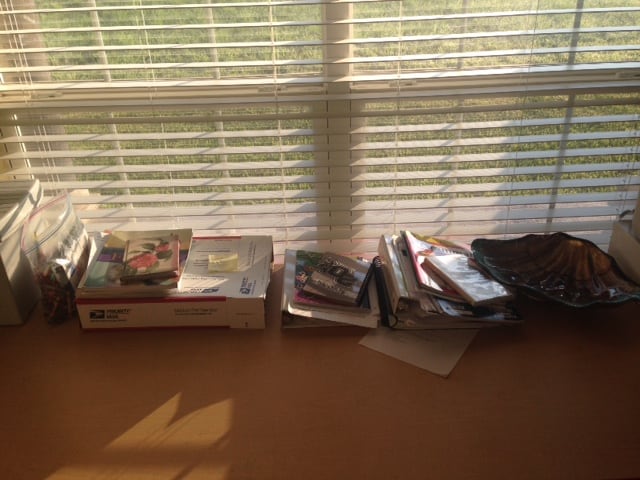 Before Taming the paper clutter!
My Game Plan for?Eliminating One of the Disadvantages of Homeschooling
Since this has to be dealt with today, and quickly, I thought I would blog about the steps I am taking to get somewhat organized and nix this homeschooling disadvantage in the bud.
A quick caveat….I live in Texas. It is a VERY homeschool friendly state. We are not required to keep records, test, or report our curriculum to anyone. We are just required to teach in a bona fide manner. So my system for taming the end of year paper clutter is my own and not regulated by the state. You will need to adjust this system to make sure your state's homeschool requirements are still met.
Step 1: Compile a Reading List
Get a sheet of paper or open up a Word document on the computer and list all of the books read per student. You will want a separate reading list for each child.
I list all novels read for school and personal enrichment (books they read on their own). I also list the textbooks we used if it involved reading, such as our Apologia Science books.
List the title of the book and the author and that should be all you need.
Step 2: Sell What We Do Not Need
The first thing I did was determine which homeschooling books we were not going to use in the future for my youngest children. There were some textbooks that the homeschooling co-op used that I didn't care for and absolutely knew I would not use in our homeschool.
I also perused my book shelves for other curriculum that I have had for awhile that I felt like would just take up shelf space and not be used. I always have the best intentions of using certain programs but never get around to it. I have to be honest with myself these days and part ways with some of my "good intentions" that are taking up valuable space. That is another task I have been working on in my going minimalist project.
I ended up with two small Home Depot boxes full of homeschool curriculum to sell. Since we already have a professional selling account on Amazon, that is where I list my used books. I don't have to waste time taking pictures and listing on Ebay or local FB groups. I simply find the books on Amazon and click the "Sell Yours" button. Then I can immediately send the boxes to the Amazon FBA warehouses and get them out of my house that day! I can now use the money from the book sales for future curriculum purchases.
Step 3: Take Photos
One of the other disadvantages of homeschooling includes the plethora of photos on our hard drives. Unfortunately, I am getting ready to add to my collection!
I laid out all artwork and projects and other odd paperwork that cannot be placed neatly in a 3 ring binder and took pictures of all of it.
Once I had my pictures and downloaded them onto my hard drive, I printed out on regular paper several pictures on each piece of paper similar to a collage. This consolidates the items on a few pages and preserves the memory at the same time.
I know it hurts sometimes, but at this stage, I throw the original artwork and projects away. It really gets easier the more you do it.
Also, I take any photos of field trips, extracurricular activities such as basketball games or dance recitals, and award ceremonies I have saved on my computer and print off a collage of each activity.
Step 4: Tear Up Those Test Booklets
In this step, I take each subject and evaluate what work was accomplished. For instance, we use Math U See and we have a large daily workbook and a bound test booklet. I tear out the Unit Tests and Final exam and put it with the picture collages I just printed out.
The goal here is to save a small sample of work done out of each larger workbook.
Step 5: Acquire a Big Box
Depending on how many children you homeschool, you may need a box for each child. Right now I just have my two oldest daughters and a bankers box is large enough.
I now put all of the remaining workbooks and completed loose assignments in this box.
Put off to the side any syllabi and a few writing samples from their language arts course for Step 6.
Step 6: Create a Binder for Each Child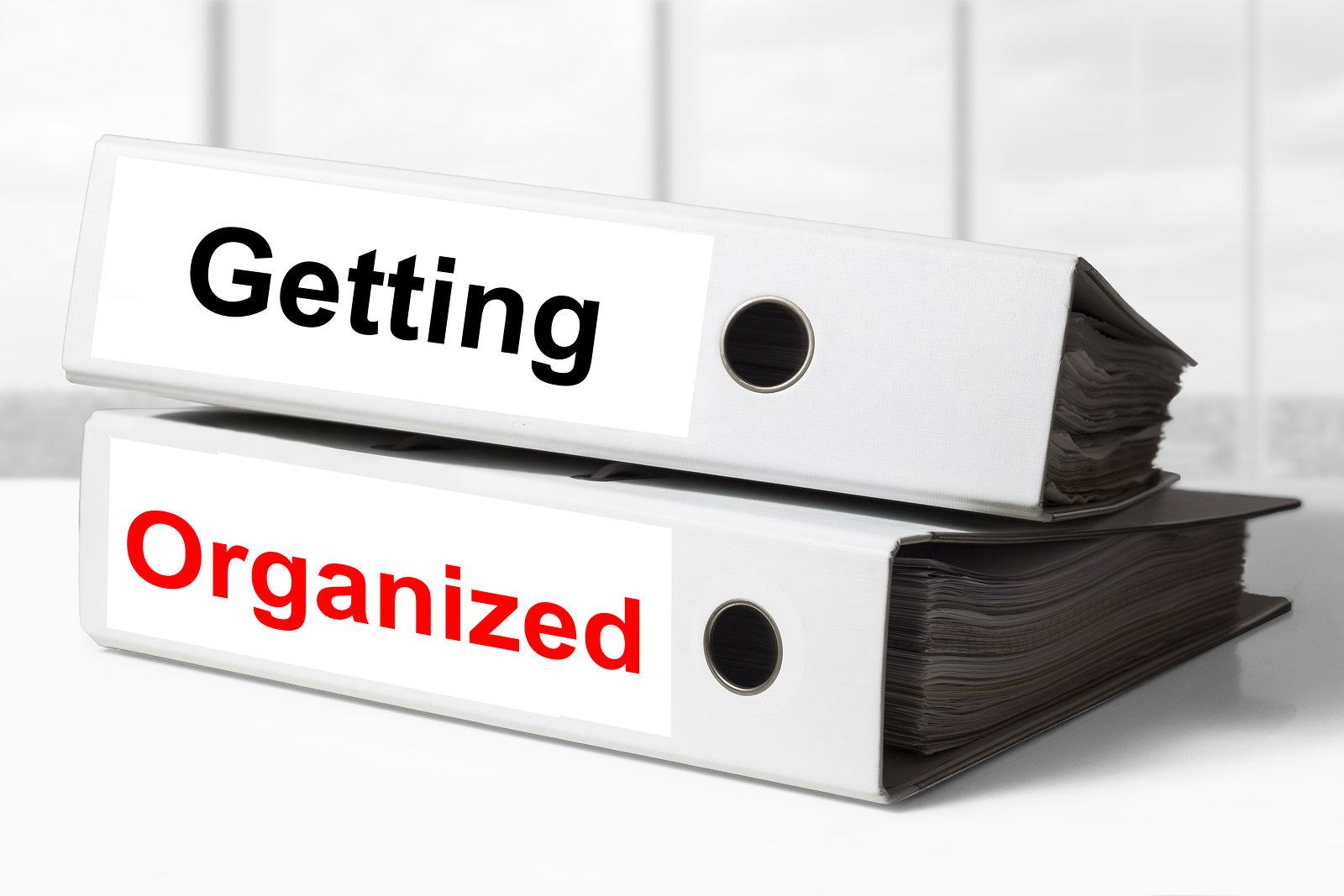 This is the gratifying part of putting it all together and seeing the big accomplishments your child has made this past year.
Buy a 3 ring binder for each child. It only needs to be a small 1″ binder. Also you will want sheet protectors to slide the photo collages in. You can also put the other information in sheet protectors if you like, but I don't.
Get a set of divider tabs and label them. Some ideas of labels are:
Each subject
Awards
Reading List
Field Trips
Artwork
Syllabi/Lesson Plans
Extracurricular
Volunteer Work
Now place the tests and sample work behind the appropriate tabs for each subject. Put your photo collages behind the correct label for the activity the photos are about.
Make a list of any volunteer work your child has done such as helping out at church, the food bank, etc. and put behind the Volunteer Work tab.
Evaluating for the Next Homeschool Year
The tons of paper we accumulate while homeschooling doesn't have to be one of the disadvantages of homeschooling at all. If we have a system in place, it simplifies the process tremendously.
Look over each child's end of year binder and evaluate what they have accomplished. Determine what subjects you will need to plan for next year and which curriculum you will use.
Having the end of year binder helps see the whole year at a glance and helps for planning the upcoming homeschooling year.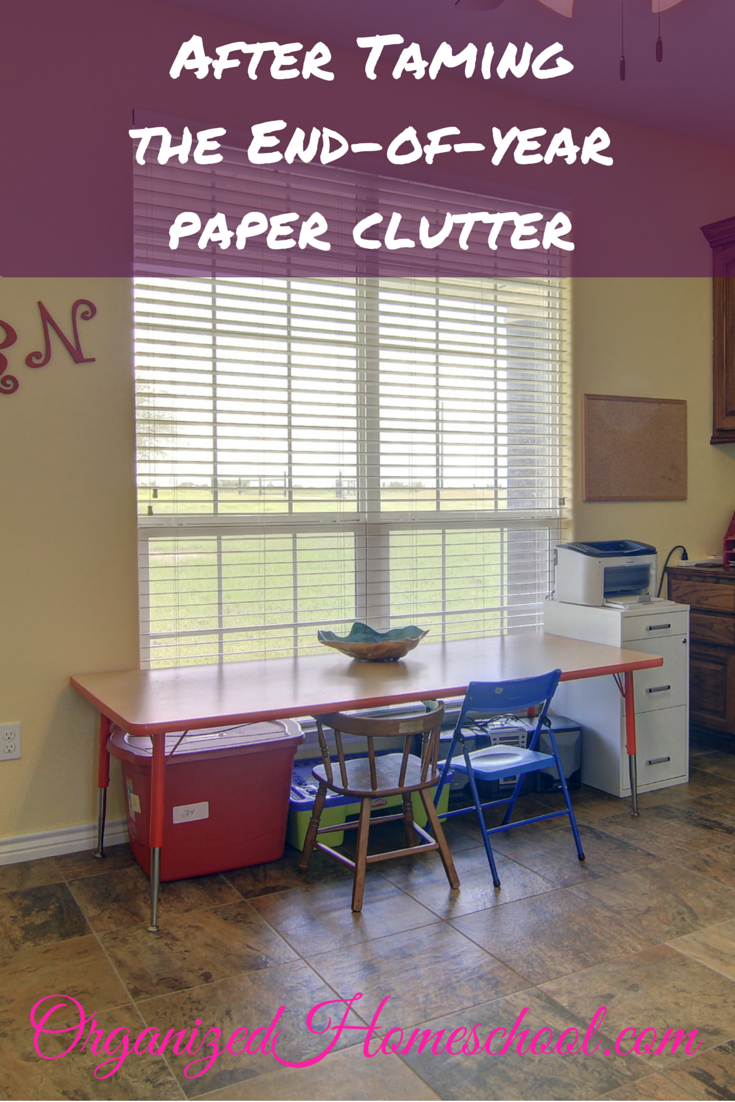 A tip I plan on implementing for next year is to keep separate picture files on my computer for each activity so that each field trip, extracurricular activity, and books read will be in a unique file on my computer. As we read each book, I plan to take a picture when we finish it and put it in the book file. At the end of next year, it will be a lot faster process with keeping up with it all throughout the school year.
How do you tame the end of year paper clutter?
---
---