30 Low-Prep Healthy Lunch Options for Kids
It's 9pm and your looking in the fridge again wondering what on earth you can pack for your kids' lunch the next day.
OR..
You're a homeschool mom and it's 11:30am and the kids are hangry and tired of doing school already. You open the fridge and wonder what in the world you're going to feed these hungry little people!?!
Been there. Done that.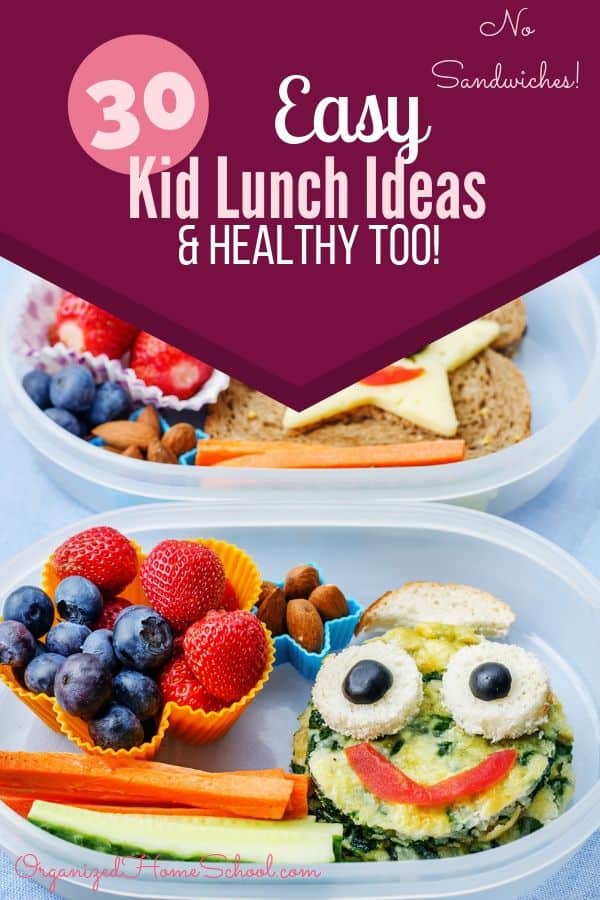 Are you tired of stressing out about what to feed your kids for lunch?
Sandwiches and chips get old for everyone. Your kids deserve better.
You deserve to feel better and have peace of mind about the choices you make each day with your kids' diets.
You need a cheat sheet.
You need a plan you can stick to.
You need a go-to list that takes all the guess-work out of it and you simply pick items on your list and are done with it.
The mom-guilt goes away.
You know your kids are eating healthy.
You can go on about your day.
So how are you going to accomplish this?
Easy!
Follow these tips and pick from the foods listed below and your all set.
Ready? Let's do this!
Tips for Prepping Your Kids' Lunches
1. Provide Healthy Options Kids Will Actually Like and Eat
Always pack a fruit and veggie each day in your child's lunch. You now never have to carry the mom-guilt from throwing in chips and snacks to fill the lunch box.
Only buy fruits and veggies you already know your child likes.
There's nothing worse than your child opening up their lunchbox at the table with their peers and staring at the contents with a disgusted look on their face. Kid's don't like those kind of surprises.
You definitely want to pack food that your child will actually eat so that their brain's are fed and at high functioning capacity while doing schoolwork, not empty and lagging the rest of the day.
2. Buy Only Food Easy to Store and Pack in Lunchboxes or Prepped in Fridge Ready To Go
Foods that can be eaten with their hands and without utensils are the best.
Raise your hand if your silverware never makes it back home? Plastic utensils reign in lunchboxes for sure!
The best lunchbox food is already prepared and can be grabbed from the fridge and put directly in the lunchbox in plastic baggies or a container.
Also, depending on the age of your child, be sure to package your child's food in bags and containers they can open so that their teacher doesn't have to help them. Can you imagine the teacher helping 22 kids open chip bags and lids?
RELATED POST: 10 Easy Healthy Snack Ideas for Homeschooling On-The-Go
3. Easy Prep and Few Ingredients are a MUST – Prep the Night Before
I stress how important an evening routine is all the time on this blog.
You need to add packing your child's lunch to your evening routine so that you can have a stress-free morning.
You deserve that warm cup of coffee and peaceful mornings with your children before school starts.
It helps everyone have a better day if you are not rushing around like crazy in the mornings.
This applies to homeschool moms especially.
Prepare what is for lunch the next day or set aside the items in a special part of the refrigerator so your children can grab the lunch options on their own when it is time the next day.
Don't pick elaborate lunches you find on Pinterest. You don't have time for that!
Choose lunches that are easy and fast to prepare the night before and have only a few ingredients.
RELATED POST: 3 Good Reasons to Establish a Homeschool Morning Routine
4. Provide Variety for Your Kids
You will get the Mom-of-the-Year award if you quit packing the same old lunches for your kids.
Sandwich and chips. Fruit and Veggie questionable.
Does that sound like your lunches each day?
It's time to change that up.
Pick your main lunch from the list below, add a fruit and a veggie your child actually likes, and you are DONE!
I?pick 3 lunch ideas from the list below each week and change it up each day, only repeating each item twice for the week.
My kids never get tired of what's for lunch using this method.
Meal planning and my grocery list is a breeze as well, since I?use the same list every time.
---
5. Save Money with Prep Ahead Lunches
I?guarantee if you pick 3 lunch ideas from the list below, buy fruit and veggies that are kid-approved in your home, you WILL SAVE MONEY on your grocery bill!
It works every time for me.
I?blow the budget when I?don't plan ahead and buy the big variety bag of chips and variety boxes of snacks.
Try it for a couple of weeks and let me know if you save on your groceries. I would love to hear from you!
You can use the saved money from lowering your grocery bill to pay off debt, save for a vacation, or go on a date night with your hubby!
LIST OF EASY KIDS LUNCH IDEAS
Choose 3 of these kid lunch ideas each week PLUS one fruit and veggie, and simply add to your grocery list while meal planning. You will save money, stress, and rid the mom-guilt all in one sitting!
Cream cheese and deli meat pinwheels (with flour tortillas)
Muffins with a cheese stick
Waffle sandwiches with jelly (peanut butter too if allowed)
Finger Food lunch:?deli meat, cheese cubes, carrot sticks, nuts, chex mix
Bean and Cheese Burritos
Homemade Lunchables (see this post for details)
Pasta salad
Peanut Butter and Jelly on pancakes
Favorite canned soup in a thermos
Cheese Quesadillas
Meatballs on toothpicks (use frozen meatballs)
Chicken Salad wrap
Yogurt and granola
Banana Bread
Mac and Cheese in thermos
Pita filled with favorite meat and cheese
Chili in a thermos


English muffin pizzas
Lara Bar (here a variety to pick from)
Bagel and Cream Cheese
Cheese and Crackers
Sandwich Kabobs (thread cubed meat, cheese, and bread)
Leftover stir fried rice in a thermos
Tortilla Hot Dog Wraps
Egg Rolls
Mini Deep Dish Pizzas
BLT Wrap (Bacon, Lettuce, Tomato, Mayo on a tortilla)
Rotisserie Chicken pieces (from grocery store deli)
Supplies to Make Lunch Prep Mess Free
You need durable well-made lunchboxes, thermos', water bottles and more to make sure you don't have a leaky mess for your child to open at lunch time.
Here are some top selling lunch box gear on Amazon you will want to check out.
I?hope you have enjoyed these easy lunch ideas for your kids' lunches.
We all get tired of eating the same old things.
Remember to prep the night before for a smooth morning and rest easy knowing that your kids are eating healthy the next day.
You will be amazed at how much money you will save in the process!
---
RELATED POSTS: