Do you ever listen to the advice you use to encourage your children in their sports or other endeavors?

**This post may contain affiliate links. Read my disclosure policy here.
As a mom one of our biggest roles in our child's life is that of a cheerleader.  But moms need encouragement too!
My family just finished up our swim season, and is gearing up for surf season.  I personally am not athletic, but somehow my kids are.  As we allowed our kids to try different sports we became a swim and surf family and despite the craziness we love it.  Since I do not (or did not) really know anything about either sport, my primary role is to encourage them.
So as I was loudly cheering at the pool this weekend I thought about how so much of what I tell my kids for their sports can also be applied to me as a homeschooling work-at-home mom.
The Pre-Competition Build Up
As we head to a swim meet or surf competition I often quiz my kids about the different skills they have been working on and remind them of the rules.  "How many strokes should you take before you breathe?"  "Remember your two- handed touch." "How many waves do you have to get?" "Watch the flags and set your watch."
So mom friend, here are some reminders for you:
Remember you know your children and their needs better than any one else
Have you planned assignments (or homework), meals, time for your business such that you can have a successful week (month/year)?
You can do all things through Christ, who strengthens you!
Then I ask them what their goals are.  "Do you want to drop time?"  "Do you want to master a certain move you have been working on?" Of course they always want to get first place.  But I try to get them to focus on goals that they can reach … win or lose.  For my four year old, the goal is just to make it across the pool!
I must be honest with you, my goals most weeks is just to survive, like my four-year-old swimmer.  And if we do that, it is a success.  Although I must brag, my little guy dropped 11 seconds at his last meet!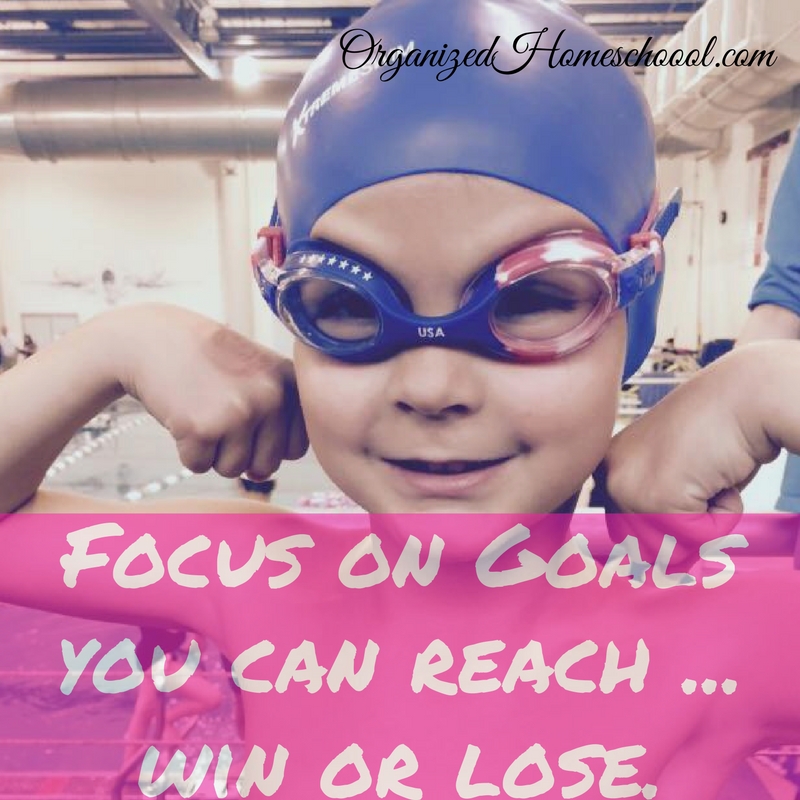 So sometimes it is good to aim high and just keep swimming! Other times we want those more satisfying goals like accomplishing at least 2-3 tasks from our never-ending to do list.  Whatever your goal may be, verbalize it or write it down.  This makes your successes much more gratifying.
The last thing I do is encourage them. "You've got this."  "Remember what you have practiced." Followed with, "Do your best!" and a kiss as I send them off for their heat.
For moms, this encouragement might sound a little different but we need to hear it just the same.  My dear mom friend I want to tell you, "You've got this!"  You have researched curriculum, planned meals, scheduled your work around your family's needs and schedule, and so much more.  Now it is time to get out there and do your best as a home-schooling mom, a work-at-home mom, or maybe both!
During the Competition
I have no clue why I cheer and scream for my children during their competitions when I know they cannot hear me, but alas, I do it anyways.  At any rate it makes them smile when they watch the video and hear their mom scream, "Go, baby go!"  Some other things I cheer are: "Don't breathe!", "Don't look, just go!", "Paddle hard!", or "It's alright, just catch the next wave!"
"Don't Breathe"
What type of mom yells this at her kid?  A swim mom!  This is because each breath slows their time.  No worries, I won't encourage you not to breathe! As mom's we might need to hear, "Just breathe and count to 10!"  But I do want to encourage you to have extreme focus on your task at hand.  My little swimmers want to keep their head down and touch that wall as quickly as possible and they are so focused on that they literally will not come up for air unless it is absolutely necessary.  As working and homeschooling moms we are often pulled in so many directions, but take time to focus on one race at a time, keep your head down, and keep going until you hit the finish line for that task.
"Don't look! Just go!"
It must be some basic human trait that we want to know how we are doing compared to those around us, but this trait especially shows up in sports.  My oldest is especially prone to doing this in her swimming and it hurts her every time.  We moms are also notorious for getting caught in the comparison trap.  Learning from others is helpful, this is why there is practice and training.  Comparing yourself to others, however, slows you down and distracts and discourages you from your own goals.  Set your course, plan your strategy, then don't look around at others. Just go and do what works best for your family.
"Paddle hard!"
It's quite daunting as a mom to watch your baby out in the ocean as she gets pounded by and pushed around by waves that are bigger than her.  Yet she is driven and challenged to paddle through every obstacle to get herself in the perfect spot to catch a wave.  It is a terrifying and beautiful thing to watch every single time with both my surfer girls.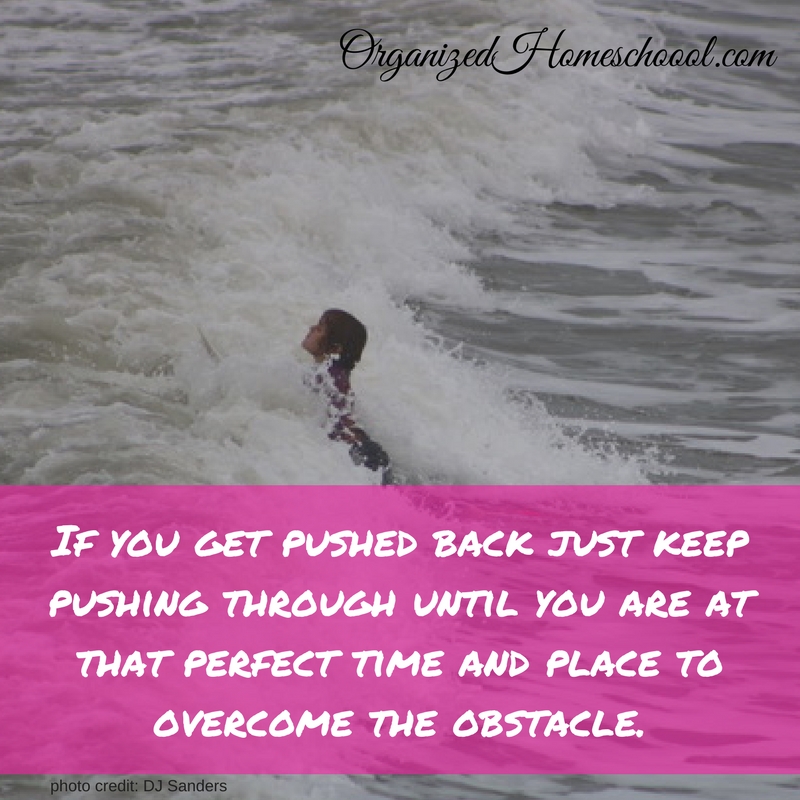 Moms, in the ebb and flow of our days we are going to get pushed back and be bombarded with challenges.  I've come to accept this is part of the mothering job.  A surfer first has to make it through the waves, then when the timing is just right they catch the wave and masterfully and beautifully overcome what their obstacle was a few moments before.
So dear mom, push through the obstacles you are facing with work, parenting, housekeeping, or homeschool. If you get pushed back just keep pushing through until you are at that perfect time and place to overcome the obstacle.  Trust me it is just as beautiful when you do this as when your child does it!
"It's alright, just catch the next wave"
As my girls paddle to catch a wave, sometimes they don't catch it.  Maybe the priority belonged to someone else or they couldn't get enough power to be in the right position.  But in the ocean's awesome majesty, there are always more waves coming.  This means more opportunities to do what needs to be done for the perfect ride.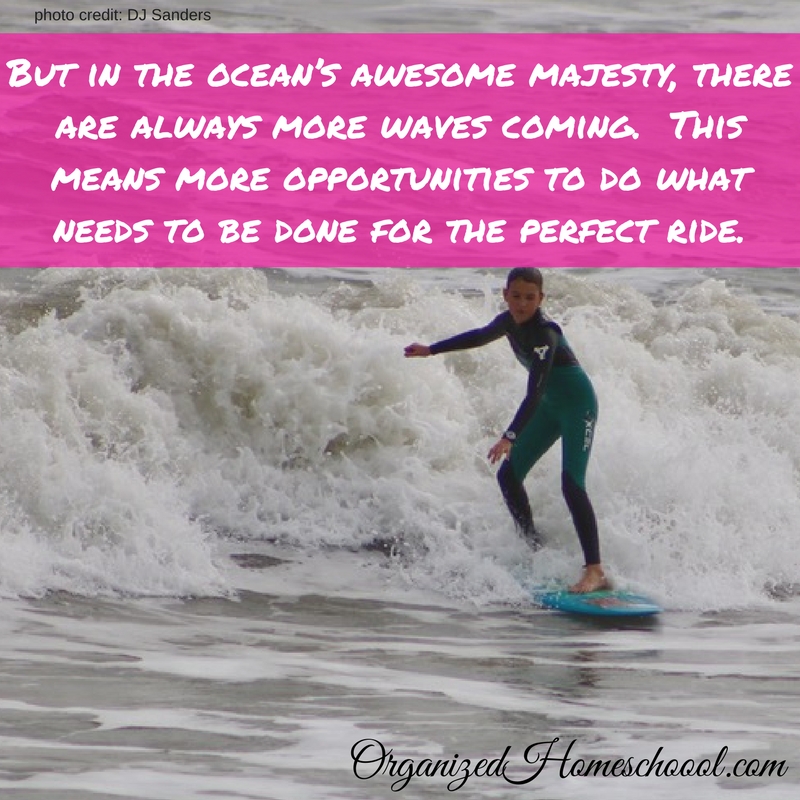 Mom, did you lose your temper with your child?  Did you not get the laundry or the dishes done? Guess what? You will have another opportunity to react better the next time they push your buttons.  You will find another time to accomplish that housework.  Just wait it out.  Another wave or opportunity will come and you can just catch that one.
The Post-Competition Build Up
After every competition I'm proud of my kiddos through their successes and failures and I want them to know that.  I love the Beverly Sills quote, "You may be disappointed if you fail, but you are doomed if you don't try." If they did not reach their goals, we focus on not giving up and what they can improve.  If they met their goals, but did not win a ribbon or a trophy, I remind them sometimes we need to participate just for the joy of doing it not for rewards.  We also celebrate the success they did have, and then set our goals higher for the next competition.  And when they win, I want them to be gracious to those they competed with and to those that helped them get there.  This is why I let my kids participate in sports. I think it helps prepare them for life.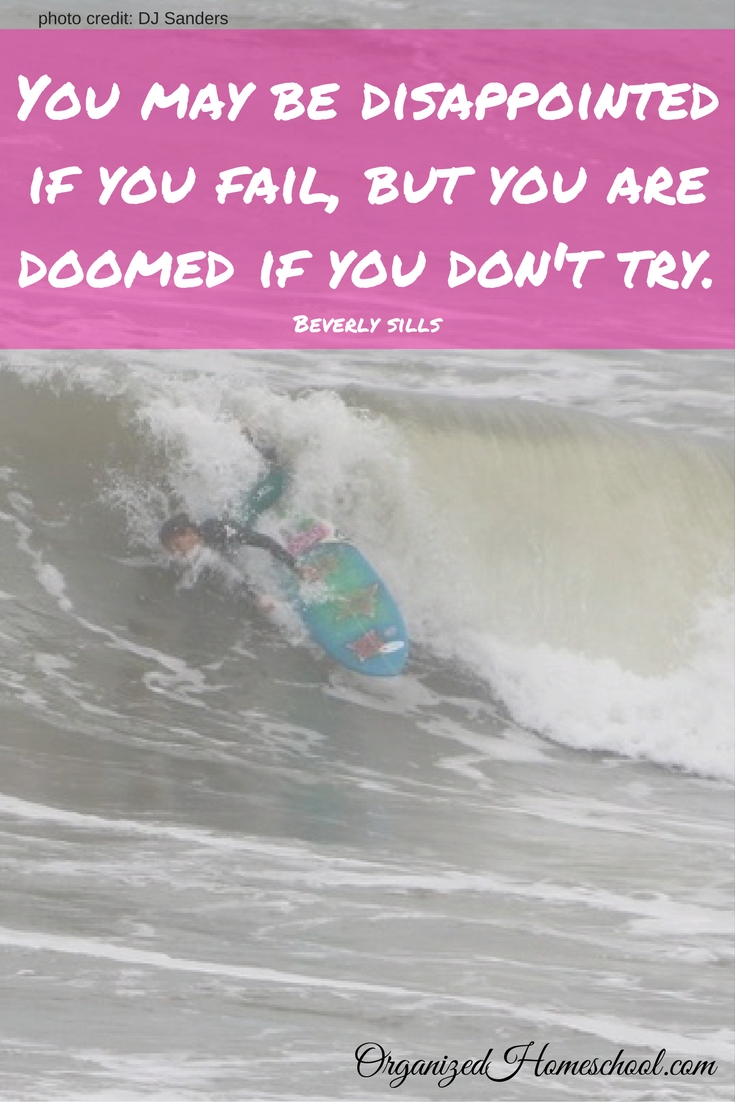 So mom take your wins and losses.  Evaluate where you can improve.  Enjoy your time with your children, your work, the challenges, and the successes.  You may not get a trophy but what you are doing is important. Keep striving to do your best.  Always look for and celebrate your successes no matter how big or small!
What sports or activities do your children participate in?  Comment below with encouragement you give your kids that can benefit moms as well!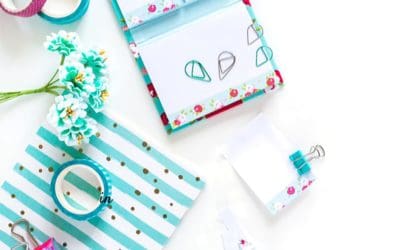 A 90 Day All in One Life Planner If you're searching for a goal planner that has everything you could possibly need to set and achieve your goals, this 90-day all-in-one life planner is exactly what you need. The Smartlife Push Journal is sold in a pack of three, each...
read more