Homeschooling can present a strange dichotomy of identities for a parent. Where you want to be a fun parent, you also want to be a good teacher. Seasonal changes are wonderful opportunities to do both. This fall, take advantage of the options presented you!
Sometimes with teaching you have to be creative — it's part of practical homeschooling! Fall-friendly homeschooling comes down to creatively contextualizing the education. Think about the weather outside. Think about the holidays among us. Think about the changing of the leaves and the drop in general temperature. Once you're present in this mindset, the rest should come easy! Here are some ideas for your homeschool curriculum this fall…
PIN THIS FOR LATER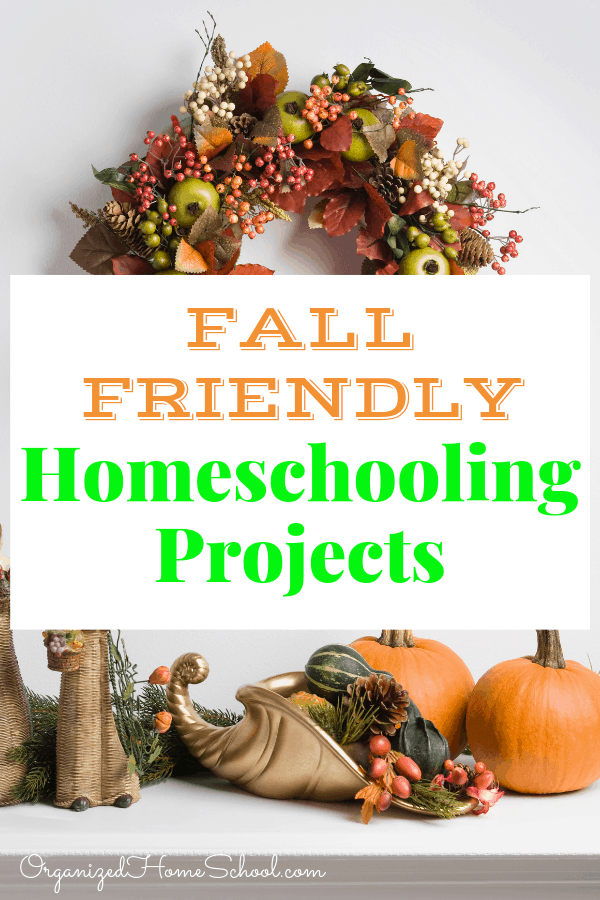 This post may contain affiliate links to products I recommend. This means I make a small commission off your purchase, but this does not affect your price.
Fall Studies
It's possible to base your study topics specifically around fall-related topics. How does one do this, you ask? Think about the context of the season. For instance, two main American holidays in fall are Halloween and Thanksgiving. Focus your history curriculum on the holidays so you're covering their history around the time they actually occur.
History's not the only pathway you can incorporate fall into your curriculum however. You can line up your literature lessons to be themed with the history teaching by focusing on books and poems written by popular artists from the time your child is studying. Your vocabulary lessons can include Fall-themed words as well: orange, leaves, Halloween, spooky, pilgrim, and the like. Essentially, a little brainstorming can contextualize your curriculum just like that!
Fall-Themed Activities
It's important as well for a child's creativity for them to experiment with different art mediums.
You can have your child fill out a fall calendar if you're trying to help them learn months, dates, or days of the week. Teaching them to do things like paint something fall themed to even the age-old hand turkey could be a way to encourage this creativity and theme it for the season. But art isn't the only way to encourage fall-themed activities!
If you belong to a homeschool community, try organizing field trips to fall-themed places. A pumpkin patch or corn maze would qualify in this case. Additionally, gathering up a group of children to do things like rake leaves for those with less in a community is a worthwhile endeavor. By doing so, you teach kids a lot about empathy and hard work.
Weather-Appropriate Activities
"Fall friendly" does not just mean "fall themed." It means accepting what time of year it is and basing your actions around it. For example, there are several electrical engineering projects you can do indoors at home if your child is of age that would be perfect for fall weather. While it's not fall-themed, it is completely fall appropriate.
Maybe fall could be a better time to teach by video more as well. Outdoor activities are obviously doable and beneficial in the fall, but they're not as easy or frequent as in the summer. Indoor activities are best in fall and winter, while outdoor activities are best in spring and summer. Of course this is subjective to how you and your family feel about these things and what activities you enjoy, but it's an example of contextualizing your teaching tools and aspects of your homeschool education.
---
How do you plan on using the Fall to your homeschool curriculum's advantage? Let us know in the comments below!
---