If you have ever traveled with a family, you know what it is like to pack a suitcase. You might think you have everything you need and start to zip it up only to realize you are missing a few things. When you finally get everything in, you almost need to sit on it to get it zipped.
This post may contain affiliate links to products I recommend. This means I make a small commission off your purchase, but this does not affect your price.
Managing a household, parenting, working from home or homeschooling can each feel like packing a suitcase. When you put all of them together, you might feel as if the whole thing might explode open at any minute.
You have heard the recommendations to take care of yourself first. Yes, you are exhausted from all the plates you have to spin and dodging the ones that occasionally crash to the ground. But what is a busy mom to do? There just aren?t enough hours in a day to do something as frivolous as eat while sitting down. Or are there?
Let?s open up the suitcase you call your life and take a look, shall we? Here are a few things you can do to make your journey the trip of a lifetime without losing the contents of your luggage.
Eliminate What You Do Not Need
Sometimes, kids think they need to pack the entire content of their toy box when you know they will be spending most of their vacation time making sandcastles on the beach.
Look at your lifestyle the same way you look at what you need to pack for your vacation. What are your needs? Why are you really doing this? What are your goals and priorities?
When you determine what you really want, it is sometimes easier to see the things you can eliminate. Start with the activities outside your home. Pare down outside commitments to those that truly reflect your priorities. Church activities, sports and multiple lessons for each child, volunteer work and social obligations you really don?t enjoy ? these are things that can sometimes crowd out the truly necessary things.
Next, determine what things in your home you may need to change. Is your curriculum working for you or against you? Are you too obsessive about cleaning or do you need to make the kids chip in more? Are you operating your business in the most efficient way possible?
Once you pare down the unnecessary, you start to feel a little less crowded. Your suitcase may still look pretty full, but you might just find a few surprises.
Find Those Hidden Compartments
Some suitcases have inner compartments or outside compartments where you can fit those extra little things. You may think you don?t have any hidden compartments in your day, and you may not. Sometimes you have to create your own.
While I do not do it perfectly, most days I try to establish three personal hours. Now, hour is a relative term. I often am not able to give a full hour and sometimes I can squeeze two hours into that time frame. However, three specific times of day belong to me and caring for the person I am so I can pour out into the lives of my family members and my businesses.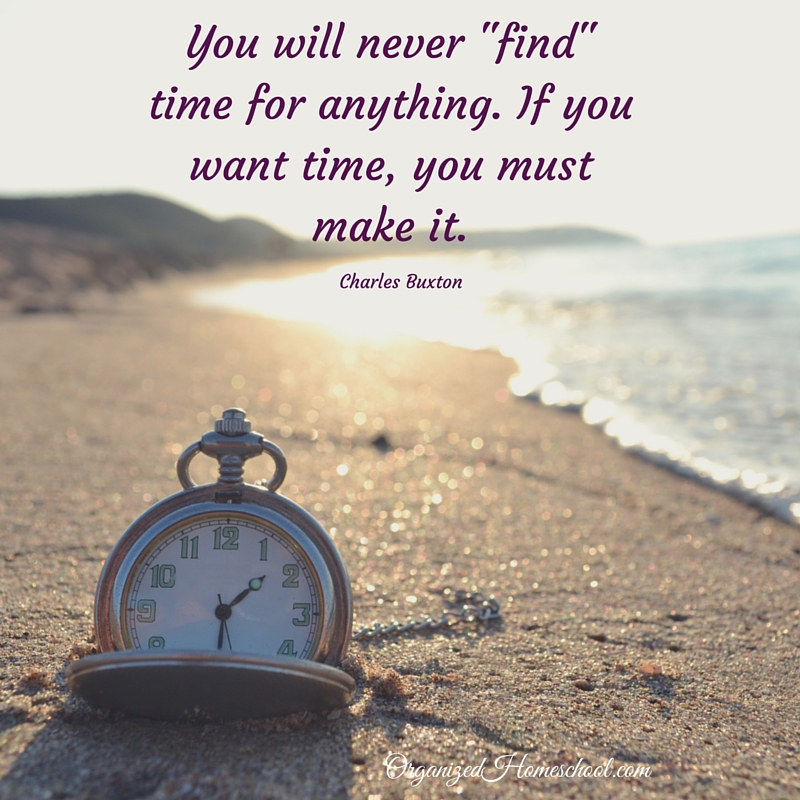 Selectively Fill Your Compartments
I do my very best to get up before my children and spend time with the Lord. My relationship with Him is my most important one so I guard that time above all else. I read my Bible and pray and journal what He says to me. If I miss this time, I find myself feeling more frazzled and tempted to get irritated with the children throughout the day.
I try to find a few moments between our homeschool day and my afternoon work time to recharge my spirit. For me, this is usually playing the piano. For you it may be scrapbooking, crafting or sewing. Find that thing that makes you feel refreshed and purpose to make time for it.
I try to save some time before I go to bed for my final personal hour. If I haven?t been able to fit physical activity into one of my other personal hours or with my kids, I do it here. This is when I get a bath or shower without someone banging on the door. I read a book in bed until I fall asleep.
If you can only carve out 5 or 10 minutes for each activity, start there. You will find the concept of personal hours to greatly enhance your ability to care for your family and business. Soon you will find you are actually able to zip that suitcase, and it just may not feel as heavy when you heft it into the back of your minivan.
Jennifer L. Self is passionate about educating, working and living well at home. When she's not dreaming up new business ideas or spending time with her family, she writes about simplifying and enriching life for the work at home, homeschooling mom on her blog.
---
How are you taking care of your needs mom? Leave me a comment below.
---