Are you scared to death of homeschooling a high school student?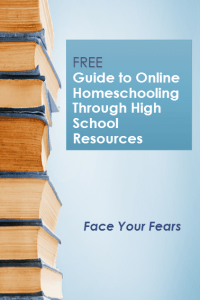 This post may contain affiliate links to products I recommend. This means I make a small commission off your purchase, but this does not affect your price.
I know I once was. I have done hours and hours of research on how to homeschool through high school and I would love to share with you some resources I have found helpful.
If you are currently homeschooling or are considering pulling your children out of the unstable public school system, you might be wondering how much is this homeschooling lifestyle going to cost you?
I have homeschooled our daughters since Kindergarten. I now have a 6th grader and 8th grader so high school starts officially next year for us. (Although she already has been taking some 9th grade level courses that will go on her high school transcript). That is why it is important to start planning the high school years while your kids are in middle school. But don't worry, if you are just now starting out, you can play catch-up.
I like to think I have been frugal in the past with buying curriculum.
As you know, you can buy the boxed sets with all of your subjects from name-brand companies brand new each year and spend thousands of dollars. I personally follow the eclectic style of homeschooling, which means I use different publishers for each of the subjects. I think the most I have spent per child is $500 year.
Times have changed in our household this year.
My husband's lucrative job came crashing to an end when the oil and gas prices plummeted and we found ourselves unemployed due to massive layoffs. We are having to plan our  high school curriculum for next year on a very tight budget, hence my need to find free online homeschooling high school resources.
There are a few full online curriculum providers on the web, but they are hard to come by. I did find tons of free resources that I can use to put together my own free online high school curriculum though.
As I plan out the next four years of my daughter's high school education, I will just take it one subject at a time and find free curriculum to fit the bill. I'm so glad I use the Total Transcript Solution software so it will be a breeze to prepare her high school transcript. I will not have to pay an "accredited" full price high school provider for that transcript.
I would love to share my hours of research with you and help your budget as well. These are lean times for all of us on one income (or in my case no income).
Sign up here to receive my Free Guide of Online Homeschooling High School Resources.
Your pocketbook will love you for it.