Many of us have this nasty habit of buying and hoarding stuff for the classic reason of "when a future need arises." I bet many of those items have been lying around unused and hiding somewhere in the closet, cupboard or is it down the basement?
Well, we tend to get and forget a lot of things in our life. Eventually, we get this nagging thought that somewhere, somehow in the deep recesses of our humble abode there lies some stuff that never sees the light of day. No worries, we're all kind of guilty of this! But if you're like me who sometimes gets that "OCD moment," or simply needs to get rid of junk and detox from time to time, then read on because I have some good news for you.
You can actually simplify and let go of unwanted clutter in your home while earning some quick cash on the side!
Remember, you may no longer be needing those nice clothes living in the closet for years now or maybe some kitchen wares or your children's old school curricula, but there are families out there who may be on the lookout for good quality, pre-loved household items or educational materials for instance.
I know for a fact there are collectors out there, or people who prefer using second-hand items, not just because it's economical but also because they find it rather philanthropic or do it for bigger causes such as saving the environment by promoting reusing and recycling things. Totally makes sense for the love of our planet!
So whether you're giving away your excess stuff to charity or selling them for a few bucks right now, here are some easy tips to help make your decluttering mission a blissful success!
Let's roll up our sleeves and get started!
We gave away 3 trailer loads full of items on our last move and we still have way too much!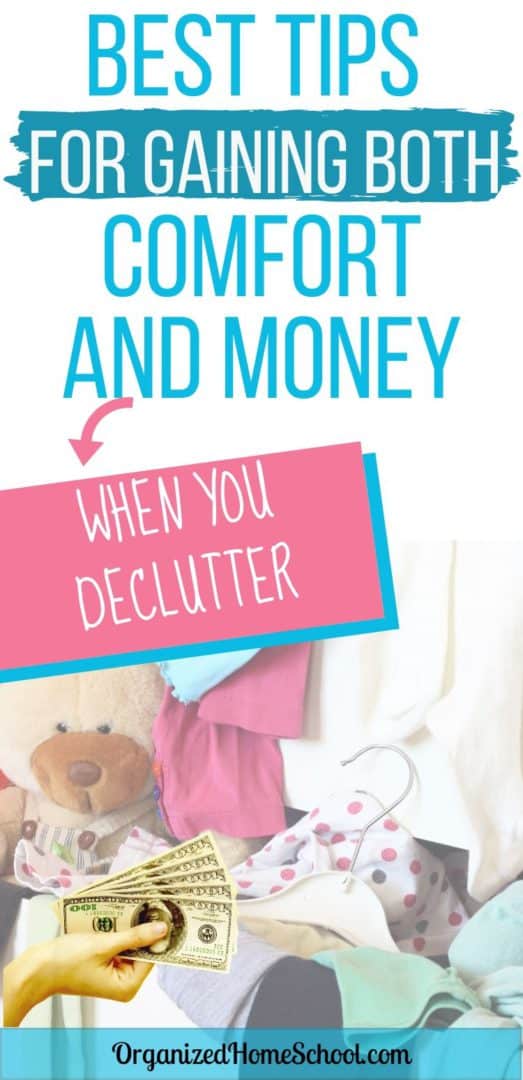 This post may contain affiliate links to products I recommend. This means I make a small commission off your purchase, but this does not affect your price.
It can be incredibly frustrating to feel closed-in by your clutter. You know that downsizing some of your items and organizing things a bit can lead to a more comfortable, less stressful home.
Don't forget that you can actually gain quite a bit of cash during this process, as well. Selling the things you no longer use can add up to a pretty penny if you know how to do it strategically.
Read on to learn some ways to gain both comfort and cash when you declutter your home.
Start With the Storage Areas
First of all, locate and gather your stuff. Where do you usually safe-keep your things? Start with your common storage areas. It could be your attic, an unused room, or the most popular place of all your basement. Check out your storage bins too!
Storage bins are also treasure troves of long-forgotten items that may hold some value. Set aside the things you no longer use, but that might fetch a decent price.
Check Out the Kitchen
Next, go to your kitchen. Rummage through your kitchen drawers and cupboards. There may be tools and gadgets in there that you never really had a chance to use but a collector or a cook would love to possess. Sometimes moms like us are guilty of is collecting all sorts of utensils and kitchen knick-knacks that only end up sitting idly in the deepest part of the cabinet housing dust!
Sort Through Your Clothing
Then, look inside your closets. Clothes are worth some money if they're still in tip-top condition and especially if they're designer apparel. Even items without brand names can easily become hot sells if you know where to list them. And do you know that there's a good market for second-hand kids clothing and accessories?
Gather Your Gadgets
Next up is to look for old gadgets. Have you got old but functioning electronic devices? As a matter of fact, even your broken devices can be sold for their parts. You can Google ways on how to dispose of old electronics and gadgets for a few bucks. With only a few clicks, you can look and compare sites to get the best deal for your pre-owned technological goodies.
Amazon and eBay have programs that pay cash for electronic devices or you can market them to individual sellers on the sites.
Here are some places you can trade-in your gadgets:
Selling your old stuff for cash really isn't as intimidating as it may seem, and it's frequently worth your time. You'll be thrilled when you have the cash in your pocket and a clutter-free home, as well.
Should I Sell or Donate Clutter?
After scavenge-hunting, perhaps you now have a huge pile of stuff in front of you. And if you're confused as to how to dispose of certain items, whether to sell or give them away, then here's a couple of things to keep in mind when decluttering.
First, ask yourself "Would it be worth your time, energy, and effort to sell your stuff?" Meaning, does it cost you more (or less) to organize the selling. What's your main goal for decluttering? Is it to let go of unnecessary things in your home and your life or is it to make money?
The second consideration is the condition of your items. Are they still usable and in good condition? Will the new child owner smile when he receives your toy? Are your clothes still cash-worthy? If not, throw them away.
When decluttering, prepare three boxes and label them with: "for charity", "for sale", and "for trash". Go through your compiled clutter once more and see which ones go to which box.
At the end of the day, what matters is you've done yourself a huge favor by decluttering your space and letting go of the toxic "hoarding mentality."
What Can You Sell?
There's a lot. I'm sure you've got some CDs from years ago that you don't listen to anymore, DVDs that sit in your cabinet for ages, or old novels you no longer touch. To assist you to kickstart your money-making journey, here's a list of some of the most in-demand surplus products. Then again, you can always keep mementos and items with sentimental value.
Unused furniture.

Have you got a set of chairs or a coffee table you don't use? Consider listing them on online marketplaces such as Facebook,

eBay

, or Craigslist. Who knows if an old items collector is waiting for something similar to that antique piece in your basement. You can easily sell wooden items for a few hundred bucks for sure.
Clothes and shoes you haven't worn for a long time. For some reason, we hold on to dresses, jackets, or shoes even if we don't use them anymore. Maybe now is the best time to break this irrational habit and declutter your family's wardrobe!
Do you know that it isn't only easy to donate clothes but also a great way to help curb climate change and conserve energy? Consignment shops and thrift stores are all good places to turn your unused children's apparel, women's clothing, shoes, bags, and even accessories into some good amount of cash. Places like thredUP, The RealReal, and Tradesy, are awesome online platforms to check out.
Kitchen and dining items. T

ake a look at your cupboards. For sure there are mugs from many Christmases ago, plates, cups, and other kitchen utensils and equipment. So check and see if there are a couple or so pieces that you can detach yourself from. Feel free to save your favorites of course!
Books, DVDs, and CD collections.

If you're still holding on to DVDs, CDs, and books that have been living in their storage for years, I think it's time to revisit them, keep your favorite ones and then sell, donate or gift the rest.
Your children's least favorite toys.

If you have multiple kids like me, chances are you already have accumulated maybe a truckload of old toys and games! It's time to make other children happy. Shelters, your local daycare centers, and churches are great places to start. Otherwise, you can look up for

Facebook marketplace

where people buy, swap, and sell pre-loved playthings. You may also

join groups

if you have lots to offer.
Other random items that you never used.

We all have those extra digital cables and connectors, headsets, and other supplies that we never really had a chance to unbox and use. Save someone else's day and just sell those. Again, a simple Google search can help you locate platforms such as

UsedCable

where you can earn money out of your surplus items.
Like in any money-making endeavors, listing your excess household items for sale takes sweat and some labor. The key here is strategy and motivation. Go back to the main purpose of this task, which is to rid yourself of unnecessary material things and give your family a cleaner, healthier, and more organized life!
Then start going through storage spaces in your house. It could be unused space, or a hidden box in the basement. After that, sort your items.
Once you've sorted through your items, consider the platforms to use. Use the Internet as a wonderful resource and tool. Get tips from fellow surplus sellers and buyers. Popular online-selling platforms like eBay and Facebook are good but so are consignment stores and thrift shops.
Whether you prefer to sell via virtual marketplaces or go for more traditional methods such as a garage or yard sale or donating to churches, daycare centers, and other local organizations, the most important thing is to accomplish your ultimate goal: To rid yourself and your home of unwanted toxicity and achieve a more organized and happy family life!
Do you know other places to sell and donate excess items? Comment and share your experiences below. We would be happy to hear your own organizing and decluttering stories!
---
RELATED ORGANIZING POSTS YOU MIGHT LIKE:
---
Download a Copy of My Weekly Schedule Template for Free
---