Brothers are a weird bunch. They can be protective, silly, caring, and even sometimes poke fun at you. They'll be serious one moment, and fun-loving the next. That makes it hard to come up with good gift ideas for your brother. Should you go all sentimental? Or just be practical? Or should you go for a joke gift this year?
These suggestions will give you some ideas for presents that are sure to please your brother.
PIN FOR LATER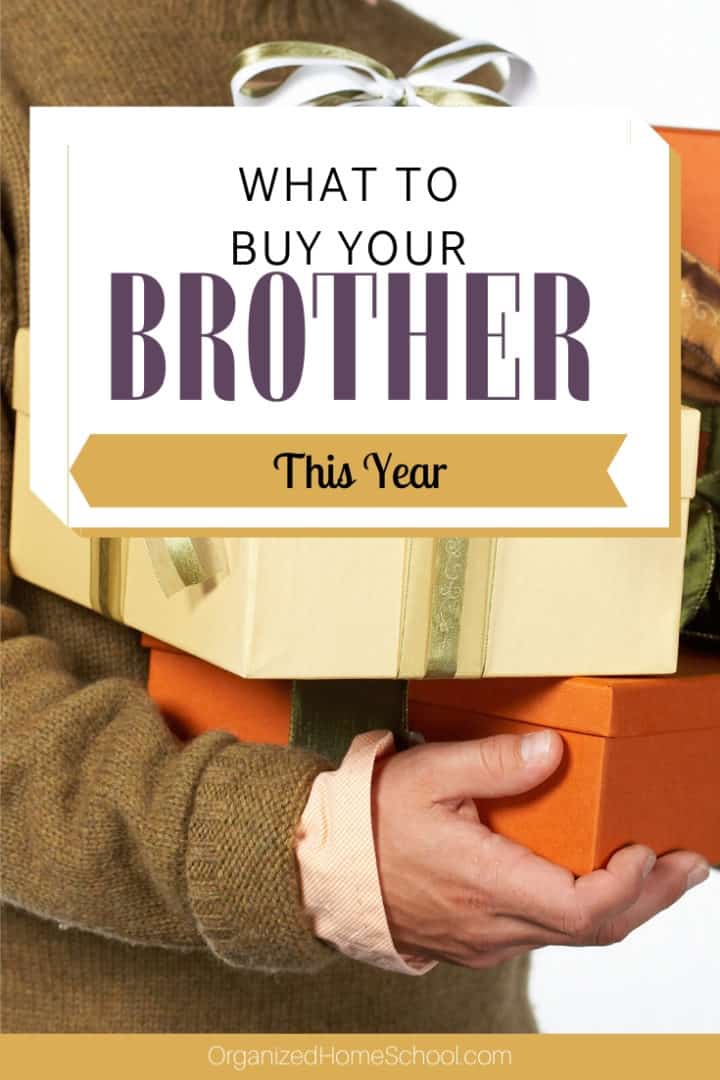 Gift Ideas for the Brother You Love
Gym Bag
If your brother likes going to the gym, then a new gym bag may be in order for him. Some gym bags can get old, and if he stores his post-workout clothes in them, they can get a bit smelly.
Get him something easily cleanable and sturdy, so that he'll be able to hold onto it for years to come. You'll want to get something compact that has enough storage for all the things he might need while he's at the gym.
adidas Defender III medium duffel Bag, Black/White

WolfWarriorX Gym Bag for Men Tactical Duffle Bag

Sports Gym Bag with Wet Pocket & Shoes Compartment

Ultimate Gym Bag 2.0: Including Water Resistant Pouch

G4Free 40L 3-Way Duffle Backpack Gym Bag

Gym Duffle Bag with Shoes Compartment

Car Cleaning Supplies
Some brothers are very proud of their cars. If so, then they definitely want to keep them as nice as possible, both inside and out.
You can get your brother a car cleaning supply kit full of stuff that he can use on his interior to keep it clean and his exterior to keep it shiny. With specialized sprays, waxes, and wipes, his car is sure to stay looking its best.
Mofeez 9pcs Car Cleaning Tools Kit

Chemical Guys 16-Piece Arsenal Builder Wash Kit

Holikme 15Piece Drill Brush Attachments Set

Portable Car Vacuum Cleaner

2 in 1 Chenille Microfiber Car Wash Brush

Party Games
For the brother who's in college or has a lot of friends that he hangs out with, a good party game can be a great gift for him. There are tons of adult board and card games that will give him and his friends hours of laughs and fun.
These games tend to be pretty inexpensive, but are still wildly popular among younger guys and their friends.
Disturbed Friends – This party game should be banned.

What Do You Meme? Core Game – The Hilarious Adult Party Game for Meme Lovers

You Laugh You Drink – The Drinking Game for People Who Can't Keep a Straight Face

Oh Fruck! A Raucous Card Game That Combines Strategy with Special Rules That Change Every Time You Play.

Lightning Reaction Shocktato Party Game – The Hilariously Funny Game of Shocking Potato

…I should have known that! Trivia Game

Outrageous Party Game – The Game of Witty, Hilarious Answers That You Come Up with

The Awkward Storyteller, Party Game That Involves Everyone in Fun, Laughter, and Creative Story-Telling, for 4-11 Players, Ages 16+

Multi-Tools
Another great option if your brother is a bit more outdoorsy is a wallet-sized multi-tool.
These compact tools are small enough to fit into the credit card slot of a wallet, but can come with tons of tools built into it, such as a knife, can opener, screwdriver, bottle opener, and more.
Gerber Suspension Multi-Plier,Titanium

18-in-1 Snowflake Multi Tool, Stainless Portable Steel Snowflake Multitool

Multitool Knife, Multi tool

I hope these gift ideas helped you consider some new items to buy your loving brother next time Christmas, his birthday, or any other special event arises and calls for a gift.
Which of these gift ideas for brothers do you like best?  Leave a comment below.
---