Is your teen ready to enter the workforce?
Has your teen prepared their first job resume?
Writing a first job resume can be pretty challenging as an adult: having to remember all of the great, noteworthy things that you've done, every place you've already worked, and describing why you'd make the perfect fit for a job (even if you're not too passionate about it) This can be a difficult process.
And for teens, it's another level of difficulty and confusion.
Most likely, they've never had to put together job resumes before.
Doing the teen job search with your sixteen year old can be (and is) very exciting, but also very nerve-wracking.
PIN THIS FOR LATER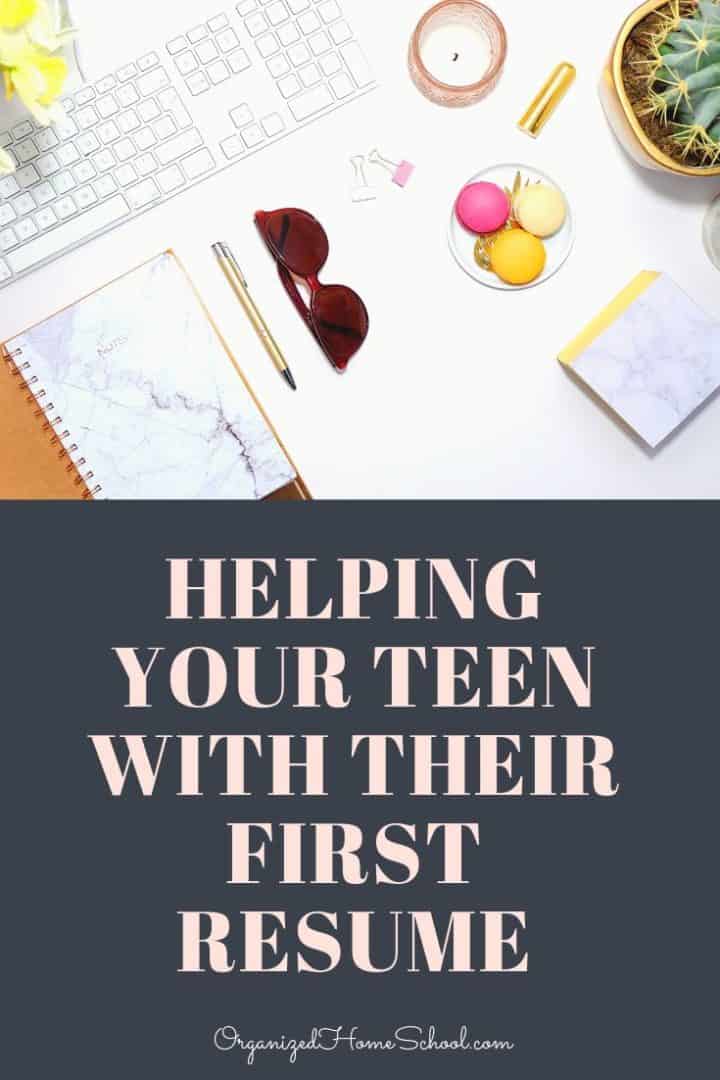 This post may contain affiliate links to products I recommend. This means I make a small commission off your purchase, but this does not affect your price.
Here are some first job resume tips to get hired quickly for teen jobs
1. Find an Attractive Sample Job Resume
When I say attractive, it's for a reason.
There are all kinds of sample resumes available for quick and easy download on the internet, but this shouldn't be a five minute search, save, and print.
You and your teen should make sure that their first job resume is attractive. And by that I mean…
In a well laid-out format
Readable
Professional
It's not hard to find a good sample job resume, but teen's should set their own criteria for their resume.
It is theirs, after all, and going to be under the eyes of several companies and employers.
2. Keep Note of What They've Already Done
This comes in handy for both job resumes and college student resumes.
Any and every resume should contain information about any prior experience in this field of business that the job hunter is seeking to be hired into.
While your teenager might not have had a job before this one, it is still important to keep track of and then boast in his resume about volunteer work, any related experiences, achievements and involvements.
Now, while it's important that these kind of things be listed a few years prior to the night before the resume writing, it isn't the end of the world if you haven't.
Simply get with your teen to help them brainstorm and remember the things that they have done for ideas on what to include in their resume.
3. Keep it Short and Specific
Resumes might sound intimidating as a teen for the first time, but in reality, they aren't any longer than a page or two.
This is especially true if this is your first resume, which for your teen, it is!
But sometimes it's hard not to keep writing once you've got several things on your page. This is where the second part comes in: keep it specific.
It's important for your teen to know what to include and what to leave out.
For example, here are some things to include, highlight, and strongly emphasize:
Any related experience
Academic achievements
Leadership roles
And now, here are a few things they don't want to include:
Irrelevant achievements (such as an award in football when you're applying for a burger outlet)
Unnecessary big words (remember, keep it readable)
Lies
Hopefully the third goes without saying!
Creating Your First Job Resume is a Big Accomplishment
This is the beginning of a new chapter in your teenager's life, and a big accomplishment!
Because of that, it's important that they know how to do it right the first time in order to strike it big and get an enjoyable job.
And whether this is a first time experience for you as a mom as well, or it's your youngest kid who's finally sixteen and you've gone through it with them all, this should be an exciting and big accomplishment for you too.