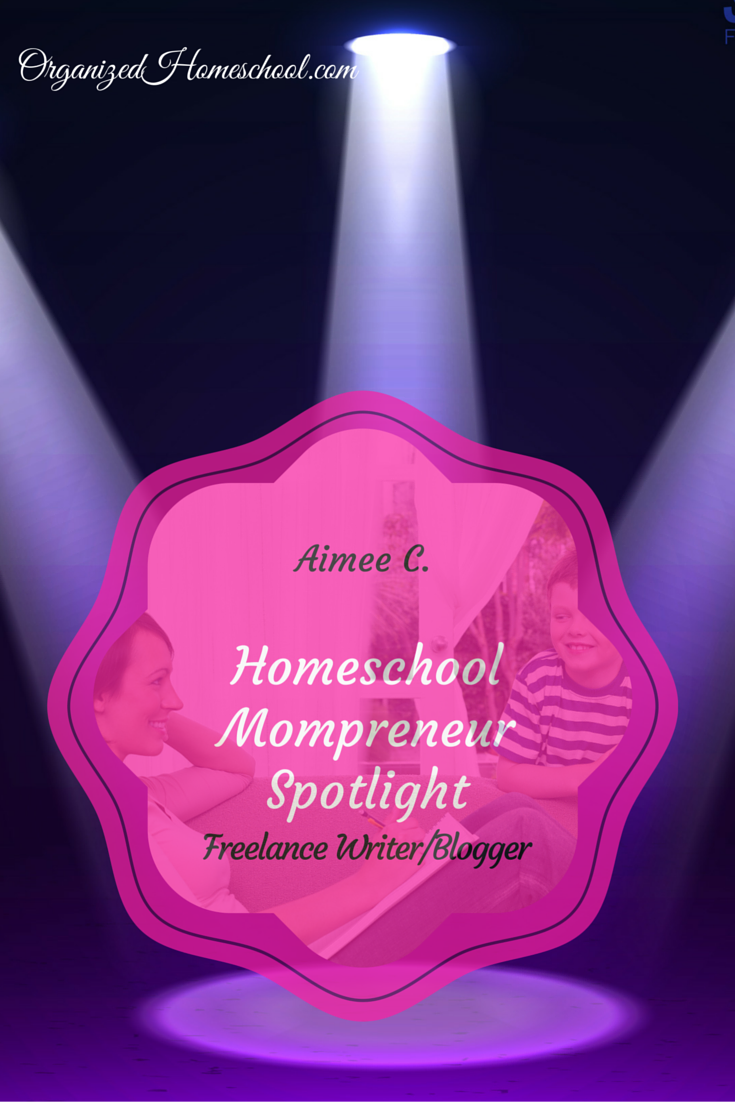 This post may contain affiliate links to products I recommend. This means I make a small commission off your purchase, but this does not affect your price.
Aimee is a homeschooling mom with three children.  She has been homeschooling since her second child was ready for kindergarten.  That means she has been doing this for about 6 whole years now.  Her oldest child has an autism spectrum disorder.  He attends a private school part-time and homeschools part-time.  The other two children are at home full-time.
Aimee is married, and her husband is a nurse.  He is going to school to finish his bachelor's in nursing right now.  Aimee is also enrolled in college, working on getting her associate's degree in automotive mechanics and science.
Her main occupation, clearly, is that of mother and homeschooler.  However, Aimee is also a writer who works part-time for The Independent, producing an article for them every other week.  Her column appears on Mondays and is called Art Smart.  She also blogs, but she doesn't consider that an occupation.  She absolutely loves writing, so it's easy for her to do that a few times a week.
Homeschooling Curriculum
Aimee tends to describe her homeschooling type as eclectic more than anything else.  She also follows the Thomas Jefferson Education leadership principles.  She believes in raising leaders and thinkers.  This method of education seems to work best for her family.
The individual subject curriculum in her home varies widely. They have used Life of Fred, Teaching Textbooks, and Saxon for math, as well as reading math history books.  However, she is currently learning to use the method taught by Emily Dyke at Math Inspirations because she wants her children to love math.
They also use Language Lessons for the Well-Trained Mind by Jessie Wise for language development.  Of course, that pretty much just supplements all the reading and writing her children do.  She also has a subscription to Reading Eggs which is great for the youngest child and the one on the autism spectrum. (He just likes to earn eggs.)
Science at their home is fun.  Aimee has recently purchased the curriculum Supercharged Science which keeps her kids excited to do the experiments.  Since her curriculum is so eclectic, the curriculum list isn't set in stone and she uses what works for them.
Homeschooling Inside and Outside the Home
One thing that helps Aimee keep things going is by having her oldest attend a private school part-time.  They also attend a Commonwealth homeschooling group in town every week that is a great boost to the children's development and Aimee's sanity.  Her children are inspired to do many things from attending Commonwealth.  They learn Shakespeare, read books, write papers, and attend an art class by a professional artist.
They also focus on science, do the math, AND they have a great time making friends and improving their social interactions and relationships.  To Aimee, the families involved with the group are spectacular.  There is also a Mom's Class that meets during Commonwealth to help the mothers/fathers continue to increase their own learning and progression.

A Day In the Life of This Homeschooling Family
Their daily schedule varies.  On the days that they don't have school (while Aimee attends college one day a week) or Commonwealth, they wake up and make beds.  She has to have the beds made, or she will fall apart.  Next they eat breakfast, everyone cleans up the dishes (sometimes it's just her!), and then they all get dressed.  Everyone is usually ready for the day and sitting down by around 8:30 a.m. or sometimes 9 a.m. for their morning devotional.
Afterward, if it's a day that her son attends his school, they take him.  If not, they go right into their learning.  She usually lets them choose what subjects they want to do most.  One child will usually be on the computer either practicing typing, writing something, or working on math.  (They LOVE Timez Attack.)  They rotate through subjects in the morning, and Aimee helps them individually.
Then there is lunch.  Honestly?  The kids do lunch most of the time.  Her kids are 12, 10, and 7.  She has always brought them into the kitchen with her since they were tiny.  That has paid off well now that they can handle their own lunch and help with dinner.  They usually make lunch and clean it up.  After lunch, they have a group lesson before the kids play while Aimee does "her thing."
Tuesdays (when Aimee goes to school) they all leave the house by 7:30.  That day her girls go to the private school with their brother.  They love their friends there.
Wednesdays are Commonwealth at 8:30 to 12:30.  They eat lunch there, and Aimee teaches a class of 10-12 year old boys.  It's called the Freedom Fighters.  Last semester they learned about the Civil War and read books about that time period.  This semester they are learning about the American Indians, reading books, and doing activities.  Afterward they come home and regroup and head out to horseback riding lessons.
Truthfully, dinner on Tuesdays is usually Taco Tuesday because she doesn't get out of school until 4 pm. On those days, she is grateful for crummy drive-thru Mexican food.  Wednesdays are usually crockpot dinners.  The rest of the time, they're pretty OK on making dinners.  Every night they always have a family reading (where Aimee reads aloud) at night before bed.
How Does This Homeschooling Mom Get It All Done?
Aimee's writing is fairly time-consuming, so she ends up doing most of it at night after the laundry is folded.  Her kids wash and dry one load a day to prevent having one frazzled day where Aimee has to take time out of her schedule to catch up on laundry.  She also uses the time at night to plan an art activity for the article for her part-time job.  Then the planned art project is done together on Saturdays.  Aimee has to take the pictures for her own article and does not feel like she is a photographer, so that part seems hard for her to make the pictures look suitable.
She tries to write every single day.  She has found that it helps maintain some semblance of sanity inside her and keeps things from falling behind in other parts of her life.
The things that help her most with completing everything are the great teachers at her son's private school, the Commonwealth, her husband (who cleans the rest of the house with her at night and every weekend), her kids that are troopers when she is feeling stretched too thin, and the pizza place and the taco joint.  Sometimes she has to feed her family what she calls "junky stuff" to maintain her sanity.
The only other thing she would say helps her do all she does is letting go of her high expectations of herself/her performance…cutting herself some slack.  After all, one of the reasons she homeschools is so that the family relationship will be maintained.  She rightly feels that it won't do anyone any good if she is constantly coming uncorked because of stress.  So, she chooses her priorities now.
Aimee is proof that you can deal with many aspects of life that are challenging and still keep smiling.  Any mom that is considering balancing family life, special needs, homeschooling, work, and her own happiness will be inspired by Aimee.
Visit Aimee on the Web:
Her blog is called "Take It and Be Thankful".  It's about homeschooling, being a woman/mother, and having a child with special needs.  The paper she submits her bi-weekly article "Art Smart" to is called The Independent.
Want To Learn How Other Homeschooling Moms Work and Homeschool?
Read the stories of these amazing women who work at home and work outside the home all while homeschooling their blessings at the same time. They are all truly an inspiration that we can live our dreams and have the best of both worlds.
Homeschool Mompreneur – Allison G
Homeschool Mompreneur – Karen B
Homeschool Mompreneur – Jennifer S
---
Do you work and homeschool? We would love to add your story! Email me if you would like to be featured as the next Homeschool Mompreneur!
---