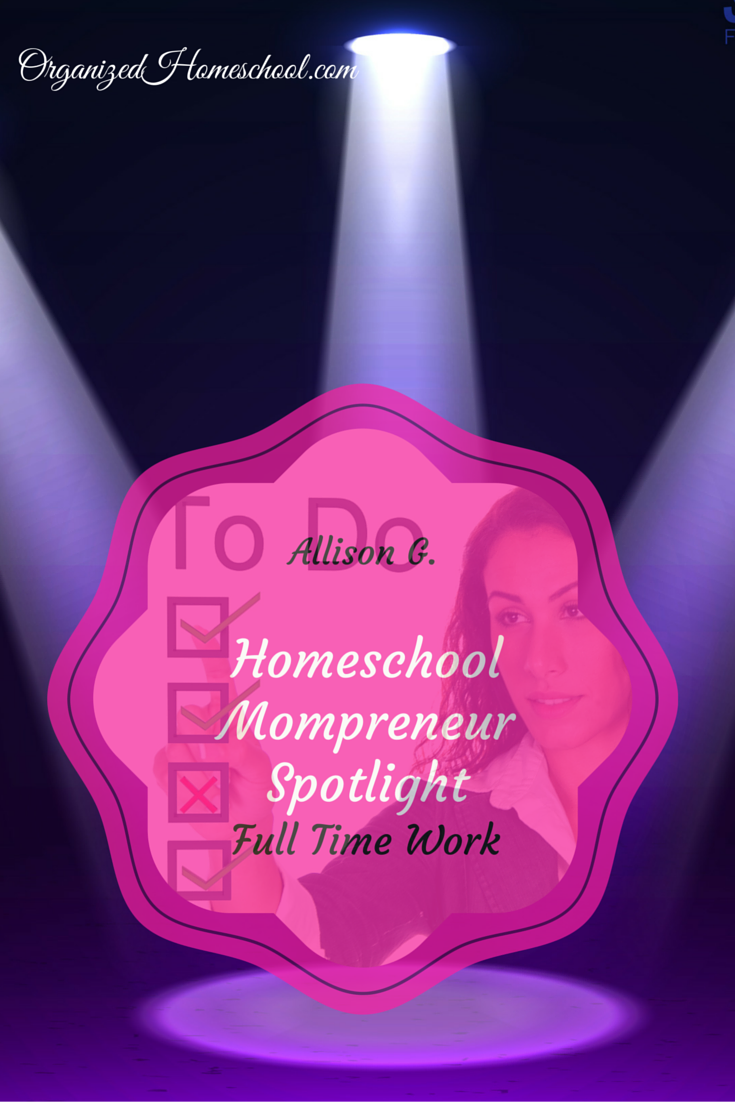 This post may contain affiliate links to products I recommend. This means I make a small commission off your purchase, but this does not affect your price.
Allison is a homeschooling mom who also works full-time. Before she took a job outside of the home, she was a stay-at-home mom and a part-time family therapist. Her husband was working third shift which made it possible for them to be with their children all day. They decided a change needed to take place and Allison returned to the workforce while her husband also switched to a Monday thru Friday, 7 am to 4 pm job.
Things Don't Always Get Done
According to Allison, everything doesn't always happen as planned and it doesn't always all get done. Isn't that true for all of us!
Using Monday as an example of her full-time working and home schooling schedule, she shows us how to fit it all in.
Allison is married and has three boys. Mondays are the day of the week that Allison doesn't have to worry about soccer practice, and the day that she is also working at the office. She does the bulk of her teaching on Monday, Friday, and Saturday or Sunday.
The rest of the week, her boys practice what they've been taught on the teaching days. Tuesdays, Wednesdays, and Thursdays also include soccer practice for her oldest and time for Allison to work with the younger two on supplemental learning.
Allison wakes on Mondays at 5:00 am to get ready for work and then she works on her blog. She leaves for work at 6:20 am and her husband leaves for work by 8:00 am. Her husband is available before that time to help the children with school work when they need it.
In order to keep track of her children's work and progress, Allison utilizes nanny cams and a One Note page on the OneDrive to check on their progress from work. She can communicate quickly through the cameras when needed.
The children are usually done with their chores and school work by noon. Once they are done, they are allowed free time to go outside, have screen time, or do other leisurely activities. Allison also has lunch at noon or she may run an errand.
Dinner and Schoolwork Combined
Once Allison arrives home at 3:00 pm, her boys help her to make dinner. Once dinner is started, they work together at the table for 1 hour. They work together on history, then science, and then they read about emotional intelligence. Her oldest gets one-on-one teaching for any new concepts he needs to learn, as well as guidance for previous lessons he needs help with.
The remaining time is spent working with the two youngest on their individual studies, although this usually isn't accomplished on Mondays since Tuesday and Thursday evenings are reserved for working with them.
Dinner is served at 4:30 pm so that they can get to soccer practice on time. They clean up after dinner and complete any unfinished homeschooling for the day.
Utilize Your Evenings
Evenings are used to prepare for the next day in order to keep things running smoothly. At 7:00 pm Allison gets her lunch and clothes ready for the next day if she'll be working from the office. She also prepares the boys folders for the next day. She tries to be in bed by 8:00 pm so that she can relax by answering emails or watching a show on Netflix. Lights are out for everyone by 9:00 pm.
Allison does not try to copy what the structured day looks like at a public school. Her home is a relaxed setting and her children are able to do their work in less time than it takes to attend a public school day.
She believes in having a plan and a routine, sticking to it, and not moving at a frantic pace to get everything done.
Ditch the Phone After Work
She also makes everything work by focusing on what is most important and not taking phone calls during the week while she's home. She does not watch TV during prime time hours and leaves her phone on her nightstand after work. She'll check to see if she missed any calls or texts before bed. She programs her other family member's to have a special ring tone so they don't even need to look at the phone during the week in order to know if family is calling. They do not have cable TV in the home.
Address Your Family's Unique Needs
Allison admits that her children are older now, and that helps to make it possible for her to work full-time and homeschool her children. When they were younger, she was with them full-time. Her children do not complain about doing their school work and are pretty self-motivated. The dynamics of her family and home life make it possible for her to successfully work full-time and homeschool. Others can make it work too if they'll evaluate their family's needs and address any foreseen issues.
When she first started working full-time, Allison sent her youngest to a mom who had been homeschooled and has four boys of her own. The care provider understood her desire to continue homeschooling and was willing to help her son with his school work.
Easy Homeschool Curriculum for Working Moms
Some curriculums and tools were found useful for a full-time homeschooling mom.
She uses Time4Learning for language arts and math. Time4Learning is internet-based and would gauge their understanding of various subjects through teaching, learning activities, quizzes and tests.
Netflix and podcasts are used for documentaries and science topics. They unschool science, and have a strong science-focus in their home. Her boys will listen to a science podcast on their iPod hooked up to a speaker while doodling or taking notes.
Above all, learning is the focus of their home. They do not worry as much about schooling as they do about fostering a life-long love of learning.
Allison loves teaching and learning alongside her children. That is the main key for her successfully working a full-time job and homeschooling. It takes patience and stamina, but loving it makes all the difference.
Allison's journey has been a positive one and you can visit her on the web at Our Small Hours.
Want To Learn How Other Homeschooling Moms Work and Homeschool?
Read the stories of these amazing women who work at home and work outside the home all while homeschooling their blessings at the same time. They are all truly an inspiration that we can live our dreams and have the best of both worlds.
Homeschool Mompreneur – Karen B
Homeschool Mompreneur – Aimee C
Homeschool Mompreneur – Jennifer S
---
Do you work and homeschool? We would love to add your story! Email me if you would like to be featured as the next Homeschool Mompreneur!
---