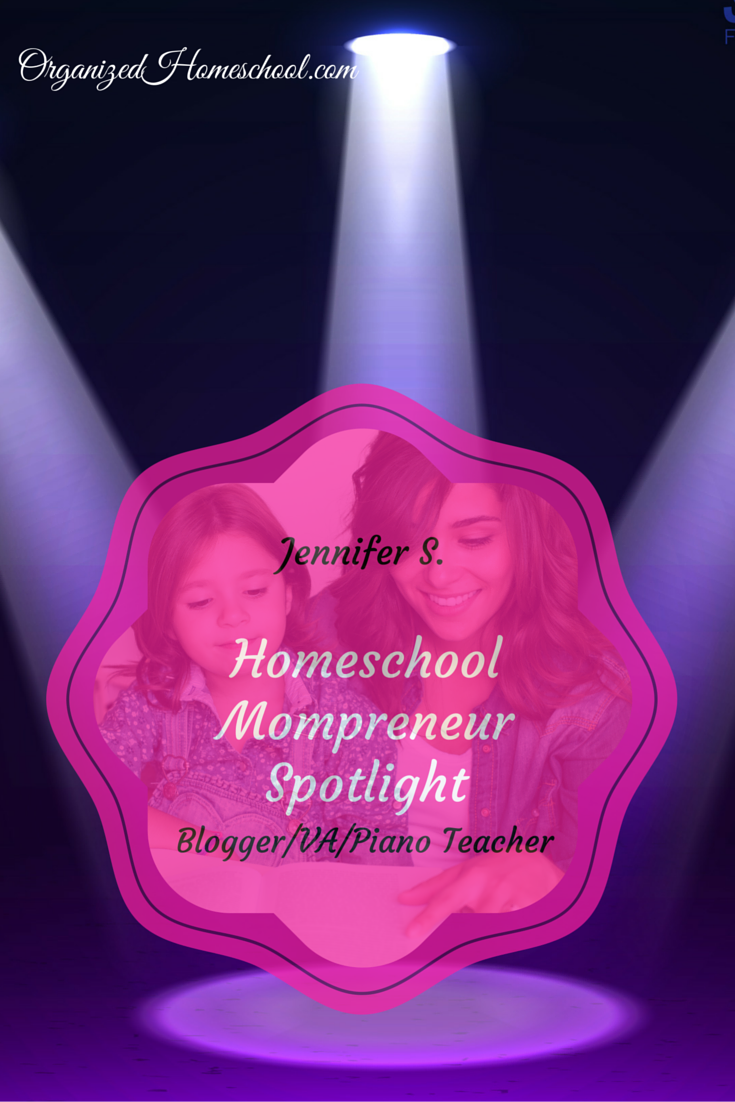 This post may contain affiliate links to products I recommend. This means I make a small commission off your purchase, but this does not affect your price.
Jennifer L. Self has been married to Jeff for 17 years, and God has entrusted them with four children. She considers her children home educated from birth but has officially homeschooled them since her oldest started kindergarten 9 years ago. Now, that child is preparing to begin high school and her youngest is finishing kindergarten.
Working at Home
Jennifer started working from home when she was 15. She loved it so much that she only left to switch to another home when she graduated and got married. She has done a variety of things over the years. However, she is currently teaching piano lessons and working as a virtual assistant in marketing. Jennifer also writes articles, web content and blog posts for clients as a freelance writer. Since she sees the home as her work place and all she does within it as her calling, she thinks she works full-time although her salary might suggest otherwise.
Two months ago, things shifted a bit for the Self family when her husband's position was eliminated. After working nearly 17 years as a manager in his field, he became a work-at-home parent as well. He resurrected a former side job and is in the process of turning it into a family resale business. He is working in a friend's lawn care business to create cash flow while building the business.
Educating at Home
Neither Jennifer nor her husband were educated at home except for a brief few months for Jeff when he was in between schools. He attended mostly public school, and Jennifer attended a private school. When it came time to choose curriculum, they chose a box curriculum because Jennifer was familiar with it from her days at Christian school. They kept it as their core curriculum but have gradually created something more suited for them.
There are almost as many homeschooling styles as there are homeschooling families. The Self Homeschool looks different from year to year, depending on the ages and interests of the children. They are just completing their first year with everyone officially in school.
Curriculum
Bible and History – All the Self children do Bible and History together with each age group applying the assignments to their level. They are following the chronological method by studying the Bible and corresponding secular history together. This year they completed a study of the New Testament and the historical period from Rome to the Reformation using real books compiled into a curriculum by My Father's World.
Language Arts – Jennifer uses Bob Jones Beginnings curriculum for her kindergarteners, then continues using their Phonics and English. She also uses their word lists for Spelling. Once the children are old enough to use the computer, they enter their words and test themselves using the free version of Spelling City. Once they learn to read using the Bob Jones curriculum, they use real books from their weekly library visits to further their reading. Jennifer also has the older kids read to the younger ones to reinforce reading skills.
Math – The Selfs also use the Bob Jones curriculum for math, although they may change to a curriculum more friendly to independent study for high school.
Science – This year the 2nd-8th graders used Apologia Science, employing the Skrafty lesson plans. Skrafty is a Minecraft server dedicated to mostly homeschooled students with dozens of classes to choose from. The younger children used Exploring Creation with Astronomy this year, while the 8th grader studied Apologia's Physical Science.
Fine Arts and Physical Education – Since Jennifer teaches piano, all of the children take piano lessons. They participate in drama, art, gym and other enrichment classes through their homeschool co-op.
Schedule
Jennifer's kids joke that she makes the perfect schedule at the beginning of every year, and they use it for a few days. Jennifer prefers to believe she tweaks the schedule to meet their ever-changing needs. While no day is typical and they are currently in a time of transition, here is the basic routine they follow:
Morning
Jeff and Jennifer try to get up before the kids to have coffee, quiet and time with Jesus. Sometimes they get some work done early as well. Once the kids are up, everyone gets dressed and does basic morning chores which include emptying the dishwasher and the trash and starting the laundry.
Breakfast
The family eats breakfast together some mornings. If there is a lot going on, each person might fend for themselves. Everyone helps clean up his own dishes and put away food. When breakfast is cleaned up, Jeff works on the business or leaves to do lawn care. One day a week, everyone else leaves for homeschool co-op.
School Time
Jennifer does Bible and History with all four children, then goes over each person's assignments with them. The children rotate between doing independent work at the table, computer work on one of the upstairs computers and practicing piano. Mom goes where needed and works on laundry and cleaning tasks in between helping children with school work.
Lunch Time
Lunch is rarely a sit-down event. Everyone grabs what he wants and eats when he is hungry. After lunch, everyone pitches in to finish up the day's laundry and do basic cleaning chores. Depending on the day, they might take a family walk or run errands together. They usually do a weekly library visit after co-op.
Afternoon
After Lunch, everyone has free time if they have all the day's school work done. Older children may have to do more work in the afternoon, but the younger ones are generally finished. This is Jennifer's work time. Three afternoons, she teaches piano lessons. On the other days, she does home office tasks or works on her virtual assistant and writing tasks.
Dinner Time
When afternoon work is done, Jennifer starts dinner preparations with the kids' help. Everyone eats dinner together most nights. When dinner is cleaned up, the goal is to prepare the next day's meals and outfits.
Evening
Each evening's activities look different. Mondays and Fridays are reserved for family night, date night or kid dates with a parent. Once a month or so, Jennifer goes out for a ladies' night. Tuesday nights, Jennifer does volunteer work and Wednesday nights, the family attends Bible Study at church. Thursday nights are usually for grocery shopping and errands.
Bedtime
After evening activities, it is time for baths and bed. The kids have staggered bed times based on their age. When everyone is in bed, Jennifer and Jeff finish up work tasks and spend some time together. Jennifer usually winds down by getting a bath and reading in bed before going to sleep.
Weekends
There is no certain schedule for the weekends other than church times on Sunday. Saturdays are reserved for family fun, extra work tasks that didn't get finished during the week and home maintenance chores. Sundays are a day of rest and reserved only for church activities and time with extended family.
Enjoying Life at Home
Jennifer and Jeff have set these priorities for their family: glorifying God, following His calling for them as a family, freedom to educate and work on their own schedule within that calling, fostering independent learning in their children and enjoying one another in their favorite place of all – home.
Visit Jennifer's Home on the Web:
Jennifer writes about simplifying and enriching life at home on her blog. She loves to encourage women to create their own unique vision for creative work as well as educating their children all from the place they love best.
Want To Learn How Other Homeschooling Moms Work and Homeschool?
Read the stories of these amazing women who work at home and work outside the home all while homeschooling their blessings at the same time. They are all truly an inspiration that we can live our dreams and have the best of both worlds.
Homeschool Mompreneur – Allison G
Homeschool Mompreneur – Karen B
Homeschool Mompreneur – Aimee C
---
Do you work and homeschool? We would love to add your story! Email me if you would like to be featured as the next Homeschool Mompreneur!
---