11 Inspiring Horse Books for Tweens
Horse books for tweens can be a great way to get kids interested in reading, especially when they already love horses!
Not only do they provide an escape into a different world, but horse books are often filled with valuable life lessons that kids can apply to their own lives.
In this article, we'll take a look at some of the best horse books for tweens, as well as discuss why these particular titles are so important.
If you're a homeschooling parent, then you'll want to check out these horse books for your tween girl!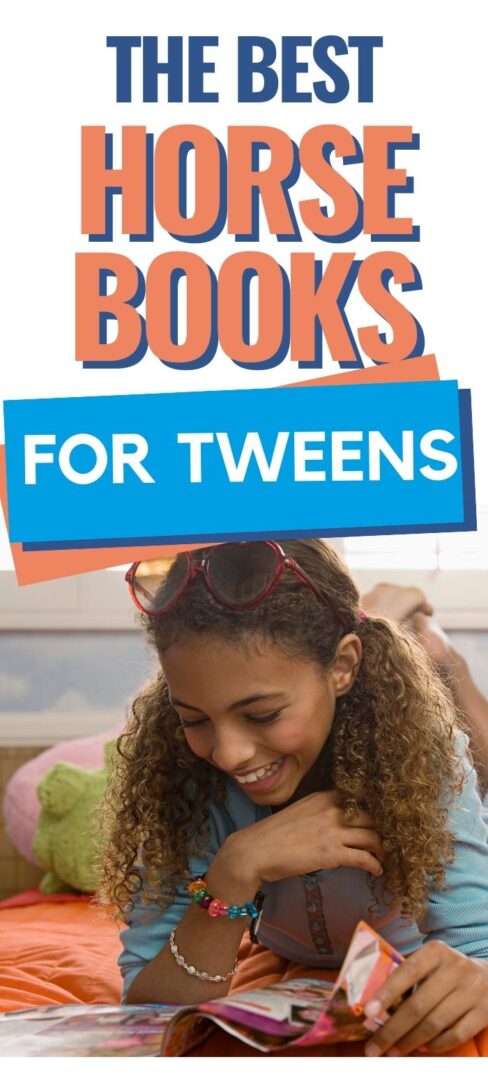 For your convenience, links in this post are hand-picked for you. Organized Homeschool may earn a fee for your purchase.
Why Choose Horse Books for Your Tween?
Horse books are simply books that feature horses as the main characters.
These stories can be fictional or non-fictional, and they often teach kids important life lessons while also providing an escape into a different world.
As you know well, tweens are at a very impressionable age.
It's a time in their life when they are trying to figure out who they are, what they like and don't like and how the world and the people in it work.
Typically, a book about horses can include a story that teaches kids valuable lessons about friendship, truthfulness, honesty, respect, love and many other honorable qualities.
For these reasons, books about horses make great gifts for tweens during Christmas, birthdays or anytime they could use some inspirational life lessons.
Horse books for tweens have been around for centuries, and they continue to be popular among tweens and teens!
And if you have a little one at home, check out these popular horse books for early readers, too!
Inspirational Horse Books for Tweens and Teens
The Forgotten Horse
When a grey pony named "Ozzie" shows up in the paddock near her home, a 12-year-old life is going to change dramatically.
She quickly bonds with him because he is charged with caring for him, which is a very exciting time in her life.
This is one of my favorite horse books for tweens!
Mallory and the Dream Horse
The Babysitter's Club is a classic series that many tween girls relate to and love.
In this book, when learn about how Mallory enjoys horses.
She really loves reading about them and she has a deep admiration for them.
Mallory and her friend learn a valuable lesson about what it means to consider the feelings of others.
There Must be Horses
Sasha's passion for horses has been the one constant as a foster kid.
When another adoption attempt fails, she is sent to a ranch where the owners teach wild horses.
To Sasha, this looks like the ideal setting to call home. But she can't stay.
Mary's Song
In this book, a young artist falls in love with a foal that seems to be just like her.
The expensive surgery the foal needs has little chance to correct the problem.
Mary tries really hard to raise money to save the horse.
She sacrifices a lot, not sure if it will be enough.
Great Horse Stories for Girls
There are a lot of tween girls that adore horses!
This inspiring horse book is going to teach kids about life on horseback, caring for them, getting to know their personalities, teaching them, and loving them.
Canterwood Crest Stable of Stories
Discover how Sasha Silver and her horse, Charm, first came to Canterwood Crest Academy.
In this story new friendships, drama, and experiences are going to happen, so stay tuned for an adventure.
Selah's Sweet Dreams
Sometimes ordinary people doing amazing things.
Selah rescues a lost horse and she dreams of becoming an equestrian superstar.
She has fierce determination, but the mare is wild and defiant.
She must gather her courage or watch her dreams gallop away.
Sally Loves Horses
Jody Mackey, creator of this book helps write stories that are girl-empowering, and entertaining.
This Sally Loves Horses picture book author has written a juvenile fiction tale book about horses that you need to check out!
The Show Horse
The horse Ozzie is a seven-year-old Connemara pony.
The horses owner begins riding lessons with at the local riding school.
However, when the students arrive at school, they are faced with criticism.
The Adventure Horse
Lisa and her horse Matilda arrive from Ireland.
Her niece, 12-year-old Clodagh, and her horse Ozzie are invited to join them on a sponsored charity ride through three counties.
But a serious accident happens during a storm and all of the riders and horses are in trouble.
Another great title in the best horse books for tweens list!
The Horse Bible
This book is for anyone interested in learning about horses and our connections with them.
It offers detailed information on everything you should know about horses and our relationships with them.
Do you have younger kids who love horses? Check out these horse crafts for young kids.
What Can Tweens Learn from Horses?
Tweens can learn a lot from horses, especially if they're interested in horseback riding or owning their own horse someday.
These stories can teach tweens about responsibility, hard work, and patience, as well as the importance of caring for another living creature.
Horse books can also be a great way for tweens to escape into a different world, where they can imagine themselves as the protagonist and learn more about the horseback riding lifestyle.
Ultimately, horse books can be a great source of entertainment and education for tweens.
What is a Good Book Series for an 11 Year Old?
There are a lot of great book series for 11 year olds, but some of our favorites include the PonyCamp Diaries, Canterwood Crest, and Selah's Sweet Dreams.
These series all feature tween girls who are passionate about horses, and each series follows the characters as they learn more about horseback riding and the horse world.
What is the most popular horse book for kids?
Black Beauty is a classic and arguably one of the most popular horse books for kids.
Beauty is a horse with loving masters who spends time on a wonderful meadow, enjoying the land.
He changes owners several times throughout his life and learns how to live with gentle masters and harsh masters, alike.
Through it all, Black Beauty matures into a strong, handsome and loyal steed.
Characteristics of Horses Tweens Love
Horses are a popular animal among tweens for many reasons.
They are beautiful, majestic creatures that have been a part of human history for centuries.
Horses are also intelligent and sensitive animals that can form strong bonds with their owners.
Many tweens love horses because they are fun to ride and care for.
Riding horses can be a great way to explore the outdoors and get some exercise.
Caring for a horse can also be a rewarding experience, as it requires patience and dedication.
The next time you're looking for horse books for tweens, check out this list! You'll love having all of these horse books on hand!
More Tips for Homeschoolers
When your tween gets bored, you can hand them one!
You can choose to read the books with your tweens or they can do it on their own!
These are the best horse books for tweens, so pick out a book, and start reading them with your tween. They will thank you for it.