How to Organize Homeschool Books and Curriculum
Homeschooling is no easy task.
You have to keep track of grades, find quality teaching resources, and of course, organize your schedule, lesson plans, and homeschool curriculum.
When you have children to raise and a bunch of clutter to sort out, the next thing you know, you're at your wit's end. Thankfully, after years of homeschooling, I've managed to develop a few systems that significantly helped me regain peace and achieve a much more organized homeschool life.
There isn't one perfect method to organize your homeschool curriculum.
Instead, I've done my research, tried several systems, tweaked them, and come up with a much more efficient way of organizing my children's curricula and other educational supplies. Ultimately I found ways to save money on home organizers and learned tactics to save time and energy for other more important chores.
So if you're ready, here are some easy-peasy tips to help you organize your homeschool right now.
How Do I Organize Homeschool Curriculum?
Books Storage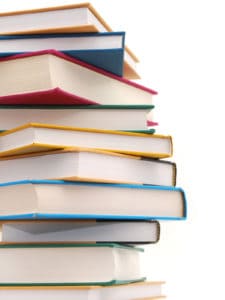 Figure out how you're going to store your books. Depending on the size of your homeschool room, you might use a bookshelf, boxes, storage cubes, or storage totes for books, or a combo of any of these book storage options.
Shelving or assigning dedicated cubby storage for each child is really nice if you've got a separate room for homeschooling or if your resources allow. Otherwise, labeled or color-assigned boxes or bins are a great way to store your children's homeschool curricula for limited spaces.
Classify Your Kids' Books
Unless you only have one child to homeschool, sorting your children's books is important to prevent chaos later on. You know, like those scenes when two of your kids start a screaming match after one got ahold of the other's stuff.
There's no right or wrong answer to this. Again, this depends on which system works best for your situation. In my case, I use a combination of sorting both by grade level and by subject. For example, you can combine Kindergarten and Grade 1 books, and then you can start segregating books for higher level curricula on a per subject basis.
Another technique that I use is separating those all-time favorite books that my kids love reading time and again. This way you not only make those most cherished books readily accessible for your little ones but also encourage reading books to boost their skills. So as you can see, you can always tweak your storage method as long as it makes sense to your situation.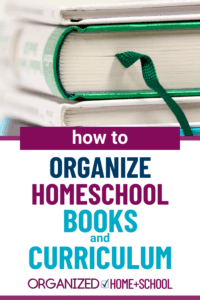 Use Color Coding
If you've got more than one homeschooler like me, color-coding or assigning a color to each kid is super useful to organize all of your homeschooling stuff, from book bins, to folders, to binders and so on. This way you and your kids will know at a glance whose box is whose instead of rummaging through the contents of each one.
Filing System
Having a neat and well-organized filing system is super important for a homeschooling parent like you. Documents such as your child's homeschool transcripts, portfolios, and other relevant records need to be stored safely. So make sure that you have designated file storage to keep all important records and paperwork. It could be a neat folder system or a combination of shelving and folder systems.
Digitized Curriculum
If you are using a distance learning curriculum, using online education suites and other cloud-based file storage systems are readily accessible and free to use. Once you have an account, you can create and designate digital folders and can save, upload, or download files from there.
Teach SOPs (Standard Operating Procedures)
I often equate learning with discipline. I think teaching organization to my kids is one of those scenarios where this principle applies. Use a standard operating procedure to organize your homeschool.
Talk to your kids and let them know the purpose of organizing their things. Do they remember their assigned color code? Do they know where to put their textbooks and activity sheets? Let them assist you in your homeschool organization. Trust me, kids are willing to help as long as you ask!
How to Organize Homeschool Work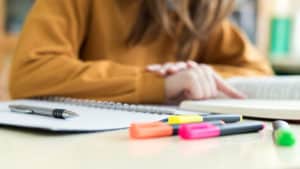 Organizing your children's curricula is one thing and organizing their daily homeschool work is another. But one thing is for sure, you don't like papers and more papers all over the house!
One method I use is using a simple file folder system. I use folders, labeling, and color coding for segregation. Then you can utilize paper trays, wall hanging organizers, or storage cubes to organize your folders. Again, there is no right or wrong method as long as it makes the most sense for you. Depending on your preference and homeschool room size, one method can be more space-saving than others.
There are many other creative ways to keep your important papers and children's homeschool work safe and neat. Find ways to reduce your carbon footprint, such as using recyclables like crates for storage and second-hand boxes. It's high time that you harness the hidden DIY talent in you!
What Records Do I Keep For Homeschooling?
Depending on your state's homeschool law, you may need to keep general homeschool records of your children. Most states do not require homeschooling parents to keep a permanent record of their child's academic performance, but some do require that you keep their test scores and work portfolios. Many states exempt parents of homeschooled children from submitting their kids' immunization records and birth certificates.
But as part of being a responsible homeschooling parent, it would be wise to keep basic records of your child's academic progress handy. They will serve as proof of your child's education just in case a need arise. For instance, if you decide to enroll them at a regular high school down the road. Think of this as a way to document your children's progress rather than a rule to follow.
How Do I Organize My Homeschool Records?
Organizing your homeschool records is an important part of organizing your homeschool. As we move forward and progress in our homeschool journey, having your child's records handy is only smart. Knowing that they're there and knowing where to get them at any moment is consoling for any homeschooling mom or dad.
You may organize your homeschool records in the same way as you organize your homeschoolers' daily paperwork. You can utilize any organizer of choice, such as wall fabric storage, stackables, bankers boxes, or other safer storage options for important documents.
Oh, and One More Tip…
My final tip for you is to make sure ALL homeschooling stuff is located in one designated room or area in your house. Whether that is a separate room altogether, your basement, or a corner in your living area. This is key to keeping things in order in terms of the bigger picture perspective.
Let me explain this for a bit.
I know some people are more detail-oriented as opposed to seeing the bigger picture. There's nothing wrong with that! I myself am innately much more of a details person (especially as an accountant). However, as a homeschooling parent/mother/wife, I have to play the manager role in our household. There are moments that seeing and understanding our home's overall situation helps a lot in organizing the other smaller aspects of it, including the decision to homeschool our kids.
I see this as my guide. You would always know where your starting point is. So having that big picture, when working your way down to the littlest detail of your homeschool organization efforts, would be useful.
Here's a checklist to get you started with organizing your homeschool:
Book storage – make use of techniques and tools such as shelves or cube storage, crates or boxes.
Color code your kids – assign a color to each child for all their stuff; from books to folders and binders.
Make use of a simple student paperwork filing system.
Take advantage of digital storage systems especially for those of you who use virtual learning.
Maintain your children's academic progress and work portfolios.
Implement basic homeschool SOP. Remember your kids are your partners. Your success will also depend on everybody's cooperation and support.
Home organization in and of itself may not always be as easy as ABC. But if we make use of available resources, online or offline, we sure can be an organized homeschool parent! There's a plethora of digital content such as homeschooling podcasts that you can listen to while running the treadmill for instance.
No matter what your organization method of choice is, the end goal is constant: staying neat, organized, and sane while homeschooling and raising your child(ren). This way you stay motivated and encouraged on this meaningful ride.
What are your own homeschooling adventures? What are your personal homeschool curriculum organization ideas or experiences to share? What are some of your home organization challenges that you want to overcome?
Let me know by commenting down below!
---
RELATED POSTS: