"How to Homeschool" Books Every Homeschooling Parent Should Read
Wondering which "how-to homeschool" books are worth reading? Don't know where to start?
For many people, homeschooling is a desirable alternative to the education offered by the public and private school systems.
When you homeschool your children you have the flexibility to create an educational curriculum more suited to their needs.
You also get to go on vacation to theme parks and take advantage of NO LINES in the off season! That's my favorite perk!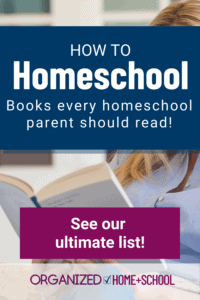 Not to mention homeschooling also makes economic sense, especially when you consider the costs involved with sending multiple children to a private school.
If you've made the decision to homeschool your children, or wondering which how-to homeschool books to buy, the first step is to do some research.
Luckily, we have picked 11 how-to homeschool books that we feel are worth your time and money.
What To Look For in "How To Homeschool" Books
To begin with, you have to ensure that you educate yourself on the different ways you can homeschool.
You will likely read about different methods such as the Charlotte Mason Method, Montessori Method, Eclectic Homeschooling, Traditional Homeschooling, or Unschooling. This list goes on! Don't worry. It will become very easy to determine which method you prefer based on your personality and style as well as your child's personality.
At first, the reading required in order to learn how to homeschool your children may seem daunting – after all, a public school teacher is only required to be knowledgeable on the subjects they teach, but you're going to be teaching all of the subjects. Keep in mind, however, that you needn't be an expert in every subject – one of the great things about homeschooling is that you can learn together with your child. Nothing like learning fractions and algebra equations all over again!
Instead, it's more important that you have a good general knowledge of the subjects being taught.
In other words, you're not going to be an expert, but you're going to know the general concepts and be able to answer basic questions. Most importantly, you'll know what to explore further if you and your child's interest takes you in that direction.
The amount that you have to read will depend of course on your child's age and the level and depth of the subjects you'll be teaching. Remember that specific areas of a subject can be explored as you go, so you needn't be able to answer every question your child might have in depth before you start.
In learning how to homeschool, you want to know the "building blocks" – what concepts to teach first, and how to build on those first concepts.
By reading a variety of how to homeschool books, you'll arm yourself with the necessary tools for homeschooling your child effectively, and provide yourself with the basic knowledge from which you and your child can explore particular areas of subjects further.
The following books will get you started on how to homeschool and what to teach each year. Don't get overwhelmed and read them all!
Pick one or two and go from there.
Popular "How To Homeschool" Books
Home Learning Year by Year
Rebecca Rupp's Home Learning Year by Year teaches you how to create your own homeschooling curriculum. The book contains a thorough plan to make sure that you're children will learn what they need to learn from preschool to high school. The book includes topics such as which subjects need to be covered in each grade, standards of knowledge for your child at each level and suggestions on how to approach less academic subjects.
Homeschooling 101: A Guide to Getting Started
If you've decided to home school but don't know where to start, Erica Arndt's book Homeschooling 101: A Guide to Getting Started is the right book for you. The book offers you a practical step-by-step guide to help give your homeschooling journey the right start. Learn how to gather the right curriculums, create good lesson plans, organize the home and more. Plus, the book also includes helpful homeschool forms and tells you how you're able to download a planner for FREE.
---
102 Top Picks for Homeschool Curriculum
In Cathy Duffy's book ?02 Top Picks, you'll learn everything you need to know about choosing the right homeschool curriculums for your kids and your homeschool. Duffy also thoroughly explains the curriculum selection process in her book. Learn how to goal set, figure out which approach to use, and develop your own style and philosophy, as well as how to identify your child's individual learning style and needs.
---
How to Homeschool Your Child from Preschool to High School
This book is a comprehensive guide for homeschooling through all ages, grade-by-grade, year-by-year with a resource section that tells you everything you need and where to get it. In the book, author and homeschooler Rosanne Muncy answers the common FAQs: Am I patient enough? Am I qualified to homeschool? What about socialization for my child? College prepping? Whether you're a new homeschooler or have had years of experience, this book is for you.
---
The Ultimate Book of Homeschooling Ideas
In Linda Dobson's book The Ultimate Book of Homeschooling Ideas you will find over 500 fun ways to teach your child every subject. Who knew math, science, history, manners, etc. could be turned into play time? Read this book to discover over 500 inexpensive ways to create, play, and learn. For children ages 3-12.
---
The Confident Homeschooler: How to Thrive in the Day-to-Day
It is very possible that homeschooling makes you a little nervous and stressed out. In Pam Barnhill's book The Confident Homeschooler, you'll learn just how to stop making homeschooling more difficult than it has to be. Learn the most important step to homeschooling successfully, how to make your days a lot smoother, ideas for schedules, and more, all along with 5 presented ways on how to keep calm and homeschool. Best of all, learn how to approach homeschooling with confidence and peace.
---
Setting the Records Straight
With the help of this book you'll learn how to stop worrying about your child's college future and instead do something to make it even better. In Setting the Records Straight, author Lee Binz gives you the information and tools you need to make your child's records outstanding and how to craft transcripts. Learn how to create winning transcripts despite your schooling methods, give credible grades without tests, and provide records colleges look for.
---
How to Homeschool 9th and 10th Grade
With the help of this book, you'll get answers to your questions about what needs to be covered in the 9th and 10th grade. Learn that you are the best guidance counselor, how to plan high school courses, create records, about standardized tests, your maturing child, and so much more. Author Lee Binz let's you know that homeschooling through these first two years of high school doesn't have to be overwhelming. Approach it with confidence and with this book.
---
101 Tips for Kindergarten at Home
Adriana Zoder's book 101 Tips for Kindergarten at Home, is perfect for the mom looking to homeschool during the bright and early stages. With the help of this book, you can now learn how to homeschool kindergarten with ease. The author also offers helpful solutions to homeschooler FAQs and advice from curriculum choosing to keeping your sanity.
---
Homeschooling: Home School Education, Parenting and Teaching
So, you want to homeschool? In Margaret Larue's book, you'll learn the basics of homeschooling plus how to adapt to the parent to teacher and child to student roles. Discover the first steps to starting your journey and with the help of an easy step-by-step plan to educate your child. Plus, find out the pros and cons of homeschooling.
---
RELATED POSTS: