The bill was over $80!
I had sticker shock!
My husband and I went on a dinner date to a local Japanese restaurant and ordered 2 meals, but we also had promised our 2 teenagers at home who agreed to babysit our 2 youngest daughters that we would bring back a California Sushi Roll home for them.
Every single person in our family of 6, with the exception of the four year old, loves cooked sushi!
Specifically, the California Roll.
That is not easy on the budget if we fall into the tempation of splurging on a California Roll once a week. (which we don't)
So I set out on a search for a way to make the California Sushi Rolls at home.
The first few searches turned up several YouTube videos of how to make sushi, but they all called for these weird tools that I?would have to order online.
It also took way too long to make for this busy mama!
NEXT…
Then I?hit gold on Pinterest one day!
I?found this recipe for a Deconstructed California Sushi Roll and I?was hooked. I?had to try it!

This post may contain affiliate links to products I recommend. This means I make a small commission off your purchase, but this does not affect your price.
So today I spent an hour preparing 4 servings of the Deconstructed California Sushi Roll and it was AMAZING!!!
My teenage daughters were so impressed and excited! They even commented they could make this easily!
So without any more small talk, let's get into the recipe and the yummy pictures to tempt you to try this one for yourself. You won't be disappointed!
How to Make a California Sushi Roll – The Easy Way
No Special Tools Needed
A lot of the YouTube videos on how to make a California Sushi Roll looked so difficult and everything had to be rolled just right and cut precisely.
Ain't nobody got time for that!
They also used these weird looking tubes and mats to make the sushi roll like these.
My sister bought one off of an infomercial once and she can't even find it in her kitchen now. Do you know how many times she has used it? NEVER!
With the deconstructed California Roll, no special equipment is needed! My budget likes that a lot!
Not a lot of Special Ingredients
All of the ingredients needed for this California Roll were bought at my local Walmart. I always use the Walmart Grocery Pickup to simplify my grocery shopping and to save time.
I?was able to order all of the ingredients online and pickup them up that evening.
Easy Peasy!
No White Rice – Great for My Waistline
White rice is not recommended on low carb diets so when I saw that this recipe called for substituting cauliflower rice, that was a big win in my book!
I?have been off and on the Trim Healthy Mama Plan for about 6 years now. I?lost all the baby weight from my 3rd child eating the Trim Healthy Mama (THM) way and I?know it works.
It just has a bit of a learning curve.
On the THM plan, cauliflower rice is a staple. It is used for pizza crusts and substitutes for any time a recipe calls for white rice. It has a bit of a different texture, but I?have learned to love it!
It is definitely a healthier option and supports my weight loss goals. (I'm trying to lose 25 pounds right now. I?never did lose the baby weight after baby #4)
Not Many Ingredients = Minimal Prep Time
I?made four of these California Sushi Roll bowls in less than an hour. That means, I?can have one for lunch today and tomorrow and my teens won't feel left out. They can each have one too!
My 8 year old loves California Sushi Rolls, so she will probably be asking to take one for lunch as well.
Here are the ingredients you will need:
1 pkg Cauliflower Rice (found in the frozen vegetable section and can be steamed in microwave for 6 minutes)
Seasoned Rice Vinegar (has to be "seasoned", not the regular)
Large Avocado
Imitation Crab Meat or real Crab Meat
2 Cucumbers
Sesame Seeds
Nori Sheets
Green Scallions
For the dressing on top:
Mayonnaise
Sriracha Sauce
Check Out How to Make California Sushi Rolls the Easy Way!
First of all, I absolutely love these containers I bought on Amazon about a year ago. I use them for all of our leftovers and they are easy to grab and go for my husband or the kids to take to work and school.
They are safe to use in the microwave for reheating food and also dishwasher safe! Click on the picture to see the current price on Amazon.
Nori Sheets and White Sesame Seeds
The recipe called for White and Black Sesame Seeds that are roasted. I skipped roasting them and only bought the white sesame seeds. It still tasted awesome!
??
Seasoned Rice Vinegar and Sriracha Hot Chili Sauce
I was a little worried the Sriracha "HOT" sauce would be too spicy, but it gave it a little kick and not too much. It wasn't enough to make me drink a whole lot of water so I thought that was perfect. It wasn't too hot for my 8 year old either.
Crab Meat (the REAL stuff or the Imitation is fine)
I actually ordered real crab meat for my Walmart online grocery pickup, but they sent me the imitation crab meat instead. The main difference is the carb count, but it wasn't too bad using the imitation crab this time.
STEP 1: Steam your frozen cauliflower rice
This step takes about 6 minutes in the microwave. While it is still hot, add the seasoned rice vinegar (about 1 TBSP) and stir. It is amazing how different this makes the rice taste. It really adds an authentic flavor. Don't forget this step!
STEP 2: Prep your Veggies
Slice your avocado
Cut up your cucumber
Chop your green scallions
Slice your crab meat
STEP 3: Pretend Your a Chef in a Restaurant
Now you get to make it pretty! Layer your cucumbers, avocados and crab meat on top of the cauliflower rice. You can top them in any design you want. I actually had fun with this and did all 4 in different designs. I think I need to get out more if I considered this fun! Ha!
I had a little helper in the kitchen with me. She kept stealing my cucumbers, but I'm not complaining! This child never eats vegetables so I kept handing her more!
Step 4: Sprinkle Sesame Seeds and Drizzle the Dressing
Sprinkle as many sesame seeds as you like on top. The recipe for the dressing is:
1/4 cup Mayonnaise
3 – 4 tsp Sriracha hot sauce
(This is enough for 4 servings, so if you are only making one serving don't use it all!)
The Finished Product!
Deconstructed California Sushi Roll
I was so excited to find this recipe on Pinterest last week. My budget couldn't handle eating sushi in a restaurant every week, but it can definitely handle this recipe. Each serving is very filling and I would estimate it equals eating close to 3 full California Sushi Rolls! What a deal!
It is very healthy too!
You can find the full recipe and print it here at KirbieCravings.com
Let me know if you try it and tell me what you think in the comments below!
---
Need more help conquering your budget and learning how to prepare and plan meals the easy way? Grab the Meal Plan for Busy Moms below to get you started…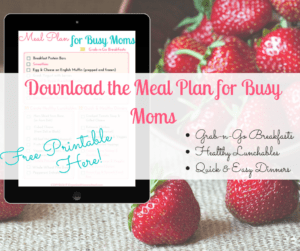 ---