How do you prepare your teen for college and how do you know she will be okay when she leaves home?
Isn?t that the fear of all parents of a graduating teen?
My oldest daughter is entering her senior year of high school right now and let me tell you, I am scared to death!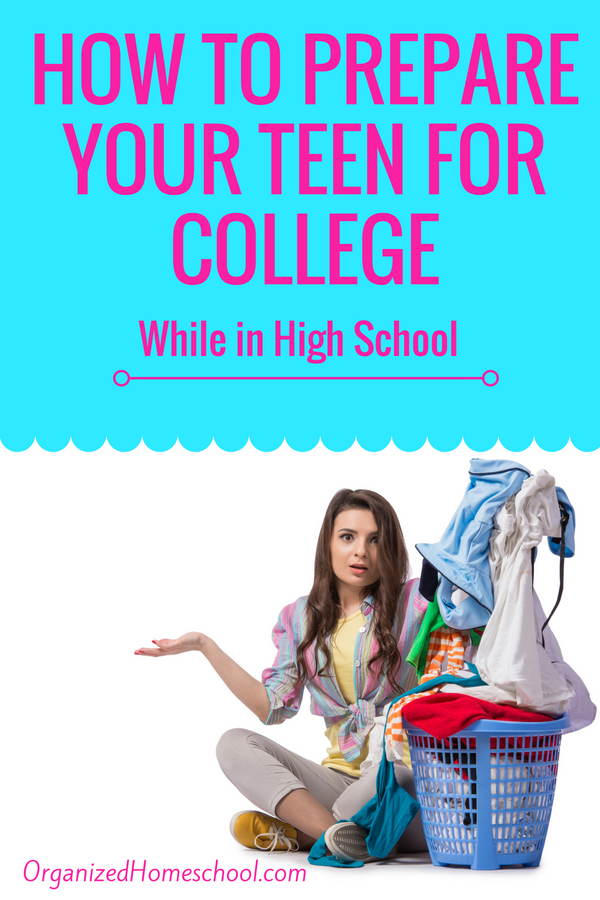 This post may contain affiliate links to products I recommend. This means I make a small commission off your purchase, but this does not affect your price.
I remember the first time she got in her car by herself when she received her drivers license. I was terrified! I think I have prayed harder and more frequently than ever before since she is now able to get behind the wheel.
I used to long for the day I could send her to the grocery store to pick up bread or milk. Then I found myself not asking her to do so when she did have her license because I didn?t want to worry about her driving by herself! What a let down!
I know a lot of the worry is just me being a caring mom. But as parents, we spent all these years raising our children for these exact moments. Why does it have to be so scary?
As we have been working on taking the college entrance exams and scoping out the different colleges available for her degree program, it has become all too R-E-A-L!
This momma isn?t ready for this! But I knew that this crucial life milestone would come eventually.
So it?s time for me to put my proverbial Big Girl Panties on and do all in my power to make sure she is ready to launch off to college in the most successful way! That is at least something I do have control over?.which lessens my anxiety about it all a tiny bit at least.
Here are some steps to prepare your teen for college in high school
MAKE SURE SHE HAS THE RIGHT LIFE SKILLS
BUDGETING- Most high schools do not teach money management. It is important that you teach your children how to manage their money wisely and plan for future expenses and not just blow it all on a night out on the town treating their friends! Check out some of these resources here on how to teach your teen budgeting skills.
COOKING ? Make sure your teen is in the kitchen with you at least a few nights a week. Let her schedule at least one meal a week and make sure all ingredients are on hand to make it. Then let her take control. It will bless you and it will teach her important meal planning skills.
CLEANING- Make sure your teen has regular household chores they are responsible for in the household. You may have a cleaning lady, but you still need to assign chores to teach responsibility. At the very least, they should make sure their room is organized and clean for all who enter. (We need to work on this on in my home right now!)
WASHING CLOTHES ? Make sure she knows how to operate the washer and dryer before she goes off to college. This is a MUST!
TIME MANAGEMENT ? Buy her an awesome planner that she will be proud of to write down due dates and appointments. At the very least, make sure she is using her Iphone calendar to note special events and not just relying on you to remember everything. Prioritizing tasks, learning not to procrastinate and the art of planning ahead will be valuable tools she will need to succeed. Getting ready the night before with her books in the backpack & clothes laid out is a great start she can learn to do while still at home.
SAFETY: Set rules about traveling in groups if on campus at night alone and teach her to be aware of her surroundings and not glued to her phone as she is walking to class. We use the Life 360 app on our phones that shows us where each family member is. This can give you peace of mind as well. Make sure your child knows the campus well and how to get around the new city he now lives in. Teach her how to fight back if ever in danger also. This post teaches some tactics that are useful in a dangerous situation.
MAKE SURE SHE KNOWS HOW TO GET A JOB
HAVE A RESUME READY – Even if your teen has no work experience, he should have a professional resume prepared that lists his achievements and activities over the past several years. Here are some tips in this post that will help you craft your teen's very first resume.
ATTITUDE AND PRESENTATION – Make sure they know how to make a great first impression on their job interviews. Tips such as: make eye contact, sit up straight, show excitement, sell yourself on your good qualities, fill the application out completely and accurately with no spelling errors, dress professionally (no hoodies!), be on time (actually…be early), have a firm handshake, no cigarette smell on your clothes, don?t interrupt the interviewer, come up with questions to ask the employer beforehand to show interest, and don't forget to smile!
ONLINE JOBS – Let them know they can be an entrepreneur while in college. There are so many opportunities to earn money online from home that this is a perfect opportunity for college students. This course teaches how to sell on Amazon by flipping items from garage sales, publishing online though CreateSpace, or designing and selling t-shirts even. The possibilities are endless when it comes to finding online jobs.
HOW TO DEAL WITH OTHER WORLDVIEWS ON CAMPUS
CHRISTIAN STUDENTS LEAVING ABANDONING THEIR FAITH – We have all heard the scary statistics of teens leaving all they ever believed in when attending college. I will continue to pray for my children to always serve the Lord, but the numbers we hear on TV are not always true.
LifeWay Research data shows that about 70% of young adults who indicated they attended church regularly for at least one year in high school do, in fact, drop out?but don't miss the details. Of those who left, almost two-thirds return and currently attend church (in the timeframe of our study). Also, that dropout rate is from all Protestant churches?evangelical and mainline. (Source: https://www.christianitytoday.com/edstetzer/2014/may/dropouts-and-disciples-how-many-students-are-really-leaving.html)
STRONG FOUNDATION – We have raised our children in the church and have regular family devotions as well. I feel my daughter has a strong foundation in her faith. I am determined to be as involved as I can in her life even while she is in college so that she always knows she has a loving home and a mother with a listening hear to return to.
FIND A MENTOR – Seek out another Christian adult mentor in a local church for your child. Kind of like a family away from home. This can be a person of strong faith and character that can be there physically in person for your child when you can't.
DEVOTIONS – Encourage your teen to stick to a personal devotional life by following a devotional like one of these in order to stay in the Word of God regularly.
SCOPE OUT CHURCHES – When you are visiting the college and getting ready to move your child in, try and attend several local churches to see which might be a good fit for you child. Help her find ways to plug in to the church community so that she feels like she belongs right from the beginning.
RELATED POST – 10 Tips for Christians Who Will Be College Freshman
PREPARE YOUR TEEN FOR COLLEGE ARMED WITH UNIQUE STUDY METHODS FOR MAXIMUM LEARNING
Copy their notes in colorful pens
Use a Flashcard app
Set a time goal..study for 15, 30, or 60 min
Use Quizlet to test knowledge
Read the professor?s slides before class
Stay focused
Teach your child how to read a syllabus
Have set times for planned study
I think I will be plenty busy this next year preparing my teen for a successful college launch while in high school. One resource that has been invaluable to many parents of teens is the College Launch Solution from the HomeScholar. You don?t have to be a homeschooler to get a ton of value from her course.
The HomeScholar has come up with a solution to help you launch your child out of the nest and into college. Not surprisingly, it's called the College Launch Solution
The College Launch Solution provides training for you and your teen, including:
finding a college
paying for college
applying to college
preparing to launch
succeeding in college
Plus you get ongoing support, including:
a private Facebook group
access to the Silver Training Club or Gold Care Club
your choice of private or group coaching.
So, what are you waiting for? Try the tips in this post and Check out the College Launch Solution here. You will be well on your way to preparing your teen for college while still in high school.
I would love to hear how you are preparing your teen for college in the comments below!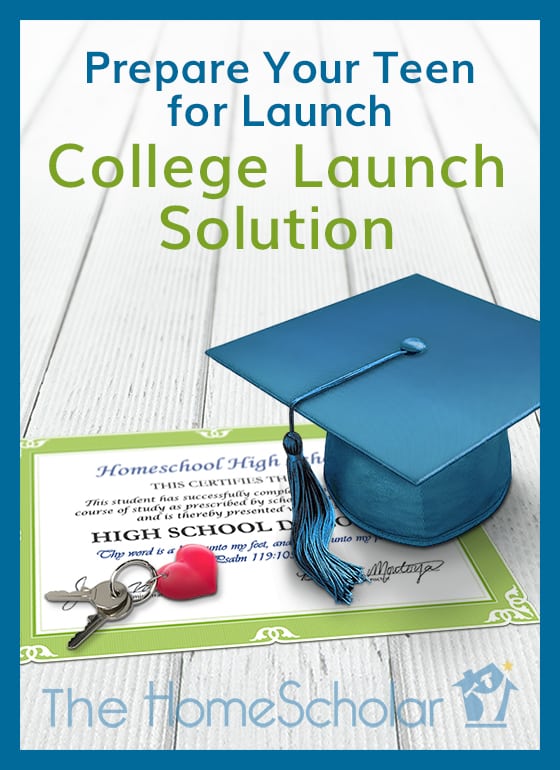 ---
Here are more homeschool related posts to help you:
---
Download a Copy of My Weekly Schedule Template for Free
---

---