Life Cycle of a Koala – Easy Activities for Kids
Looking to learn more about the life cycle of a koala?
Check out these activities for kids that teach about how koalas are born, grow and mature.
Perfect for teachers who are teaching a class, homeschoolers learning at home or anyone else interested in koalas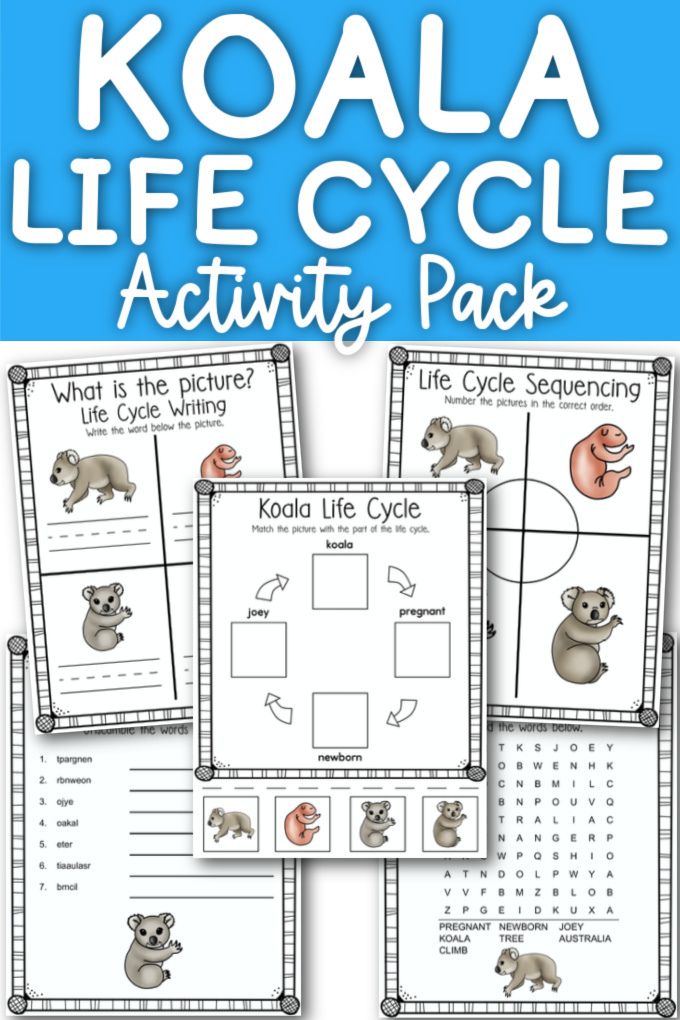 For your convenience, links in this post are hand-picked for you. Organized Homeschool may earn a fee for your purchase.
Learning about the Life Cycle of a Koala
As a homeschooler, you can use this koala life cycle printable activity set in several ways.
The first option is to use it as a unit study. First graders, second graders and third graders can do a unit study on koalas, mammals, marsupials or animals with pouches.
Homeschoolers can also use this printable activity as a stand-alone learning resource.
For preschool, pre-k and kindergarten, this would be perfect for a letter of the week k activity.
Fun Facts about Koalas
While teaching your student about the life cycle of a koala, here are some fun facts to remember:
Koalas are not bears (although they are often referred to as koala bears)
Koalas are marsupials
Baby koalas are called joeys and ride in their mother's pouch
Koalas can live 10-18 years in the wild
Koalas mostly eat eucalyptus leaves
There are so many more facts to learn about koalas.
Use this activity as a starting place to dive into the world of koalas.
Life Cycle of a Koala Printables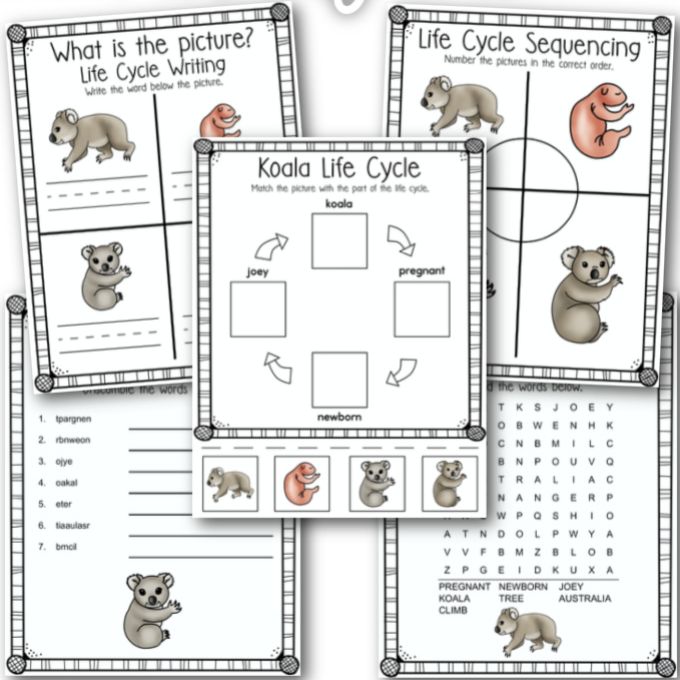 These life cycle of a koala printable worksheets are the perfect addition to any learning projects kids are doing.
With the fun facts mentioned above, a few good books about koalas and these koala learning activities, your students will have what they need to learn about one of Australia's most popular animals.
Included in the koala printable worksheets set is:
Koala number the pictures sequencing
Koala life cycle word scramble
Koala word search
Name the picture life cycle writing
Picture match
Here's how to use these koala life cycle activities.
Print the worksheets in either black and white or color.
Print them in color for older children who are ready to dive right in to their worksheets and start the learning activities right away.
For younger kids, print the koala life cycle printables in black and white.
That way your young student will have the opportunity to color the pictures and get familiar with how a koala looks before doing the worksheets.
Once printed, gather the needed supplies.
You'll need pencils, scissors, glue or tape and crayons or markers.
To get your koala printable, scroll down below and click the button that says "Life Cycle of a Koala Activity Pack."
Koala Life Cycle Books
To further your student's learning and understanding of koalas, here are some books about the life cycle of koalas, baby koalas, koala facts and more.
The Ultimate Koala Book for Kids
The Ultimate Koala Book for Kids is an interactive book all about one of Australia's famous marsupials.
With fun facts, beautiful phots and a bonus word search, this book has so many things for kids to learn and explore.
National Geographic Kids: Explore My World Koalas
Explore even more things about koalas in this colorfully illustrated book.
Geared toward younger readers, this book teaches kids about how koalas move throughout their day from eating, sleeping and everything in-between.
The Koala Who Could
This is a cute story about a koala named Kevin who is faced with change.
He has to learn to adapt and embrace the journey with joy.
The Koala Who Could is a story for little children who adore the koalas and would love to see their favorite marsupial in a feel-good story.
Koala: Discover Pictures and Facts About Koalas For Kids!
Discover more amazing facts about koalas in fun book.
Including bright, colorful pictures and tons of facts, this book is a good starting place for kids to do research about koalas.
Made for ages 3-12, Koala: Discover Pictures and Facts About Koalas For Kids! can be used for young and older kids.
Additional Life Cycle Activites
Once your students are done learning about the life cycle of a koala, here are some other life cycles they can check out.