Life Cycle of a Watermelon Fun Activities for Kids
Looking for a fun way to teach kids about the life cycle of a watermelon? Add interest to their learning with these fun, printable life cycle worksheets!
This printable watermelon life cycle science pack can help kindergarten, 1st grade, 2nd grade, 3rd grade and 4th grade students engage in science in a fun way!
Download our free activity pack below.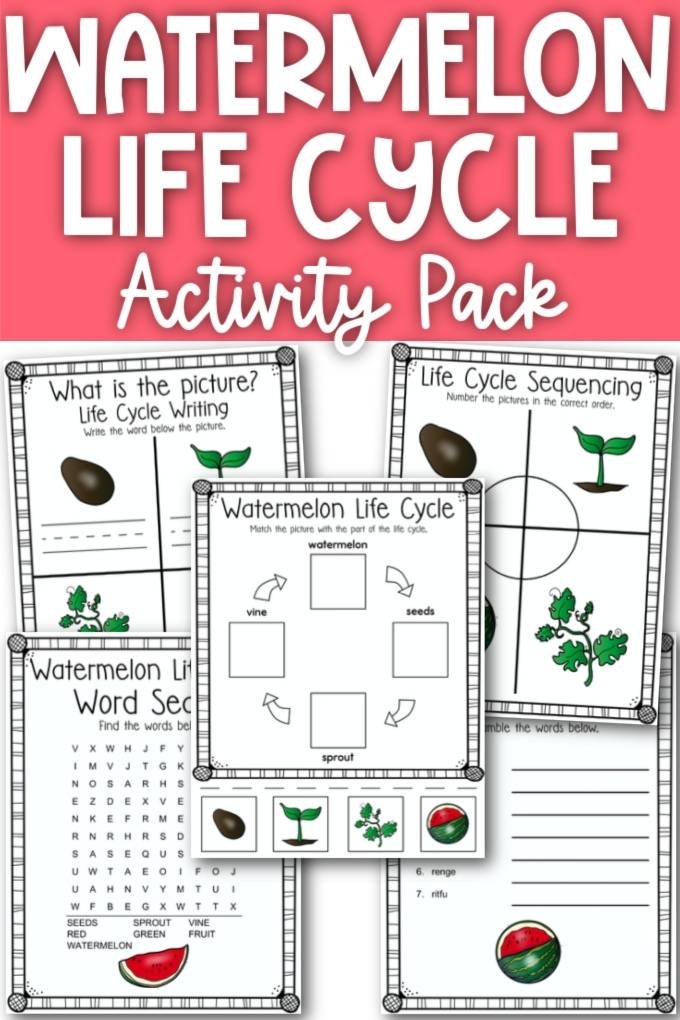 For your convenience, links in this post are hand-picked for you. Organized Homeschool may earn a fee for your purchase.
Life Cycle of a Watermelon Worksheets
With five pages of activities for kids, there will be no shortage of ways to learn about the watermelon growing stages that turn watermelon seeds into the delicious fruit kids love to eat.
The watermelon life cycle worksheets include:
Life cycle number sequencing
Life cycle picture match
Life cycle word scramble
Word search
"What is the picture" writing practice
Watermelon Life Cycle Activities
To use this activity pack, scroll below and click the "life cycle of a watermelon activity pack" button.
Your free printable will open in a new window where you can print the life cycle activity sheets in black and white or in color.
Print them in color for an easy, print-and-go option that your students can begin cutting, pasting and doing activities right away.
For additional fun, print the watermelon life cycle activity worksheets in black and white to allow your students to color the pages first.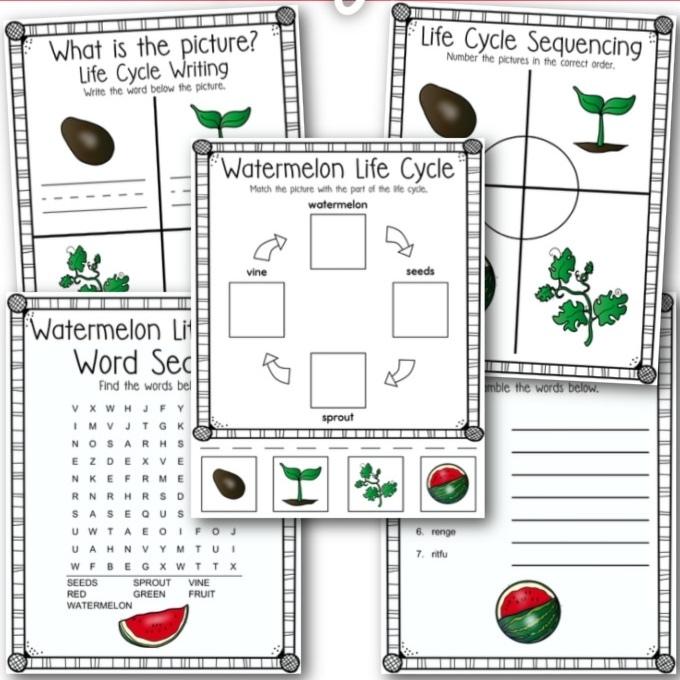 Life Cycle of a Watermelon Printable
Here are some ways you can use this life cycle of a watermelon printable:
Letter of the week W is for watermelon activity
Life cycle of fruit unit study
Watermelon themed study
Stand-alone watermelon activities
Watermelon Life Cycle Books
For more watermelon activities, use books that teach not only what the life cycle of a watermelon is, but also all the important details in the stages of growing a watermelon.
If you are doing a watermelon themed unit with kids, use a watermelon composition book to keep with the theme and use books with a fun, silly or whimsical theme to add excitement to your unit!
Here are a few recommended books about watermelons.