The Life Cycle of an Owl (Fun Learning Activities)
What is the life cycle of an owl?
Many kids want to know how their favorite animal progresses through it's life cycle from beginning to end.
This downloadable activity will give kids a hands-on, fun way to learn about this creature from nature.
Download this owl life cycle worksheet pack below.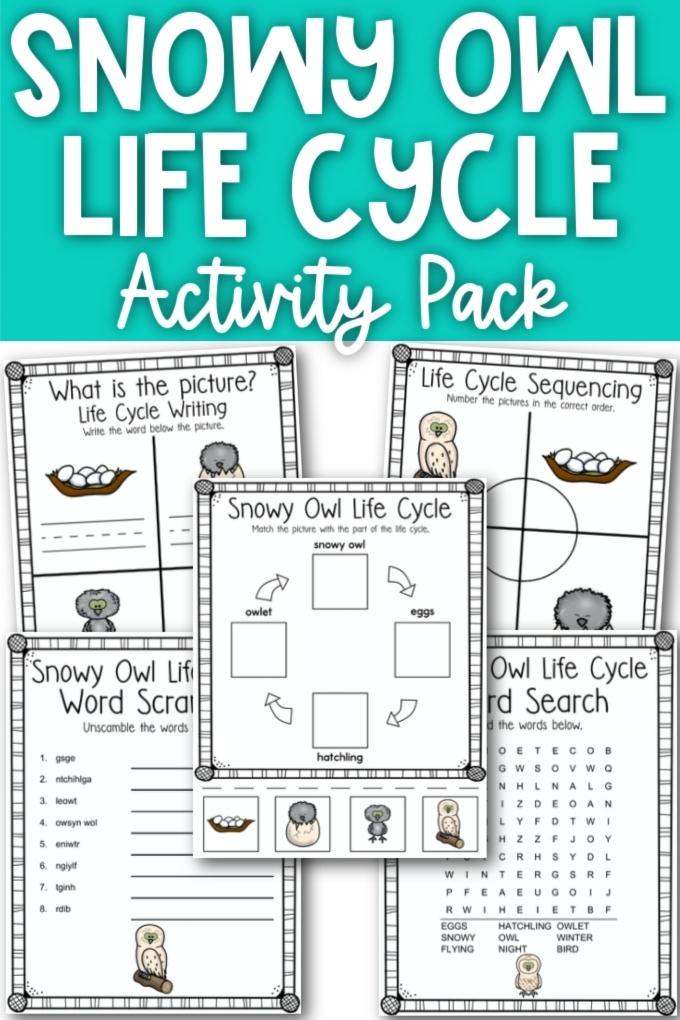 For your convenience, links in this post are hand-picked for you. Organized Homeschool may earn a fee for your purchase.
Life Cycle of an Owl Printable
Geared towards kids in pre-k, kindergarten, 1st grade, 2nd grade and 3rd grade, this owl life cycle printable is good for a unit study on owls, a fall unit study or a woodland animals unit study.
For younger kids. use this life cycle of an owl activity in your letter of the week O lesson.
Owl Life Cycle Activities
This activity pack includes five pages of fun.
The life cycle of an owl worksheets include:
Owl life cycle sequence
Snowy owl picture match
Owl life cycle word scramble
Life cycle of an owl word search
Name the picture in the life cycle
To use these owl worksheets, you'll need a few basic supplies.
If you're using the black and white version, you'll need crayons, colored pencils or markers for kids to color in the pictures.
I like these twistable crayons.
Next, you'll need pencils, scissors and glue or double-sided tape.
To print this activity pack at home, you'll also need an efficient printer.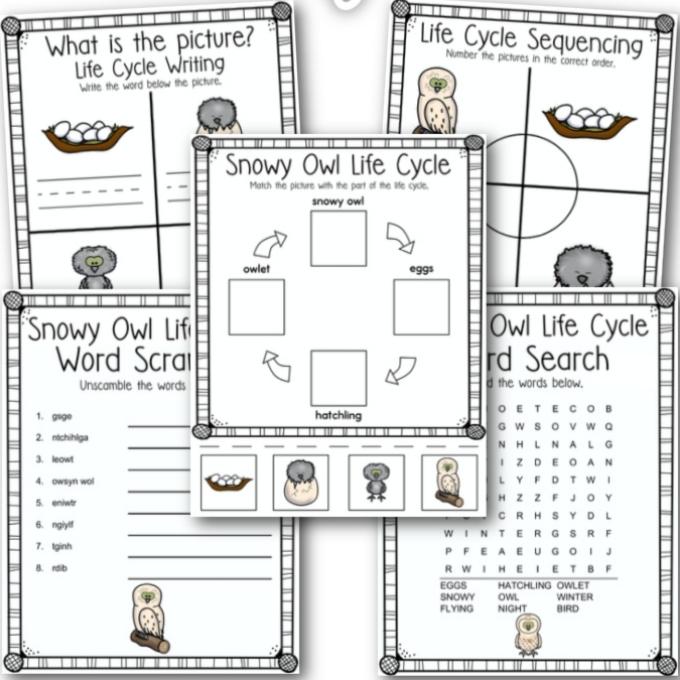 Owl Learning Activities
Chances are you don't have owls close by where you live.
So, to make this activity more engaging, consider visiting a local nature center to learn more about owls and their habitats.
At a nature center you can learn about how owls live, what they eat, how they sleep, hunt and survive.
There are usually workers available to answer your kid's questions about owls, too!
Another option is to go to a zoo that has owls.
At a zoo, you can see live owls and get a better picture of the span of their body and wings in person.
Another fun idea for younger kids is to let them use an owl coloring book.
A coloring book like this gives them a way to express their creativity.
Life Cycle of an Owl Worksheets
To use these worksheets, scroll below and click the button that says, "life cycle of an owl activity pack."
Once you click the button, you can download your owl pack and use it for personal or classroom use.
For older kids, download the printable in cull color to get straight to the activities on the worksheets.
For younger students, increase the fun and download in black and white so they can color the pictures first.
Life Cycle of an Owl Books for Kids
To engage your students even more, use books that teach more about how owls live and what they do day-to day.
Here a few recommended books that give more insight into the life of an owl.
More Life Cycle Activities
Looking for more life cycle worksheets and activities for kids?
Engage them with our other life cycle printables below.