Are you ready for a super fun summer with your kids?
Ahhh..it's FINALLY SUMMER! Yahoo!
The kids are excited, mom is excited and relieved another school year is done and finished, and now you can relax and just enjoy each other, right? Hmmm…maybe!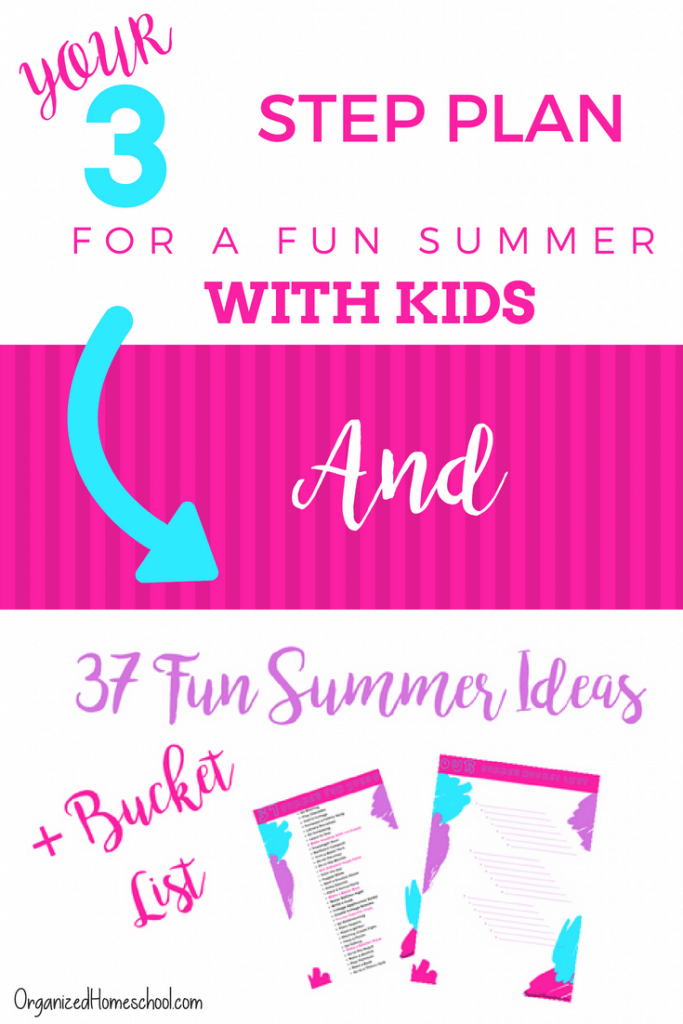 This post may contain affiliate links to products I recommend. This means I make a small commission off your purchase, but this does not affect your price.
A week goes by and you start to notice the kids are acting up, every one is grumpy, their eyes are glazed over from watching so much TV or playing too many video games, and your vision of a joyful, peaceful summer is all but fading quickly.
You have got to do something or by the end of June, you will be pulling your hair out and thinking about sending them off to boot camp somewhere. Are ya with me?
Hold on momma! All is not lost!
It's time you get intentional on how everyone is spending their time and things will turn around before you know it.
By spending a small amount of time each day putting those pliable forming minds to good use, your children will feel a sense of accomplishment and so will you!
HERE IS YOUR 3 STEP PLAN FOR A FUN SUMMER WITH KIDS
MAKE A SUMMER BUCKET LIST
Ask your children what they want to do this summer. I'm sure you will get a lot of expensive and off the wall ideas, but write them all down and tell them you are at least considering all the options. Getting their input will get them excited again about all the possibilities the summer might hold.
Assess how the previous school year went. Is there a particular subject your child struggled with? Pick some activities that will help reinforce that subject so they will be ready for the upcoming school year. For instance, my first grader struggled with adding coins and memorizing her math facts. So I will be working with her this summer so she doesn't start the next year behind.
Do you have a high school student? Summer is a great time to work on application essays for colleges they are interested in attending. Have them also create a resume of all of their academic and social achievements.
Utilize Delight Directed Learning which is simply paying attention to what your child seems interested in and finding ways to dive deeper into that subject. You can take a short trip or watch a movie related to their interests.
Make a separate bucket list for mom – Mom needs to study, learn, and have fun too! You can choose the summertime to work on your child's homeschool transcript or visit colleges with your high school student. You need to check out this list of freebies for ideas to add to your bucket list.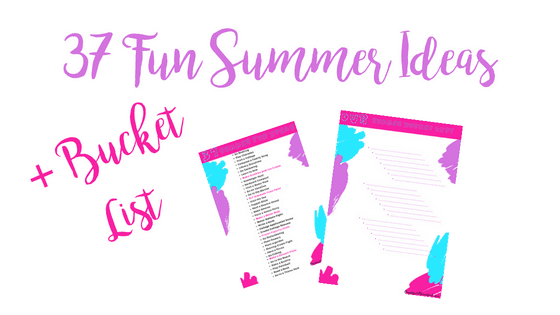 SCHEDULE IT
Once your bucket list is made out, you have to be intentional about scheduling it. If you don't, you will see that glazed over look in your child's eyes every day this summer. Not to mention it will surely be accompanied by the dreaded tune of "I'm Bored Mom".
Pencil your items from your bucket list into your Calendar for June through August
Pick one thing each day
You can have themed days also. Such as Monday – Cook with mom day; Tuesday – Craft Day; Wednesday – Organizing Day; Thursday – Outing Day; Friday – Have a Friend Over Day. You get the idea!
SUMMER RULES
You absolutely have to lay the ground rules down for the summer or your teens will sleep until noon and your toddlers will be waking you up at the crack of dawn ready to play.
A summer routine is mandatory to have a simple, peaceful, joyful summer.
Make a chart or calendar that gives general blocks of time for each of the following activities:
wake time
meal times
bedtime
chore time
learning time
screen time
rest time
reading time
You also need to establish rules that dictate how much screen time you will allow per day and what chores or activities need to be completed before screen time is allowed.
For instance, your child must read one small book, or read for 30 minutes before earning 30 minutes of screen time.
Whatever you decide, you need to publicly post it on the refrigerator or some other prominent place so that you and your child never forget the rules!
MORE EXAMPLES OF SUMMER HOMESCHOOL SCHEDULE IDEAS
Remember, summer memories with your children are extremely important.
Don't let this summer slip by without being intentional.
Before you know it, school will be back in session and it will fly by. Have fun!
Have quality family time!
Practice relaxed homeschooling!
Learn while on vacation!
Cherish every moment!
---
Share your summer homeschool schedule ideas in the comments below! I would love to hear from you!
---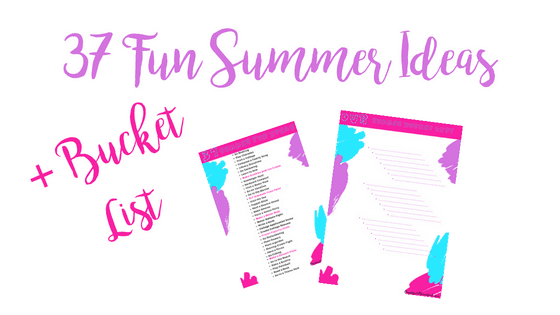 ---

---