Do you have the "should have" disease?

This post may contain affiliate links to products I recommend. This means I make a small commission off your purchase, but this does not affect your price.
What? You don't know what that is?
Well, let me tell you. I am the expert on the "should have" disease.
At the end of the day, for years I have felt guilt and failure at not doing everything on my to-do list. I just felt like there weren't enough hours in the day and time was vanishing into thin air.
My problem was my to-do list was a mile long. At the end of the day I would be saying things like this in my head:
I should have finished that laundry
I should have called that friend and checked up on her
I should have called my mom today
I should have made a healthier dinner
I should have exercised today
I should have called that customer back
I should have graded the homeschool papers that are piling up
I should have, I should have, I should have………….
And it never stops!
Learn How To Create A Simple Effective To-Do List
Day 8 of The Make Over Your Mornings course was all about our to-do lists. You know how I love lists. Half this blog is made up of different lists about getting organized and homeschooling.
The problem arises when your to-do list takes over your life and becomes a taskmaster and sucks the joy right out of you. That is what has happened to me so many times in the past.
What Crystal teaches on this day of the course was a refresher and a reminder that we are supposed to prioritize and manage our time and a to-do list is just a tool to help us remember what it is we are supposed to be doing that particular day.
If you are working on the wrong things, it really does not matter how productive you are. You will be wasting your time and will have to redouble your efforts.
Just like I outlined the priorities in this post, my to-do list needs to line up with those goals in that particular order.
Basically, the most productive individuals know what is important, and what is not. They focus their attention first on critical activities and getting the right things done. A few minutes prioritizing can save countless hours, weeks, and possibly even months of wasted labor and time.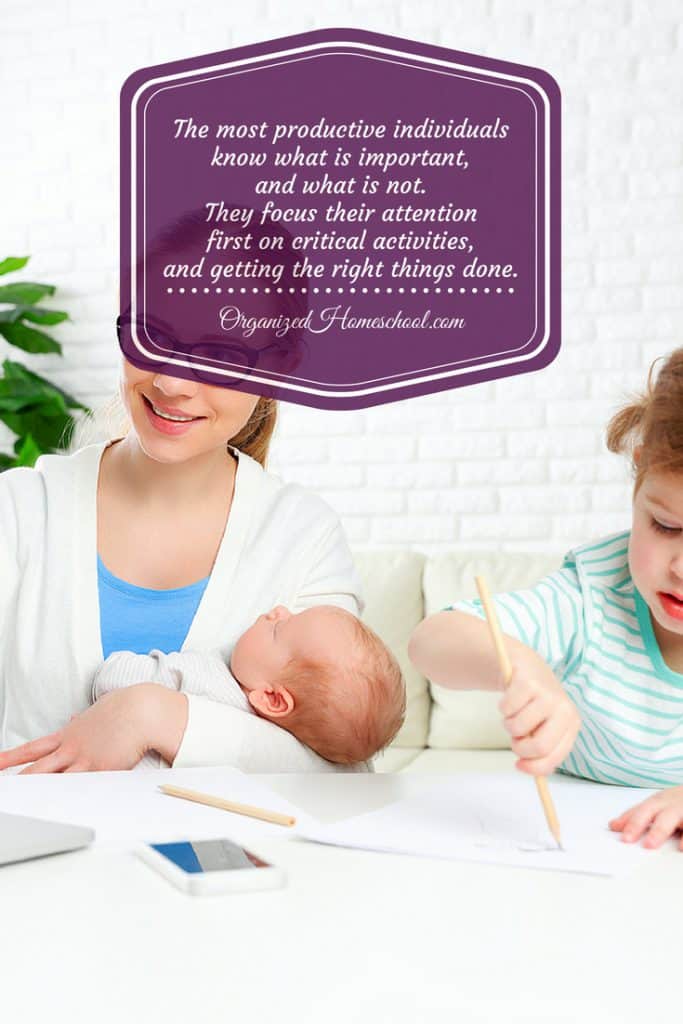 Extremely efficient women are not supermoms. They have just developed a way to look at their life, their actions, and their surroundings, and design the smartest plan of attack that maximizes every minute of their efforts.
Having a prioritized, simple to-do list can lead to more free time, better productivity, and even a better way of life.
Practice the 80/20 rule, don't oversleep, get up early and stop multitasking but focus intently, and the successful achievement of your goals may happen quicker than you ever thought possible.
And Oh the joy of getting that pen and crossing out all of those tasks on that list! I feel so accomplished and satisfied when I can do that!
Crystal also mentioned Google Calendar. I haven't personally used that yet, but she shows how she uses it for keeping up with family appointments, her business, and how she does a brain dump into her Google Calendar to free up her mind.

---
---