The Pros and Cons of Joining a Homeschool Co-op
There are a lot of decisions to make when you're homeschooling your children. Among things like schedule planning, whether to use offline or online curriculum, and other quandaries, whether to join a homeschool co-op needs to be decided.
Co-ops are wonderful homeschool programs for many families, where a community of home educators come together to share their strengths and knowledge for the benefit of the group. Being a member of one of these groups can be very beneficial for many homeschoolers, while others feel that they are not the best fit for their family. By exploring some of the pros and cons of joining a homeschool co-op, you can get a better idea if these groups will work for your family's educational goals and learning styles.
Advantages of Joining a Homeschool Co-op
Friendship and Fellowship
Members of a homeschool co-op have the instant benefit of regular time with a group of like-minded families. During classes, meetings and field trips, both you and your children will get a chance to spend time with other members of the homeschool community and build solid relationships.
Help to teach difficult subjects
Not everyone has the strengths and skills to teach every subject. When you join a co-op, everyone works together to teach different lessons and concepts. When you find that you are struggling to teach on a certain topic, you have plenty of resources to turn to for help.
Variety of subject matter
Your children will have the benefit of learning a different core subject or special interest subjects that you may not be able to teach at home. And if enough students are interested in a specific subject, it can often be added to the offerings of the group.
Relatively low cost
There are usually membership and class fees involved in joining a homeschool co-op, but they are typically minimal. Considering the cost of what you would pay for a private teacher or tutor to come work with your children on individual subjects, it's a major savings.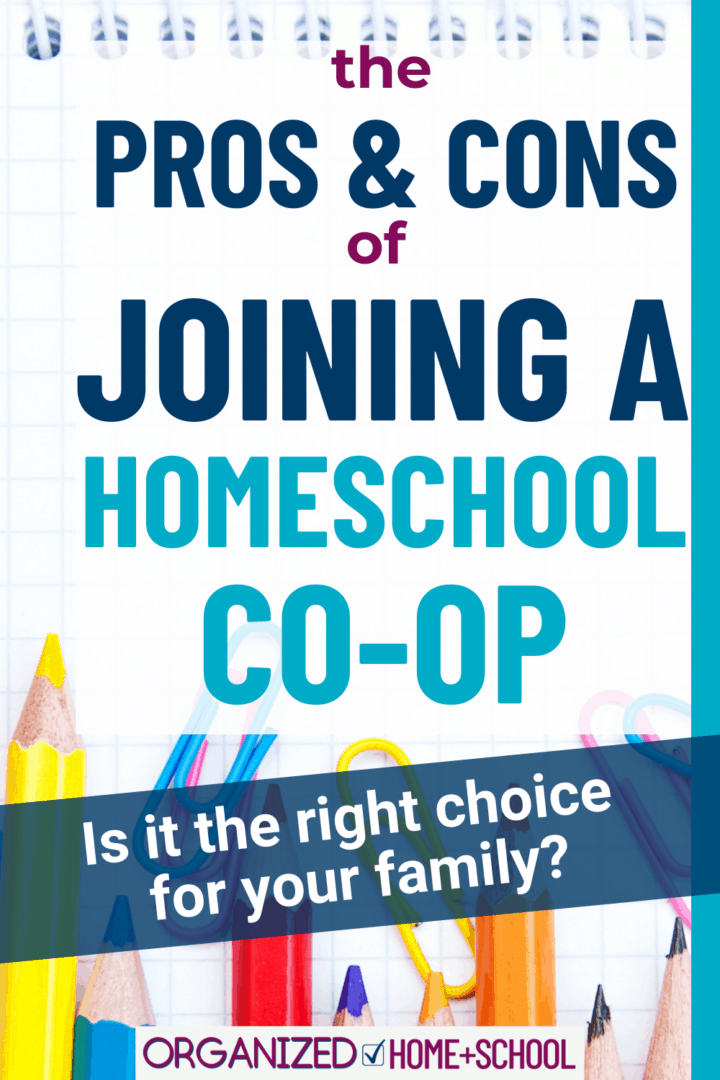 Disadvantages of Joining a Homeschool Co-op
Less control over your schedule
You will need to free up time in your schedule to attend classes and meetings with your co-op group. Unlike lessons at home where you can adjust the instructional timing to fit your lifestyle, you'll need to adjust your schedule around instructional time, instead.
---
---
Less control of instruction
For many who decide to homeschool, the ability to control the lessons and curriculum provided to their children is a major factor in that decision. As various members of the co-op will teach different subjects, some of that control is lost when working in the group setting.
Lessons are not as individualized
When working one-on-one with your homeschooled child, you can tailor activities and instruction to their personal learning style. As the courses taught within the co-op must benefit the larger audience of the group, certain lessons might not be the best fit for the way that your individual child learns.
Sometimes strict group values
There are many homeschool co-op groups that have very strict expectations about personal and family values. Be sure that you understand the mission of the group and that it aligns with your personal beliefs and wishes for your child's education.
There is a lot to consider when deciding to join a homeschool co-op. If this is something that seems appealing, see if there is a trial period so that you can test the waters before making a year-long commitment. However, when you do the research and find a great group that is a fit for your needs, it can really enhance your family's homeschooling experience.
If you decide a co-op is not the right thing for you, but still want help teaching difficult subjects, you should consider live online courses. Students have direct access to instructors and connect with other homeschool families, all from the comfort of your home.
Tell me, what has been your experience with joining a homeschool co-op? Was it a good thing for your family?
---
Related Posts: