Did you know that there is a right and a wrong way to say no?
If you say no while your mind is really thinking yes, you eventually stop saying no.
When you learn how to say no the "right" way, your behavior matches your mindset.
When you tell yourself that you don't do something, you are making a positive statement. You are telling your mind, and your emotions, that a certain activity, behavior or choice does not align with your values.
Imagine how powerful the results can be when you learn the most effective way to say no for weeks, months, or years. Your productivity will skyrocket in both your personal and business lives.
You will experience less stress and anxiety since there is less for you to focus on.
You dramatically increase the likelihood that you will complete tasks and meet obligations, which means you, your boss, family and friends are all happier.
You feel better about yourself, and your mental health gets a boost.
Since you experience much less stress, your odds of developing the following debilitating health conditions decrease:
Heart disease
Alzheimer's
Obesity
Headaches
Depression
Asthma
Diabetes
Gastrointestinal issues
Learning how to say no can be a literal lifesaver, and improve your standard of living, and is easy when you practice the following steps.
Steps to Follow the Next Time You Say No
You realize now that there are physical and mental health rewards for saying no in some situations. You understand that taking time to think about a decision can help you make the right one.
You know when to say no, and how to phrase the conversation in your mind so that you hold true to your beliefs and values.
Put it all together, using the following 5 proven steps to stick with your decision:
1 – Just say "No". Stop there. There is no need to justify yourself. If you catch yourself explaining why you made your decision, you might convince yourself you should say yes.
2 – If you must state a reason for saying no, as in a job or career situation, be as brief as possible.
3 – Stick by your guns. Say no a second time if need be, but again, try to avoid saying anything else.
4 – Be respectful in your refusal. There is no need to cause damage to a relationship by saying no the wrong way. Remember, just say the single word "No".
5 – There is no need to be dishonest. Don't make up reasons or lies for your choice. The truth is always the best answer.
More Proof of the Power of Saying No the Right Way
Researchers asked 30 women to volunteer for a "health and wellness seminar".
The women were told to focus on a long-term goal that would increase their health and wellness, something that was very important to them.
The 30 volunteers were then divided into 3 groups.
Group 1 was told that when they were tempted to do something contradictory to their long-term goal, they would use the word "can't".
Group 2 was told to "just say no", while group 3 was instructed to use the "don't" strategy.
For example, members of group 1 would say "I can't miss my workout today", while those in the 2nd and 3rd groups would just say "no" and "I don't miss workouts" respectively.
For 10 days the women received daily emails where they were asked to report their progress.
The "can't" group had only 1 out of 10 members work towards her long-term health and wellness goal for the entire 10 days.
The "just say no" group had 3 out of 10 women who made the entire 10 days.
Incredibly, the "don't" group saw 8 out of 10 members stick to their goals for the entire 10 days.
Now this was a very short-term test period. Even so, a simple change in terminology was powerful enough to create vastly different outcomes.
When you say "I don't", you are voicing a personal choice. This is an expression of your willpower, determination and values.
As Stephen Covey says, "You have to decide what your highest priorities are and have the courage – pleasantly, smilingly, non-apologetically – to say 'no' to other things. And the way to do that is to have a bigger 'yes' burning inside."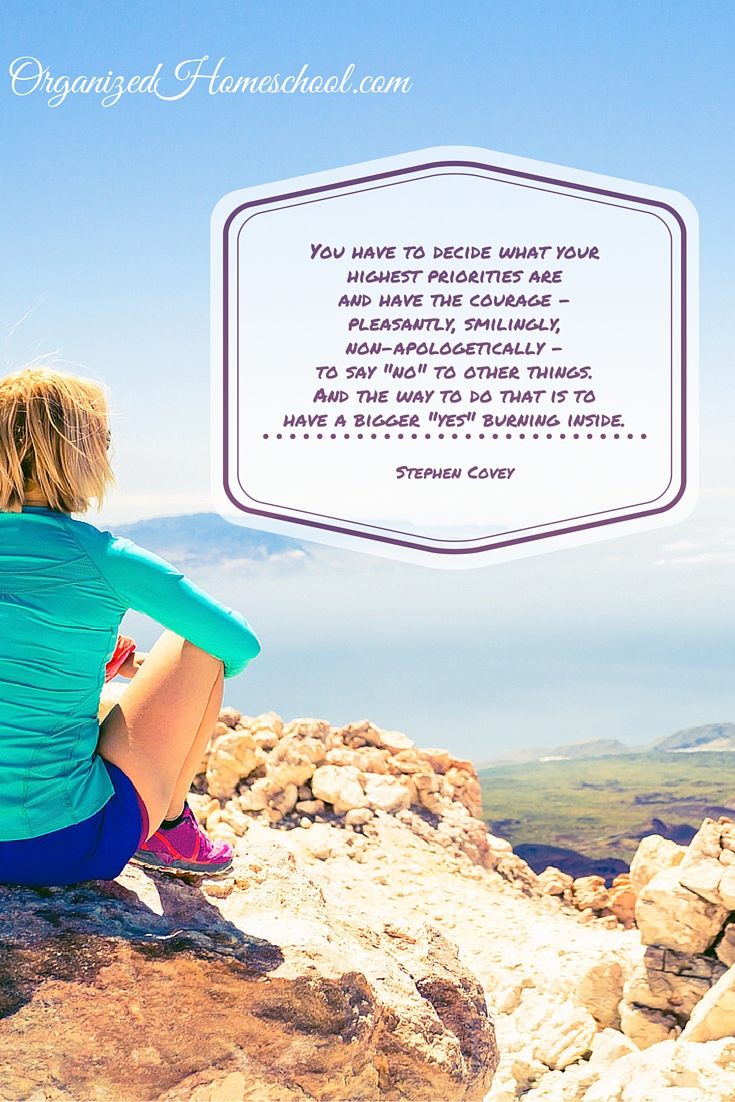 When you say "I can't", you are expressing some type of restriction.
It feels as if someone else is imposing their will upon you, and not allowing you to perform a certain behavior or take a specific action.
You are undermining your individuality, and stripping yourself of personal power when you say "I can't".
Simply changing your language from "I can't" to "I don't" can make all the difference in achieving your goals.
This works with all goals you set for yourself in life.
Tony Robbins's Top 10 Rules For Success
If you are serious about achieving your goals and rising to your very best self, whether as a mom, entrepreneur, or both, this video by Tony Robbins will help inspire you to raise your standards and change your self-talk to help you achieve your dreams and goals.
This is a great lesson to share with our teenage children as well.
---
Do you struggle with saying "No" to people?
---