When we decide to homeschool, we often know why we want to do it and even what we want to teach.
How to homeschool is another question! Practical homeschooling tips are what we need!
What will your daily homeschool routine and schedule look like?
How will you make lesson plans, manage your time for other tasks, and handle toddlers or babies?
These are the nuts and bolts of your homeschool day!
It can get overwhelming fast!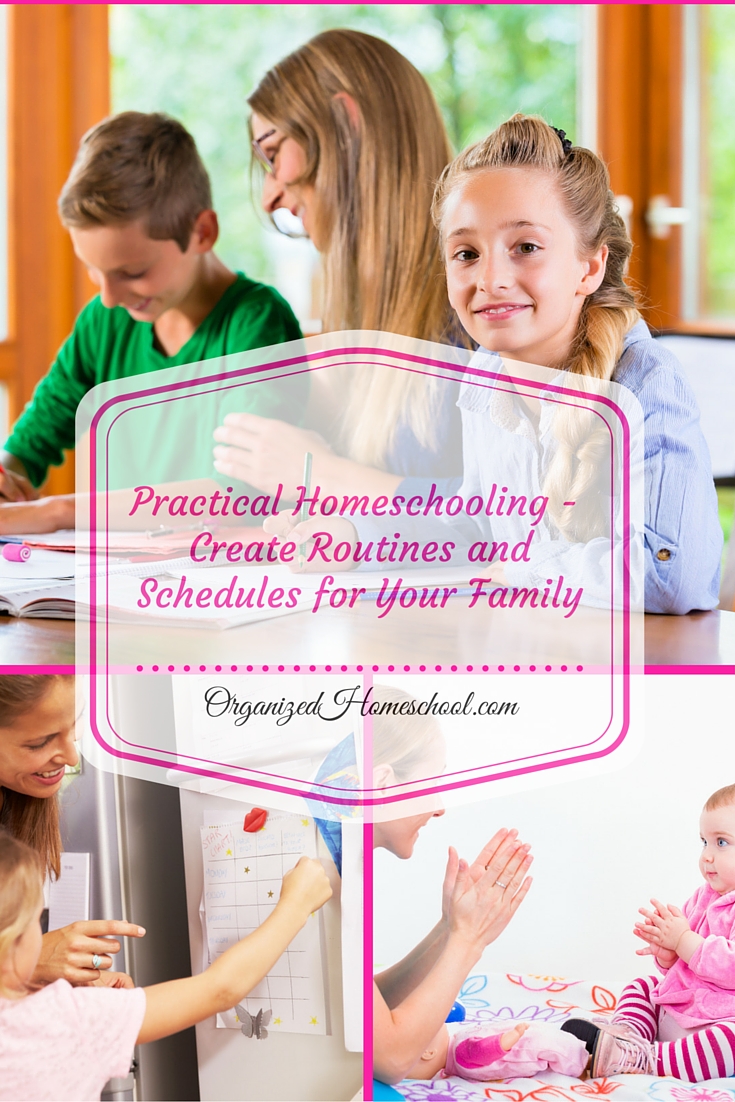 The best practical homeschooling solution I can pass on to you is create a dependable homeschool routine and schedule!
My home school routine and schedule allow me to sleep at night. I want to make sure all of my children are learning what they need to know. And that the preschooler is able to at least say the ABC's before she is 5!!
And don't forget to feed the baby while you are cracking that whip making sure the teenager did her literature lesson for the day.
How do we get it all done?
I am often asked how do we get it all done! My answer is always, "With a consistent routine and a written schedule!"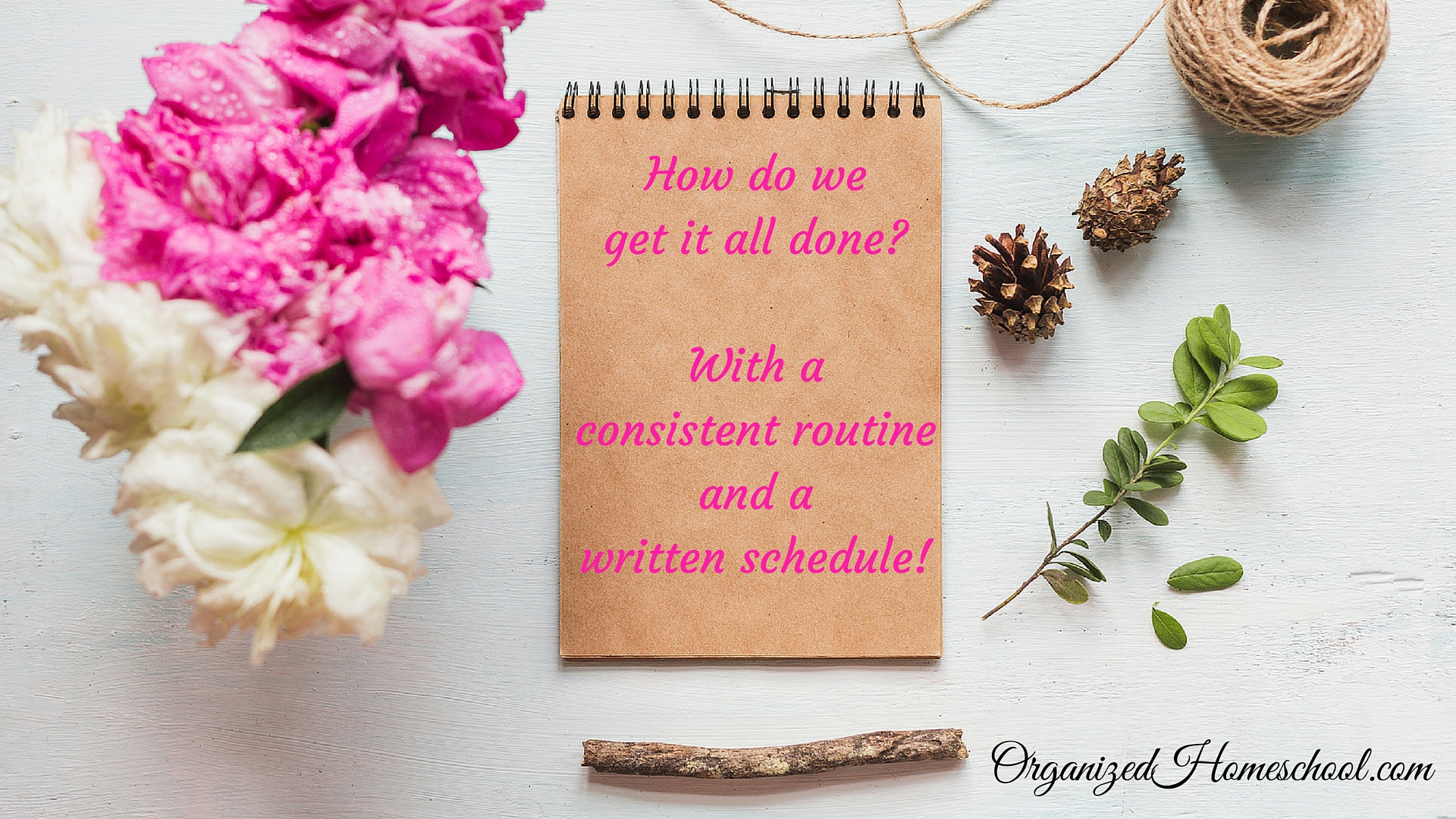 Practical Homeschooling – Establish a Routine
First of all, you have to have a routine or basic flow of how you want your day to materialize.
The definition of the word routine is "a sequence of actions regularly followed".
We all have routines in our lives. You probably have an evening routine. You might always take a shower, then brush your teeth, then read a chapter in your favorite book before going to bed. That is your routine.
Children thrive on routines.
They feel safe and secure with a consistent routine being followed in the home throughout the day. This allows them to have an idea of what comes next. It is predictable. It is simple. It saves you a lot of time and emotional chaos if your children know what is expected of them and you don't have to repeat yourself twenty times a day telling them what to do.
The same thing applies to creating a homeschool routine. You want to have a predictable time that homeschooling will take place each day.
Of course this will be different for each family, but you are only looking to create a routine that fits your family.
Here are some practical homeschooling questions to think through as you plan your routine:
What time of day are your children most focused and ready to learn?
What time do you have the least amount of distractions?
What commitments do you have outside the home each day?
What setting do your children learn best in? Reading on the couch? Sitting at a desk?
How much time do you want to devote to schooling each day?
As you answer these questions you can plan a routine and consistently apply that order of events for your family each day. Then you will find that your children will automatically start doing their routines without being told and without you having to nag and remind them every time.
That promotes peace in your home!
Practical Homeschooling – Create a Schedule
A homeschool routine tends to be more flexible and just provides a basic structure for your day.
The definition of the word schedule is "a plan for carrying out a process, giving lists of intended events and times".
So creating a homeschool schedule is a more detailed plan for your day. This handles the practical concerns of what subjects do you want to cover each day how much time do you want to devote to each one.
Now don't go crazy like I did one year and plan out our homeschool schedule in 15 minute increments. It lasted about one month and we were constantly looking at the chart to see if we were "late" on starting a subject. It was a total slave driver and took all the fun and spontaneity that can and should occur with my children. Some people might like this kind of schedule, but it wasn't for us!
I have used lesson planners, wall charts, and software to create homeschool schedules.
I liked most of them and I am not sure why I haven't stuck with the same method for the last ten years.
I suppose I am one of those homeschool moms who oooh and aahh over the newest product out there and have to try it.


You have heard it said before…"if you fail to plan, you plan to fail".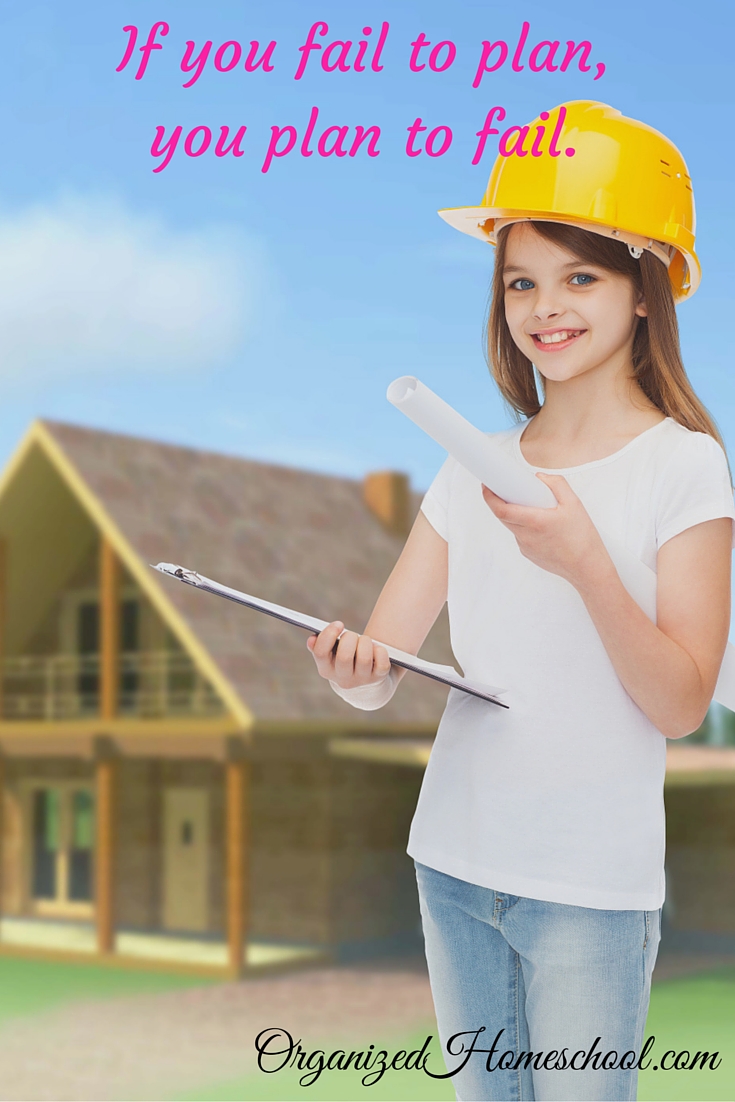 So make a plan is my practical homeschooling advice!
Make sure you have a schedule in place so your children, and you Momma, know what needs to be done each day.
Every day might look different depending on your activities outside of the home.
That is ok!
Just pencil those things in and you will know if you will have time to schedule in math that day.
---
---
Here are more homeschool related posts to help you:
---