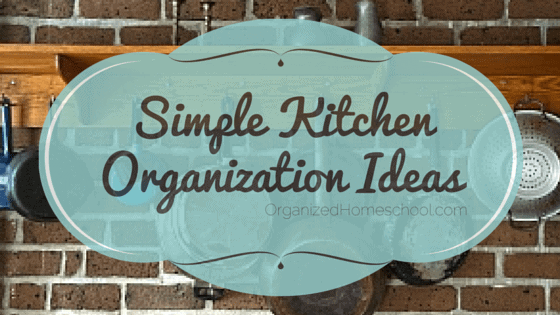 This post may contain affiliate links to products I recommend. This means I make a small commission off your purchase, but this does not affect your price.
Out of all the rooms in your house, which room do you spend the most time in?
I bet you would say the KITCHEN! Keep reading for several kitchen organizer ideas you can use in your kitchen.
We have to prepare 3 meals a day plus up to 2 snacks a day. Not to mention preparing a bottle for the baby, washing dishes, loading the dishwasher, and the many other tasks including homeschooling for some of us.
We especially need the kitchen to be organized and free of clutter so that we can find what we need quickly and efficiently. I have moved many times over the last 20 years (14 times at last count). I have learned some ways to organize my kitchen in each home that makes life a little easier each time we move. I try and improve upon the location of items for maximum efficiency. I have been on the ultimate search before each move for kitchen organizer ideas.
No-Brainer Placement of Kitchen Items
I want to start with the placement of your utensils and dishware. Here is the placement checklist I use when determining where things should go:

By the Stove:
Pots and pans
Cooking utensils such as tongs, spatulas, ladles, etc
By the Oven:
Hot pads and mittens
Bakeware such as casserole dishes, cookie sheets, pizza pans, muffin tins, and cake pans
By the Dishwasher or Sink:
Cups
Silverware
Plates
Bowls
Dish Towels
Of course, you also want to place the rarely used items such as serving platters and crystal in the upper cabinets since you do not use these on an every-day basis.
I also try and put the children's plates and cups that are not breakable in a lower cabinet where they can reach and help themselves.

Here are some other kitchen organizer ideas:
Keep snacks for the children in a special drawer in the refrigerator or a low shelf in the pantry
Keep all recipe boxes or

cookbooks

in one location
Put a

dry erase whiteboard

on the refrigerator or hung inside the pantry to write down things that you run out of or are low on. I have trained my children to do this so when it is time to go to the store, I write these items down on my list.
Also put a dry erase board on your freezer with a list of the freezer meals inside. When you pull one out, mark it off the list.
Store glassware upside down to prevent dust from accumulating in them
Store pot-lids in a drawer of their own, or if low on space, put them upside down on top of the pot it goes on
Installing

vertical dividers

in a lower cabinet is great for sliding in cookie sheets and pizza pans
Hang a

shoe organizer

over the pantry door for foil, storage bags, or cleaning supplies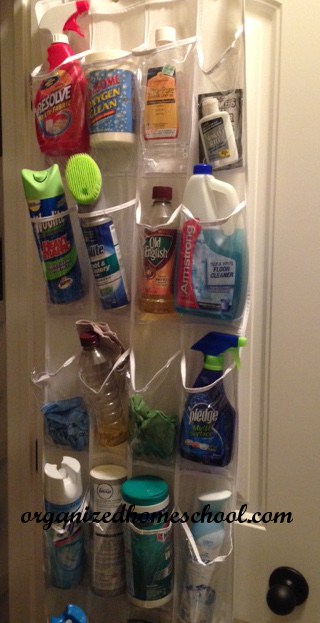 Store canned goods with labels facing forward and like items together (for example, all tomato products together, spices together, baking ingredients near each other)
Use multi-level

spice racks

in the pantry or cabinets to store spices so you can see them better
Attach small racks on the inside of cabinet doors to help envelope mixes

Screw hooks

into ceiling of cabinets to hang coffee mugs by the handles
Store new canned goods and food behind older ones so you are rotating your food by oldest to newest
Don't keep all the plastic bags from the grocery store. Use an old tissue box and store as many as you can push down into it. Recycle the rest.
Use a small

dish drainer

inside of a cabinet to store plastic lids.
Use inside of cabinet or pantry doors to postmaster grocery lists, favorite recipes, or a list of items that you can put in the compost bin
Use a

mop holder

on the inside of the pantry or cabinet doors to store spices
Pencil Drawer organizers installed on an inside wall of your pantry for more space to organize is a great idea
---
There are many more ways to organize your kitchen. I can't possibly list them all here, but I hope these kitchen organizer ideas gave you a head start or inspired you to get your kitchen in tip-top condition. That will make momma very happy indeed!
I would love to hear your tips on ways you have organized your kitchen. Please leave a comment below.
---