Kids are always looking up to people older than them, whether it be their older brothers and sisters, grandparents, parents and other family members.
But they especially look up to us…moms.
After all, we are the ones providing for our kids, giving them the things that they need, teaching them, and answering to their every call.
Plus, this is especially true as a homeschooling mom. When you are with your kids all day every day, you easily become their biggest influence and role model.
They want to do everything you do, whether it be through trying to do it completely by themselves or by helping you.
And of course, one of those big things that practically every little wants to do like mom is none other than cooking.
This is an incredibly good thing, too. After all, as a homeschooling mom, you want your kids to grow up with an independence and sense of responsibility that you helped strengthen within them, right?
What better way to do that than by letting them cook their own food?
They can do this perfectly with one of these 5 best kitchen sets for children that you can have set up in their playroom in no time. And soon, they?ll be stirring up their own dishes and feeding their favorite toys the way mommy cooks for them.
So, without further ado, here is my personal selection of the top 5 best kitchen sets for children.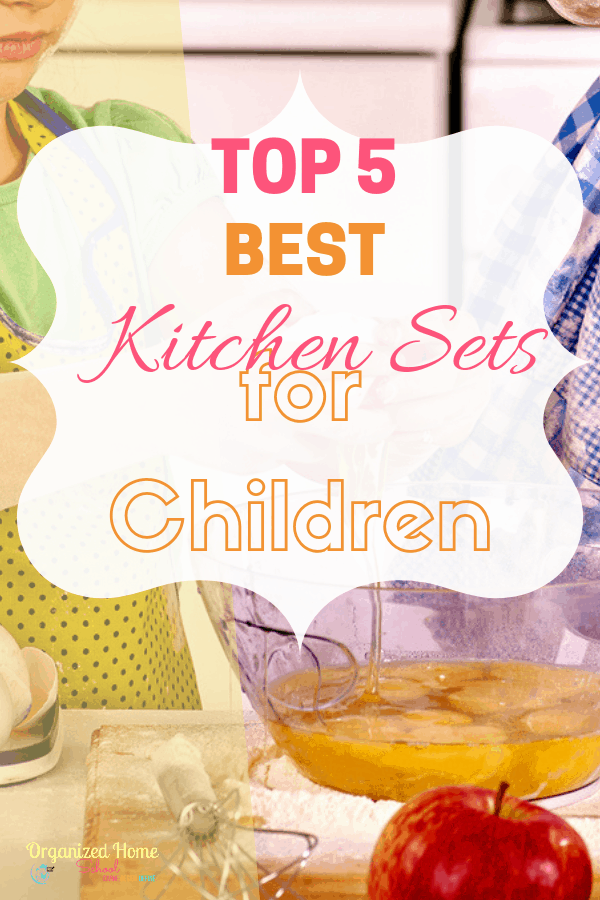 This post may contain affiliate links to products I recommend. This means I make a small commission off your purchase, but this does not affect your price.
Buyer?s Guide: 3 Things to Look for Before Making a Purchase
Before we get into the list, it is important that you know the specific things to look for when finding the perfect kitchen set for your precious little one.
It is also important that I walk you through these things you need to know before you buy, because as a fellow homeschool mom, I want nothing more than the best for you and your family.
---
So, here are the top 3 things you need to know before making your purchase.
1. It won?t be an eyesore to everyone who sees it.
The first and foremost thing that should be on the top of your priority list when looking at kitchen sets for kids is that the one you choose won?t be an eyesore to everyone who sees it.
In other words, before actually buying one, make sure that it will be something that can be played with by your kids without you feeling embarrassed about having in your home.
It would also be incredibly nice if your kids are able to play with it outside of their room, for instance, in the living room in the midst of friends and family. It is the perfect way to keep the kids happy and relatively quiet while you adults get to catch up.
Therefore, it is important that the kitchen set you choose is nice enough to be seen by other people.
2. It has a decent amount of storage.
The second thing that you should look for in kitchen sets for children is that it has a decent amount of storage.
A play kitchen with its own storage spaces can benefit you in several ways.
First of all, it means that whatever toy food items that come with it (or that you buy alongside it) won?t be laying all over your kids? rooms. Instead, they already have a home in the kitchen set, so you won?t have to worry about making room for new toys.
Secondly, it allows your kids to have more room and space to play with. This is especially beneficial if you have more than one kid, because it means there is more room for more people to play in it at the same time.
Naturally, you can see how this would lead to less fighting between the kids and less of you having to solve problems and arguments.
3. It is something that your kids will enjoy playing with.
Finally, the third tip I have to offer you is to make sure that the kitchen set you decide on is actually something your kids will enjoy playing with.
If it is meant to be a surprise gift, such as for Christmas or a birthday, then it can be a bit hard to find out if it has everything your kids would want in a kitchen set.
However, you can make sure that it is something they love by paying attention to the designs on the play set and the overall look and feel.
For example, if you have little girls over the age of 3 who are going to be playing with it, then it is probably best not to get them a kitchen set that looks like something a toddler would enjoy playing with.
If it is going to be played with by both boys and girls, then there are plenty of selections out there that are gender neutral, with colors such as red, brown, black, and white.
Overall, it is important that you feel confident that your kids are going to play with on a pretty regularly basis and that it will last them a while.
In other words, it is something they won?t outgrow for a while.
---
Top 5 Best Kitchen Sets for Children
Now that you have a bit more insight as to which toy kitchen set will make the best for your little ones, it is time to get straight into the list!
All five of these kitchen sets were hand selected by me because I believe them to make some of the best fits for kids.
No time to read the full post? Here are the top 5 Kitchen Playsets to check out:
It is also important to note before we begin that these kitchen sets are not ordered from the best to the least. Instead, they don?t have any organization to them and they each have their fair share of pros and cons.
So, are you ready to find that perfect play kitchen set for your kids?
Introducing the top 5 best kitchen sets for children!
1. Teamson Kids Florence Play Kitchen
The first play kitchen set is the Teamson Kids Florence Play Kitchen, and it is among some of the best ones out there for several reasons.
First of all, this is one of the most attractive looking toy kitchens you can find. It has a simple layout, soft and light colors, and it is slim enough to be placed against any wall in nearly any room without taking up much space.
This kitchen play set is ideal for any mom looking to buy a toy kitchen at a great price, and it also includes 2 small cabinets, 1 large one, a microwave and an oven that gives it plenty of space for your little one to store their toy foods inside.
Another thing that makes it absolutely great for kids is that the colors are gender neutral but still work together in a way that makes it look cute in any room. You definitely won?t be ashamed to have this toy in your house, and it won?t blind anyone who happens to walk past it!
If that isn?t enough, the kitchen set has received very positive reviews from over 300 people on Amazon.
2. KidKraft Farm to Table Play
The second kitchen set that has made it onto the list is the Farm to Table Play set by KidKraft.
Not only does this make a great gift for the kids, it is also quick and easy to put together and assemble, making it something you as a mom will appreciate as well.
Like the Teamson Kids Florence Play Kitchen, the Farm to Table Play from KidKraft has very appealing and attractive colors that will make it a beauty in any room and something your kids will love playing with, both boys and girls.
In addition to that, the Farm to Table Play has a very good amount of space, making it easy for at least two kids to play with at the same time.
Your kids will absolutely love playing with this toy kitchen, as it is one of the most realistic looking ones out there. The detail is amazing, with intricate designs that make it look just like a kitchen straight from a beautiful country home.
The lights and sounds that the cook top makes adds to the real feel of this play kitchen, something that kids of all ages will enjoy experimenting with.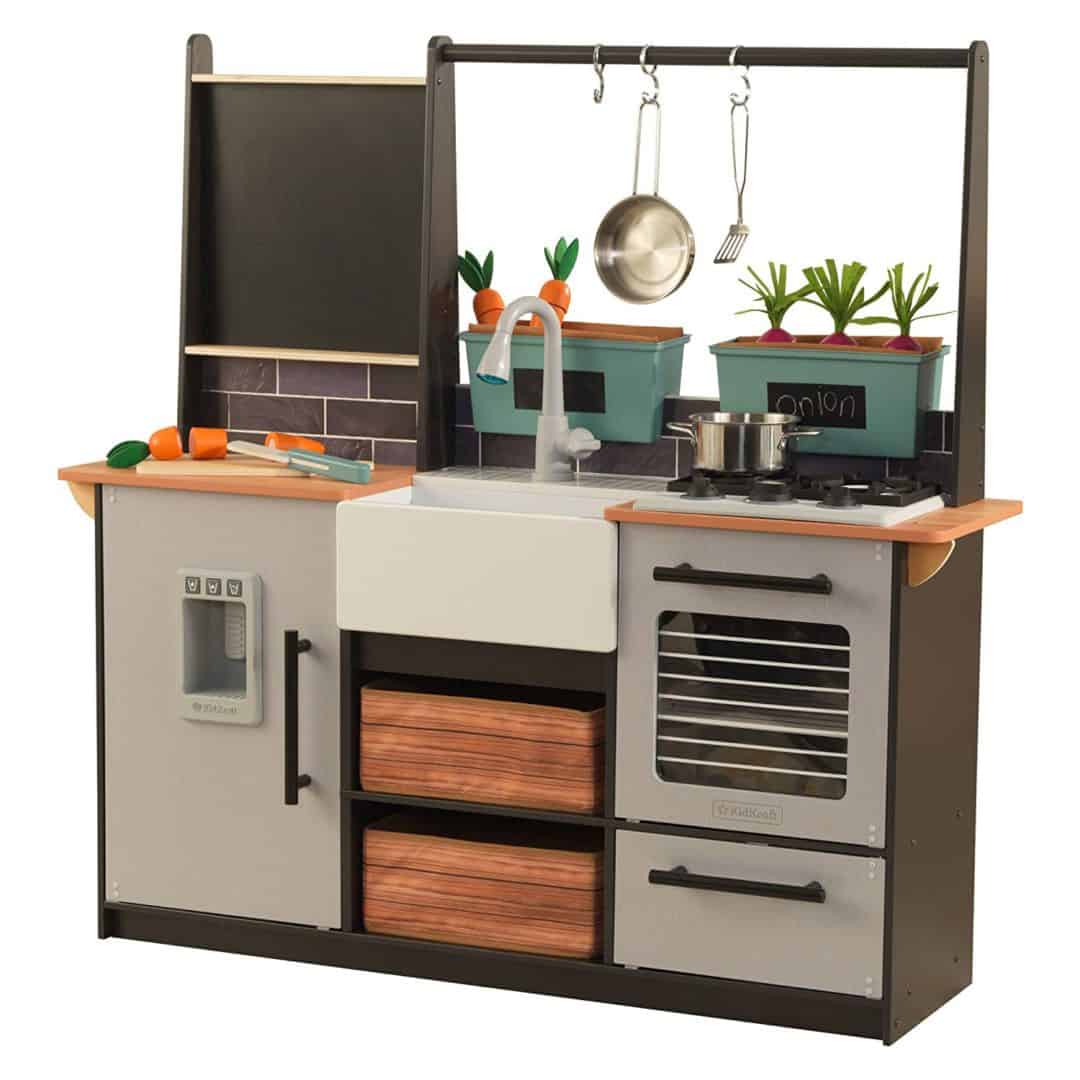 3. Fun with Friends Play Kitchen
The third play kitchen is the ?Fun with Friends? play kitchen from Step2.
This kitchen set is unique from all the others because, not only does it come with toy play food, but it also comes with coffee pods and travel mugs!
Multiple little ones can enjoy playing with this kitchen set, and it even has a drive thru window for them to get creative and play restaurant.
They can even take their creativity to the next level, because the ?Fun with Friends? play kitchen not only comes with toy people food, but also animal food and water bowls.
This kitchen looks like it came straight out of a fun restaurant, with room enough for multiple kids to play with, and all for a great price!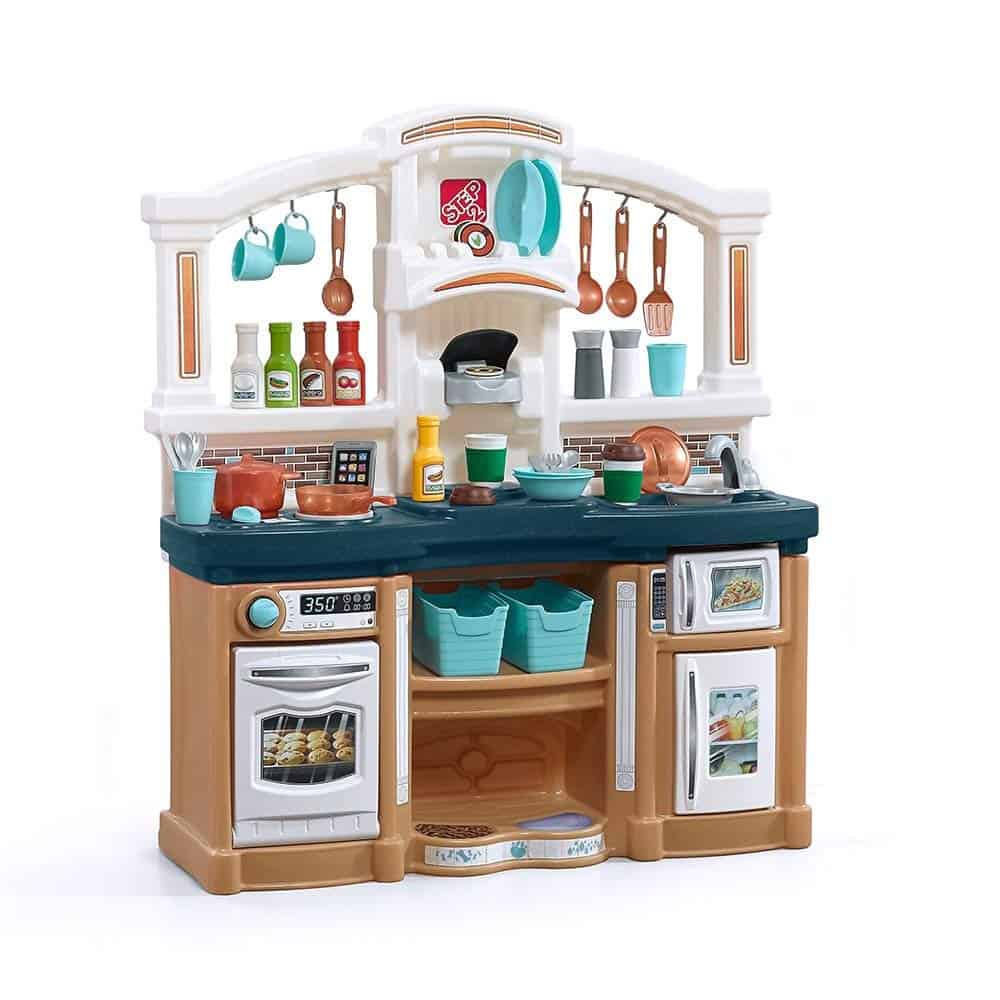 4. Great Gourmet Kids Play Kitchen
The Great Gourmet Kids Play Kitchen, also from the company Step2, makes the perfect gift for little girls.
This pink kitchen will fit in perfectly with any girl?s room, and is big enough for 1 to 2 girls to play with at a time.
It also comes with a fun chalkboard for your little ones to keep track of their own grocery lists and recipes, and similar to the Fun with Friends play set, it has a drive thru window that lets them play restaurant.
Not only will it fit in perfectly with the rest of their girly room, but it will also help keep it clean. The Great Gourmet Play Kitchen comes with multiple storage bins and cabinet spaces to store all of their fun kitchen toys, including a double oven.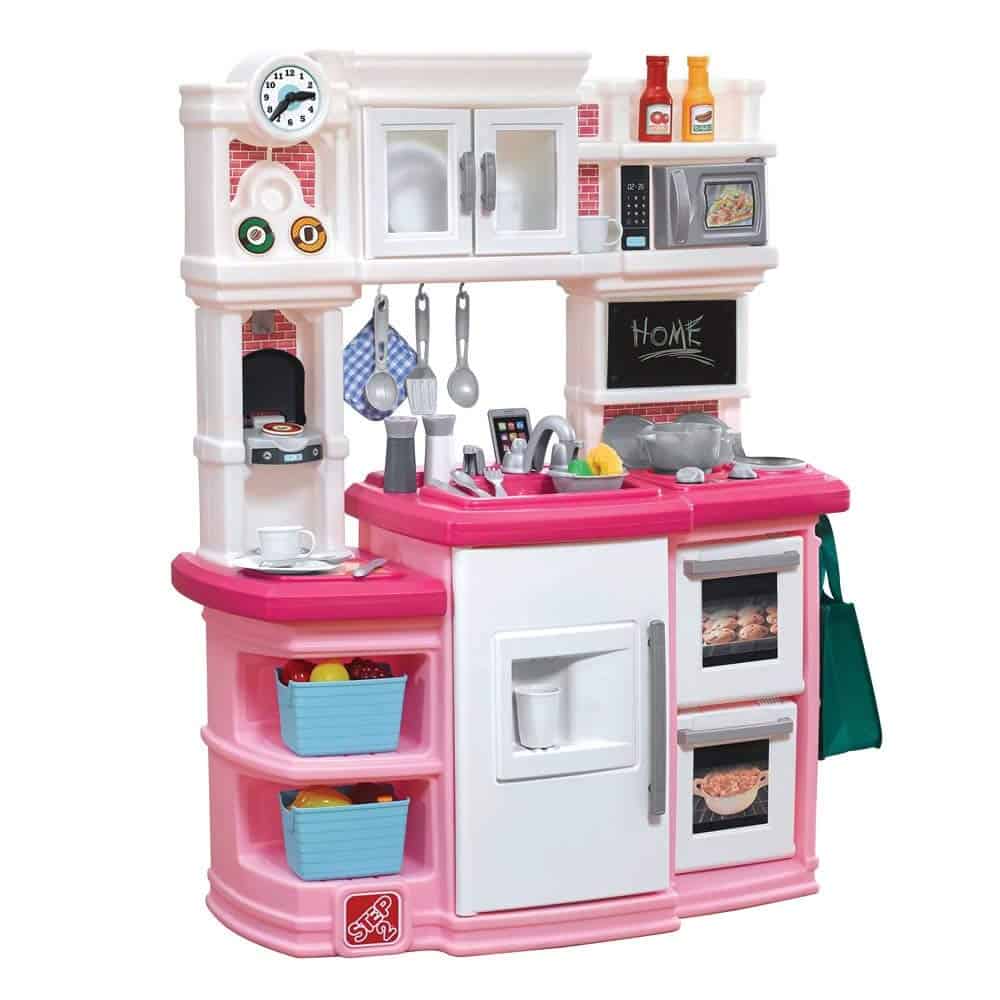 5. Little Tikes Cook n? Learn Smart Kitchen
The fifth and final play kitchen is the Cook n? Learn Smart kitchen by Little Tikes.
Not only will your kids have an absolutely fun time playing with this kitchen set, but they will also be learning in the process. The Little Tikes kitchen recognizes the accessories it comes with and responds to whatever the kids do when playing with the kitchen, teaching them all about cause and effect.
It comes with over 40 different accessories such as things kids can use to chop, turn faucets, and use the stove.
Plus, your kids can play fun learning games while they play, as the kitchen has its own app for mobiles and tablets that use Bluetooth in order to teach kids as they have a fun time.
All in all, this kitchen set is ideal for younger kids who like to have fun playing games and learning while they do so.
Plus, all of this for one kitchen comes at a great price.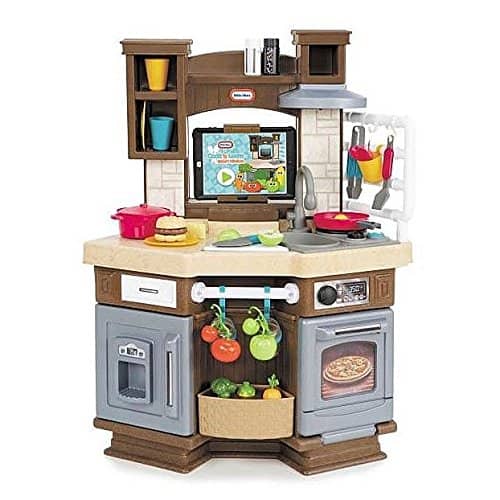 Kitchen Sets for Children Help Them Learn While Having a Great Time
Kids love to play during these young years of their lives, so why not try to incorporate learning to make it even more beneficial?
As a mom, you are always looking for ways to teach your children the skills they need for life, so why not start with cooking?
Each of these kitchen sets have their own unique ways of engaging kids in ways that are fun and smart, whether it be through interactive learning or simply by allowing them to use their creativity.
Here They Are Again!
PIN ME FOR LATER!
?