So, this is what I am working on today…..
THE LIVING ROOM!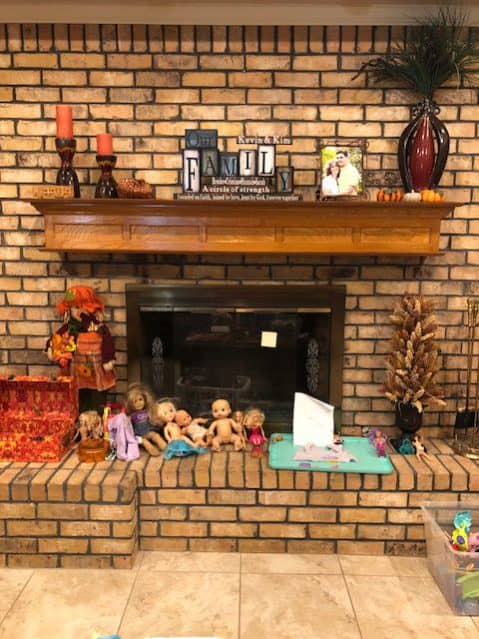 This post may contain affiliate links to products I recommend. This means I make a small commission off your purchase, but this does not affect your price.
How come no matter how hard I try to keep it decluttered it only lasts for a short time?
I guess that is the beauty of having little people living in the home, right? Does your house ever look like this?

I'm timing myself to see how long it takes me to get this straightened up and back to an "adult" and peaceful living room!
I also listened to?Allie Cassazza's podcast yesterday?and I loved the guest she had on talking about a Cozy Minimilast Home that works for us in whatever season of life we are in. She mentioned that just because the builder of your house said that a certain room is the "Dining Room", it doesn't have to be. If you are short on space, use it as your home office or homeschool room.
It got me rethinking how we use our living room space. It is huge room but we don't utilize all the space very well. So my plan after cleaning up the toy clutter is to rearrange the furniture and actually move our large dining room table in there and out of the "dining room" that we also use as our home office.
I'll post pictures in the next post and get your opinions on it!
---
Here are some updates and info to help you out today!
THE MOM VAULT
Make sure you have access to the?FREE?Mom Vault?where I keep all my free resources offered on the blog! I add to it all the time!
NEW POSTS TO CHECK OUT:
Bullet Journals 101 – What are they and how do you use one?
5 Evening Routines That Will Set You Up for Success Tomorrow
The "Disciplining Other People's Children" Dilemma
FOR MY HOMESCHOOLING MOMS
You can get the help you need to get started homeschooling high school and keep going all the way through graduation. Get fresh how-to training courses every month, including classes to help you get started, classes for the intermediate homeschooler, and classes for the seasoned homeschooler.
The regular price is only $27/month. But it's even less expensive?October 22-26!?We have a special subscriber discount so the first month is only $1. This is the first time we have ever offered a "try before you buy" offer on this resource! You can test it out, get some training and encouragement and decide if it is a great fit for you.?Use promo code 'stcdollar' when you purchase.?Click Here to check it out!
FOR MY BUSINESS BUILDING MOMS
A Rant about Financial Advice from Dave Ramsey (Episode #144)
GREAT SALES and FREEBIES I FOUND AROUND THE WEB
October 19 -?Homeschooling: How and Why it Works Webinar
#FreebieFriday?Did you know? Homeschooling works regardless of your level of education or income!?Learn more in this free webinar
Leave a comment and let me know how you use the space in your home. Do you use rooms in a different way than originally intended?
I'm always looking for new and fresh ideas!
Have a great week!
Blessings,
Kimberly
P.S.?Don't forget to check out this sale for only $1
---