What's For Dinner? 20 Meal Planning Websites to Solve Your Dilemma
What's for dinner tonight?
Well, look no further for a comprehensive list of menu planning websites and blogs that will help you schedule what you will cook for dinner tonight and the rest of the week or month.
We did all the research for you and have come up with some of the best meal planning and recipe sites so you can quickly plan your meals. Planning your meals saves time and money and alleviates the stress of wondering what you're going to do each and every time you hear the phrase, What's for dinner tonight?
So, pick one or two of the sites below to get started and make preparing your meal plan a cinch.
1.
Mixing with Michelle
Need Crock Pot menu ideas? Interested in preparing meals ahead of time and having them readily available in the freezer? Check out Mixing With Michelle! Included are 16 + sessions, each with shopping lists to make 20 freezer meals for approximately 6 people by doubling the 10 different recipes.
2.
Cook'n
Create a free Cook'n account, download the Cook'n App, and share your recipes. Upgrade to Cookn12 and upload your saved recipes on Pinterest, plan daily, weekly, or monthly menus, make a shopping list from your menus, print your menus, and so much more.? Check out the demo here.
3.
Build a Menu
Build a Menu is a wonderful meal planning tool. This is the one I personally have used for almost 2 years. You simply pick the grocery store you shop most of the time, pick your recipes, hit submit and your grocery list and recipes are ready to print out for the week. It is so simple and fast and they have hundreds of recipes to choose from that cater to all dietary needs including gluten free, paleo, family-friendly, dine on a dime, and more.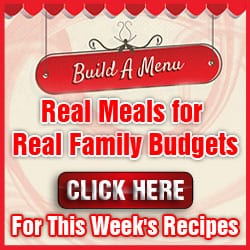 4.
Say Mmm
Say Mmm website allows you to sign up for free with tools for meal planning, recipe organization, and grocery shopping lists. The website tools help you find and share cooking and dining ideas, simply plan and organize, and stress less, helping parents save time and money getting dinner on the table.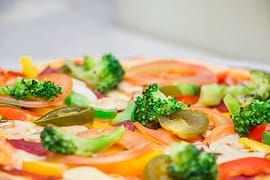 Plan to Eat offers a 30 day, full-service, no strings attached free trial subscription to their online menu planner. No credit card information is needed to start the 30 day trial. Their online menu planner states that it uses your recipes, scheduled for the days you want to use them. It automatically makes your grocery list, organized the way you like to shop, using the recipes you've selected. It is also great for those who need to manage food allergies or family health needs.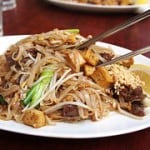 6.
Dairy Council of CA ? Healthy Eating Made Easier
Quick meals at your fingertips! Options include six ingredients or less, one-pot dishes, kid-friendly, vegetarian dishes, slow-cooker dishes, make ahead, breakfast, and lunch. The Dairy Council of CA website also includes shopping lists for last minute meals, meals in a flash, fast & fresh meals, gourmet meals, as well as a list for kitchen staples.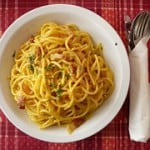 7.
The Handmade Home
The Handmade Home helps us menu plan the old-fashioned way with pen and paper. Along with an assortment of free pages in this complete planner is the option to print a stylish form. Use it to write in your menu plan for the week and then display it on your fridge or family message board so the entire family knows what's for dinner. Scroll down to about one-third of the webpage, and you'll find free printable menu plans and shopping lists.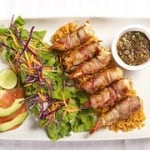 8.
Nourish Interactive ? Healthy Meal Planner Nutritional Tool
Want a fun way to teach your kids to plan healthy meals based on their age, gender, and activity level? This interactive daily menu planner allows foods to be chosen from the different food groups, and calories to be calculated based on foods chosen. Fill in and then print your daily menu. A great tool for anyone under the age of 18 and parents of children ages 2 to 18.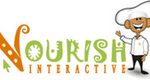 9.
Once a Month Meals ? Freezer Cooking
Would you like to make meals ahead for the entire month and having them ready in the freezer? Try Once a Month Meals. They have both Basic or Pro memberships. Basic membership gives you access to nine menus and lists and instructions. The Pro membership gives you the ability to make custom menus in a Menu Builder. Pricing for Basic is Monthly ($10) and Yearly ($99). Pro Monthly is $16 and Pro Yearly is at $170. Renewal is automatically charged unless you cancel before the renewal date. Lots of options are available based on personal preferences and dietary restrictions.
Sign up to get a Free Mini Menu Today on their site (scroll down to the bottom of the page) and see how it all works.

10.
Eating Well
You can join for free to use Eating Well's menu planner. You search for recipes & foods, and drag your selections onto your daily menu. Then create and print customized shopping lists based on your menu planner. But wait, there's more!? You also can track your weight and calorie history over time and compare them to track your progress. Included is a BMI calculator and a journal. Eating Well's mission is to provide the inspiration and information people need to make healthy eating a way of life.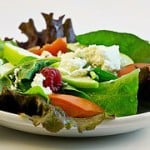 ---
11.
Eat This Much
On a diet or have diet goals? Use Eat This Much to eat smart the easy way! Meal plans are automatically created to meet your diet goals. The meal plans can be tailored to your food preferences, budget, and schedule. Weekly grocery lists are provided. Enter the calories you'd like to eat for a certain number of meals. Also choose the style of eating you prefer or create your own. Options are available for food intolerances, vegetarian diets, low carb / carb cycling, bodybuilding, Paleo, Atkins, and more. They also have an app for iPhones and iPads.
Creating an account is free so you can save another meal plan and use recurring foods.? If you want to plan out weeks at a time, you'll need to subscribe. There's no commitment and you can cancel whenever you want.
12.
100 Days of Real Food
Finally cut out the processed foods from your family's diet with these free Real Food meal plans. Five 7-day practical menu plans designed for busy families (calculated for a family of four). Grocery lists included with costs. All recipes are working mom/dad-friendly including tips on what to make in advance over the weekend. To get your meal plans, subscribe with your email address. On the webpage, the sign up is less than one-fourth of the way down the page, just below the introduction. Your links to download will be emailed to you.
Check out the Recipe Index for an idea of what's included.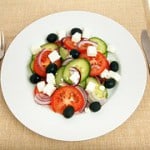 13.
Tip Junkie Meal Planning
Find lots of ideas at Tip Junkie for printable planners, grocery lists, menu boards, dinners, online meal planners based on your style of eating.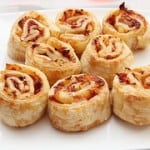 14.)
Cozi Family Life. Simplified.
Sign up for free for Cozi's Meal Planner and Recipe Box. Cozi even has an app for Android or iPhone for easy access to your shopping lists and more. With Cozi's Recipe Box tool, easily store your recipes, add recipes from your favorite sites, drag and drop to schedule dinner ideas for the week, and add ingredients to your grocery list with one click. With Cozi, there are many other options along with your meal plans to track appointments, coordinate the family's schedule, and keep track of shopping. The site is award winning. Check it out!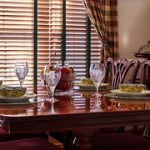 15.
The Six O'Clock Scramble Dinnertime. Unscrambled.
Join to get a meal planning tool that states it can adapt to your family's tastes and needs. Food allergies or special dietary needs? No problem! Start with a 14-day free trial by clicking the link on any of their web pages.
Get a sample weekly menu plan emailed to you. View sample menus for Vegetarian, Gluten-Free, or Diabetic.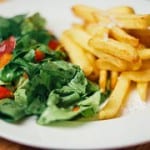 Does your family need a gluten-free or other specialized meal plan? eMeals has it! They also have dinner plans for: classic meals, clean eating, Paleo, low calorie, slow cooker, budget friendly, 30 minute meals, kid friendly, low fat, low carb, portion control, heart healthy, vegetarian, diabetic, gluten free, simple gourmet, Paula Deen, Mediterranean, AND (big breath) lunch plans, breakfast plans, dessert plans, and occasions plans that you can add to any of the meal plans. That was a mouthful!
eMeals offers a free trial for 2 weeks before you buy. After that, choose a membership.
17.
Living Cookbook
Living Cookbook has a free 30 day trial of their software. All of the features are enabled in the trial mode, except for the ability to export recipe files, restore backup files, or use their online services. The software is award winning.
You can record what you have on hand and automatically create grocery lists to restock your pantry. You can create grocery lists for recipes, menus and meal plans, organized by grocery aisle. Maintain a personal library of cooking techniques and terms with images and video. Tools are provided to search and filter to help you find the perfect recipe. When you click to buy the Living Cookbook software, it takes you to the above link. No monthly fees because you are purchasing the software, unlike online subscriptions and memberships.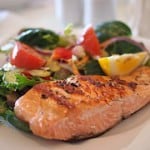 18.
Shop 'N Cook
Try a free 45 day trial of Shop 'N Cook software: Control your food costs, easy meal planning, nutrition facts labeling.
Shop 'N Cook also has a flexible recipe and grocery shopping organizer for the iPhone. See the graph below for what you get with a subscription to either the Basic or Pro plans.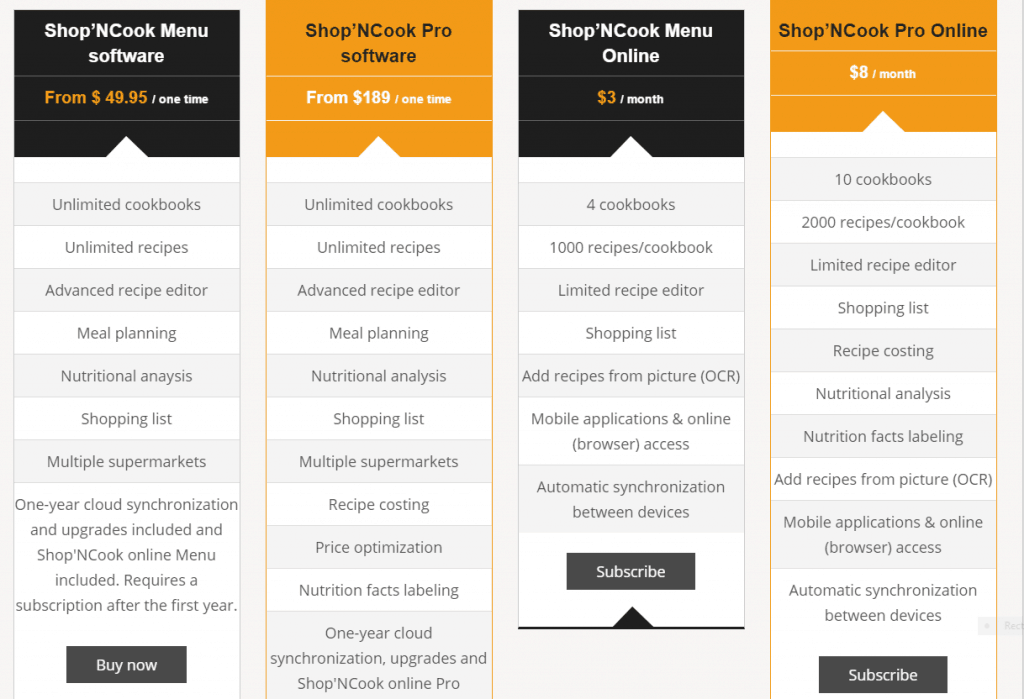 19.)
Relish
Relish makes meal planning easy with weekly menus and printable (or email) grocery lists. Choose menus according to your family's needs and scale recipes to serve the size of your family. Prepare freezer meals to have ready-made meals on hand. Use your smartphone to access their mobile friendly site.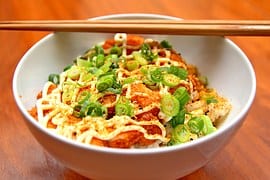 20.
The Fresh 20
Try The Fresh 20's easy meal plans for free. Sign up for a free sample meal plan.
Meal plans include options for classic, vegetarian, gluten free, dairy free, kosher, for one, lunch, Paleo, and more. Subscribers buy 20 fresh, local and organic ingredients. No processed or frozen, meaning preservative free. You follow a step by step guide to prepare for the entire week's meals in one hour total. You cook simple to prepare meals that the whole family can create together. There are many subscription options ranging in price from $10 to $65 dollars with some billed monthly, some billed every 3 months, and some with a one-time fee.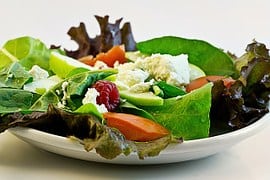 So if you haven't decided "What's for Dinner?" yet after reading this post, then I can't help you 🙂 There are so many options these days and thanks to the internet, the old-fashioned cookbooks in print should no longer be cluttering up your countertop or taking up residence in your kitchen cabinets.
Utilize one or a few of the websites above and simplify your dinner routine today!
---