I have this struggle in my heart and mind. It's like an ongoing war inside my head and in my heart. It has to do with trying to be the best at all I do, but yet feeling like I am always falling short.
The main questions that repeat in my mind every day are:
Is it okay for me to work? Full-time or Part-time?
Is it my responsibility to make sure this new business succeeds and provides for my family?
Is it okay to send my two youngest ones to daycare, mothers day out, or even private school for all four children?
These questions plague me every.single.day.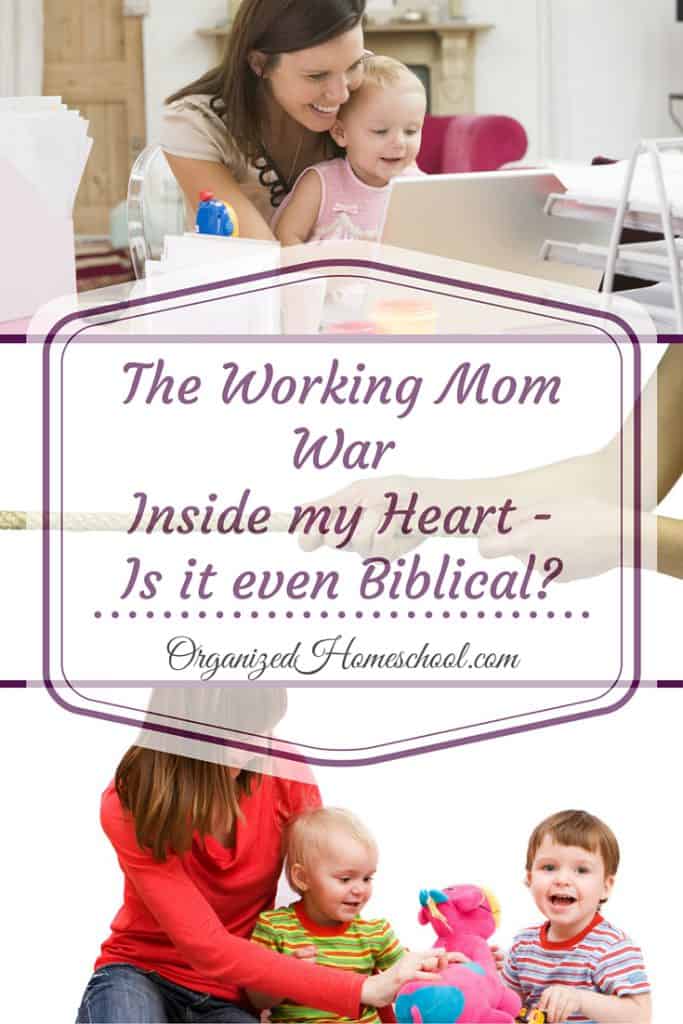 This post may contain affiliate links to products I recommend. This means I make a small commission off your purchase, but this does not affect your price.
You may be wondering why. Single moms don't have a choice. They have to provide for their family. Why is it an issue with me? A married, homeschooling mom of four beautiful daughters.
It ultimately has to do with all the voices that have spoken into my life at different times in the past. Also, homeschooling magazines and articles that I poured over when I first embarked on the homeschooling journey over 8 years ago.
You may have heard these statements too. Words such as:
It is the husband's responsibility to provide for the family
It is the wife's responsibility to stay home and raise the children
Children need to be taught at home "where they belong"
It is the parents' responsibility to teach the children in "the way they should go"
It's not biblical for the wife to have to earn an income and help provide for the family if the husband doesn't work
God will provide so don't worry
You don't have enough faith in God's provision if you work to earn extra money to help the family finances
You have too much on your plate if you work and homeschool too
Of course, this war going inside my head and heart wears me out! It takes away my joy and peace.
Ultimately, as a Christian wife and mother, I want to please God above all else.
So today I resolved to pray, study, pray some more and get to the bottom of this wrestling match inside my mind so I can finally put this war to rest and let the peace of God reign in my life.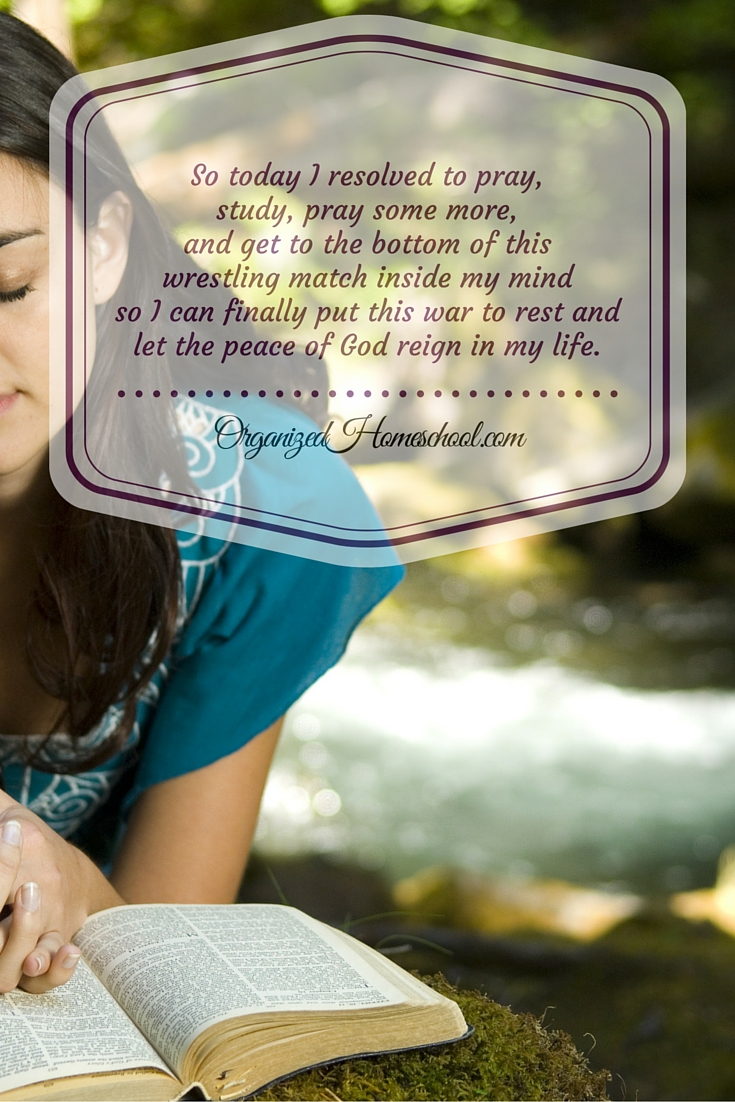 This post is a result of the encouraging answers I found in the Bible which is, of course, God's will for my life.
My Priorities Must Be In The Right Order
There is a true test to know if you are living by the correct order of things. Do you want to know what it is?
INTERNAL TEST = PEACE
EXTERNAL TEST = POSITIVE FRUIT
I know I am in God's will if I have peace in my mind and heart and I can see positive fruit (behaviors and attitudes) in myself and those whose care I have been entrusted with.
God is not a God of disorder, but of ORDER (1 Corinthians 14:33). If chaos is reigning, then something is not passing the above tests and changes need to be made.
I believe the biblical priorities God has laid out for everyone are in this order:
GOD
MARRIAGE/SELF-CARE
CHILDREN
WORK/OTHERS
GOD: If I'm not spending time in God's Word and talking with Him about my struggles and giving Him all the praise, then everything else goes downhill from there. BUT, if I am striving to seek Him and His wisdom, then other things tend to fall into place.
MARRIAGE/SELF-CARE: I have to sow into my marriage love, encouragement, and a good attitude in order to reap the same from my spouse. We also have to set this example for our children. They sense when things aren't good between us and it causes stress and tension in the home. The health of my marriage directly affects the health and emotional state of my children. I have seen this over and over. It is so important to be aware of.
I also have to make sure I eat right and take care of my own health. If I don't, then I cannot serve my family the best I can. I have to be whole and fulfilled in order to pour out enough love and emotional support that is needed by my family.
CHILDREN: I am responsible for nurturing and bringing up my children. I need to make sure their physical needs are met such as food, clothing, and shelter, but it is so much deeper than that. They need hugs and smiles, not criticism and judgment. I have to make sure each child is receiving what they need emotionally at the age and stage they are currently in. One of my daughters has special needs and I have to ensure she stays physically active more than the rest. That is just one example of how we have to tailor their upbringing on a per-child basis. This changes with each year as well so it is like a revolving door that I have to stay cognizant of.
WORK/OTHERS: After my time with God and tending to my responsibilities and needs of my husband and children, I am free to work and serve others. That doesn't mean each day I have to perform certain tasks in that order. In the overall picture of my life, this order of priority needs to be obvious and then I will know that I am pleasing God.
Work actually helps fill my need to be challenged intellectually. I love reading and learning new things.
Our work also provides income to a church planting ministry in Thailand. We employ 4 locals who we have trained to work in our Amazon business. We also employ a single mom and a homeschool mom whose husband's hours were cut last year. They both work as virtual assistants.
Our business also tithes 15% of our gross profits every month to Agape Ranch which serves foster families and children in the South Texas region.
So you can actually make your business a ministry. When I wrote all of these things down on paper, I realized that my work IS God's work!
So here are the answers that I have found to the 3 questions that have been plaguing me for the last year:
Should Moms Work at Home or Outside the Home If They So Choose?
YES, if my priorities are in line with God's will. As long as God is first and the needs of my husband and children are met, then I can spend my free time working, practicing self-care, or serving in other ways in the community.
The Lord God said, "It is not good for the man to be alone. I will make a helper suitable for him."

Genesis 2:18
My husband and I are on the "same page" and want to work together and will make what sacrifices we both have to in order to make sure our family is cared for.  I see the opportunity to work from home as a major part of God's provision, not me seeking to provide on my own, especially since it does line up with the order of priorities described above.
Is It My Responsibility To Provide for My Family?
NO, it is my husband's responsibility to provide for our family. BUT, I was created to be his helper. I must let him lead, get out of his way, and not put undue (unbiblical) pressure on myself to interject and make sure it happens.
I enjoy working and it is a service to my husband and family if I can contribute to the finances. I am here to HELP him succeed and encourage him in any way I can.
I can also help my family financially by saving money. Here are some ways I have made money (a.k.a. saved money) in the last month:
Signed up for Checkout 51 Free App to save on groceries
Downloaded the Walmart Savings Catcher App to save on groceries
Made a complete meal plan and used alot of items already in the freezer and pantry
Made lunches for my husband and older daughter while they were in town (an hour away) at dance practices each day (instead of them eating out)
Analyzed all the small $5-$10 monthly subscriptions that have added up and canceled several that we didn't "need"
Decluttered the house and selling things on eBay, Amazon, and local Facebook groups
"And my God will meet all your needs according to the riches of his glory in Christ Jesus"

Phillipians 4:19
Should I Put My Children in Daycare, Mothers Day Out, or Private School?
YOU CAN if you want to. I sincerely believe God impresses upon our hearts what we need to do with each child and in each season of our lives.
In the homeschool culture, there are certain magazines and blogs that quote Deuteronomy 6:6-7 and take that literally to mean the only person that can and should teach your children are the parents. While I agree that I and my husband are ultimately responsible for bringing up our children and teaching them the things of God, I think that can be accomplished outside the home and with input and teaching from others in addition to our teaching.
The key is to make sure the environment you place your children in align with your values and what you want them to learn. If the teacher holds these same truths and values, then you can trust that your children are learning the right thing in a good environment.
I want my children to learn from others. I don't know everything there is to know. Why would I withhold wisdom and knowledge God has gifted others with from my children?
Is It Biblical for Moms to Work?
Yes, I believe it is. God's Word is the first place a Christian mother should look when facing any type of struggle. We so often try to gauge things by our feelings and that can be deceptive leading us to do what we want and justifying it by saying we have "peace".
God even mentions a mother working in Proverbs 31:
13 She selects wool and flax
    and works with eager hands.
14 She is like the merchant ships,
    bringing her food from afar.
15 She gets up while it is still night;
    she provides food for her family
    and portions for her female servants.
16 She considers a field and buys it;
    out of her earnings she plants a vineyard.
17 She sets about her work vigorously;
    her arms are strong for her tasks.
18 She sees that her trading is profitable,
    and her lamp does not go out at night.
Now I do have a love/hate relationship with the Proverbs 31 woman sometimes. She appears to "have it all" and be Superwoman. She does give the green light for mothers to work at home or work outside the home but we see in the whole chapter as it reads that she kept her priorities straight. Her work did not come first, but in conjunction with caring and tending to the needs of her husband and children.
The War Is Over
I can't tell you how much this day has blessed me. I sought the Lord for answers and like always….He answered.
I love what Nancy Leigh DeMoss said in her book Lies Women Believe:
"Freedom, Joy, & Fruitfulness come from seeking to determine God's priorities for each season of life and then fill those in His Spirit in the time provided."
I have also learned from this day that God's To-Do-List for me is not anyone else's. It is okay to study and see what others are doing, but in the end, God has made my family unique. Our needs and personalities are different. And that calls for a different schedule, routine, and life!
But he said to me, "My grace is sufficient for you, for my power is made perfect in weakness." Therefore I will boast all the more gladly about my weaknesses, so that Christ's power may rest on me.

2 Corinthians 12:9
I encourage you to seek God about your situation and rid yourself of the mommy guilt that so often prevails.
Do you struggle with Mommy Wars inside your heart?
---