[et_pb_section bb_built="1″][et_pb_row][et_pb_column type="4_4″][et_pb_text _builder_version="3.1.1″]
Do you ever search the web or read a homeschooling blog that shows the picture of the perfect, most beautiful homeschooling room you have ever seen? ?Then the overwhelming feeling of jealousy and envy creeps up into your soul. ?Next is the feeling of being an utter failure at this thing called homeschooling. ?How could my children ever learn anything if I can't provide an awesome learning space for them?
Reality check time Momma! ?We aren't perfect human beings. ?The picture you see on that blog was taken the one day the house was cleaned. ?I bet if you stepped inside that homeschooling family's home today, that room would look like this one. ?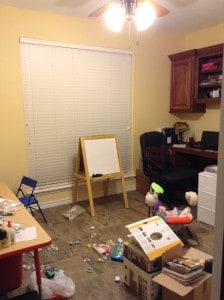 ?My homeschool room
Notice the must-have whiteboard and built-in desk. ?Of course, the baby swing in the middle of the floor for the 12 week old is a must in order for any school to get done. ?The boxes of books in the middle of the floor are all toddler and preschool books that have not been unpacked since our move. ?My 3 year old regularly drags them out of the box and I find them all over the house. ?As you can see, alot of schoolwork gets done on the "school table" here: ?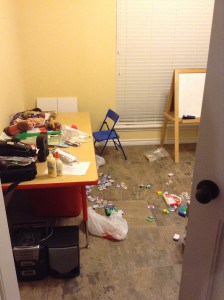 ?This is all going to change! ?And I hope you follow along with me in the coming weeks (or months) as I transform this room into my ideal organized homeschool room.


Leave a comment below and let me know if you can identify with me on this one! ?Any suggestions on how to organize this space before I start?
---
[/et_pb_text][/et_pb_column][/et_pb_row][et_pb_row][et_pb_column type="4_4″][et_pb_blog _builder_version="3.1.1″ include_categories="3″ fullwidth="off" posts_number="9″ /][/et_pb_column][/et_pb_row][/et_pb_section]