Homeschooling is an ongoing adventure…one that can last up to 13 years.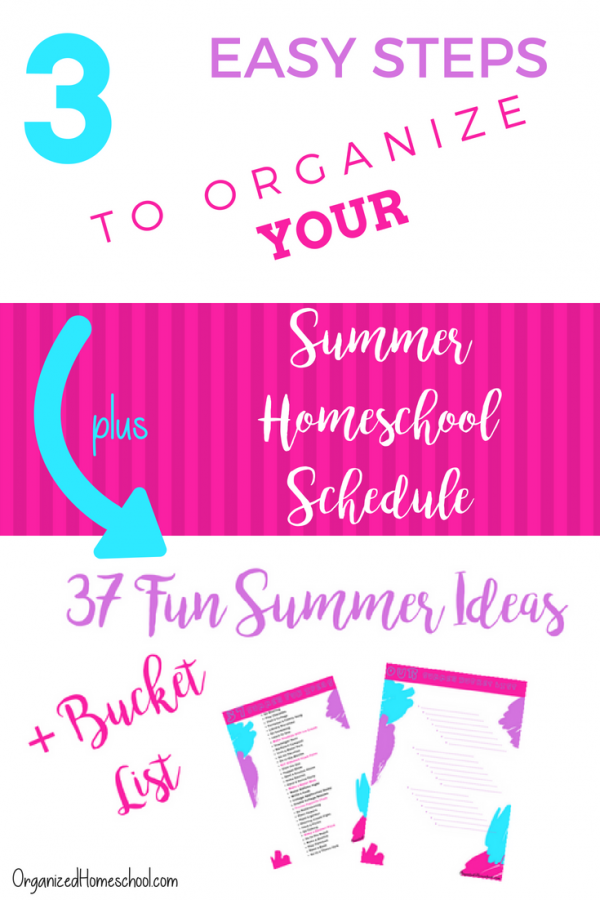 This post may contain affiliate links to products I recommend. This means I make a small commission off your purchase, but this does not affect your price.
However, there is a common question among the mom community when it comes to summer homeschooling: do we take the summer off like public schools, or do we keep going? Do we even need a homeschool schedule for the summer?

Well, whether homeschooling over the summer is included in your homeschool curriculum or not, you are still going to face this situation: you are at home and your kids are at home. For three long months.
And now it's time for a few confessions of a homeschooler: summers haven't always been the same (and rarely are) for me and my family.
Some years are done far different than others. Some summers we did take breaks, others we simply lightened the load, and others we changed the homeschool schedule and routine completely.
Regardless, this season still calls for organization.
So, without further ado, here are 3 easy steps to help you organize your summer homeschool schedule.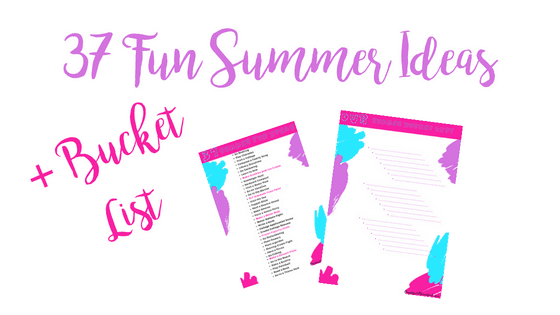 My Top 3 Steps to Organizing Your Homeschool Summer
Let me preface this by saying that the steps you take to organizing your summer homeschool schedule will all depend on what type of schedule you are going to establish. By this I mean you should ask yourself these essential questions:
What is the amount of work I want to give my kids?
What is the amount of work I want to give myself as their teacher?
How many times are we going to have to take a break anyway? (ex. summer vacation, family events, volunteer days)
Once you have basic answers to these broad questions, you are ready to start designing your action plan.
Step 1: Assign Certain Tasks to Certain Days
Not every day has to be a school day and not every day has to be teaching the same subject. And even if you are deciding to take the summer off, you can still assign certain tasks such as cleaning to certain days. For example, maybe on Mondays you do a lesson of math and/or clean all the bathrooms. On Tuesdays, you spend 30 minutes reading and/or wash the dishes.
Step 2: Set Goals
This is a two-part step. First, ask yourself what do you want to achieve by the end of this summer and what do you want your kids to achieve? This could be anything related to homeschool or completely unrelated. Secondly, ask your kids what they would like to achieve as well. Now, each day or certain days should be scheduled in some time towards achieving these goals. For example, if your goal is for your 9th grader to finish their biology textbook, then start by scheduling in time for him or her to read a chapter or complete a lesson.
Step 3: Decide on Timing
When we talk "schedule" we talk "time," right? When making your summer schedule, be sure to incorporate times. For example, when each day officially starts, ends, deadlines, and important dates. Are summer school days just like normal ones that start at 8:00 in the morning? Or are you going to give your kids a bit more time to sleep in and stay up, and start at about 10:00 in the morning? Or, something that my family did a few years ago was what we called "time management." The girls had until the end of the week to get a certain number of chapters read, lessons completed, or assignments finished, and it was up to them to figure out how much they would do each day to get it finished by Friday.
Related Post: Your 3 Step Plan for a Fun Summer with Kids
It Doesn't Take Much to Create a Simplified, Strategic Summer Plan.
Once you assign your basic tasks, establish your summer goals, and create a few deadlines, you're good to go for the entire summer. Summers don't have to be boring or hard. In fact, it can be one of the most productive times of year. You can plan on your homeschool summer to be an absolute success.