7 Quick and Simple Ways to Organize Bills and Track Expenses
When your home doubles as a school, you may have double the financial paperwork to deal with. Homeschooling does have some similarities to running a small business out of the house, after all!
If your office is already overflowing with invoices, or if you're new to homeschooling and want to gain some account management skills prior to throwing yourself in, then read up. We've compiled some of the quickest and easiest ways for you to organize bills and track your expenses, so that you never get caught in a late payment.
Say hello to your new organized lifestyle!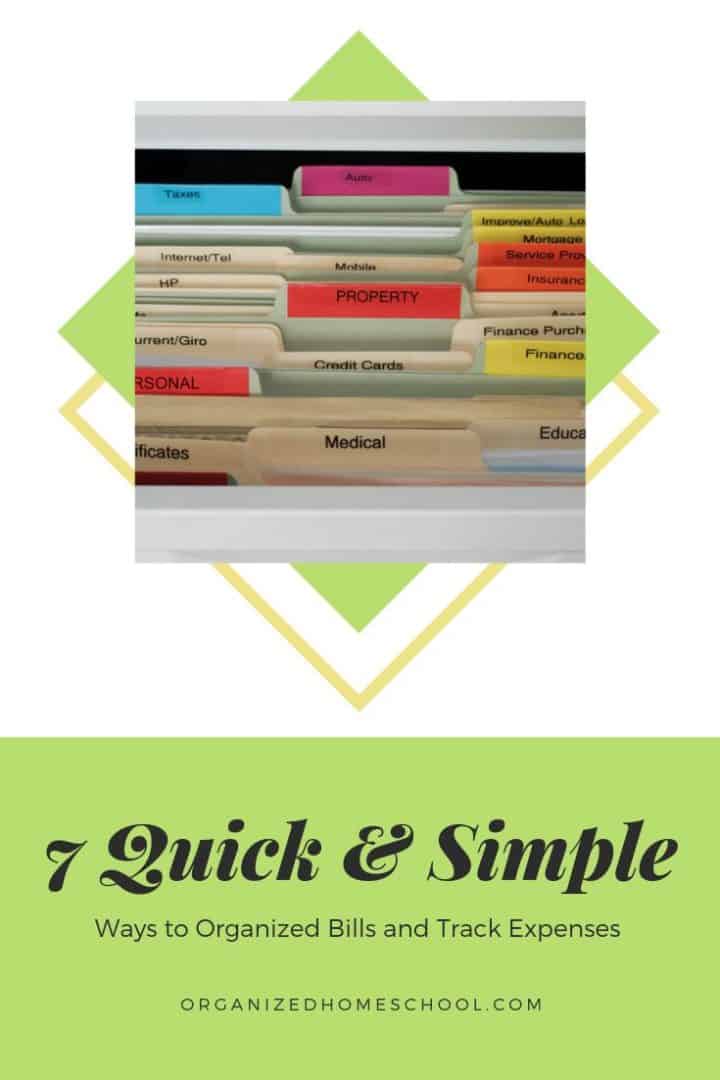 Try These 7 Easy Steps to Organize Your Financial Affairs
1. Establish a Physical Place for the Task
If you're going to effectively organize your bills and track your expenses, then you need a proper place to do it. Since even the most technologically proficient of us probably have at least one physical file full of financial paperwork, there is a burning need for a command center of sorts. In other words, a space in the home dedicated solely to the administration of accounts. It's even more important to establish this space when you have kids in the home, if only to give yourself the peace and quiet necessary to get your birds in a row.
2. Get Yourself a Planner
Most of us already have a diary, but are we using it to the extent that we could be?
Planners aren't just for penciling in our next lunch-date with pals: they can also be fantastic tools for reminding us when our most pressing bills and expenses are due, as well as for curriculum-planning. Since the two do sometimes intersect, it's nice to have everything side-by-side.
3. Bundle Your Utilities
For many homeowners, paying for utilities separately is the norm. However, when you think about it, registering with different providers to source your electricity, water, power, internet, and other utilities isn't particularly conducive for tidy accounting
It's much easier to just combine your utilities into one plan. Many providers these days offer bundle deals on power, gas, and broadband, meaning that you'll be emailed just one bill a month rather than the usual three, four, or five. Sounds good to us!
What's better, you can often get discounts on bundled plans compared to separate provider accounts added up, so you can rest easy knowing that there'll be a little more money in the pot each month to save or to treat your family on a nice vacation.
4. Set Up a Receipts System
When tax time rolls around, many a home-schooling mom or dad wishes they had kept a better receipt tracking system. It's vital that you retain all of your important receipts for a set amount of time in the case that you need them, whether to reconcile your own accounts, or to complete your yearly taxes. You can either do this manually by inaugurating a dedicated filo-fax to key receipts, or you can upload your receipts digitally and remove the need for floating paperwork.
5.Choose a Way to Pay, and Stick With It
As far as possible, try to standardize your method of payment. Whether internet banking, cheque, automated draft, or any other method or means, standardizing how you pay your bills and expenses means that you'll ideally have just one record that you can look back on if you need to (i.e. bank account, cheque book, and so on).
6. Create an action file
Haven't heard of an ?action file? before? An action file is a receptacle in which you put all of your most urgent bills and pieces of paperwork. We're talking documents like mortgage payments, insurance updates, and fees for schooling materials. Keep it somewhere close in the home-office, and you'll never fail to follow through with the important stuff.
7. Keep Personal and Business Records Separate
Here's the clincher for the home-schooling parent: ensure you keep your personal and business records separate. There's nothing messier than letting the two blur into each other!
In order to properly claim business expenses, you need to clearly delineate what fits into this category, and what doesn't. Carefully categorizing your records will save you a world of woe at the end of the financial year, and help you plan your budget for the following year.