10 Cute and Easy Horse Crafts for Preschoolers
Is your little one asking about horse crafts for preschoolers?
Preschoolers are often eager to learn about horses, and there are many crafts that can help teach them about these animals.
Horse crafts for preschoolers can be as simple as making a picture of a horse out of construction paper, or as complex as creating a three-dimensional model of a horse from cardboard.
Whatever the project, these crafts will help children learn more about horses while having fun, too.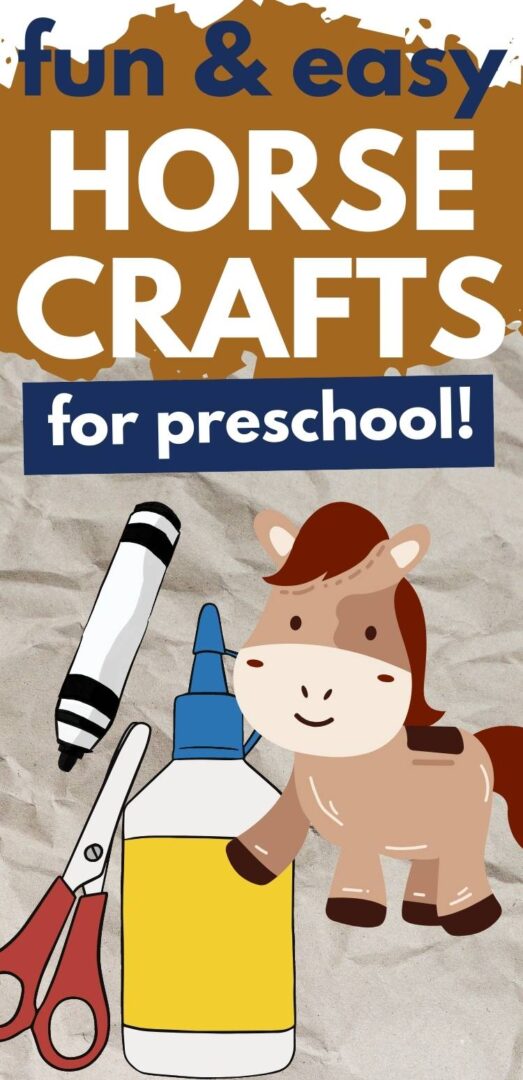 How to Use Preschool Horse Crafts for Learning
Horse crafts can be used for a variety of purposes.
Some people use them to decorate their homes, while others use them as gifts or even as part of a horse-themed party.
Whatever the reason, there are plenty of different horse craft ideas out there to choose from.
Fun Horse Crafts for Preschoolers
1. Horsin' Around Toilet Paper Craft
This horsin' around toilet paper craft is a fun and easy way for kids to make their very own horses!
All you need is some toilet paper rolls, paint, and googly eyes. It's so simple for kids to make, and they'll have a blast!
2. Handprint Horse Craft
This handprint horse craft is perfect for kids who love horses! It's a fun and easy project that can be done in an afternoon.
It's simple and you can let your kids be as creative as they want!
You'll only need a few materials and the kids will go super crazy for this one!
3. No Sew Horse Puppet
This is a great project for anyone who loves horses, or simply wants to create a cute and easy puppet.
With just a few supplies you can make this no sew horse puppet in no time at all!
Kids will love playing with this puppet for hours!
4. Easy, Printable Cut Out Horse Craft For Kids
This printable horse craft is perfect for kids of all ages! Just print out the template, cut out the pieces, and assemble.
It's easy and fun! This is a great craft for kids to make for a birthday, holiday, or any day!
Toddlers, preschoolers, and kindergartners ALL enjoy making this cute paper horse!
5. Horse Mask Craft
Making a horse mask craft is easier than ever with this tutorial. Just follow the simple steps and you'll have a horse mask in no time!
Kids love doing this craft because it's just so simple! If you are looking for a craft to do with your kids, this is the perfect one.
You'll need a large paper plate, a small paper plate, paint, elastic, glue, and a black pen.
This is easily one of the easiest horse crafts for preschoolers that you'll come across.
6. Paper Plate Horse Craft
This paper plate horse craft is perfect for young children.
It's a simple craft that doesn't require any special materials, and it's a great way to teach kids about horses.
Start by painting a paper plate brown.
Then, cut out two horse heads from construction paper. Glue the heads onto the paper plate.
Finally, add some details to the horse, such as a mane and eyes.
7. 3-D Horse Carousel Craft
If you have a budding artist at home, they will love this 3-D horse carousel craft from Glued to My Crafts.
It's the perfect way to bring the carnival right to your living room! Kids love this craft because it's so unique.
They can spend hours putting together carousels and adding the horses, it's so much fun!
8. H is for Horse Craft
This H is for Horse Craft is so much fun for preschoolers.
It is also a perfect way to learn the letter H. Kids will cut out the letter H and from there, they will glue a horse on!
The Letter of the Week just got a whole lot more fun!
9. Horse Collage
Create a horse collage using pictures from magazines or online. Cut out different horse-related images and glue them onto a piece of paper or cardstock.
Horse collages are fun to hang up around the house as decor or for the kids to decorate their room with.
Horse lovers will LOVE doing a horse collage, plus it is a great craft for all ages.
10. Paint a Horse with Acrylic Paint
Want a simple idea? Paint a horse picture using acrylic or watercolor paints.
Experiment with different colors and brushstrokes to create a unique work of art.
Little ones and even teenagers can get behind this craft idea.
How do you make a horse bag craft out of paper puppets?
If you want to make a horse bag out of paper puppets, you will need to cut out several horse shapes from construction paper.
You can also use pre-cut shapes if you prefer.
Once you have your horse shapes, glue them onto a brown paper bag, and then decorate them however you like.
You can add saddles, bridles, and other accessories to your horses to make them look even more realistic.
When you are finished, fill the bag with small toys or treats, and then let your child enjoy playing with their new horse friends.
How to make a simple horse craft for preschoolers?
One if the simplest horse crafts for preschoolers is to create a horse mask.
You will need to cut a horse head shape out of construction paper or cardstock, and then decorate it however you like.
You can add a mane and tail using yarn or ribbon, and you can even add googly eyes if you want.
Once your mask is complete, punch two holes in the sides and tie some elastic cord through them.
Your child can then wear their mask and play pretend that they are a horse.
More Preschooler Horse Fun
Now that you have options to choose from, it's time to get started making some horse crafts for preschoolers!
These projects are a great way to teach kids about horses while also helping them develop their fine motor skills.
Plus, they're just plain fun!
So get your crafting supplies ready and have some fun with your little ones today!