Are you looking for unique homeschool schedules that will work for your family?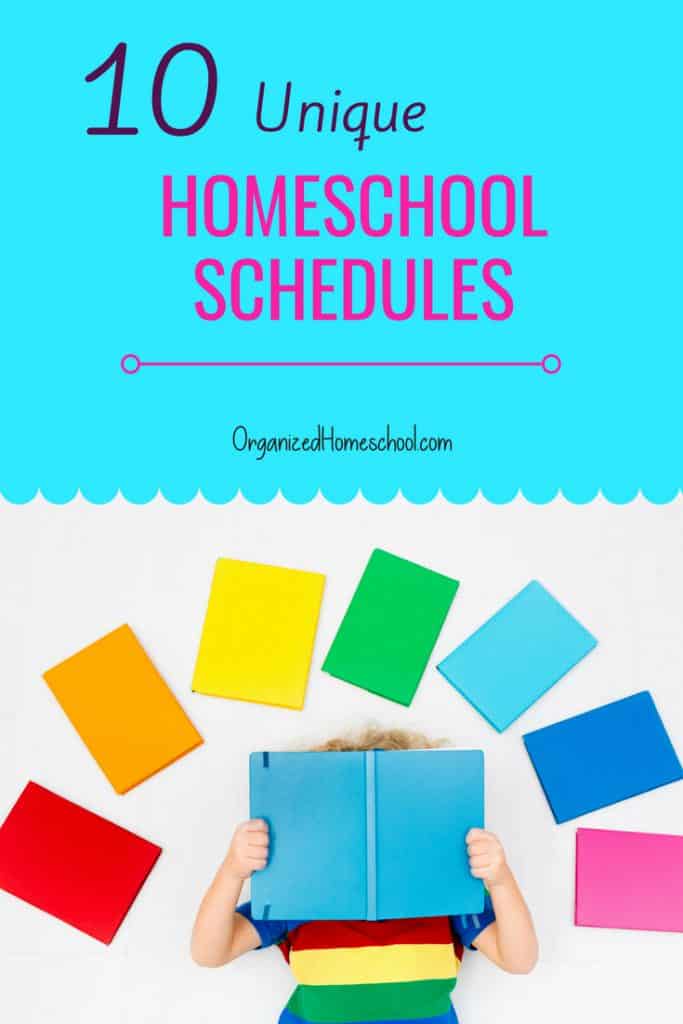 This post may contain affiliate links to products I recommend. This means I make a small commission off your purchase, but this does not affect your price.
You know you need a solid unique homeschool schedule (that suits your family) to get everything done and keep your home and family life in check, but do you need some fresh ideas to help you?
The solution to getting it all done is to establish a unique homeschool schedule so that everyone in the family knows what is expected and when it will all take place.
We have compiled a list of 10 unique homeschool schedules to help you. This will give you an inside glimpse into what works for others. Use these ideas to glean from them what will work for you as you create your own homeschool schedule.
First you may be asking, "What is a good schedule for homeschooling?"
Take a look at our daily homeschool schedule back a few years ago…
Our Homeschool Schedule Morning Routine
First things first, you have to have a good homeschool morning routine to get everyone started on the right foot. Consistency is key!
Here is an example of our Homeschool morning routine:
6:30am Mom wakes up, reads Bible and stretches
7:00 Children wake up and fix their own breakfast (I keep a supply of breakfast foods available to pick from that they can reach)
7:15 Mom reads this morning devotional to kids while they eat breakfast
7:30 children complete morning chores on their checklist (Brush teeth, make bed, get dressed, fix hair, put away their own laundry)
8-11am We follow our homeschool schedule as detailed below
---
---
Secondly, How do you create a daily schedule for homeschooling?
A lot of different factors come into play. If you are a stay at home parent who can dedicate your full-time attention to homeschooling your children, then your schedule will look very different than the parent who is holding down a fulltime job and trying to homeschool also.
If you are like me and work from home full-time while homeschooling, then you are going to have to be much more strategic in how you schedule your time during the day.
Louisiana State University asked me to speak with their faculty and staff last week about how to homeschool while working from home full time. You can see the full presentation on this blog post: 5 Homeschooling Strategies for Work at Home Parents
You can also watch the presentation via YouTube right here. Warning, it's an hour long. If you want to download the slides with clickable links to all the resources mentioned in the video, then click on this link: https://organizedhomeschool.com/lsupdf
Below is a list of unique homeschool schedules used by other families. You will notice that there is not a right or wrong way of scheduling. Each family has a unique set of needs and goals. Keep that in mind as you glance at the ones listed below.
Check Out These 10 Unique Homeschool Schedule Ideas
Jessica at Simple Homeschool homeschools her six children. She states:
I've had to come to terms with many things, one being that the natural rhythm of our days is not as clockwork as I sometimes think it should be.
She has a general plan of what to accomplish during the week between the hours of 7 and 4 pm in spite of everything not always running like clockwork.
The curriculum she uses includes:
Intertwined throughout the day she reads to her little ones and also reads history and literature read alouds to her older children.
She doesn't stick to a strict schedule in 30 minute time blocks, but instead, lets the day flow from one task to another until her husband comes home from work at 4pm.
She also finds time to blog on another website, Life As Mom, which has more unique homeschool schedules.
---
Download a Copy of My Weekly Schedule Template for Free
---
Pam at Ed Snapshots homeschools her three young children. Her unique homeschool schedule type is mainly Classical with a bit of Charlotte Mason.
She points out the importance of your morning homeschool routine. The best way to accomplish your morning homeschool routine is to start preparations a day ahead so that everything for school is lined up and ready to take action for the following morning.
She utilizes what she calls the clipboard checklist. Each child has a clipboard with a weekly checklist of homeschool work to be done, copywork sheets, any worksheets from their curriculum that can be torn out, and any other work in progress that needs to be finished. She prepares the clipboards each day after homeschooling is done so that they are ready for the children to complete the following day.
Another interesting and extremely useful idea she has is to set an evening alarm in order to get yourself to bed on time. She tries to get in bed by 11pm so that she can wake up at 5:30 before the kids wake up.
Using mornings wisely so that you are ready before the children are getting ready can make all the difference. She also advocates morning chores before beginning independent schoolwork.
With mornings that run smoothly, it hopefully paves the way to a great day.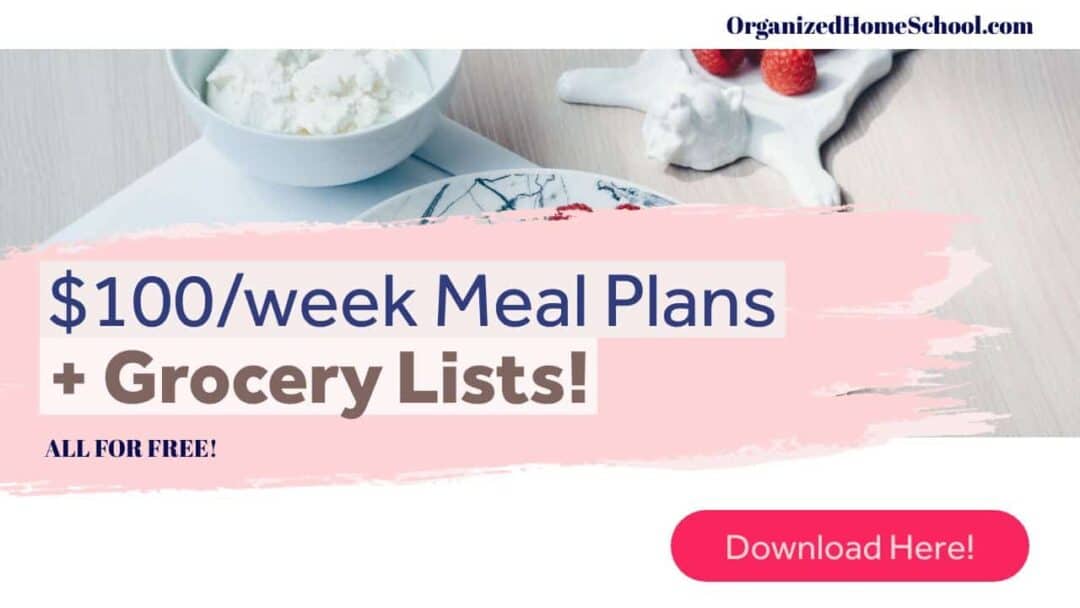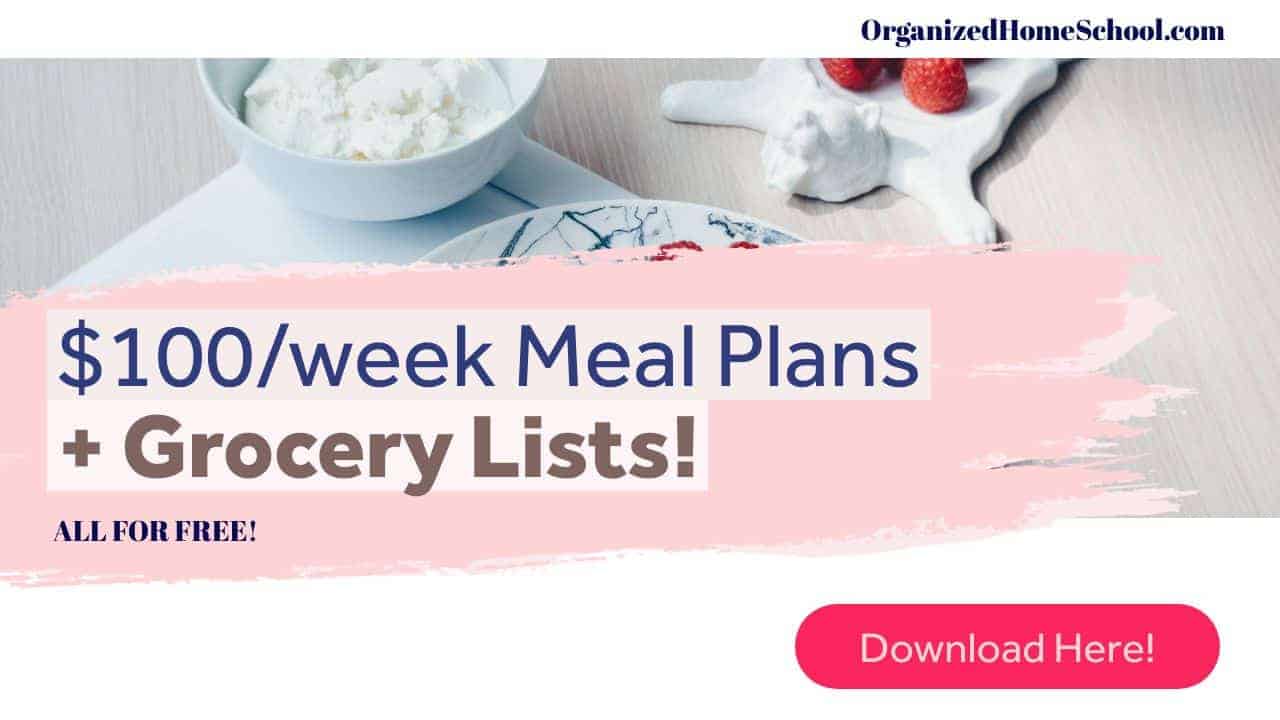 ---
One of my favorite unique homeschool schedules comes from Vicki Bentley of HSLDA. She states that:
Knowing what comes next, without having to make one more decision, can be a relief.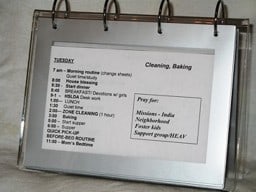 I love her 4×6-inch flip-style photo album with routine cards for each day.
What she does is have a philosophy of "get back to the basics". She uses mealtimes and bedtimes as her framework and then just fits in the other stuff in between . For example:
7:30 a.m.: Breakfast
1:00 p.m.: Lunch
6:30 p.m.: Supper
9:00 p.m.: Bedtime
She usually does homeschooling daily from 9 a.m. – 1 p.m. Other times for chores and errands outside the home.
She made a list of all the chores, errands, and other weekly tasks that needed to be done and then simply assigned each item a day of the week. She then prints her schedule for each day on a 4×6 inch piece of card stock and slips it into the photo album and simply follows the plan for each day.
Note: This is similar to what I currently do on my Ideal Day Map Trello board. You can learn more about my process for managing my time intentionally here.
---
4. Heather at The Pioneer Woman homeschools her three children. She loves structure and plans her routine in 15 or 30-minute increments, prints them for the kids' work binders, and interestingly enough gets everything done for homeschooling in a 4-day week (Monday-Thursday).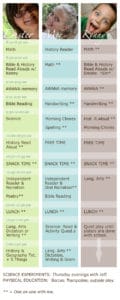 Heather's friend, Ree, posted a relaxed version of her own unique homeschool schedule as follows:
Get up. Run around like a chicken with my head cut off. Say "You guys get in here. We need to do SCHOOL!" Hear crickets. Eat. Go to bed.
Hopefully your own routine isn't as relaxed as this!!!
---
5. Jill at Well-Trained Mind homeschools her four children. She provides lots of insight into homeschooling, including routines. Her unique Homeschool Schedule Idea #8 is especially useful:
If you struggle with scheduling, try routines instead. What"s the difference between a schedule and a routine? A schedule is generally a timed plan; routines are regular, habitual procedures. Programs and systems that use schedules to get people organized can be wonderful things, and I"ve included some links to popular ones below. If you've tried to implement a schedule into your homeschool and found that it didn't seem to fit with what you were trying to do, try and develop some routines. They don't have to be done in the same order, or even at the same time each day, but you might set some general guidelines (before breakfast, before lunch, etc.). Experiment with a school routine. Are there things your children can do on their own? Make up a list, and get them in the habit of doing what they can on their own before they come to you. This may take some time to develop, but just as with other worthy habits (diligence, punctuality, etc.), the benefit will be that it will save time in the future.

---
6. Lisa at Lisa Jackson Design homeschools her six children, which appear to be grades K thru 7th in 2015. She considers herself an eclectic homeschool mom, using: religious, unschooling, iPad learning, school at home, TJEd & co-ops/field trips, and Montessori.
My two favorite unique homeschool schedule ideas from her are she schedules in three different times for recess, and also schedules one on one time with each child! An example is shown below, and more info is available on her website.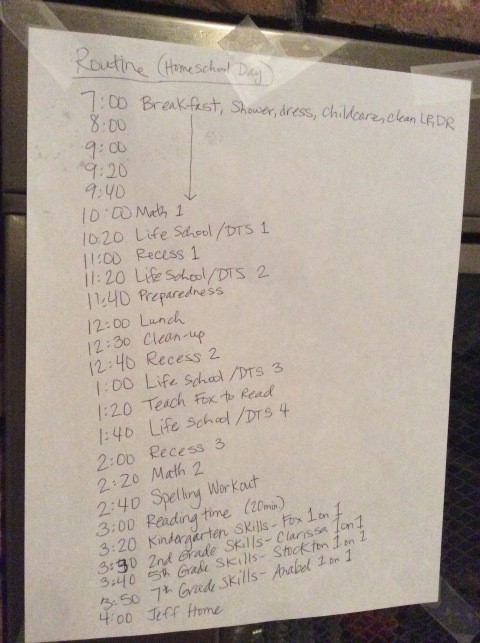 ---
7. Crystal at Serving Joyfully homeschools her boys. Her type of homeschooling is what she describes as eclectic and laid back, utilizing unit studies, unschooling, and Charlotte Mason. She does like routines to provide structure as well as allow flexibility with accountability. She schedules items in general and lists whether to do them in morning, afternoon or evening.
---
8. Charlotte at Hip Homeschool Moms has been homeschooling her 12 children for over 28 years. She has graduated at least 7 of her children so far and has plenty of experience.
She prefers to not keep a rigid schedule and has learned that moms are better off not letting what other families do influence personal self-worth. It is better to do what is best for your family.
This idea of routine, not schedule, has helped Charlotte to continue homeschooling in spite of health issues. She likes to do things in a certain predictable order, not necessarily tied to the clock. Check out her website and see what a typical homeschool day is like for Charlotte. What worked for her, may work for you!
---
9. Mary at Owl Haven has been homeschooling her 10 children, four plus six adopted, for many years. Homeschooling in their home is scheduled, but not strictly adhered to as flexibility is needed. This chart is an example of one time period where she was homeschooling 7 children ranging from 5 to 16 years of age.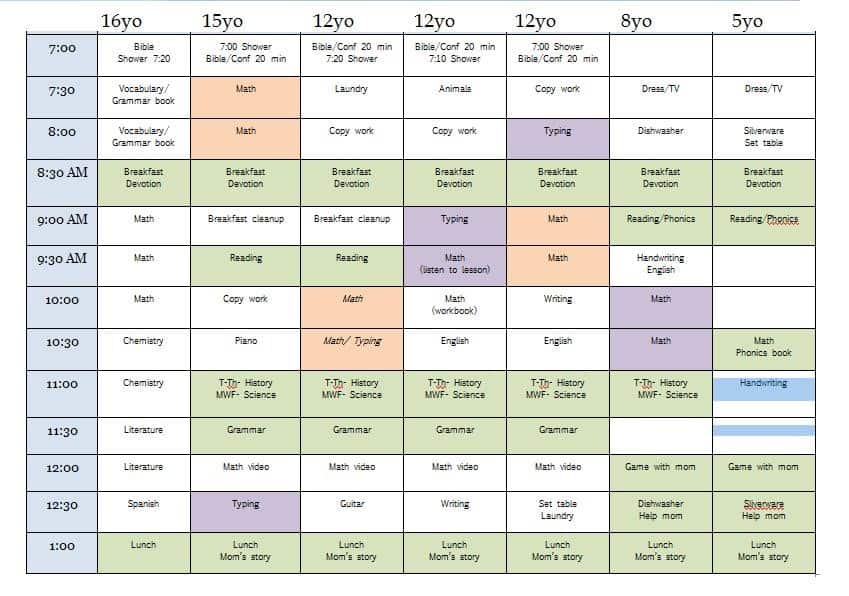 What a unique homeschool schedule! Notice how she scheduled each child's activities to allow for various children to rotate using two computers (marked peach and purple). Green indicates subjects she teaches directly. Find out more at her website. If you have multiple children to homeschool at once, I'm sure you'll find many resources there that may assist you with ideas as you create your own homeschool routines.
---
Note from Kim: My good friend Karen wrote this post and the homeschool schedule below is what she used. You can find my Trello Board schedule here.
10. My own family has 2 children. I've homeschooled for over 13 years. Our routine has changed drastically based on the many areas we've lived in, the activities we've been a part of, and the ages and interests of family members.
To deal with the changing routines, I like to start by putting everything that we'll be doing onto a weekly time-schedule calendar with times listed from 6 am to 9 pm in 30 minute increments. This shows our routine for the whole year as I do not change it each week, rather it just shows our schedule for an entire week.
In an Excel spreadsheet, simply list the times down the left hand column (6:00 am, 6:30 am, etc.) and the days (Monday thru Friday) across the top. First, fill in activities that occur at a specific time each and every week outside of the home (label who the activity is for). Highlight anything that takes place outside the home, including driving time, with a gray background from start time to end time.
Next, fill in your family's essential routine items. These include meals, chores, bath/shower and getting ready for the day, devotional/religious study, a family night where you don't let outside activities interfere with your family time, grocery/shopping trips, and essential breaks for play or quiet relaxation. All planning up to this point should cover everything except curriculum and should be applicable to the entire family.
Make sure that you've allowed enough blank space on your calendar to allow for adequate school hours and time to be flexible as things come up in your week. Save your work at this point. From here on, you'll be using the available blank time slots to custom-tailor each of your child's schedules based on their curriculum and age.
It's helpful to consider which subjects each child will need more parental help with so that you can arrange to have other children work on something at the same time that they can accomplish with little guidance or completely on their own. This allows you to arrange each child's schedule so that everyone knows what needs to be done, and when/where you'll be going out for activities.
Once each child's calendar is filled, you'll save it with the child's name at the end of the file name. Example: 2015-2016 School Routine (Child's Name).
Place a chore chart next to the individual schedules and post everything up on the fridge. Also print a copy of each child's schedule to place on their desk or in their school binder. Voila! Now all you have to do is follow along.
We never follow this routine exactly to the minute, and we always feel free to improvise based on how our day is going. Some things are easy to skip, replace, or leave out, while others are decidedly set in stone.
The point is to have it written so you know what you've got on your plate and don't forget anything. I've discovered that by planning in this way, and not just what classes to do when, you cover all your bases that pertain to family life and the whole family is part of the routine.
---
Download a Copy of My Weekly Schedule Template for Free
---
Now that you've checked out many styles and unique homeschool schedules, put together a simple version of what your first impressions are for your family's ideal routine.
Add to it and make changes as you go along. As you do, you'll discover what works best for you and you'll feel better knowing your routine will become just that, ROUTINE, in no time.
Happy planning!
Just for fun…I love watching Jamerrill Stewart and this typical day in the life of her homeschool with 8 kids is so much fun to watch! I thought you might like it too! Enjoy!
?
---

---
Click below to gain access to all my free printables in the Organized Mom Vault!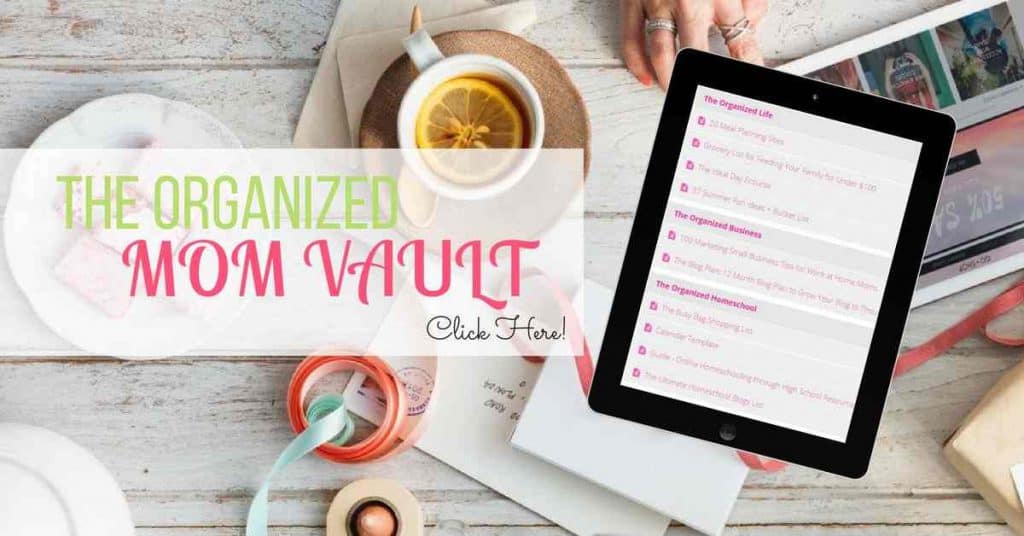 ---
Here are more homeschool related posts to help you:
---