Trying to find your family's rhythm and come up with a daily homeschool routine? Routine is important in all areas of life. It establishes some stability with everyone knowing what to expect. This is especially important when it comes to establishing a daily homeschool schedule.
Fortunately, you don't need to figure out a homeschool routine all on your own. You can turn to more experienced homeschool moms to share what has worked for them. And what better place to seek out that advice than here online.  I've gathered up advice about daily homeschool schedules from other homeschool veterans for you to check out.
But, there are a few things you need to keep in mind as you review these homeschool schedule ideas …
Homeschool scheduling is not a one-size-fits-all deal. Just like your family is unique, so should your schedule be. You have freedom in homeschooling to find what works for YOU, taking bits and pieces of advice from others, and finding what is the ideal homeschool routine for your family.
You need to be consistent, yet flexible. If your child is having a rough day, you might need to throw out the schedule and adjust to meet your child's emotional needs. Educational training can wait. Heart training cannot.
What works now most likely won't work later on. You'll have new things added to your life throughout the years (or even months) that will require you to adjust your homeschool schedule.
You don't need to follow the same routine as institutionalized education. Once again, you can embrace the freedom that comes from homeschooling. When I worked mornings, our home 'learning didn't start until noon. And my kids turned out just fine!
You know your kids better than anyone. So, have confidence that you can create a daily homeschool schedule that will work for your family.
Remember these tidbits of wisdom as I share homeschool schedule ideas from experienced families. You don't need to choose one and follow rigidly. Nor should you compare your life to these families' lives. You'll notice that there is not a right or wrong way of scheduling. Each family has a unique set of needs and goals.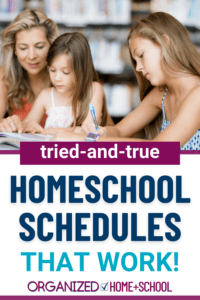 What Our Homeschool Schedule Looks Like
I try to follow this routine four days a week, year-round (giving us flexibility to take a break when "life happens"). We work off a routine, not a schedule. Schedules involve time limits, and that just stresses me out.  All the girls know what needs to be done by what time, but each works at her pace.
Morning: Basic Skills + Individual Interests
Our morning time is our "basic skills & individual interest" learning time.
My 9-year-old goes to a private school for 3 hours in the morning.  While there, she does math, writing, reading, and keyboarding. 
My 7-year-old still needs lots of time to play, so she only spends about an hour of her learning. She does math online with Dreambox (love it!!!!) and keyboarding with Typing.com. She & I snuggle up for reading time. She can read on her own, still sounding out, so we take turns reading the pages of early reader books.
My 12-year-old does her math with Khan Academy and, since she just completed all the lessons on Typing.com, will be starting Spanish using Mango. This year, she is digging deeper into her study of animals.  She takes a Zoology class through Skrafty (awesome Minecraft server!) using Apologia's Zoology 3: Land Animals. 
My 14-year-old also learns math with Khan Academy and Spanish with Mango. Then she focuses on her biggest interests…writing and drawing. Currently, she takes an Institute for Excellence in Writing class through Skrafty.  The class meets online weekly via video,  with writing and Minecraft assignments due each week. For drawing, she is taking a course through Udemy to learn comic book coloring using Adobe's Illustrator.
Afternoons: Family Learning and Out-of-the-house Activities
Our afternoon routine is a bit looser.  If I see that the girls are initiating their own learning, pursuing their interests independently or with each other, I leave it at that until a few hours after lunch.  Then we will work on a unit study together.  
Or we may watch a mom-selected show…something with educational value. Or have a Minecraft marathon. Or do an arts and craft project. Or play games. Or just play.
Starting at 4-ish, we scatter.  Someone needs to be somewhere…whether it is basketball, taekwondo, youth group, volunteering, working, whatever. We're a lot busier out-of-the-house than when the girls were younger.  But now, they are dedicating themselves to different organized activities.  And it is all good for this season.
Daily Homeschool Schedules from Other Veteran Homeschool Moms
Leah
Leah, from Simple Home Blessings takes one of the more increasingly popular approaches when creating a homeschool schedule. She uses a laid back, rotation kind of schedule and says –
" I tediously plan for the year, but enjoy a relaxed approach to the actual doing of the plan. The kids rotate in and out for non-one-room -schoolhouse activities. We do a morning time called Gathering."
I particularly like Leah's idea of gathering which simply involves getting all of your children together to teach primary subjects such as Bible, history, geography, and foreign language. This is most likened to the Charlotte Mason approach.
You can read about Leah's simple routine on her blog.
---
Chris
Chris, from Tech Savvy Homeschool, uses loop scheduling to plan their homeschool days. In a nutshell, loop scheduling involves scheduling subjects in sequences versus assigning them to certain days of the week.
Looping is beneficial for families with irregular schedules. Instead of playing catch up when a certain subject is missed (let's say, due to an appointment), you are able to take each day as it comes. In other words, you are able to "schedule" subjects or activities as you see fit.
Although there are many ways to use loop scheduling, some of the most popular are:
Curriculum loops

Morning-time loops

Activity-based loops
If you've been looking for a fresh approach to your homeschool schedule, try the loop scheduling method Chris uses!
---
Tony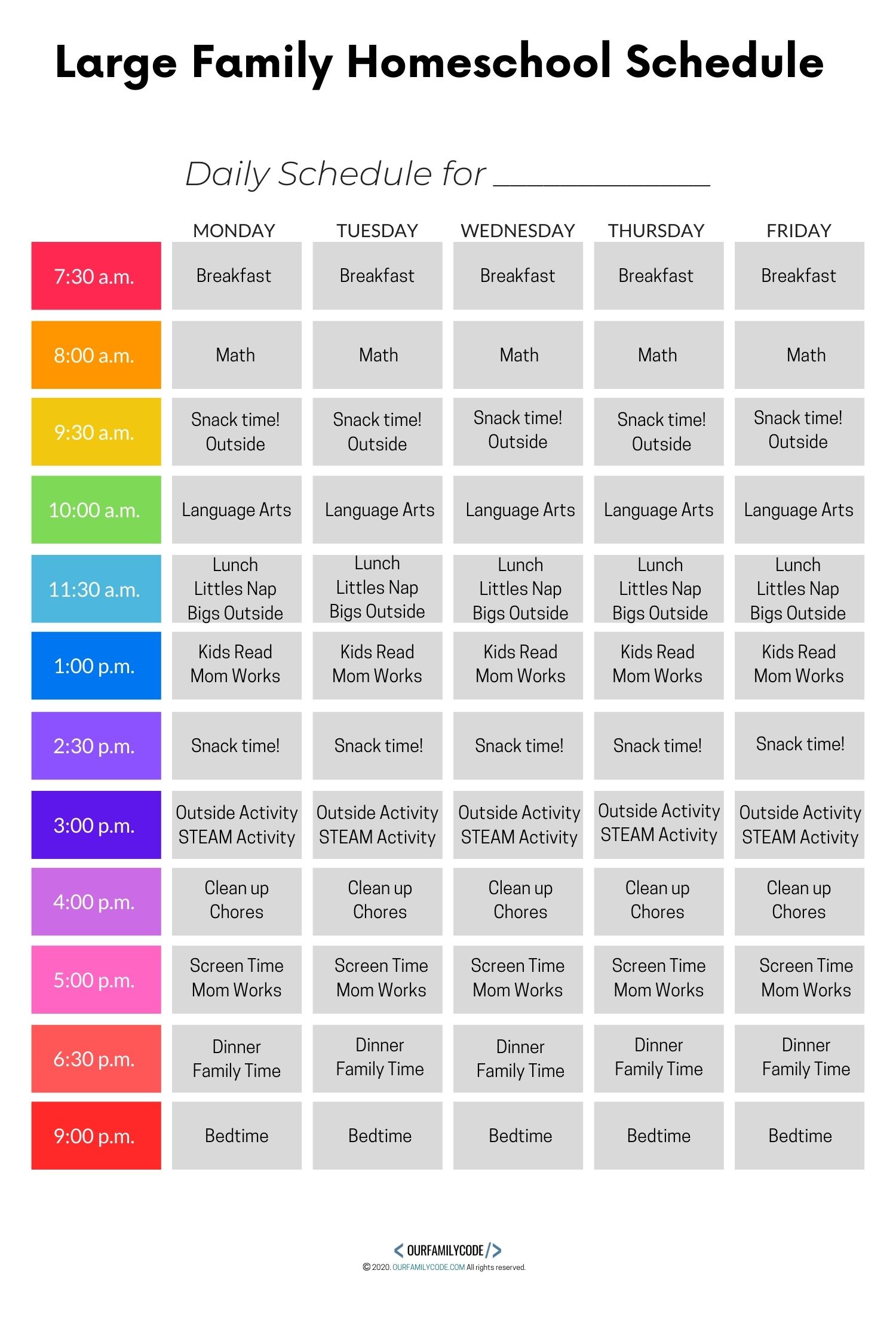 Tony, from Our Family Code, is a homeschool mom of a large family, which means a schedule that works is really important. If you're homeschooling a large family, consider using Tony's advice-
"Create a routine and not a schedule because every day is a different journey."
You may be thinking that this defeats the purpose of creating a schedule, but having a routine is a schedule in and of itself. Tony also suggests:
Scheduling around a household schedule (think mealtimes, earrings, etc.).

Include all siblings (even the baby).

Don't worry about trying to do every subject every day.

Remember to add in breaks.
The idea behind creating a schedule for large homeschooling families is to include everyone and to make sure everyone knows what is expected of them (those who are old enough to understand). Having everyone on the same page and working together will work wonders for your large homeschooling family.
---
Pam
Pam at Your Morning Basket homeschools her three children. Her unique homeschool schedule type is mainly Classical with a bit of Charlotte Mason.
She points out the importance of your morning homeschool routine. The best way to accomplish your morning homeschool routine is to start preparations a day ahead so that everything for school is lined up and ready to take action for the following morning.
She uses what she calls the clipboard checklist. Each child has a clipboard with a weekly checklist of homeschool work to be done, copywork sheets, any worksheets from their curriculum that can be torn out, and any other work in progress that needs to be finished. She prepares the clipboards each day after homeschooling is done so that they are ready for the children to complete the following day.
Another interesting and extremely useful idea she has is to set an evening alarm in order to get yourself to bed on time. She tries to get in bed by 11pm so that she can wake up at 5:30 before the kids wake up.
Using mornings wisely so that you are ready before the children are getting ready can make all the difference. She also advocates morning chores before beginning independent schoolwork.
With mornings that run smoothly, it hopefully paves the way to a great day.
---
Yvonne
Yvonne Billian from The Life We Build is another relaxed homeschool scheduler. With her approach, she leaves times off her schedule and moves according to the interests of her child. Many homeschoolers find this to be the best and most flexible way because they – nor their child – are tied down to doing a particular subject at a specific time.
Starting with a blank, 5-day calendar and plugging in as you go will help you to see how much or how little you'd like to do on a given day.
Yvonne's got it all laid out for you in on her blog. Take a look.
---
Holly
Holly from Simplify, Create, Inspire has a great homeschool schedule suggestion for those who are finding themselves temporarily homeschooling. If you find yourself suddenly homeschool and looking for an easy way to coast into it, Holly has some pretty good suggestions:
Plan a schedule according to something your child may already be used to (especially if they were once public or private schooled).

Consider non-traditional hours like late afternoons or evenings.

Incorporate fun activities. 

Take regular breaks (and consider filling them with physical activities).
Although these suggestions are geared toward temp homeschoolers, long-termers can glean from these tips too.
---
---
Mary
Mary at Owl Haven has been homeschooling her 10 children, four plus six adopted, for many years. Homeschooling in their home is scheduled, but not strictly adhered to as flexibility is needed. This chart is an example of one time period where she was homeschooling 7 children ranging from 5 to 16 years of age.
Notice how she scheduled each child's activities to allow for various children to rotate using two computers (marked peach and purple). Green indicates subjects she teaches directly. The color-coding is extremely helpful for everyone to know what's going on at a glance.
---
Lisa
Lisa at Lisa Jackson Design homeschools her six children. She considers herself an eclectic homeschool mom, using: religious, unschooling, iPad learning, school at home, TJEd & co-ops/field trips, and Montessori.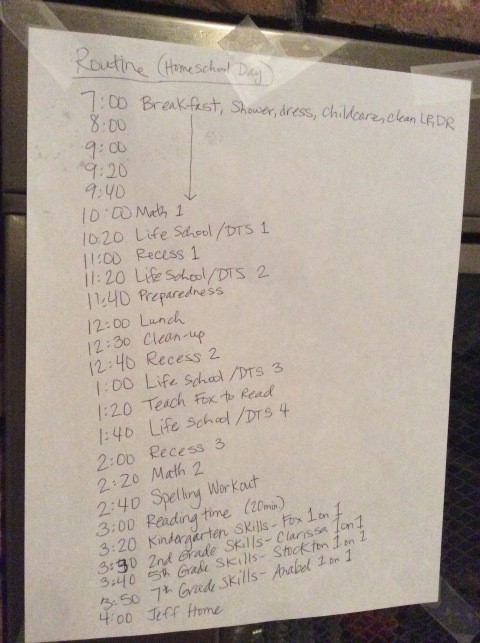 My two favorite aspects of her daily homeschool routine are that she schedules in three different times for recess, and also schedules one on one time with each child!
Charlene
Charlene, from Hess Unacademy, is another large family homeschooling mom, who says that although their schedule is a bit more relaxed, it often changes to easily accommodate their family's current needs. For the time being, she uses a more structured schedule with certain subjects being taught as specific times.
With some of her curriculum being outsourced and video-based, having specific learning times works best. If this is your case, it may work for you as well.
Skip to the bottom of Charlene's scheduling blog post to see the timing that works for her family.
I hope that these homeschool schedule ideas have encouraged you to find a routine that works for your family. Please, please know that you don't need to choose one and follow it rigidly. Nor do you need to compare your life to these families' lives. There is no right or wrong way of scheduling. I encourage you to draft up a plan for your family and adjust it over the next few months to find the best fit.
Tell me, do you have a homeschool schedule in place already? If so, let others know in the comments. If not, which of these ideas do you think would work best for you?
---
RELATED POSTS:
---