How to Feed a Family of 6 for $100 a week
I must confess to you I am not the most organized person, which can make monthly grocery shopping on a frugal grocery budget, or money diet as my oldest daughter calls it, a bit of a challenge. But let me assure you it still is possible!
I love the old saying, "Necessity is the mother of invention."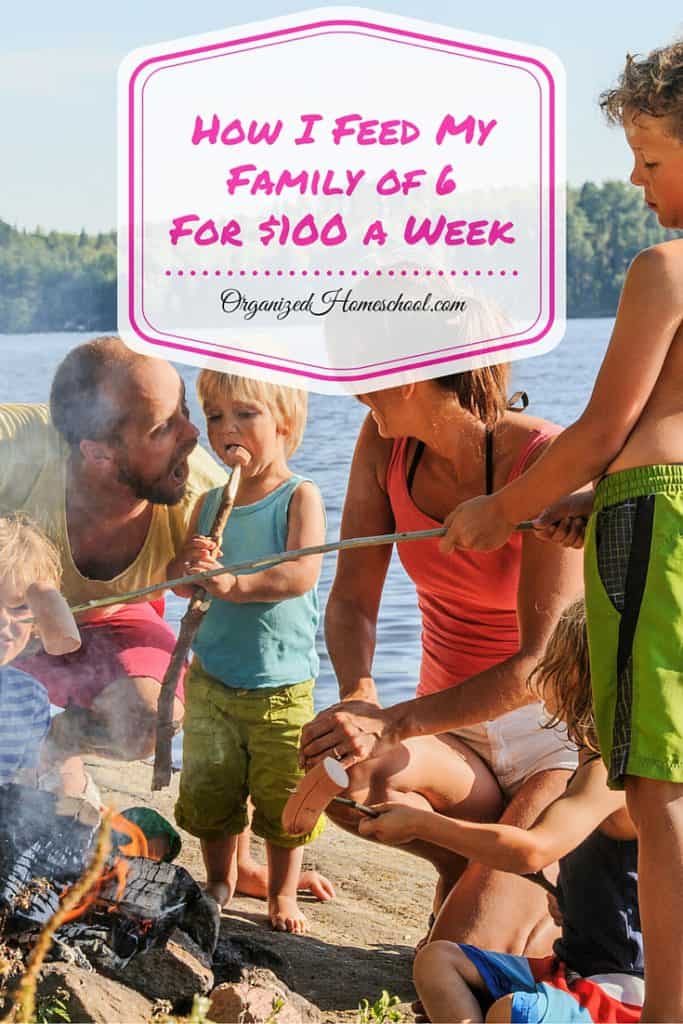 Due to pay cuts and the poor economy I found myself needing to slash my family's grocery budget from about $150-$200 a week, which I felt was fairly reasonable for a family of 6, to $100 a week.
Here's How I Feed My Family of Six for Under $100 a Week
A quick note about my family. We have been blessed to not have any major food allergies. I am the lone one who has them and I'm only allergic to tomatoes, melons and corn. This makes grocery shopping on a budget much easier.
We love our meat and carbs! I would describe us as semi-healthy. I avoid almost all artificial sweeteners, food dyes, hydrogenated oils, MSG, and dairy that uses artificial growth hormones. Fresh or frozen fruit and veggies are usually at every meal.
I would love to do organic, as I feel like that is the healthier option, but for now that is not something I can pull off. I tend to make 1 dessert for the week, and that is something homemade and I almost always reduce the sugar called for in the recipe. We only drink water and occasionally tea.
Comparison Shopping with a Tiny Frugal Grocery Budget
First, I comparison shopped. My husband was home so I went with my oldest daughter to tons of places and we wrote down prices (All sorts of multi-tasking here, the errand, one on one time, and an economics lesson all in one trip!).
Thankfully, this is something I don't feel will need to be done before every shopping trip, but I needed to see if I was missing some amazing deals by sticking to one grocery store. There are some meal planning sites that actually do this for you, but part of being on a tight budget is not paying for something I can do myself.
---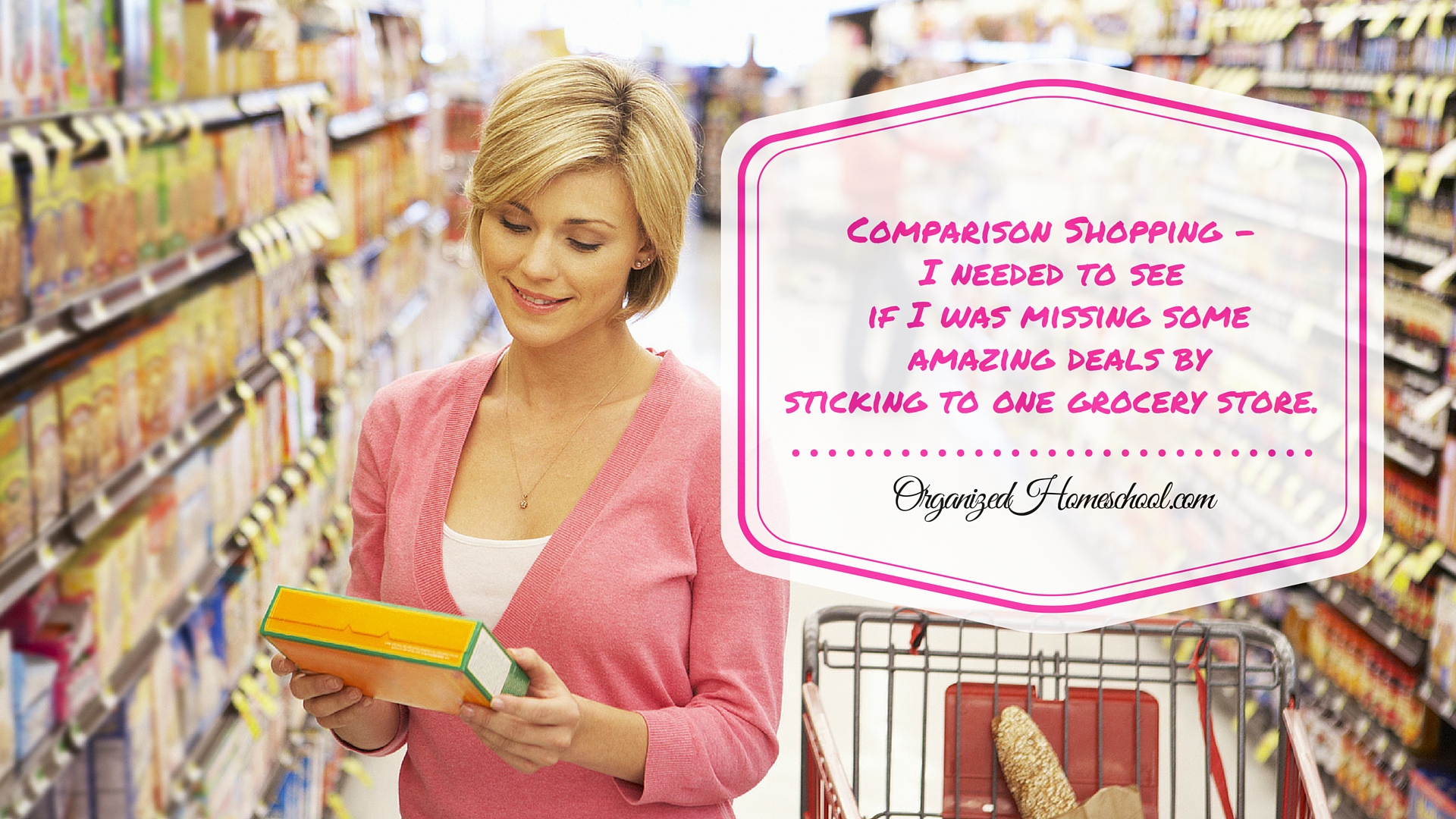 I compared 2 meat markets, Sams, and HEB. The meat markets definitely had better quality of meat and some nicer cuts of meat were cheaper than the grocery store or Sams. But they did not beat the grocery store on ground beef, which I knew was going to need to make up the bulk of my meat budget. Even Sams did not beat HEB on ground beef price, where I knew I could get 10 pounds of ground beef for $19.88. Chicken prices seemed to be right around the same at all of the locations.
Next I went to a bakery outlet that we have locally and I found that I can get 2 loaves of our favorite bread for $2.98 versus 1 loaf of that same bread for $2.88 at HEB. Score! Also, if I find myself needing to slash more they do have racks of bread that are under $1, but for now I really want to stick with my brand that is wheat and does not contain any high fructose corn syrup or corn starch.
My visit to the fruit stand showed me I was missing out on some amazing deals. They are consistently cheaper on bananas, potatoes, and cucumbers. Some of the other items vary from week to week, but I can just commit to getting what they have on an extreme sale. I actually bought something here as they had 2 boxes of 12 mangoes for $5, those same mangoes would have cost $12 at the grocery store.
Sams did tend to beat HEB on dairy products. But since they don't carry generic brands, I found cereal and other things like pasta to be cheaper at HEB.? I could be wrong, but I also did not feel like the price differences were large enough to make up the difference of having to pay a membership fee. So I decided to do the bulk of my shopping at HEB, like I had been doing.
Meal Planning with a Small Frugal Grocery Budget
After checking my prices and determining where was the best place to shop, I also committed to monthly grocery shopping.
This really does save money for me, even if it is not my favorite method. I am less inclined to buy impulse items and I can buy in bulk.
I also can usually pull off one shopping trip a month without my children which allows me to better calculate the cost as I shop and comparison shop even to the detail of cost per ounce. But to make monthly grocery shopping a success, you do need to go with a specific meal plan so you can make sure to get all you need for the month.
I sat down with just a blank sheet of paper and asked my family what they would like to eat for the month. All of our meals are named by the meat, but I promise a veggie is included!
Chicken Fried Steak
Spaghetti
Tacos
Hamburgers
Pot Roast
Shepherds Pie
Dirty Rice
Beef and Biscuits
Pancakes and Bacon
Chicken and Macaroni
Chicken Bacon Ranch Sandwiches
Orange Chicken
These were the ones shouted out.
---
---
I decided we had to cut Chicken Fried Steak and Pot Roast because these were more expensive cuts of meat.
The rest of the recipes called for hamburger or chicken. I use approximately 2 pounds of meat per meal which is usually enough for that meal and leftovers.
I tire of monotony, but again my budget was my main concern so I decided to buy enough for 4 meals of Spaghetti, Tacos, Dirty Rice, and Pancakes which were the 4 most cost-effective meals.
On a separate sheet of paper I wrote the ingredients I would need for each meal and the quantities needed.
Then I decided I would do 2 each of Hamburgers, Shepherds Pie, Beef and Biscuits, Chicken and Macaroni, Chicken Bacon Ranch Sandwiches, and Orange Chicken.
I wrote down all the ingredients for each meal and quantities needed for those meals as well. I double-checked my spices to make sure I had enough of everything and put anything I was running low on my list.
This gave me a plan for 28 meals, and since I really only cook 4-5 times a week this plan should give me enough to last me the full month plus some.
Beyond the main meal, which is lunch for us, I also needed to plan for breakfast, dinner, and snacks.
For breakfast we eat oatmeal or cereal and occasionally breakfast tacos on swim meet or surf days. Again, I'm not super organized and I definitely don't measure how much my kids eat (especially since my older daughters often handle breakfast because I don't do mornings), but I know that if I buy the Family Box of Cheerios it will last for a week. If I buy a more enticing cereal they go through it like a pack of wild dogs that haven't eaten in a week, so they are stuck with Cheerios for a while. I added that to my list as well.
For dinner we usually do leftovers, sandwiches, or popcorn. So I looked at what we went through weekly and just made sure to put enough on my list to cover 4-5 weeks, and I followed the same process for snacks. I did not use any calendars or Pinterest lists or planners.
I just took the time to think about my family and what they liked and we actually ate.
So I had my list completed the good old fashioned way with pen and paper.
Grocery Budget Shopping
Can I confess to you that grocery shopping without my kids feels like a vacation?
With my list in hand, I headed off by myself to my planned stores around 2 in the afternoon.
I ran into the bread store to grab 8 loaves of bread for $12 and I was in and out in under 5 minutes.
Next stop HEB. This stop took a little over an hour and cost $385. I bought 30 pounds of hamburger, 15 pounds of chicken, 4 pounds of bacon, 6 pounds of cheese, a 5 pound bag of flour, 5 boxes of cereal, peanut butter and jelly, milk, eggs, frozen veggies and then the various ingredients I needed for each meal.
I did not use any coupons, beyond what I found in the store for items on my list.
If this took extra time from my normal weekly grocery shop it was just because I was enjoying my alone time and adding up my purchases as I went.
I found going with a plan really helped save time and not just money. And all my planner friends are wondering how it took me so long to figure that out!
My last stop was the produce stand where I grabbed a 10 pound bag of potatoes, 3 pounds of bananas, spinach, asparagus, and avocados for $8.
This made my total bill $405.00.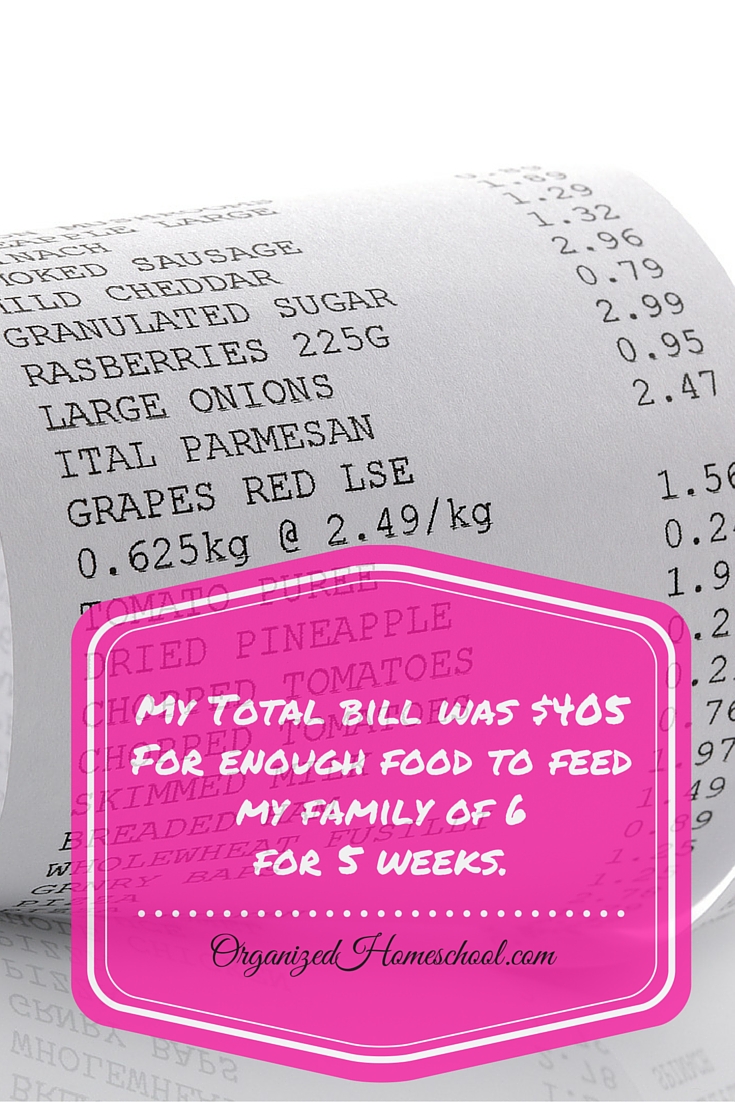 This covers 5 weeks of food which leaves $95, or a little under $20 a week for a Chick-fil-A visit or a quick run for extra milk or produce that doesn't freeze well.
Unloading the Groceries and Food Preparation
Once I arrived home it was all hands on deck to unload the truck.
Everything was unloaded and dumped on the kitchen floor and I started putting stuff away. The kids ran items to our extra freezer as needed. My husband shredded one of the blocks of cheese. You pay for convenience a block of cheese is less expensive and healthier that the shredded cheese you can buy.
I soaked all the produce in water and vinegar, while I put the pantry goods away. Then I rinsed the produce in just water and set it out on the counter to dry.
While it was drying I took my 30 pounds of hamburger and divided it into 15 – 2 pound packages.
I love the idea of freezer cooking, but by this point I just want to be done, so dividing my bulk items into meal-sized portions is all I do.
I sent the kids to load all this in the freezer and I put my cleaned produce into the refrigerator and my big monthly grocery shop is complete.
This phase took about an hour, which is longer that a weekly shop takes, but I remind myself I shouldn't have to do this again for another 5 weeks!
I wish I would have picked up a pizza, but we are on a money diet, so I pulled out some of the groceries and cooked dinner. We were all happily eating by 7pm.
I will be honest that looking for ways to cut your grocery budget is not fun, but it is possible.
And now that I am in this frugal season, I really hope I can gain some good habits that I can carry with me even when times are not as lean.
If you are in a lean time too, I encourage you to look for ways you can save on your grocery budget and other necessary items because every little bit helps.
Also I would encourage you and myself to be thankful for the bountiful blessings we do have.
I love the promise and hope offered in Psalms 37:25-26 says, "I was young and now I am old, yet I have never seen the righteous forsaken or their children begging bread. They are always generous and lend freely; their children will be a blessing."
---
---
If you are needing to cut your grocery budget to pay off debt, save for a vacation, or to save for your children's education, you need to take a few minutes to meal plan and stick to a food budget.
---
RELATED POSTS: